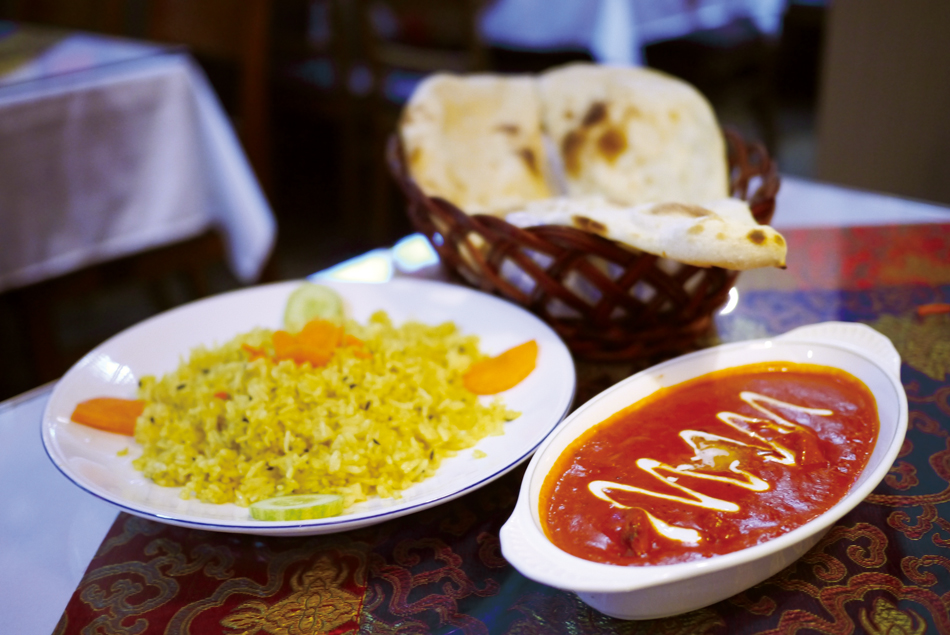 [box_light]Daily Delights
 Here are my suggestions for a great food day in Seoul.[/box_light]
Breakfast
Sweet Red Bean Bread at Dan Patbang  단팥빵
Breakfast is tough to find in Korea because most restaurants don't open until 11:30am Fortunately, the transport hub of Seoul Station opens early and offers an array of breakfast options, from Korean rice and soup and Japanese odeng to fast food and Western brunch and even pastries. My favorite place is Dan Patbang, which serves hot red bean or chestnut stuffed bread. With coffee, this is a great way to start the day.
Dan Patbang  단팥빵 Seoul Station area
FYI> Price: KRW 1,500
GO> Seoul Station, first floor by the escalator to Express Airport Train
 [divider]
Lunch
A Lunch Thali at Potala  포탈라
Curry and rice were how I survived university, so I'm always on the lookout for a taste of my college days. While wandering around Cheonggyechon Stream, I came across this quiet and quaint Nepalese restaurant. The place is ornately decorated and the food well prepared. Naan comes hot out of the tandoori and the curries are buttery and flavorful. Prices are reasonable as well (just like in the good ole' days.)
Potala  포탈라  Jongno 3-ga Station area
FYI> T. 02-318-0094
Price: KRW 6,000–13,000
GO> Jongno 3-ga Station 종로3가역 (Lines 1&3), Exit 15. Walk a block and take a left to Cheonggyecheon, then take a right. Potala is next to Pagoda Institute.
 [divider]
Dinner
Fried Potatoes and Beer at Passion Potato  열정감자
Fried potatoes, chicken tenders, sweet potatoes, fried cheese and beer can be dinner, right? Sure, if they are the amazing fried potatoes from Passion Potato. The world-class potatoes match perfectly with the cold beer served in Pyrex measuring cups. The place is kitschy, with the handsome young servers all having funny nicknames and positive attitudes.
Passion Potato  열정감자  Gongdeok area
FYI> T. 02-704-5536
Price: KRW 3,000–8,000
GO> Gongdeok Station 공덕역 (Lines 5, 6, Gyeongui and Airport), Exit 9. Walk a block up the alley than make a right, and you'll see it in the building across the street on the second floor.
 [divider]
Dessert
Ice Cream from Softree  소프트트리
Can you go wrong with creamy, slightly tart soft-serve ice cream made with organic milk? Probably not. Softree is like a perfectly chilled glass of milk. The most popular  flavor is honey chip, complete with a real piece of honeycomb that makes this ice cream shimmer.
Softree  소프트트리 Gangnam area
FYI> T. 02-541-0301
Price: KRW 3,500–6,000
https://magazine.seoulselection.com/wp-content/uploads/2013/12/P1140726.jpg
635
950
cyn
https://magazine.seoulselection.com/wp-content/uploads/2018/01/Seoul-logo.png
cyn
2013-12-31 11:06:07
2013-12-31 11:06:07
Daily Delights-January