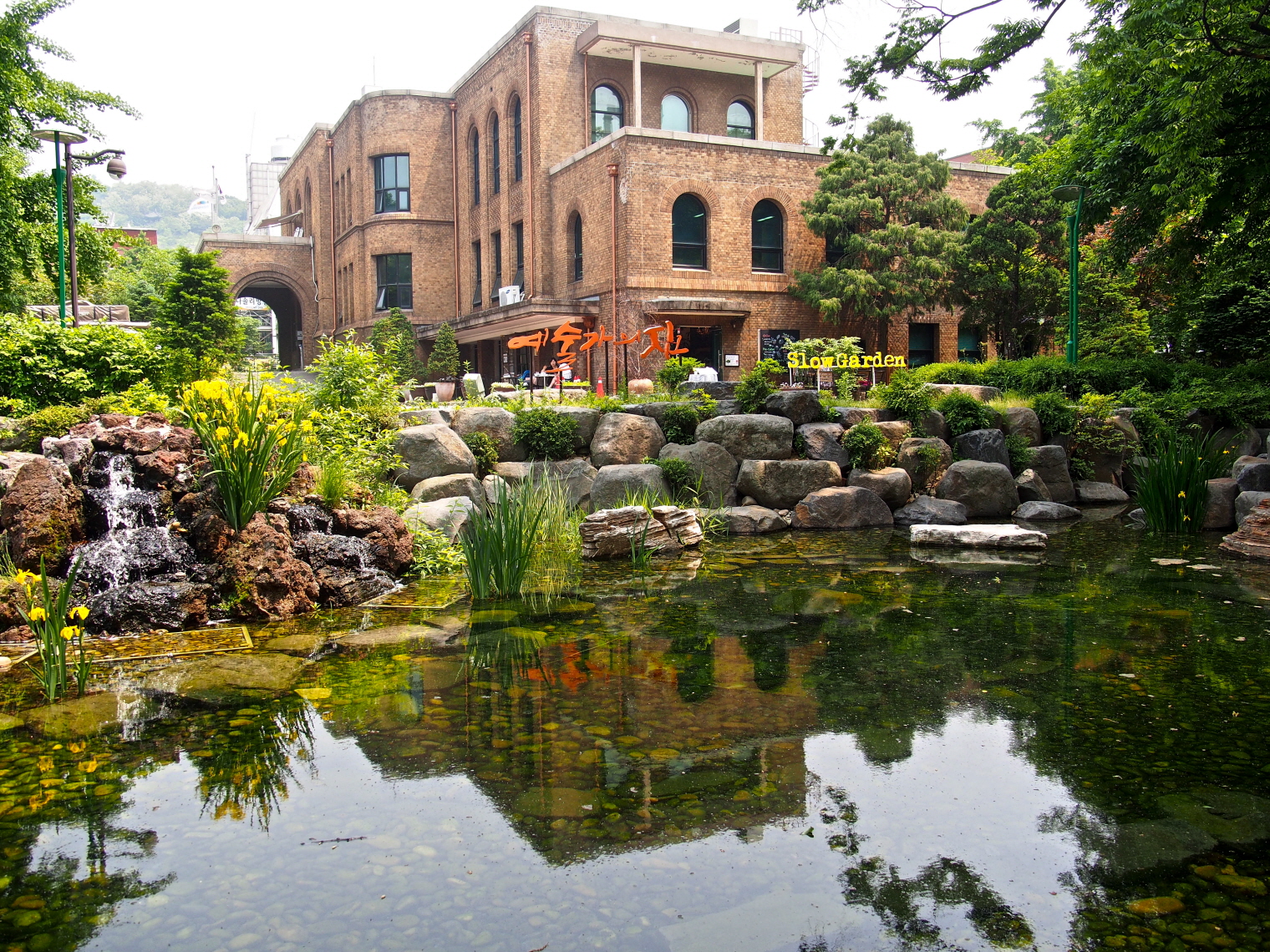 History and the arts share top billing on Hyehwa's stage
Given outside forces' persistent habit of interrupting history on the peninsula, the number of buildings and institutions in Seoul able to trace roots deep into the past
is less than one might hope. It's with no shortage of perseverance then, that Seoul
Munmyo 서울 문묘 and Sungkyunkwan 성균관, on the campus of Sungkyunkwan University,
have abided for six centuries. The modern university traces its heritage to the founding of the
Confucian shrine and academy of the same name in 1398, and though the latter's original
buildings burned down in a 1592 Japanese invasion, the current structures date from not long
after. The complex is divided into two areas—the jaehyang, for ritual ceremonies, and the
ganghak, for lectures—and boasts a pair of stupendous gingko trees, estimated to be over 500
years old.
On with the show
As peaceful as the grounds of Sungkyunkwan are, the neighborhood around Hyehwa,
commonly referred to as Daehangno, is vibrant. It's perhaps best known for being Seoul's
theater hub, with dozens of performance spaces dotting the neighborhood, some in large halls,
some in basements down tiny laneways. Afternoons find people queued up in front of small
ticket shacks, waiting to buy a seat for that night's show. Performances range from dramas to
musicals to nonverbal. (Shows in English are scarce.) To get up to date on everything that's
playing or to pick up a map of Daehangno's theaters, visit the Seoul Theater Center 서울연극센터.
Community theater
All the world's a stage, and two features of Daehangno provide excellent opportunities for al
fresco viewing. For a foreign production, head to Hyehwa Rotary on Sundays, when the air is
filled with the popping of Tagalog as it hosts the weekly Filipino Market, where expats from
the archipelago gather to eat, socialize, and sell goods from back home. At tables and tents
lining the sidewalk you can find durian, coconut juice, and packets of Mama Sita's adobo mix.
There's also plenty of Filipino food to sample.
If you're more interested in a period piece, make for Ihwa-dong 이화동, a truly workaday
neighborhood filled with machine shops, pungent odors, and simple restaurants that capture a
Seoul of decades past. Owing partly to its geographic isolation, the area feels village-like: quiet,
humble, a touch rustic. It's been spruced up a bit, though, by the Ihwa Art Project, which has
brought dozens of murals to alley walls: flowers, a friendly robot, a wall with dozens of lines
saying, "Before I die I want to _____" that residents have filled in with their hopes and dreams.
Seoul Munmyo (서울 문묘) and Sungkyungwan (성균관)
Exit 4
Shrine hours | 9am–6pm
T. 02-2148-1822
Left on Daemyeong-gil (대명길), cross Changgyeonggung-ro (창경궁로),
straight on Sungkyunkwan-ro (성균관로)
Seoul Theater Center (서울연극센터)
Exit 4
Hours | Tuesday–Saturday 10am–8pm, Sundays and holidays 10am–7pm,
closed Mondays
T. 02-743-9333
www.daehangno.or.kr
U-turn from Exit 4
Filipino Market
Exit 1
Straight on Daehang-no (대학로)
Ihwa-dong (이화동)
Exit 2
Written by Charles Usher
Photographed by Merissa Quek
https://magazine.seoulselection.com/wp-content/uploads/2013/07/2000_P5240138.jpg
1140
1520
rjkoehler
https://magazine.seoulselection.com/wp-content/uploads/2018/01/Seoul-logo.png
rjkoehler
2013-11-06 17:13:19
2015-04-03 12:03:28
Hyehwa Station