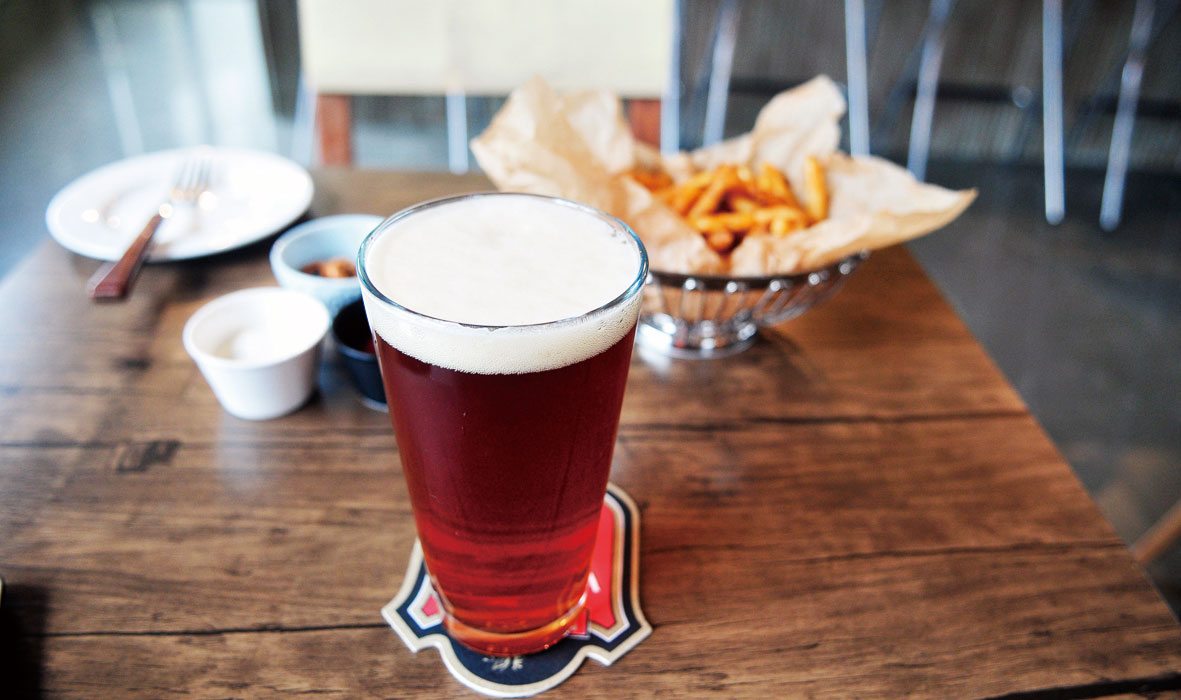 [box_dark]DOING DWIPURI RIGHT
An after-party romp through Hongdae, Korean-style[/box_dark]
Written by Daisy Larios
Photographed by Ryu Seunghoo
Dwipuri 뒤풀이 essentially translates to "after-party," although these are not after-parties of the Grammy or Oscar variety. It refers to going out with a team or group from school, work, or some extracurricular—whether it be after a test, presentation, performance, or some other anxiety-ridden event—to celebrate victory or survival, and it's often topped off with noraebang (karaoke) if the group is really interested in blowing off some steam. Here's SEOUL's guide to doing dwipuri right in party-central Hongdae.
[divider]
Step 1: DINNER
There are no shortage of restaurants in Hongdae, but make sure dinner includes soju and/ or beer (somaek, anyone?).
[divider]
Step 2: BAR(S)
For round two, Pub One—small second-story bar with draft beer and appetizers on a quiet street down from Hongik Univ. Station (Line 2), Exit 8—comes recommended. The menu here is simple: a handful of draft beers and anjus (appetizers to accompany alcohol). Remember: the key to stamina for a night out in Korea is consistent and simultaneous consumption of food and drink. If you're feeling brave, give the dried fish fi llets a try. When in Rome, after all. And about once a month on Sundays they hold One Keg (www.facebook.com/onekegday), an exclusive all-you-can-drink event.
Pub One 펍원
FYI>
T. 02-391-3566
GO>
[ Map 7 A2]
If you're willing to start from further afield, try Pub One's brand-new spin off, Craft One. About a 10-minute walk from Hongik Univ. Station's Exit 3, Craft One is an attempt to make Korea's burgeoning craft brew scene more accessible to the average Korean—without needing to make
a trip out to Itaewon. Six different beers rotate on draft—including Craft One's first recipe, Mingle, an American wheat ale—and a pairing menu is provided Kidedekk, a famous Korean food blogger.
Craft One 크래프트원
FYI>
T. 02-3144-7499
GO>
Hongik Univ. Station 홍대입구역 (Line 2, A'REX), Exit 3. Head down along Yeonhui-ro Street 5 mintues. [ Map 7 A3]
If you're making your way to Hongdae from Sangsu Station, try Samgori Pocha. You can't miss it: it occupies prime real estate right at the "three-way intersection" (a literal translation of samgori) on the road leading to Hongik University's main gate. A hit ever since it opened up in December of last year, it is designed to look like a 1970s-80s old-timey Korean bar, a blatant appeal to nostalgia. Most food runs in the range of KRW 20,000 (to be shared, of course). Now that it's summer, the deck is open and the wooden picnic tables are fi lled to capacity, which makes for excellent people-watching.
Samgori Pocha 삼거리포차
FYI>
T. 02-3144-6748
GO>
[ Map 7 D1]
[divider]
Step 3: NORAEBANG
You may visit any number of bars or clubs, but noraebang brings the dwipuri to a cathartic close. Luxury Su Noraebang is everyone's go-to when you fi nd yourself with a group in Hongdae waiting for the first 5:30am subway train. Located next to KT&G Sangsang Madang, it features 40 "singing rooms"—prices vary depending on the size of the room (some can accommodate up to 25 people) and the time of day (weekends and nights are more expensive) but generally start at KRW 20,000 per hour. They don't sell (nor do they allow) alcohol, but for an extra KRW 1,000 per person you can get unlimited slushies, ice cream, soda, and popcorn. The perfect nightcap.
Luxury Su Noraebang 럭셔리수노래방
FYI>
T. 02-322-3111
GO>
[ Map 7 D2]
https://magazine.seoulselection.com/wp-content/uploads/2013/08/RYU5771.jpg
700
1181
cyn
https://magazine.seoulselection.com/wp-content/uploads/2018/01/Seoul-logo.png
cyn
2013-11-06 17:14:54
2013-11-06 18:07:57
DOING DWIPURI RIGHT An after-party romp through Hongdae, Korean-style