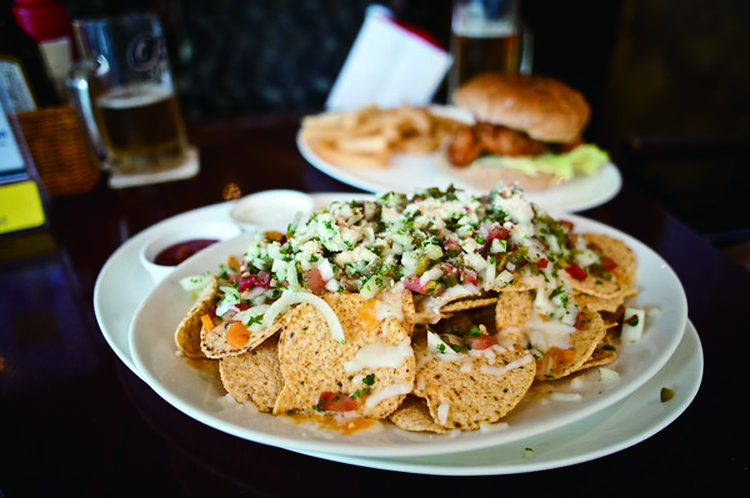 Daily Delights
Here are my suggestions for a great food day in Seoul.
Photographs provided by Daniel Gray
Day 1
St. Patrick's Day
Delight in Itaewon
Breakfast
Lumber Jack Breakfast at Suji's Restaurant
Suji's
One of the best things you can get to prepare your stomach for a day of drinking is a hearty breakfast. Suji's has the Lumber Jack breakfast, which has scrambled eggs, toast, pancakes, bacon, and home fries. You might not be happy for the rest of the day.
Suji's 수지스
FYI> Cost: 14,000 won for the Lumber Jack
Hours: 11am–10pm
T. 02-797-3698
GO> [ Map 8 A3]
Lunch
Fish and Chips at the Wolfhound

The Wolfhound is one of the most popular Irish pubs in Itaewon—you can always get a cold pint of Guinness or Killians here. They also have great sheperd's pie and burgers, but my favorite item here is the fish and chips. You'll get a full portion of fish and fries with plenty of tartar sauce and vinegar for dipping.
The Wolfhound 더 울프하운드
FYI> Cost: 11,000 won for fish and chips
Hours: 4pm–late
T. 02-749-7971
GO> [ Map 8 C3]
Dinner
Steak at Sam Ryan's Pub
Sam Ryan's
Sam Ryan's Pub, which is right above the famous 3 Alley Pub, has plenty of brews, seating, televisions, and food for those looking to eat, drink, and be merry. Here you'll get a large sirloin or rib eye with baked potatoes and veggies. It's a feast.
Sam Ryan's 샘 라이언스
FYI> Cost: 18,000 won for steak
Hours: 11am–12am
T. 02-749-7933
GO> [ Map 8 C2]
Dessert
More Drinks at Baby Guinness
Baby Guinness
Baby Guinness in Itaewon is known for their friendly service and cold beers. On St. Patrick's day, it's a great place to sing a few Irish tunes and continue drinking till the wee morn.
Baby Guinness 베이비 기네스
FYI> Cost: 5,000 won per drink
Hours: 11am–1am
T. 02-792-2777
GO> [ Map 8 C2]
Day 2
An Eclectic Food Crawl in Hongdae
Breakfast
Gamjatang at Songgane Kamjatang
Get a bubbling bowl of potato and pork stew with the taxi drivers at this local hotspot. You'll get a nice assortment of kimchis and other side dishes as well. If you're feeling particularly hungry, you can get a side of the poached pork belly (bossam) with raw oysters.
Songgane Kamjatang 송가네 감자탕
FYI> Cost: 6,000 won for individual stew
Hours: Open 24 hours
T. 02-3141-6557
GO> Hongik Univ. Station 홍대입구역 (Line 2, A'REX Line), Exit 3
Lunch
Assorted Fried Snacks at Mimine
Mimine
There are some foods I have dreams about, and the fried shrimp, fried kim-mari, and fried squid at Mimine are some of those things. The crunch is simply awakening. You can also dip your tempura in their saucy tteokbokki.
Mimine 미미네
FYI> Cost: Assorted tempura is 9,500 won
Hours: 11am–10pm
T. 02-3143-7244
GO> [ Map 7 E2]
Dinner
Odeng Tang and Fried Chicken at Tang
So…there are separate entrances for men and women into this pub restaurant because the theme is a Korean bath house, or mokyoktang. It is complete with tile signing and bathtubs for sitting areas, and they even sell wash cloths, soap, and shampoo. The food is good and the drinks are cold. Service is friendly as well.
On busy nights they even bring in a DJ.
Tang 탕
FYI> Cost: 10,000–15,000 won per person
Hours: 5pm–late
T. 02-325-8781
GO> [ Map 7 E2]
Dessert
Fruit Croquettes at Chili Cha Cha
Fruit croquettes are usually savory, but at Chili Cha Cha they do a great fried croquette filled with apples, cinnamon, nuts, and fruits. It's a deliciously sweet way to end a day of eating. You can even get a Campari and soda or a mojito here if you need a nightcap.
Chili Cha Cha 길모퉁이 칠리차차
FYI> Cost: 3,000 won
Hours: 11am–10pm,
closed Mondays
T. 02-322-8405
GO> [ Map 7 F2]
Quick Bites
Bull and Barrel 불 앤 배럴
(Itaewon)
This is a dart bar with a wide selection of local and international brews and good pub food. For darts enthusiasts, this is mecca. Their top floor has 4 regulation dart boards with computer scoring. They also have an arcade dart board for amateurs. The beer selection is vast, and you can travel around the world sipping beers. They have burgers and wings, but my favorite dessert was their kimchi chocolate cheesecake. It is tangy, a bit spicy, and has a full chocolate finish. Nice.
FYI> Cost: 8,000 won a person
Open: 12pm–4am
T. 010-9982-2423
GO> [ Map 8 B3]
Insadong Jukumi 인사동쭈꾸미
(Insa-dong)
Grilled octopus braised in spicy chili sauce is a Korean specialty and one that I recommend everyone try at least once. Down the nooks and narrows of Insa-dong, you'll find a little Korean traditional house that specializes in this dish. The chopped octopus comes out fresh in a hot pan and the sauce is flavorful. It is a bit spicy, though, so it is not for the weak. To balance out the spice you can add bean sprouts or ask for steamed egg 계란찜 (3,000 won). After you enjoy the dish, you can make fried rice from the leftover sauce. The place is reasonably priced as well. Jukumi is 10,000 won per person and 12,000 won if you want to add pork belly.
FYI> Cost: 8,000 won a person
Open: 11:30am till late
T. 02-720-0608
GO> [ Map 2 C3]
Hongmi Dakbal 홍미닭발
(Sinsa Station area)
Hongmi Dakbal
This place prides themselves on having the spiciest chicken feet in (possibly) the world. When you bite into the chicken feet the burn will start from your lips, surround the mouth, and then shoot right up to your temples. You'll sweat profusely and get that euphoric spicy high that only spicy food can give you. You have to keep eating until it becomes too much. They have several different weapons to help cool down your mouth: rice balls, steamed egg, and peach juice. Surprisingly, the peach juice works the best. If you are looking to enter a world of pain, I recommend you give this place a try.
FYI> Cost: 4,000–17,000 won
Open: 4:30pm–4:30am
T. 02-545-2119
GO> [ Map 9 B1]
https://magazine.seoulselection.com/wp-content/uploads/2013/03/Sam-Ryans-5.jpg
498
750
rjkoehler
https://magazine.seoulselection.com/wp-content/uploads/2018/01/Seoul-logo.png
rjkoehler
2013-11-06 17:14:55
2013-11-06 18:30:02
Daily Delights