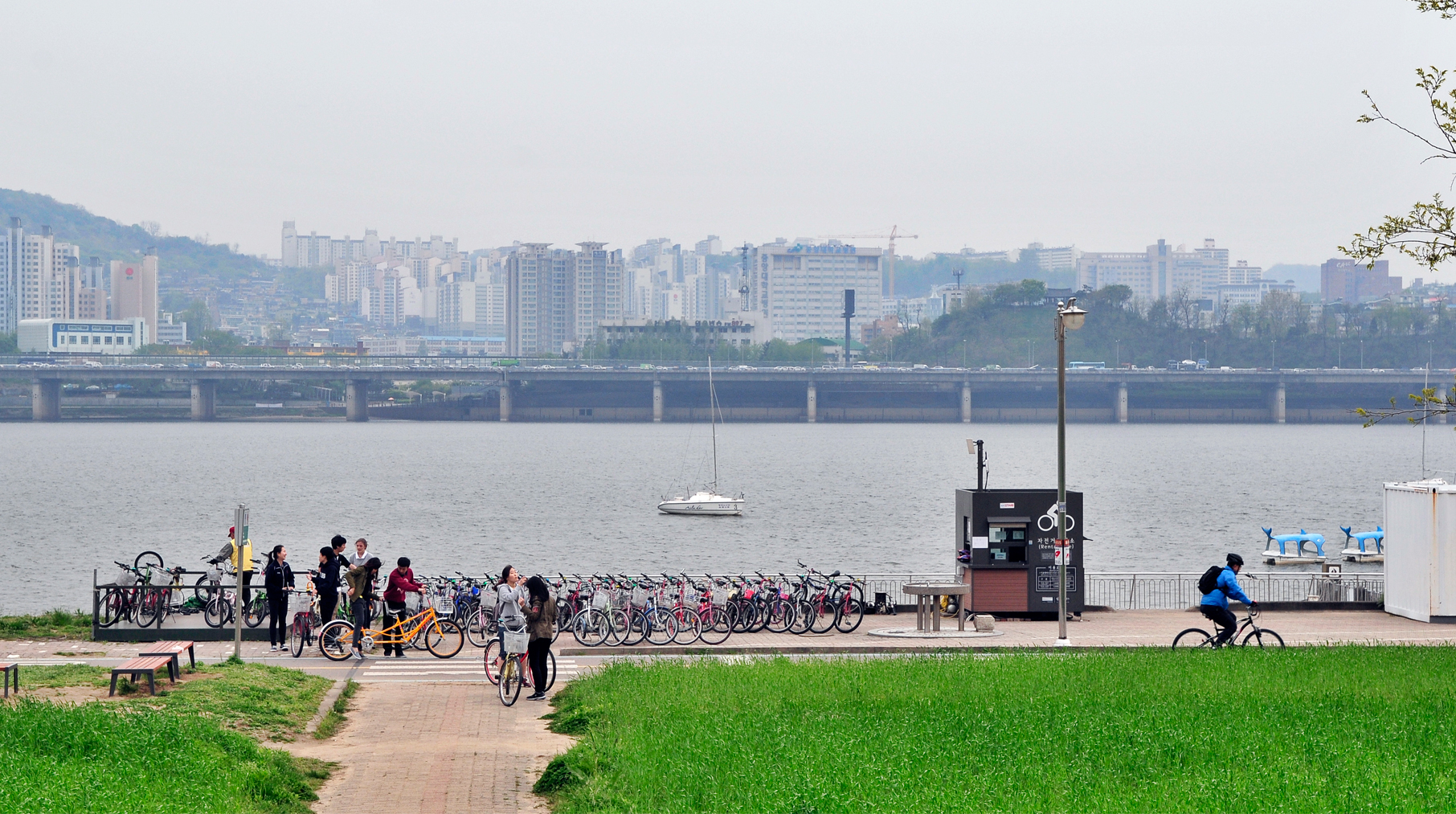 [box_dark]
ICHON HANGANG PARK | 이촌한강공원
Pleasant leisure space offers views, history[/box_dark]
Ichon Hangang Park is located on the north side of the Hangang River between Jungnangcheongyo Bridge and Wonhyodaegyo Bridge. Following the riverside, it's a favorite location for walking and jogging thanks to its beautiful flowers— depending on the season, you might see reeds or cosmos flowers. You'll find plenty of leisure and sports facilities here, too, including an X-Game center for skateboarders, an internationalsized inline skating rink, a basketball court, a tennis court, and even a field for gateball, an unusual team sport similar to croquet invented in Japan in the immediate post-war era.
One activity in which you can partake at Ichon Hangang Park is rafting across the Hangang River. This is a popular team building activity for schools and workplaces, but individuals can give it a try, too. The river-crossing program runs April to October—resting every other Sunday—for a participation fee of KRW 4,000 per person. There's a Nature Experience Center, too, where the many trees, flowers, and plants of Korea's mountains, fields, and farming villages have been planted to recreate a pastoral landscape. The scenery is made all the more beautiful by nearby Nodeulseom, a semi-pastoral artificial island built in the early 20th century as part of the construction of Hangangdaegyo Bridge. The island is home to an urban farm that local families can use for free; it's also home to a beehive run by a group of urban beekeepers.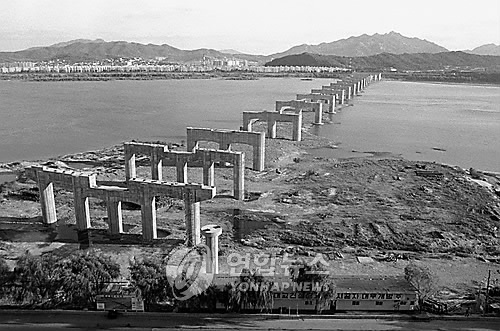 Over Ichon Hangang Park are some of Korea's most historic bridges. The oldest of the bridges is Hangang Railway Bridge A, completed in 1900 and still very much in use. It was the first fixed bridge to span the Hangang River. Next to it are three other railway bridges built in 1912, 1944, and 1995. Just as historic is Hangangdaegyo Bridge, a car crossing built in 1937. The Hangangdaegyo Bridge was also the site of one of modern Korea's worst tragedies: in the opening days of the Korean War, the bridge—still packed with refugees and retreating soldiers— was prematurely demolished by the panicked authorities to prevent the North Koreans from crossing the river, killing hundreds of refugees in the process.
Those looking for views can visit the Hangangdaegyo's two scenic cafés, Café Nodeul (north end) and Café Rio (south end). The former is more of a bar, while the latter is more of a traditional café. Café Nodeul's views of the sun setting over the Hangang River and the skyscrapers of Yeouido are not to be missed.
FYI>
(302-17 Ichon-dong, Yongsan-gu, Seoul | 서울시 용산구 이촌동 302-17)
GO>
Ichon Station (Line 1 and 4), Exit 4. Walk 500 m to the park.
https://magazine.seoulselection.com/wp-content/uploads/2013/06/Ichon-hangang-park-.jpg
1013
1812
cyn
https://magazine.seoulselection.com/wp-content/uploads/2018/01/Seoul-logo.png
cyn
2013-06-13 11:50:26
2013-06-13 11:50:26
Ichon Hangang Park