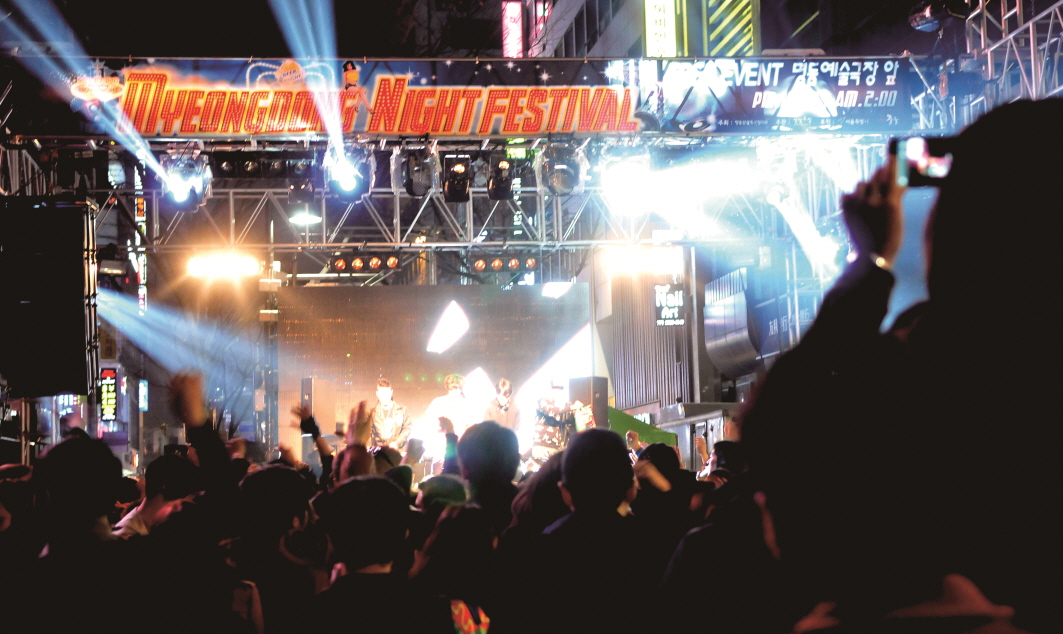 [box_dark]
DANCING THE NIGHT AWAY IN THE HEART OF SEOUL
Written by Daisy Larios
Photographed by Ryu Seunghoo
[/box_dark]
Myeongdong Night Festival is Myeong-dong's stab at staying up past its usual bedtime. Although both tourists and locals flood the area during daytime hours to indulge their bent for shopping, things generally shut down by 10pm. The festival seeks to lure party people away from the usual haunts of Itaewon and Hongdae and deep into the heart of Myeong-dong for their festive proclivities.
The open-air dance party—which was begotten as Myeongdong Dance Night last September—emerged from its winter hibernation on March 9, rechristened as the Myeongdong Night Festival. Even the lingering memory of winter's cold couldn't keep the merrymakers at bay. The unusually warm March weather brought out the spring fever in everyone; dance enthusiasts and casual onlookers alike were infused with the musical energy emanating from the DJs onstage. "It's such an enormous task for the DJs to get such a big crowd excited. But the music is really great," said Yiyi Lu, an exchange student from China.
The din of the crowd could be heard from Myeong-dong's entrance, the continuous stream of lights signaling out to wayward revelers like a musical lighthouse. Amidst the specters of local retail giants like 8 Seconds and Teenie Weenie, a club-like atmosphere surged beneath the spring-like sky. Young city slickers donned their stunna glasses at night, and ardent dancers furtively practiced their dance moves a bit removed from the throng, impervious to any distractions. Spontaneous dance battles broke out along the edges of the amebic crowd, and at one point a conga line erupted and writhed its way through the masses, collecting neophytes along the way. A massive LCD screen overhead showed real-time footage of the event.
"I love it," said Bruce, from Memphis, Tennessee. "I love everybody coming together and having fun!" The international camaraderie lasted long into the night, until the last beats of Myeong-dong's dancing heart finally gave out at 2am. The store signs glowed on stubbornly.
Hosted by the Myeongdong Special Tourist Zone Association and sponsored by the Jung-gu district, Myeongdong Night Festival will be held once a month for the remainder of the year. The next party will be on May 4 and will be themed "the environment." Restaurants and bars in the area will be open late on festival days, and the local CGV will be offering discounted late-night movie tickets. It is held in front of Myeongdong Theater—and best of all, it's free.
FYI>
Myeongdong Night Festival
www.facebook.com/myeongdongnightfestival (Korean only)
GO>
Myeongdong Theater (54 Myeong-dong 1-ga, Jung-gu, Seoul | 서울시 중구 명동1가 54)
https://magazine.seoulselection.com/wp-content/uploads/2013/04/RYU2836.jpg
634
1063
rjkoehler
https://magazine.seoulselection.com/wp-content/uploads/2018/01/Seoul-logo.png
rjkoehler
2013-04-17 15:01:56
2018-02-13 16:20:01
Dancing the night away in the heart of Seoul