Expat theater takes center stage
Change is afoot within the Seoul theater scene. While contemporary Korean productions have thrived in the city for decades, recent years have seen a dramatic increase in both the quality and quantity of works emerging from the local expat community.
Humble beginnings
The seeds of this current creative climate stretch back over fifteen years, when a group of foreign English teachers of varying theatrical backgrounds sought to put on a play. Initially, their shows were small in scope and predominantly performed in bars. Even back in the early 2000s, Seoul had already amassed a healthy population of foreigners, most of who were ESL teachers or stationed with the U.S. military. For them, English theatre was a rare treat.
As the scale of their productions grew, this original group banded together under the moniker of Seoul Players, an expat-run theater company that is still going strong today. Their current slate entails a minimum of three productions per year, all of which are performed in theaters to professional industry standards.
While their main stage show took place early in the spring, they still have two upcoming events set to open in 2018. The first is the "Rocky Horror Picture Show," which goes up in late October. This shadow-cast performance is widely regarded as one of the best Halloween parties in town. The second is their annual Ten Minute Play Festival, which this year received a staggering 380 submissions, a new record for the company. These have been whittled down to the best sixteen scripts, all of which will be performed over a series of nights mid-November. Both shows have upcoming auditions that are open to the general public.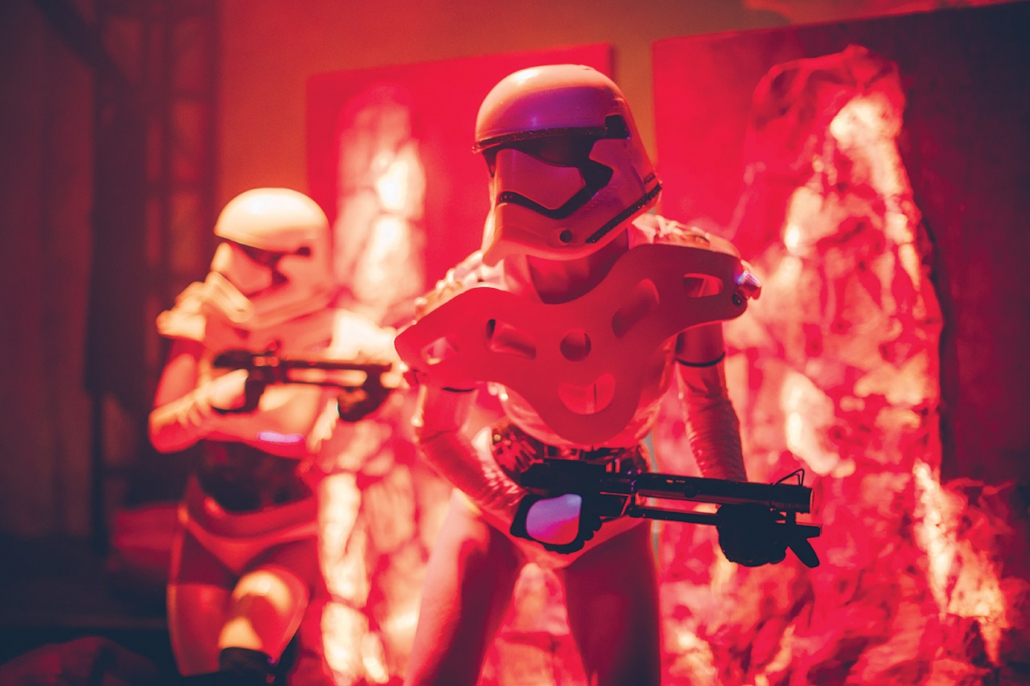 All the world's a stage
In the wake of Seoul Players, countless other expat-led companies have taken shape within the city. The influx of these groups has been a direct, if not unexpected, side effect of the growing ESL industry. For most English teaching jobs in Korea, the required prerequisite is a bachelor's degree. However, it is rarely stipulated that this qualification need be based in education. While those in more "professional"-oriented degrees (law, medicine, etc.) tend to secure employment back home, the allure of steady work and the chance to live abroad has become an exceedingly popular option for students graduating from the arts. The result has birthed an expat community rich with actors, dancers and musicians, all with a reliable income and time to spare on creative pursuits. This is a talent pool comprised of artists from all around the world, eager to come together and contribute towards culturally diverse, high-end production companies.
One such group is Starlight Productions. Providing a unique hybrid of theater and burlesque, their creative output (along with their crowds) has seen a steady increase since they stormed their way onto the scene with their first show in 2015. Through locally sourced scripts and an abundance of non-binary queer characters, they challenge their audience's notions of sexuality and herald body positivity on high. Their upcoming show, "Drop Drag Gorgeous," is set to open this November.
Another company on the rise is The Collective. With a firm focus on diversity, they provide underrepresented artists with a means to collaborate, grow and foster new bonds within the local creative community. Going up this November, their production of "Romeo and Juliet" is already set to be unlike any you've seen before. The script has been flipped, with the show now set in a matriarchy and the two titular characters being portrayed as lesbian lovers. They also happen to be hosting their annual fundraiser this September, an epic party at Emu Artspace that promises to showcase some of the best musical talent in Seoul.
With each new batch of ESL teachers comes fresh creative blood. While the current expat theater companies will only continue to thrive here, the scene is ripe for the unexpected, ready to be defined by the next wave of foreign artists seeking to stake a claim upon the stage. Buckle up, sit back and enjoy the show.
---
Seoul Players
Website: www.seoulplayers.org
Facebook: www.facebook.com/SeoulPlayers/
Instagram: @seoulplayers
Starlight Productions/House of Tease
Website: www.starlightburlesque.com
Facebook: www.facebook.com/groups/1215749935219287/
Instagram: @houseoftease.com
The Collective
Website: www.discoverthecollective.com
Facebook: www.facebook.com/discoverthecollective/
Instagram: @discover_thecollective
Written by S. C. Clarke
Photographed by Robert Michael Evans
https://magazine.seoulselection.com/wp-content/uploads/2018/09/01.jpg
853
1280
cyn
https://magazine.seoulselection.com/wp-content/uploads/2018/01/Seoul-logo.png
cyn
2018-09-18 16:18:55
2018-09-18 16:18:55
Step Into the Spotlight