At Jarasum, Korean-American jazz phenom Grace Kelly debuts in the land of her ancestors
"Grace Kelly plays with intelligence, wit and feeling," said legendary trumpeter Wynton Marsalis. "She has a great amount of natural ability and the ability to adapt that is the hallmark of a first-class jazz musician."
The saxophonist, singer and songwriter now brings that intelligence, wit and feeling to the Jarasum Jazz Festival, Korea's premier celebration of jazz, accompanied by pianist/keyboardist Devon Yesberger, bassist Julia Adamy and drummer Ross Pederson, who form with Kelly the Grace Kelly Brooklyn Band. Jarasum represents not only the musician's official Korean debut, but her Asian debut, too, making it doubly significant.
The festival coincides with the release in October of her latest album, "GO TiME: Brooklyn 2," available by pre-order now through her website. She says, "We will be playing a lot of originals and 'Gracified' cover songs like 'Miss You' from my new albums, GO TiME: Brooklyn and GO TiME: Brooklyn 2."
To put it mildly, Kelly is looking forward to performing at Jarasum.
"I'm very, very excited to be coming to Korea! This is my debut performance with my band in Korea, and I have heard so much about the Jarasum Festival over the years," she says. "I'm pumped to be on the main stage presenting my music to everyone."
A regular on the "Late Show with Stephen Colbert" band, Jon Batiste and Stay Human, and featured in Amazon's Emmy-nominated TV show "Bosch," CNN.com, Glamour Magazine's Top Ten College Women 2011, Forbes, Billboard, Huffington Post and NPR, Kelly is a rising star in the American jazz scene, lauded for her genre-bending zest and onstage charisma. Though she's only 26, it seems she's been around forever. Called the "finest young saxophonist on the scene today" by no less than David Sanborn, the prodigy wrote her first song at 7 years old, recorded her first CD at 12, orchestrated and performed her original composition with the Boston Pops Orchestra at 14, and performed at President Obama's inauguration at 16.
As a bandleader, Grace has performed over 800 concerts in over 30 countries in notable venues such as the Hollywood Bowl, Kennedy Center, Carnegie Hall and Symphony Hall and festivals such as Montreal, Newport, and Montreux. Grace has performed or recorded with Harry Connick Jr., Wynton Marsalis, Dave Brubeck, Steve Martin, Tina Fey, Martin Short, Maya Rudolph, Emma Stone, Lin Manuel, Questlove, Esperanza Spalding, Lee Konitz, Phil Woods, Ron Carter, David Sanborn, Marcus Miller, Dianne Reeves, Dee Dee Bridgewater, Huey Lewis and Gloria Estefan, just to name a few. Fans even voted her 10th CD, "Trying To Figure It Out," the No. 2 Jazz Album of The Year in a readers poll by Downbeat Magazine in 2016.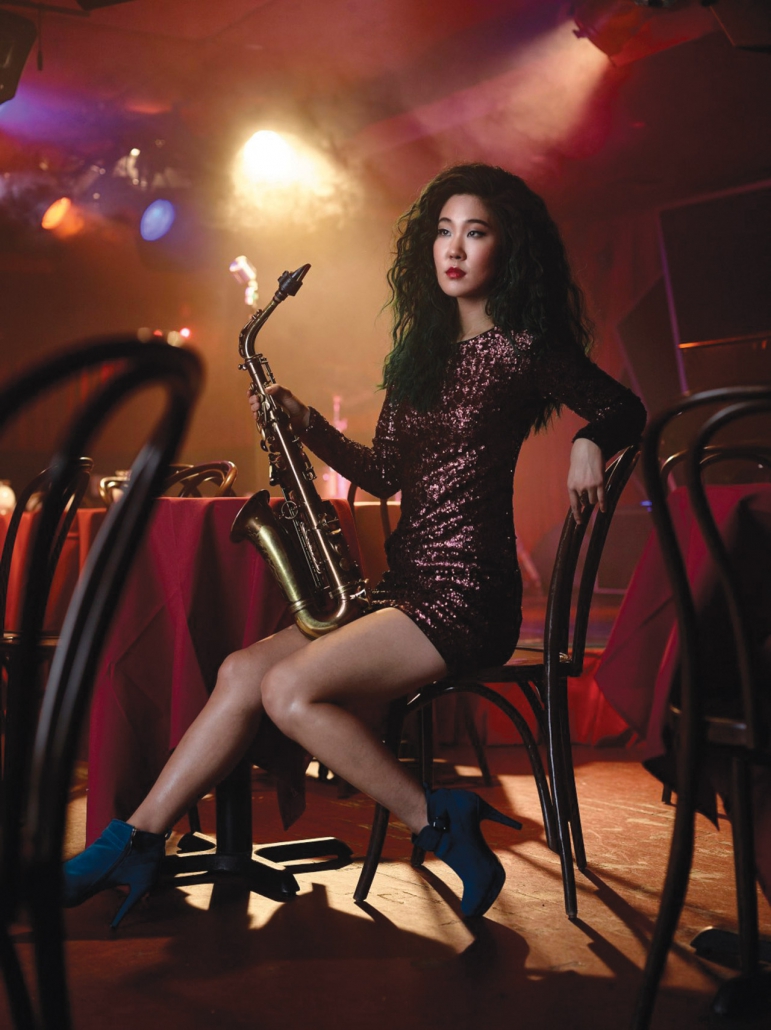 An artist returns to her roots
Kelly's official Korean debut represents more than a career milestone. It also allows the artist, a Korean-American, an opportunity to explore Seoul and reconnect with her heritage. "It's particularly interesting to me because I'm Korean American and eager to connect with my Korean roots and learn about the culture and people right now in 2018," she says. "I also love Korean food! Bibimbap is one of my favorites. I will be taking in all the sights, sounds, foods and experiences."
Not only will she be taking in all those experiences, but she'll be documenting them, too. She plans to shoot impromptu videos for her weekly video series, "Grace Kelly PopUPs," for Facebook, Instagram and YouTube, sharing her Korean experiences with her online fans all around the world.
While in Seoul, Kelly will attend Seoul Fashion Week, one of Asia's hottest fashion events. "I have a deep love for fashion and look forward to this inspiration," she says. "I love expressing myself visually with all sorts of colors."
Always keen to share with fans, she'll be video blogging Seoul Fashion Week. She may do a bit of impromptu performing, too, should the opportunity arise.
---
More Info
Grace Kelly will be performing at the Jarasum Jazz Festival on Oct. 14. For more info about the festival, including ticketing information, visit www.jarasumjazz.com. For more information about Kelly, including info on purchasing albums and social media links, visit www.gracekellymusic.com.
Written by SEOUL
Photographs courtesy of Grace Kelly
https://magazine.seoulselection.com/wp-content/uploads/2018/09/Grace-Kelly-Sax-Rooftop-Photo-by-Mehdi-Hassine3202.jpg
855
1280
cyn
https://magazine.seoulselection.com/wp-content/uploads/2018/01/Seoul-logo.png
cyn
2018-09-17 14:38:02
2018-09-17 14:38:02
A Jazzy Homecoming