Korea's 'first black model,' Han Hyun-min adds beauty to Korea in more ways than one
On his Instagram feed, Han Hyun-min's fierce facial expressions make it easy to forget that the internationally renowned model is only 16 years old. In real life, however, his shy, mischievous smile immediately betrays his youth. Born to a Nigerian father and Korean mother, Han has made headlines in Al Jazeera, BBC and Vogue as "Korea's first black model." Han was also chosen by Time Magazine as one of "The 30 Most Influential Teens of 2017." Skipping class on a Tuesday afternoon, Han sat down with SEOUL to discuss what it was like to grow up dark skinned in a mostly homogeneous country, his modeling career and how he once dreamt of KRW 300,000 to shop at Uniqlo.
'You are special'
The oldest of five children, Han knows what it's like to be part of a big family. Asked if he's ever received life advice from his mother, he chuckles. "Well, she always says, 'Don't get yourself into trouble!'"
A second later, he adds, "Oh, but when I was younger and getting teased, she would tell me, 'You are special and someday, good things will come your way.' I know it was hard for her to see what I went through."
Though he doesn't describe himself as "the oldest brother type," he gave up on his dream to become a baseball player for fear that it would financially burden his parents. He also wants to protect his younger siblings from facing the kind of discrimination he's faced.
Past is past
Han nonchalantly runs through a list of wrongs that have been committed against him. He was often teased by his fellow students, his friends' mothers would tell them not to play with him. And throughout his life, many people have considered him a foreigner. "I hated being called a foreigner. I used to think, I was born in Korea and my mom is Korean, so why do I have to be called a foreigner?"
With wisdom beyond his years, he adds, "The older I get, the less it bothers me. I've told myself that's just the way it goes. After all, I guess you can't just look at my outer appearance and know I'm Korean."
Han, who grew up in the multicultural Itaewon district, considers himself lucky for having been immersed in such an international neighborhood. "I imagine that being biracial outside of Seoul, or even outside Itaewon, would be even harder," he says. "I can't imagine that my hardships are anything compared to [multiracial people who grew up outside of Seoul]."
Textile dreams
When Han entered junior high school, his interest in fashion piqued. "I had this older friend who had just signed with a major modeling agency," he says. "That helped me decide what sort of fashion work I should aspire to."
As a teenager with little money, however, Han's love of clothing was a burden to his mother. "My mom couldn't buy me as many clothes and I wanted because I had so many younger siblings," he says. "And I wanted different outfits for different occasions. I asked her to buy me clothes so often that she scolded me for being so superficial."
Nonetheless, Han was determined. "My dream was to have KRW 300,000 to buy clothes from Uniqlo," he says. "I even worked a part time job distributing flyers at night."
A few years older now, Han says the more he models, the more his motivations for doing so seem to change. "At first, it was simply because I was interested in clothing. Right now, I feel like I want to model because I want to show it's okay to be different."
His lucky break
Since Han couldn't afford to go to a conventional modeling school, he learned how to model by watching YouTube videos of Seoul Fashion Week. He also had to pay his dues. He had to pose in Versace underwear during an audition in Milan. He was conned into modeling for an online shopping mall. "I'd been photographed before, but no great images came out it," he says.
Han's lucky break came when SF Models agent Youn Bum contacted him for a face-to-face meeting in March of last year. Bum had found him on Instagram and wanted to meet him in person. "We met behind the main road in Itaewon. He asked me to walk and signed me right away," he says. "I couldn't believe it. It didn't feel real."
He credits Bum for seeing something in him. "I'm forever grateful for what he's done for my career."
The life of a model
Han immediately went on a few photo shoots, debuting not too long afterwards with contemporary casual wear brand Heich es Heich. "I really enjoy modeling. I enjoy being able to try on beautiful clothes and finding a way to express them," he says. "When I try on an outfit, I imagine who belongs in the outfit. Perhaps one outfit tells the story of an attractive man walking down Manhattan. If another outfit feels like autumn, I try to recreate the season in my mind."
A participant in several Seoul Fashion Weeks, Han describes being on the runway at the city's biggest fashion event as one of the most exciting experiences in his life. "Being on the runway is like if you've just bought a new outfit and everyone is waiting to see it. I really like that feeling even though it lasts only 30 seconds."
Normal kid Han
When he's not modeling, Han tries to attend school as much as possible. He admits that he stopped enjoying studying in the second grade. He says, "I think school is important for meeting friends and socializing but I don't think studying is for me."
Although Han eventually does want to go to college, he says he isn't studying for the university entrance exam. While most of his peers spend half their waking hours preparing for the exam, his day consists of school, playing computer games and fashion work. During large commercial shoots and Seoul Fashion Week, he hardly makes it to school at all.
Down with apples
Despite what some might call a leisurely life free from the usual academic pressures, being a model isn't easy. "It takes two to three months to prepare for a Fashion Week event," he says. "I have to lose weight. I have to work out. I have to go to casting calls, auditions and rehearsals."
A lover of soondaeguk, or blood sausage stew, Han explains that the hardest part about being a model is watching what he eats. "A month before Fashion Week, I'll live on a diet of sweet potatoes and apples. There are days I live on one apple a day," he says. "But I do eat a lot any chance I get. There are so many delicious things in this world."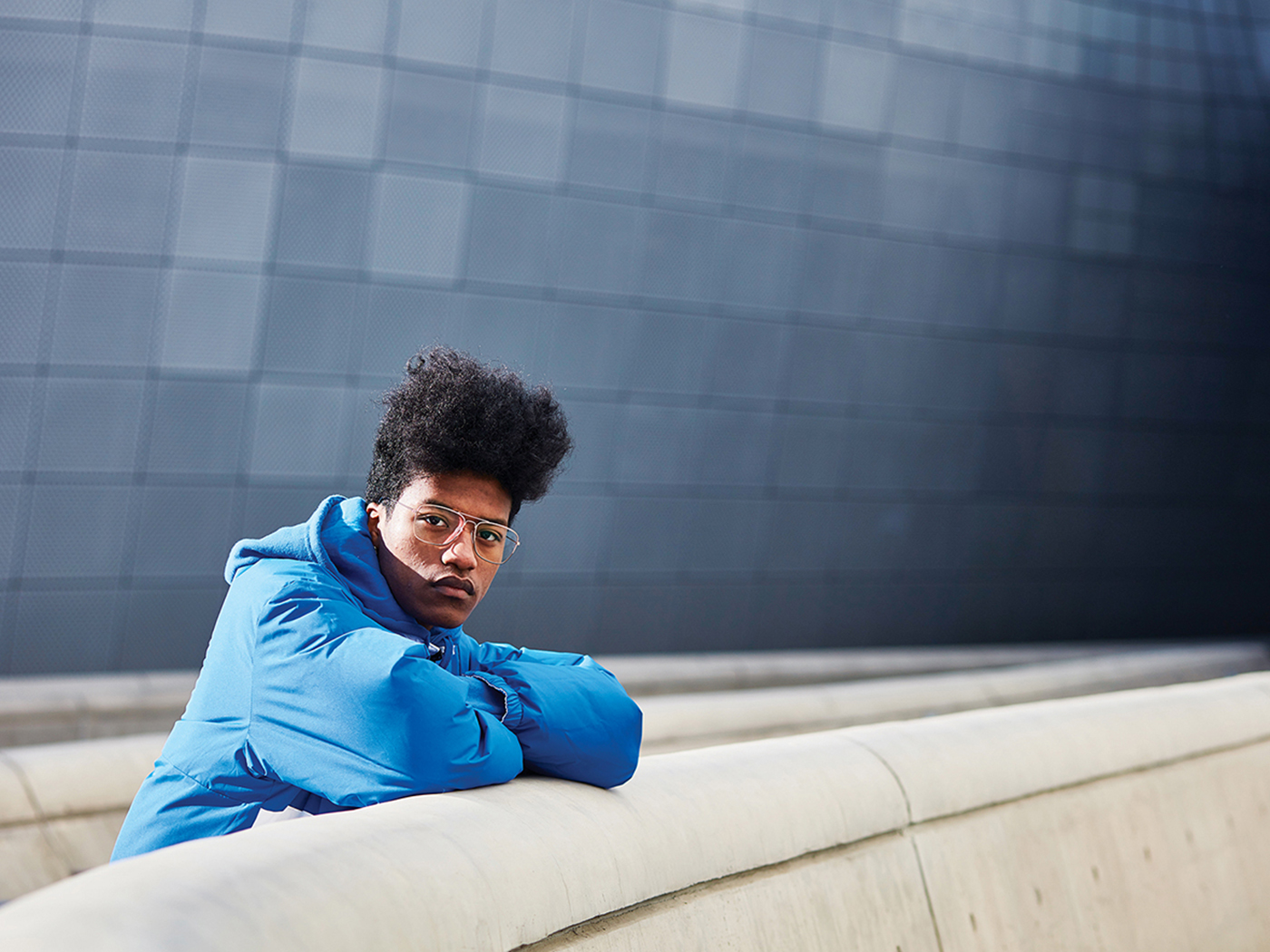 The silver lining
Han is overwhelmingly positive about his experience as a model in Korea and quick to see the silver lining to any challenge he's faced. "Because the color of my skin is different, there were designers who initially didn't want to work with me," he says. "But the upside is, I was able to develop my own look and brand, which is more important for a model."
He's also interested in acting. He understands, however, that his Korean-speaking roles could become limited, despite being a monolingual Korean speaker. "Someone recently told me that if I learned English, I could go to Hollywood," he says, a glint of excitement in his eye. "I want to learn English and perhaps try my hand at acting abroad."
What lies ahead
Still just a kid, Han is naturally uncertain about much. He seems to have enjoyed his experiences overseas. The self-described Harry Potter fan especially liked London. In particular, he enjoys the diversity he finds in some foreign cities.  "When I walk around in Korea, everyone does a double take," he says. "In places like London or New York, I'm a normal human being. I really liked that feeling."
At the same time, however, Korea is where Han's heart is. "I like Korea," he says. "It's the place I was born and raised. It's home."
Han is still glowing with his latest achievements. Last year, he was appointed honorary ambassador for multiculturalism by the Ministry of Gender Equality and Family. "I want to show fellow biracial Koreans that they can succeed even if others have looked down at them," he says. "As Korea becomes more and more diverse, I hope the environment in Korea can be more accepting."
Han is very happy about the number of his Instagram followers — 146,000 as of April 2018 — and the people he's reached. "I get messages and comments saying 'You inspire me' and 'You give me courage' and that warms my heart." He is humbled by his mention in Time Magazine and vows due diligence. "There's a Korean saying that goes 'ride when the tide comes in' so I think of that and work as hard as I can."
Written by Hahna Yoon
Photographed by 15studio
https://magazine.seoulselection.com/wp-content/uploads/2018/04/한현민-7986.jpg
1400
933
rjkoehler
https://magazine.seoulselection.com/wp-content/uploads/2018/01/Seoul-logo.png
rjkoehler
2018-04-25 19:29:11
2018-06-04 15:56:37
Riding the Tide, Walking the Runway