Chef Yeo Kyung Ok of Toh Lim honors his heritage while appealing to modern tastes
Chef Yeo Kyung Ok has none of the airs one might expect from a chef who has both a long lifetime in the kitchen and a fair amount of fame. Despite having achieved star status during his 30-year professional career, he appears relaxed and almost serene, at ease in his kingdom. His restaurant, Toh Lim, has a place of honor in the 37th floor of Lotte Hotel in Myeong-dong.
"I started in '78 and so I've worked for about thirty years now," says Chef Yeo as he looks out the enormous windows to the stunning views of downtown Seoul and the surrounding mountains. "Toh Lim's food is primarily drawn from Guangdong-style food, which is really popular with business people, but also for young people. The restaurant was originally designed with the idea that business people would be our primary customers, but I've tried to make it more casual and fun. Some hotels are really stuffy, and I wanted to make this more comfortable."
Indeed, despite the poshness of the surroundings, it's easy to relax into its modern feel.
Bridging China and Korea
Yeo says he didn't have many options after graduating high school. His father, who was Chinese-Korean, died when he was young, leaving his Korean mother to raise the family on her own. Despite attending Chinese-Korean schools, the connection with Chinese food wasn't a strong part of his childhood. Yeo recalls, "We ate a lot of mandu growing up, but when I started I didn't know a lot about other Chinese foods. I didn't know anything when I started, so I studied it by working in Korea, Japan, China, Hong Kong and Singapore. It took at least two to three years just to study the basics."
Chinese Koreans, or hwagyo, were the first to really bring Chinese cuisine to the mainstream in Korea. They didn't just pioneer new restaurants, though. They created something entirely new by changing the foods from China, adapting them to the tastes and ingredients of Korea, resulting in some of the country's best-loved dishes. Everyone's favorite delivery food, noodles in black bean sauce, or jjajangmyeon, is based on a Chinese dish, but turned into a new fusion food in Incheon by the hwagyo community. Another major community of hwagyo was situated in Myeong-dong, which is still home to a school and several streets of Chinese restaurants near the post office.
Yeo reflects that this history is in danger: "These days it's too expensive, so we're losing some of that culture, and the hwagyo community can't afford to stay."
 
Balancing the new and old
Chef Yeo isn't wedded to tradition, but has cultivated a deep respect, balancing traditional flavors and techniques with modern tastes. His soups manage to unite distinctively Chinese elements like wontons stuffed with pork to a spectacularly clean broth with a woodsy scent from the matsutake mushrooms floating gently within. A set of dimsum manages to feel both beautifully traditional and bracingly modern thanks to juxtapositions of shape and texture, including a luscious and creamy shrimp dumpling with the briny snap of caviar, or a mushroom dumpling that manages to be both meltingly soft and bracingly earthy, just barely visible under a translucent skin.
"Back in the 1990s we were mostly serving a lot of traditional foods, but now it's changing," he says. "The good thing is that people who come to the hotel now have lots of experience with traveling and have very sophisticated tastes, so we can make food that appeals on that level."
It's not just that tastes have changed though, Yeo thinks. "More people are cooking [Chinese food] at home. We used to just eat whatever our family made for us. Now it's much more about individual tastes. People are still a little conservative, but much more experimental. They want to try the food they see on TV. They've traveled more, so they know how different foods are supposed to taste. They're interested in different flavors, and there's lots more diversity in how things are cooked. I can make things now that are more subtle, more seasonal," Yeo says.
But there's more to making great food than just appealing to people's physical senses. "As people eat, there's hunger, yes, but the flavors are also enhanced by knowing more about the food. Food has a history, and understanding it makes it better."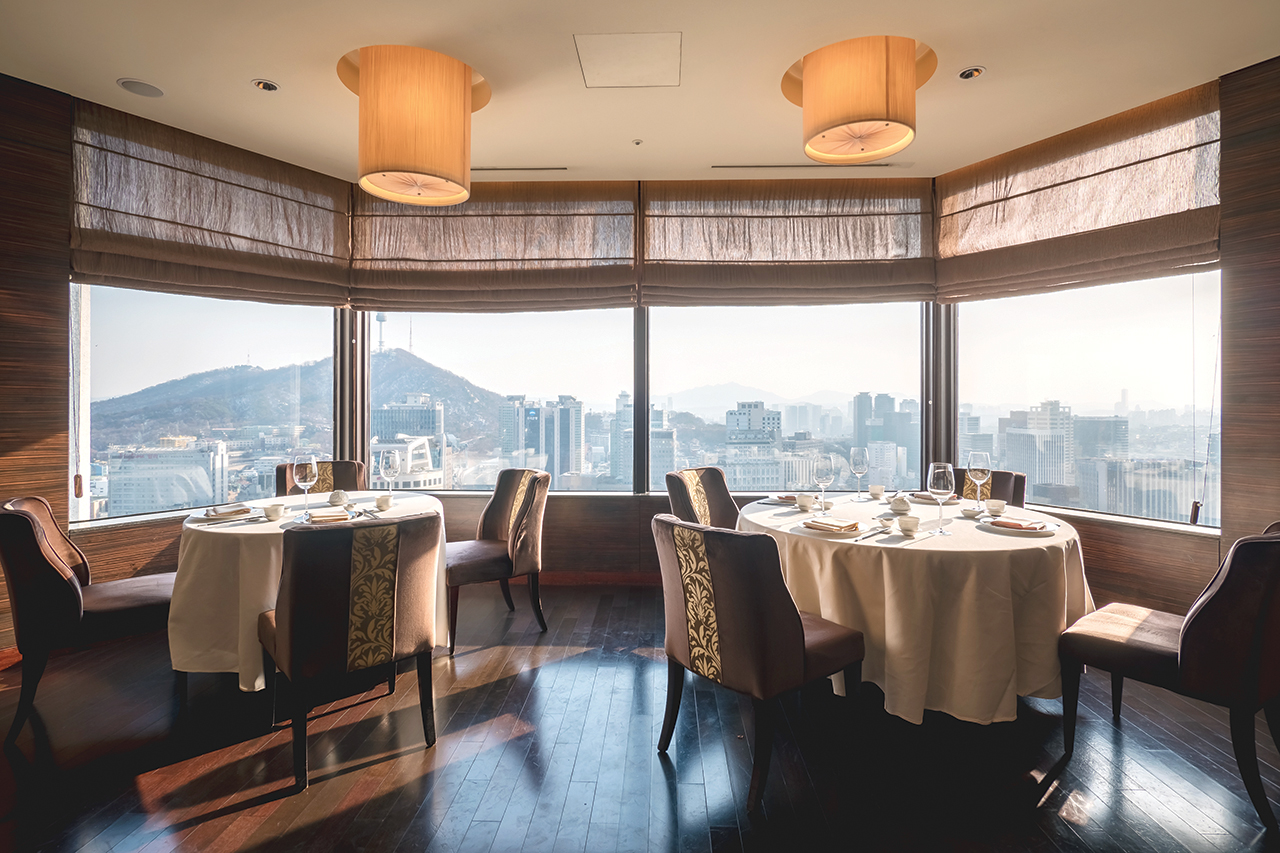 Toh Lim 도림
37F, 30, Eulji-ro, Jung-gu | 02-317-7101/7102
Written by Jennifer Flinn
Photographed by Romain John
https://magazine.seoulselection.com/wp-content/uploads/2018/02/도림-40.jpg
854
1280
rjkoehler
https://magazine.seoulselection.com/wp-content/uploads/2018/01/Seoul-logo.png
rjkoehler
2018-03-29 16:13:35
2018-03-29 16:17:10
Bridging Cultures and Generations