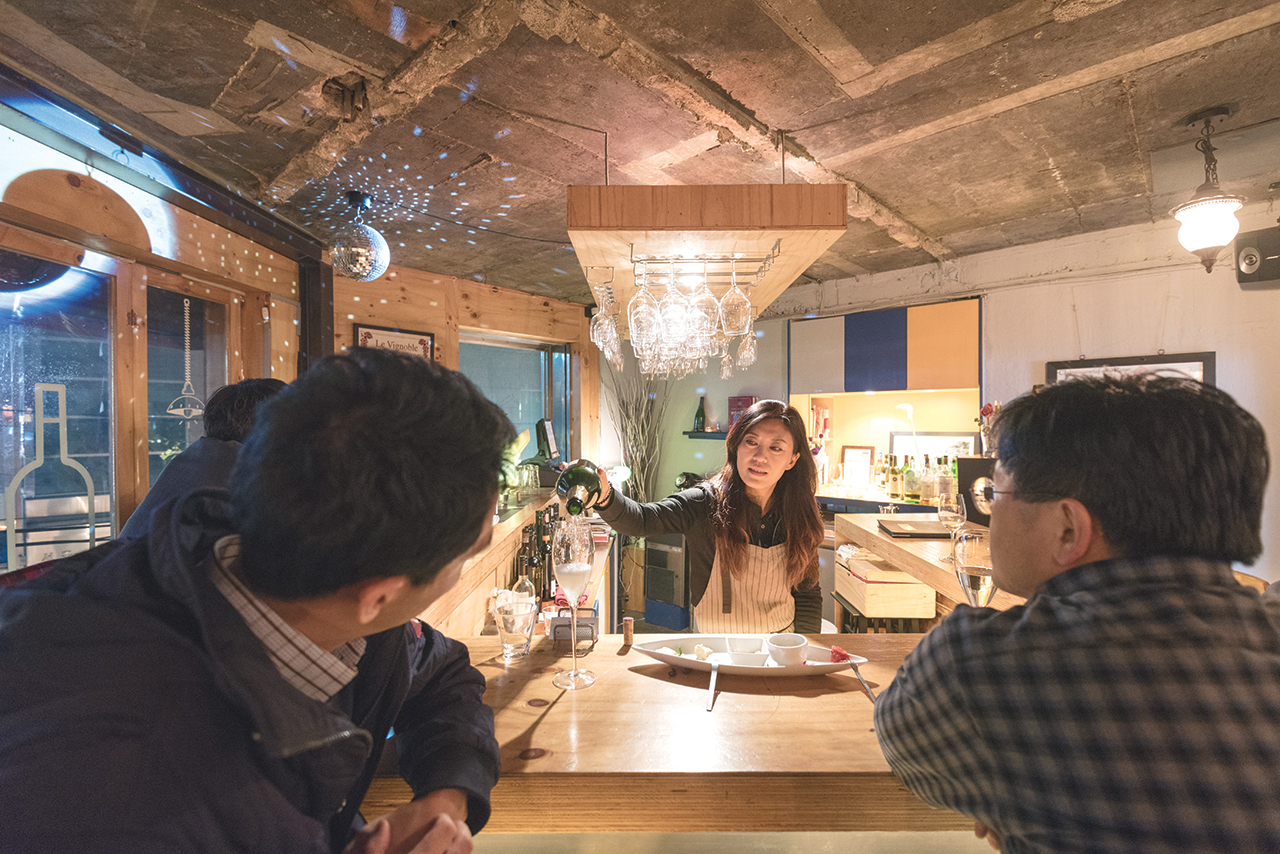 Despite tough times, the city's top wine bars keep the vino flowing
It can be a very sad state of affairs for a wine lover in Seoul. Prices are outrageously high. Particularly if you come from a province (British Columbia) in another country (Canada) where something, somewhere in the process of taxes and markups in provincial government controlled liquor sales results in the highest wine prices in the country, only to arrive in Seoul to find that wine prices are generally about double what they were at home.
How expensive is wine in Seoul? Last year, The Drinks Business, a United Kingdom-based international industry magazine covering spirits, beer and wine, put together a list of the most expensive cities in the world to buy a 750 ml bottle of table wine. Guess who topped the list? Yes, Seoul. Seoul is the most expensive city in the world to buy a bottle of wine.
Why this is the case varies depending on who you ask. Taxes (education, alcohol, VAT), its perception as a luxury drink and low sales that require longer storage time and thus resources are three reasons that come up repeatedly. It's a bit of a Which came first? The chicken or the egg? scenario. Higher prices mean fewer consumers are willing to spend money on wine. But fewer consumers mean those selling wine need to have higher markups to justify the storage of their selections. Blend in the fact that chaebols have taken over a large part of the importing and distribution channels of wine sales in Seoul and you have a wine market that is marked by two extremes available to the wine lover: cheap, entry level wines if bought at your local Emart and Costco, or the most expensive, most well-known wines (usually French). The mid-range band of quality wines, which is normally where you would find the best selection and reasonable prices for good wine, is missing. When available, they are overpriced and difficult to find.
Big sad sigh on the state of wine culture in Seoul, herewith is our roundup of where to drink good wine – the number of places is incredibly small for a city the size of Seoul – and a few tips on where to buy your wine.
Where to Sip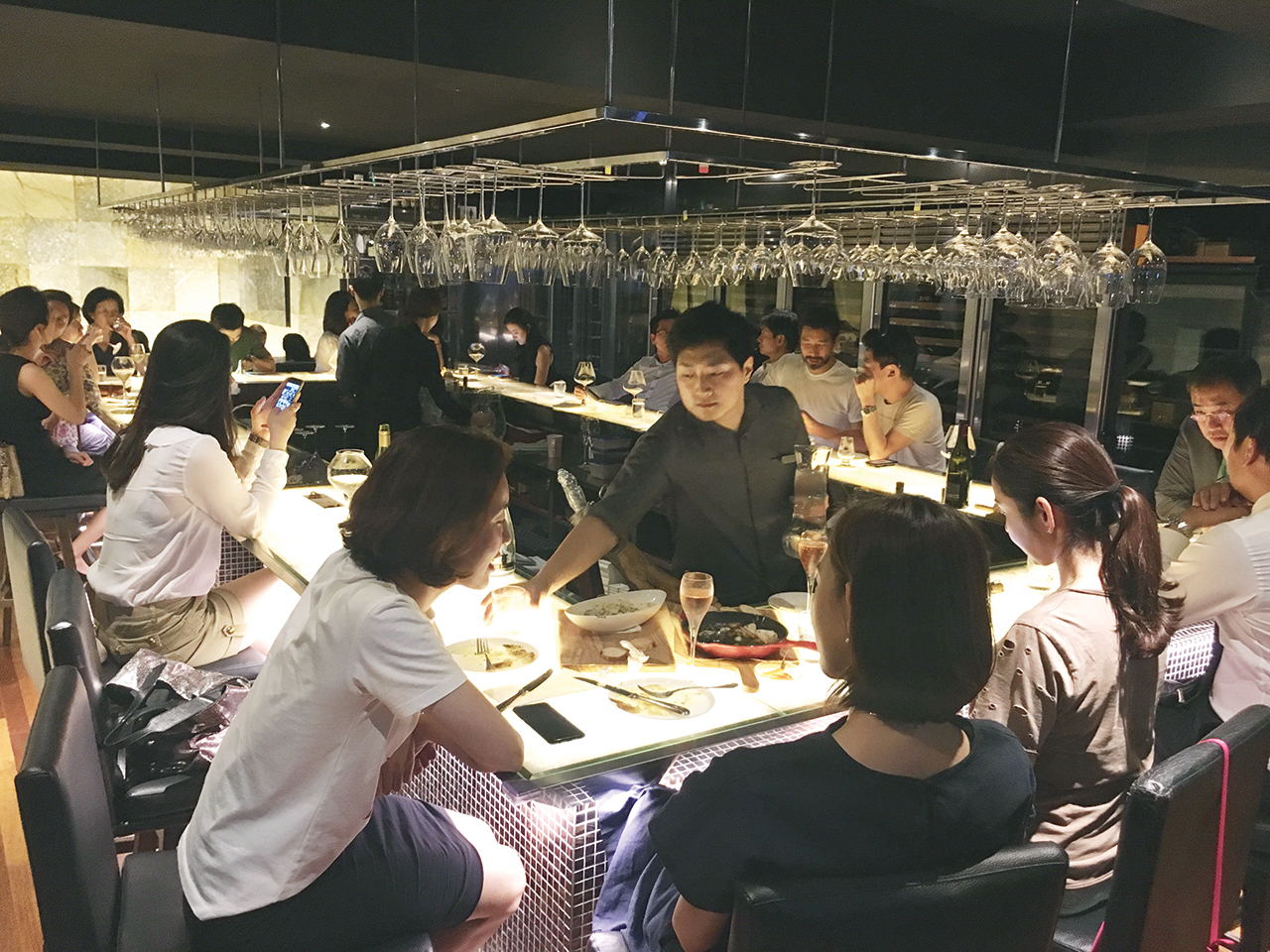 Casa del Vino 까사 델 비노 Cheonam-dong, Apgujeong Rodeo Station
Don't let the posh surroundings fool you in this recently relocated smaller venue. No dress code required, just a love and appreciation for good wine. The longest-running wine bar in the city, this very stylishly designed bar has the largest selection of wines by the bottle and by the glass. Quality starts mid-level and goes up, so prices reflect this. The wine bar also has a food menu comparable to the others listed here in terms of price. Wines are served in proper wine glasses and by properly educated staff, all with at least WSET 3 (Wine and Spirits Education Trust Level 3 Advanced) wine education.
Magnum the Bottle Shop and Tasting Room 매그넘 더 바틀샵  Sinsa-dong, Apgujeong Station
You'll fall in love with this wine bar and wine shop. Thirty-six wines on self-serve wine taps for glasses of 30 ml, 50 ml, 150 ml pours so that you can taste before you commit to a full glass or a bottle. Wines on tap range in quality and thus price – from as little as KRW 2,000 to KRW 30,000. We highly suggest tasting during Happy Hour, which is from opening at 1 p.m. to 7 p.m., when prices are reduced by about 40 percent. The bottle shop doesn't have the largest selection of wine – you might be more impressed by the spirits selection, – but we absolutely loved the Tasting Room, where in addition to wines by the tasting or full glass, there are delicious cheese and charcuterie plates served from 6 p.m. onwards. Alas, the sad state of wine in this city has led owner James Mollini to make a business decision to turn this Tasting Room into a cocktail bar soon-ish as he looks for another location to move the Tasting Room. So take advantage of this beautiful space and the wines on tap while you can.
Hearth Restaurant 할스 Yeoksam-dong, Yeoksam Station
Not a wine bar per se, but an eclectic restaurant owned and run by Korean-Canadian Huck Lee who has such a passion for wine that he offers a nice selection by the bottle and several entry-level wines by the glass. Food is delicious and reasonably priced with a variety of pastas and other foods that are hard to place under one genre – call it Canadian! With an imported oven from Germany, bread is also baked in-house, and the ciabiatta alone is worth stopping by for. Matching the welcoming and relaxed ambience, Huck is also a warm and friendly host.
Sideway Wine Bistro 사이드웨이 와인 비스트로 Yeoksam-dong, Gangnam Station
Dimly lit but with music blasting – like the kind blasted at clothing stores – this wine bistro has a selection of wines by the bottle and a delicious food menu. Only one red and one white by the glass at above entry-level quality, so the price per glass (KRW 14,500) reflects the higher quality of wine. Wines by the bottle range from entry to mid-level and, of course, a few higher-end wines. If you don't mind the loud music, or if you want to feel like you're young and hip, worth a visit for the food and wine.
Fox Wine Bistro 포도먹는여우 Seogyo-dong, Sangsu Station
This is probably the coziest wine bar of all and the only one located north of the Han River among our recommendations. On the second floor with a view of the streets in Hongdae, it offers only an entry level white and red by the glass, but a very nice selection of wines by the bottle and a food menu. Owner Suyeon Lee has also recently started a kimchi tasting menu, with a kimchi jjim paired with wine. We know kimchi and wine is a most difficult pairing from personal experience, but Lee says the kimchi jjim and wine pairing is beautiful. We look forward to stopping by again to try it.
Where to Buy
Wine prices for the consumer can be very inconsistent as prices are negotiated by volume through each step from importer to wholesaler to retail and restaurants, rather than set by any government body. This means when buying wine, you'll get the best prices at the larger department stores that can buy in volume. Emart and Costco will provide the cheapest wines at the cheapest prices, but we liked Shinsaegae in Myeongdong for its French wine selection. Outside the actual shop are wines on sale, which are also inconsistently priced. We've found a classed Bordeaux on sale for less than a mid-level Sauvignon Blanc from New Zealand, for example, at the Hyundai Department store in Sinchon. Smaller shops and restaurants that buy in smaller volumes can find that their wholesale price at which they buy their wines can sometimes be higher than what's on offer at larger retail stores.
Cave Wine (꺄브와인 & etc) Yeoksam Station
A beautiful, smaller wine shop with a nice selection of mid- to high quality wines (and corresponding prices) on the first floor, and a wine bar with a food menu on the second floor.
Written by Gloria J. Chang
Photographed by Robert Koehler
https://magazine.seoulselection.com/wp-content/uploads/2018/01/DSC_0524-.jpg
854
1280
rjkoehler
https://magazine.seoulselection.com/wp-content/uploads/2018/01/Seoul-logo.png
rjkoehler
2018-02-13 15:47:42
2018-02-13 15:51:35
Wine Endures