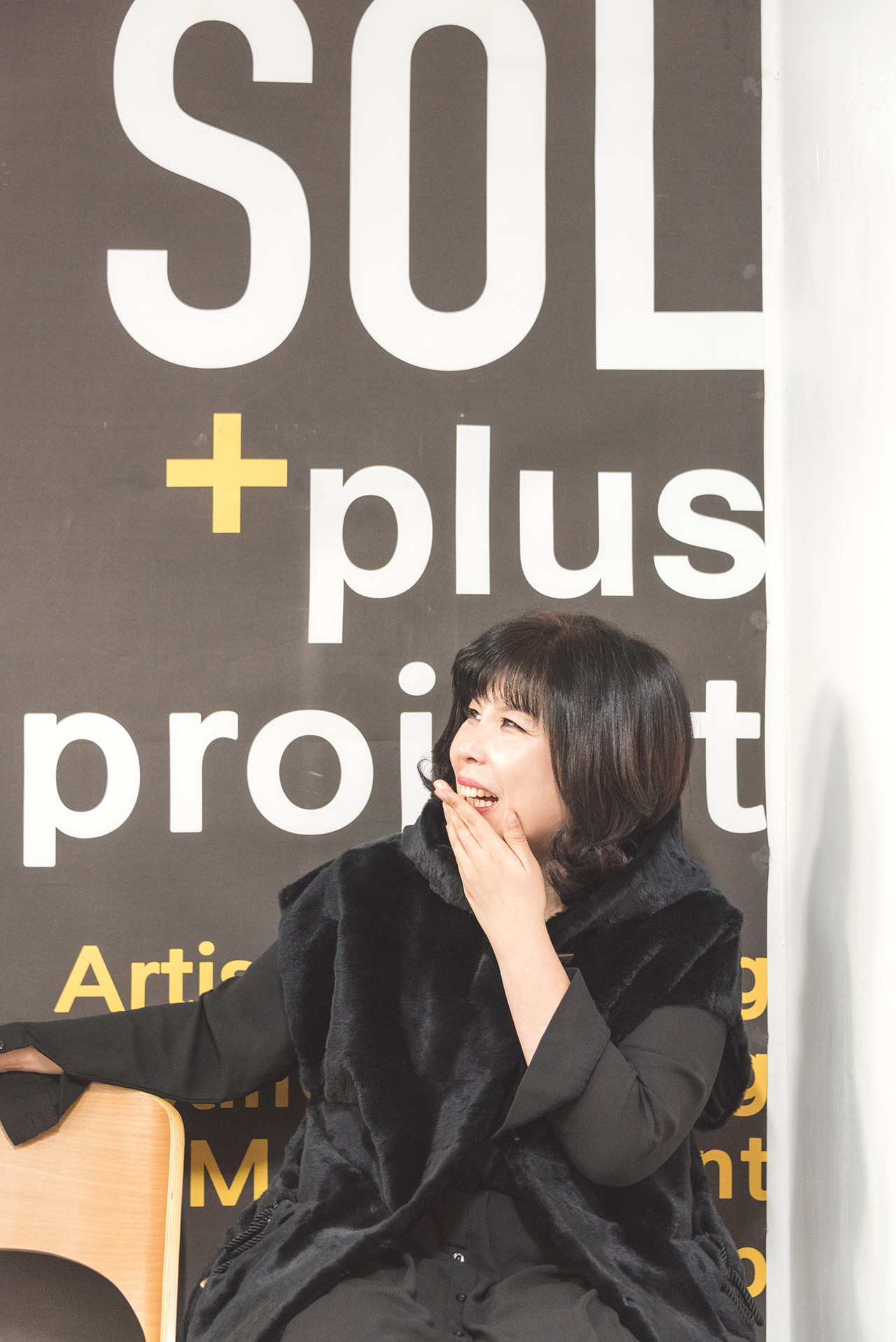 Lee Sol-lim of studio SOL +plus project is not just an idol scout. She's an educator
Despite its location in the Apgujeong, an upmarket ward in the north of Gangnam District, the offices of SOL +plus project are rather unassuming. Hidden behind a generic, cutesy patbingsu café on the third floor of an elevator-less building, this small space houses miniature rooms designed for dance practice, piano playing, vocal training, and single-person karaoke rooms. In each room and corridor one can see young Koreans going through dance routines, warming up, playing old crooner-pop songs again and again, with dedication and focus. The unprecedented postponement of the university entrance exam has given some a free day to practice and perfect their chosen craft.
There is very little flash here. Not only at odds with the neighborhood around it, the SOL +plus project studio is also a far jump from the shiny, spot-perfect version presented at the end of the K-pop factory line on weekly local TV shows such as "Inkigayo" and "Music Bank," and now also around the world.
Lee Sol-lim is equally unassuming. For over 12 years she worked at S.M. Entertainment's academy division, discovering and guiding some of the most well-known performers in K-pop such as Kim Tae-yeon of Girls' Generation, Lee Jin-ki (Onew) of Shinee, and Lee Sung-yeol of Infinite – names and groups that are second nature to Hallyu fans around the world. After majoring in media communication from Sookmyung Women's University Lee's love of J-pop idols took her to Japan. There she learned how to organize and run music events before crossing back over to Korea, where she did the same at Seoulland. Lee formed ties with people from diverse companies in the country. Her skills as a planner and events organizer eventually brought her to S.M. Entertainment as a talent scout, working with young hopefuls. "I never wanted to be an idol myself, but I did love the music of SoBangCha, H.O.T, and J-pop idols. Now I am more of a teacher."
K-pop with a social conscience
Her passion shows when she talks about finding and encouraging young, talented children. In her heart she is not simply an idol scout but instead an educator and a guide, helping her students to be good and socially conscious members of a wider world. "K-pop life is not easy. A lot of effort goes into this industry. Many people have asked me to focus on making money, but I want to contribute to society and help young children."
SOL +plus project regularly sends young groups to play and volunteer at community events in lower income neighborhoods, retirement homes and orphanages. Lee asks the parents of her students to bring food, especially rice, that can be donated in place of the bouquet of flowers they might normally bring to a concert for their children. This is one of the main goals at SOL +plus project, teaching her students to be good, socially conscious people who actively engage with the world around them. This is clearly as vital to Lee as finding the next K-pop idol.
Whereas S.M., a massive conglomerate, is focused on finding the next big idol, SOL+plus project affords Lee the chance to take on smaller groups of youngsters, for four months at a time. She interviews each applicant to gauge what ambition they have. Are they simply interested in K-pop for easy fame and fortune or do they have real enthusiasm for the talents they believe they have? If so, Lee wants to give them a chance. Whereas a parent might actively discourage their child from pursuing a pop career, Lee looks for those with the passion for music. This was the situation when she first met Kim Tae-yeon, "Her father asked us to dissuade her, but after talking to Tae-yeon separately I could see she loved the music. I asked her father to let us give her a chance." Of course, Lee acknowledges that "making it" is not just down to ambition and talent. Luck plays a sizable role too.
A large industry
Unlike pop industries in the U.S. or the U.K. where the manufactured nature of pop music has traditionally been hidden from those consuming it, young K-pop fans are much more knowledgeable about what goes on behind the scenes, what jobs there are to aspire to and even the different styles attached to the various entertainment companies. "Nowadays, K-pop isn't just the idols, and children don't just dream of becoming singers and dancers," she says. "There are diverse roles to be filled in the industry, and finding the next generation of songwriters, organizers and managers is one of the main aims of Sol +plus project."
Lee sees her company as a K-pop industry academy rather than a K-pop star academy, and with her long list of contacts she can connect her students to the larger entertainment companies in a very practical way.
Lee tells us she and her trainers go through all aspects of a performance with their students. What does the light director do, who is the sound engineer, how does the schedule get made and so on. This, she points out, is very unlike S.M. Entertainment, who would see those questions as superfluous. But in an expanding and increasingly global industry like K-pop, there are many diverse roles to be filled, and this practical knowledge will help those children potentially gain employment in the future.
K-pop and the world
Lee's time spent in one of the largest entertainment companies in Korea shows when she talks about K-pop and the Hallyu wave of Korean culture that has spread out to many Southeast Asian countries. "K-pop contributes to the power of Korea as a brand internationally. It is the most important part of a larger representation of Korea on the world stage." For Lee, K-pop is not a true representation of Korea, but she is excited to see that through it people around the world are learning Korean, becoming interested in Korean culture and history and trying Korean dishes. Through the window of K-pop, fans are motivated to come to Korea and to spend time and money here. For a small nation, the positive impact on the economy has been tremendous, bolstering Korea's GDP year on year.
Lee's SOL +plus project also takes advantage of this by offering K-pop camps to groups of fans and hopefuls from other nations including China, Japan, Taiwan and the Philippines. SOL +plus global brings these international fans together with well-regarded idol trainers, and they come and learn in the same manner that Korean youngsters do. At the same time, Lee is keeping an eye out for new talents from other countries. Perhaps this could be seen as opportunistic, but for the earnest fans of K-pop, the chance to come to Korea, to work with people such as Lee and to explore the streets of Seoul must be an unrivaled joy. "No matter the background I want to give a chance to everybody. The children coming here are ambitious, so SOL +plus project gives them a chance." This is something that S.M. Entertainment could not, or perhaps would not, offer.
As we go to leave SOL +plus project's studio, we see a high school student practicing piano on his own, slowly transcribing an old folk hit onto the instrument. He stops and politely introduces himself and tells us he wants to be a songwriter. As soon as we say goodbye he gets straight back to the piano again. "I like being around young people. They have a lot of ambition and that gives me energy to help them. Not just to be idols but to be good people and to contribute to society."
SOL +plus project: www.solplusproject.com
Facebook: www.facebook.com/solplusproject
Written by Ali Safavi
Photographed by Robert Koehler
https://magazine.seoulselection.com/wp-content/uploads/2018/01/DSC_0681.jpg
1917
1280
cyn
https://magazine.seoulselection.com/wp-content/uploads/2018/01/Seoul-logo.png
cyn
2018-01-10 11:27:59
2018-01-10 11:27:59
K-pop With a Social Conscience