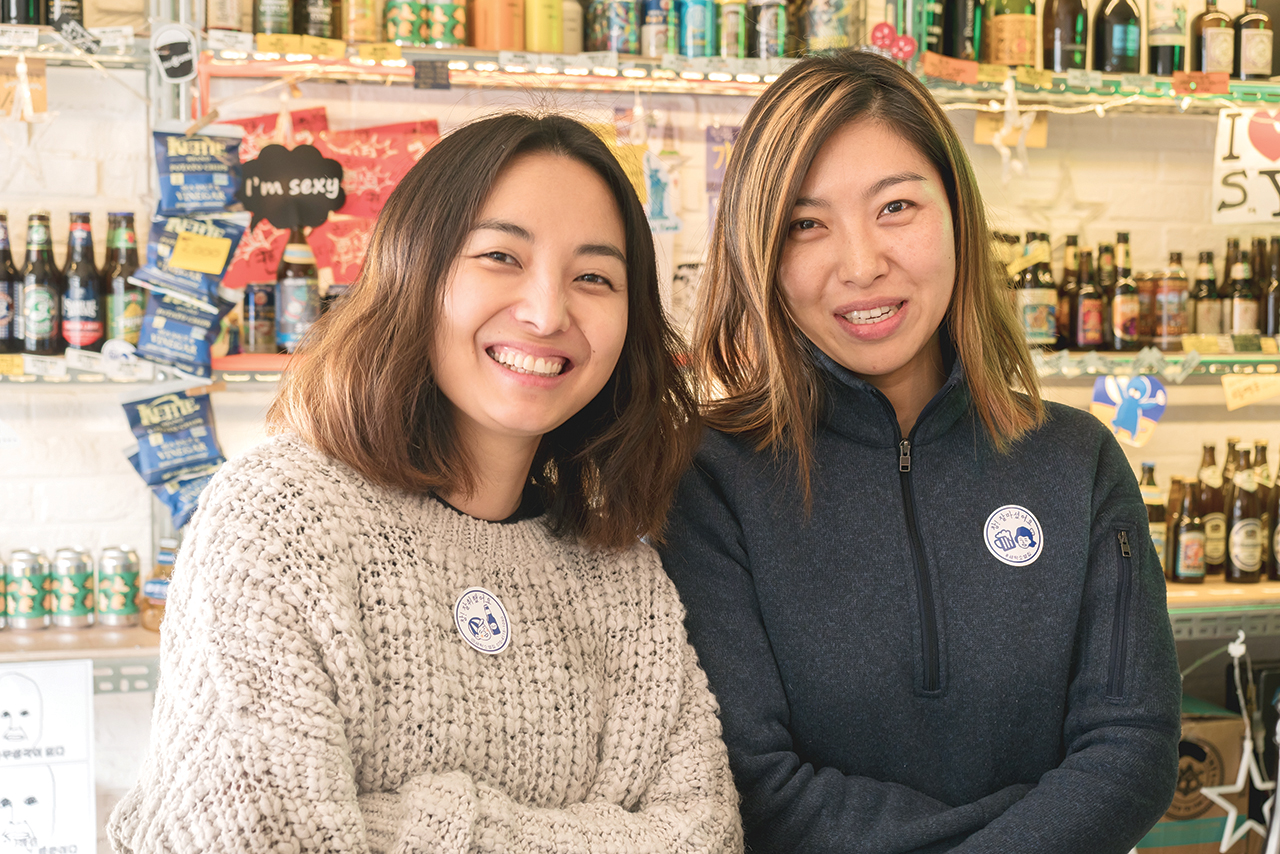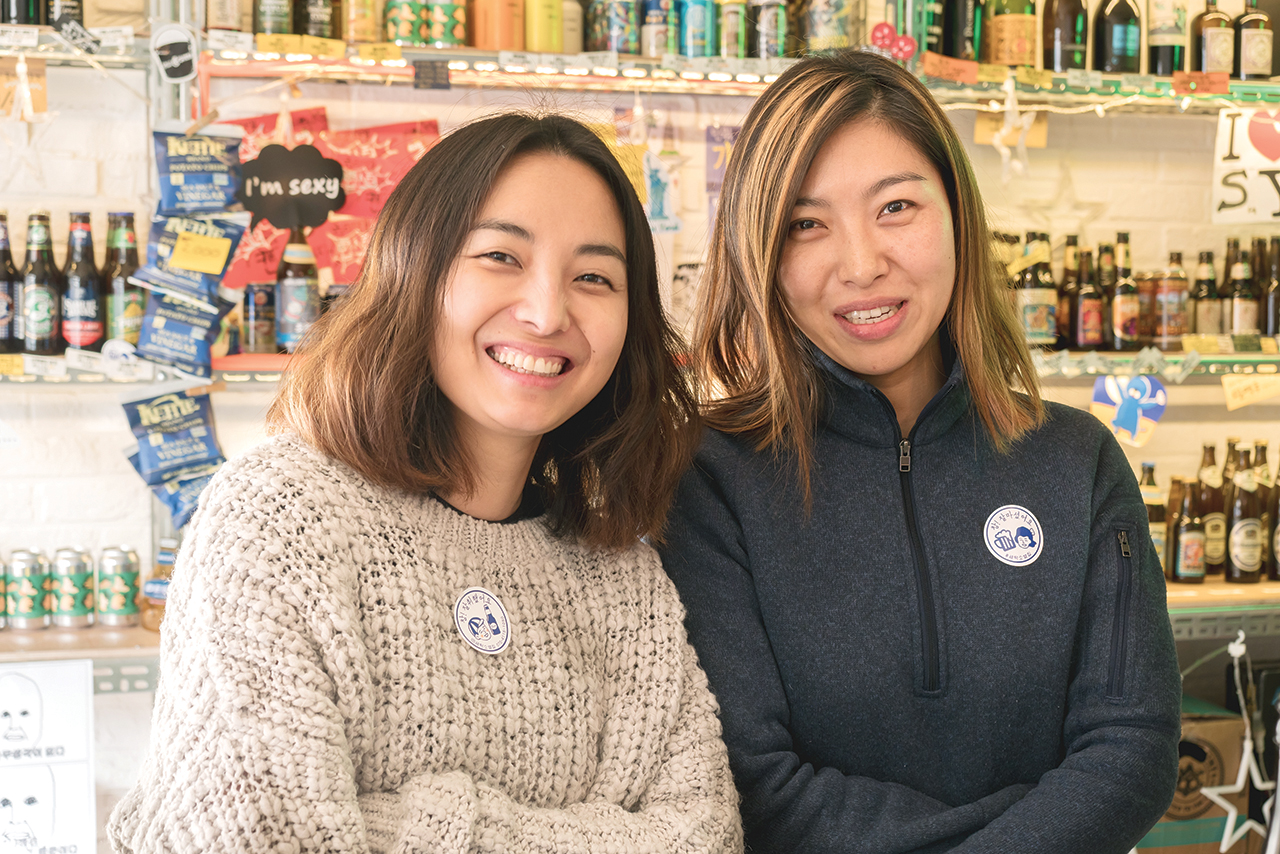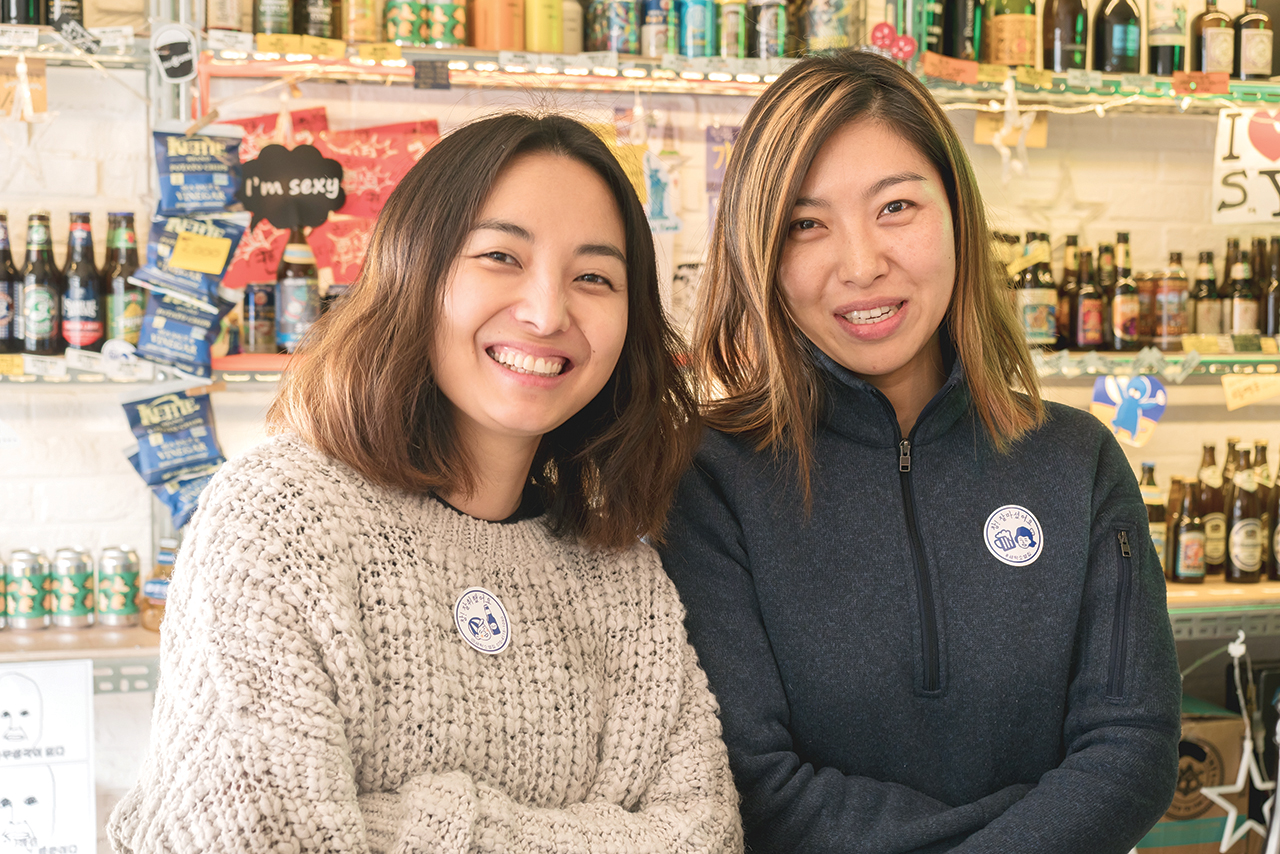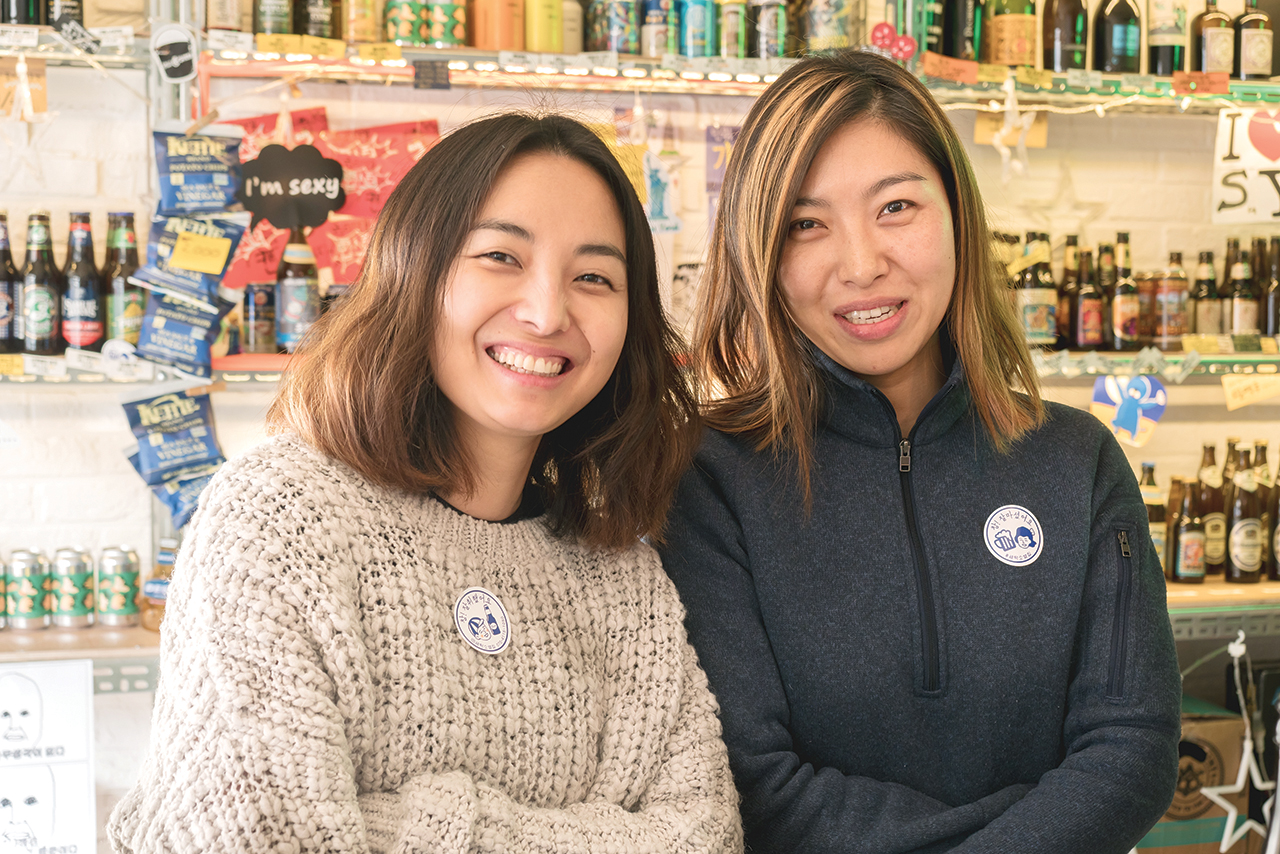 Geumho-dong's Setakso Yeopjip isn't your average neighborhood bottle shop
Beer, beer and more beer bottles line the walls of Setakso Yeopjip ("Next to the Laundry Shop"), along with colorful handmade signs, a chalkboard with the names of local DJs, a disco ball and a projector screen. Industrial and filled with the handmade art of its owners, the tiny store is an unexpectedly hip neighbor in an area still filled with old neighborhood businesses and towering apartment complexes, not to mention the dry cleaner next door that helped give the store its name. Even the sign above the bottle shop is a gentle, loving parody, featuring a smiling cartoon woman that visually nods to the signboard of the chain laundry beside it.
The owners, Kyung Min Kim and Yoonmin Cho, smile almost as much as their winsome logo, both filled with an infectious enthusiasm for their new venture. While both have day jobs working in the tech and venture capital industry, a love of beer and a superior sense of fun brought them together to create their own side jobs operating a bottle shop in the evenings.
These "beer supermarkets" have been popping up all over Seoul, turning small spaces into miniature specialty beer vendors selling collections of bottled beers from both domestic craft breweries and interesting imports. Minimalist and sometimes quirky, they've spread all over Seoul, but few of them display the kind of verve that Setakso Yeopjip does.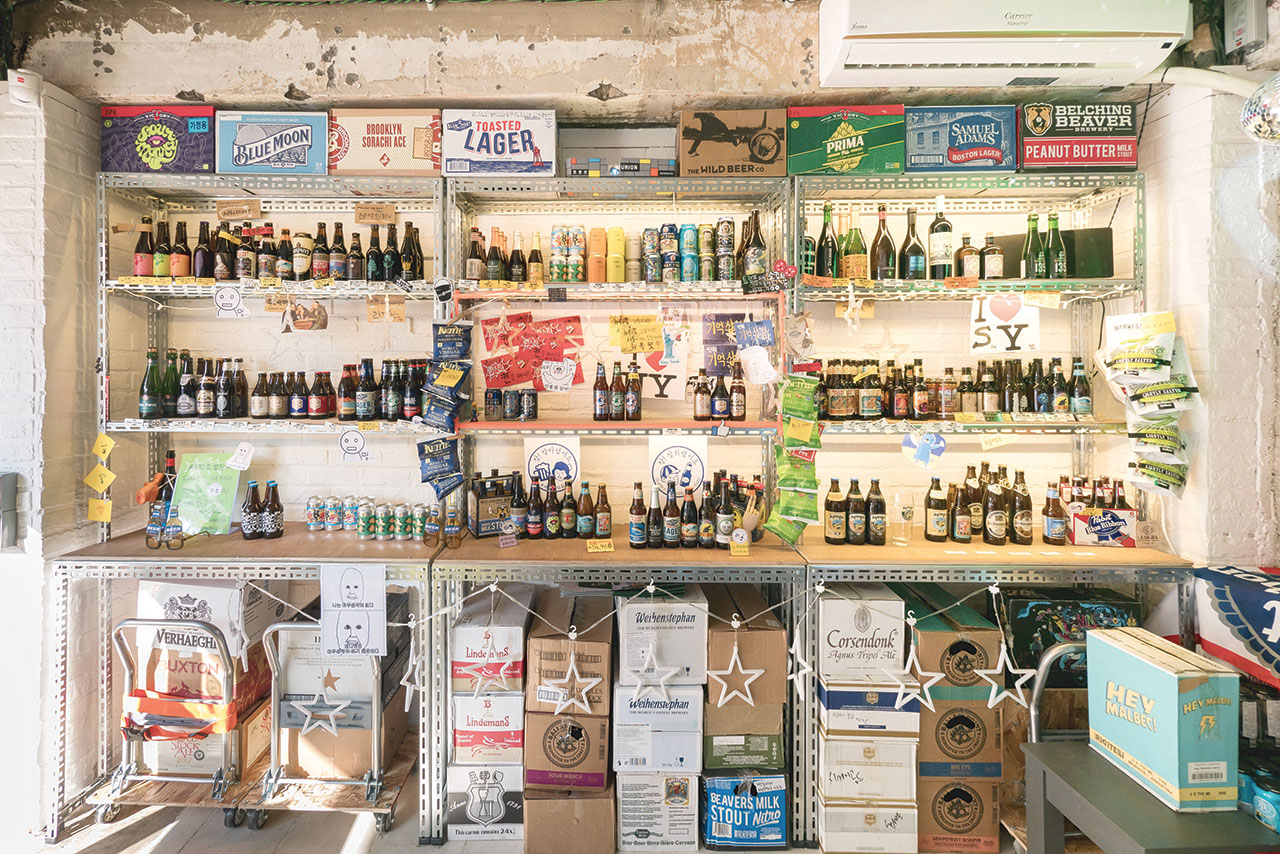 A serious obsession for a side job
According to Kim, "At the beginning, we thought we'd do it just at night as a side job. I like working creatively and using that energy to do things. My day job is helping start ups, so I wanted to do something simple and build a community."
The two have long been aficionados of beer, but Korea's beer scene has only recently taken off, and for years the women struggled to get the beers they wanted: "We both like sour beer a lot, but we couldn't find any here. I found a website that had a kind I liked, but it was in Denmark. I had it shipped over here," says Cho.
Although Setakso Yeopjip has only been open a few months, it's already turning into a wildly charming neighborhood landmark. Work colleagues, curious locals and residents from the forest of apartments across the street are constantly popping inside to take a look and have a chat.
"Lots of our partners in our other work live around here, but they're married and maybe have kids and families and babies,"explains Cho. "There's nowhere to drink or hang out. This way, all the folks around here can swing by our little beer supermarket and get something to take home. It's a great way for people around here to have some fun. It's mostly just these big apartments, so there's not much nightlife otherwise. We like to think of ourselves as the pioneers of 'Geumlidan Road,'" riffing on the name of Gyeonglidan, a nearby hotspot.

More than just a bottle shop
To make the shop more interesting, Kim and Cho have turned the bottle shop into a mini event space, with tastings, dancing, classes and parties. A chalkboard bears the names of amature DJs who played at a recent party, while another one by the register lets patrons request new beers.
"We select our beers based on what we like. We really like good design, so if it has a cool label we love to check it out, but of course its taste also has to be good. Because of our small size, we can't compete with department stores or other major importers on price, but instead we concentrate on getting unique beers that you won't find other places. When we're confident in what we drink, we sell it," says Kim.
"If you come into our store, we won't start off by asking you about styles of beer but with what kind of flavors you like," Cho says, elaborating on their process of helping people find beer. "Maybe you want to start off with something sweet, or you need a good story. If you like Hoegarden but want to expand into something new, we'll find you a wheat beer you've never tried before or a Belgian ale. If you're matching it with food, we might steer you towards a Spanish beer. It's very personal service. We've tried every beer here, from the barrel aged beers to artisan ales from small breweries to limited editions."
The true meaning of beer
Kim expanded, "For us, the best thing is that everyone can try the beers and express themselves. It's so interesting to see how different people drink and think, so we love to hear the opinions of our customers. It creates a community, a relationship."
They laugh some more, and add, "For us, this is 'maekmong' – beer (maek) meditation (mong).  We should meditate a lot!"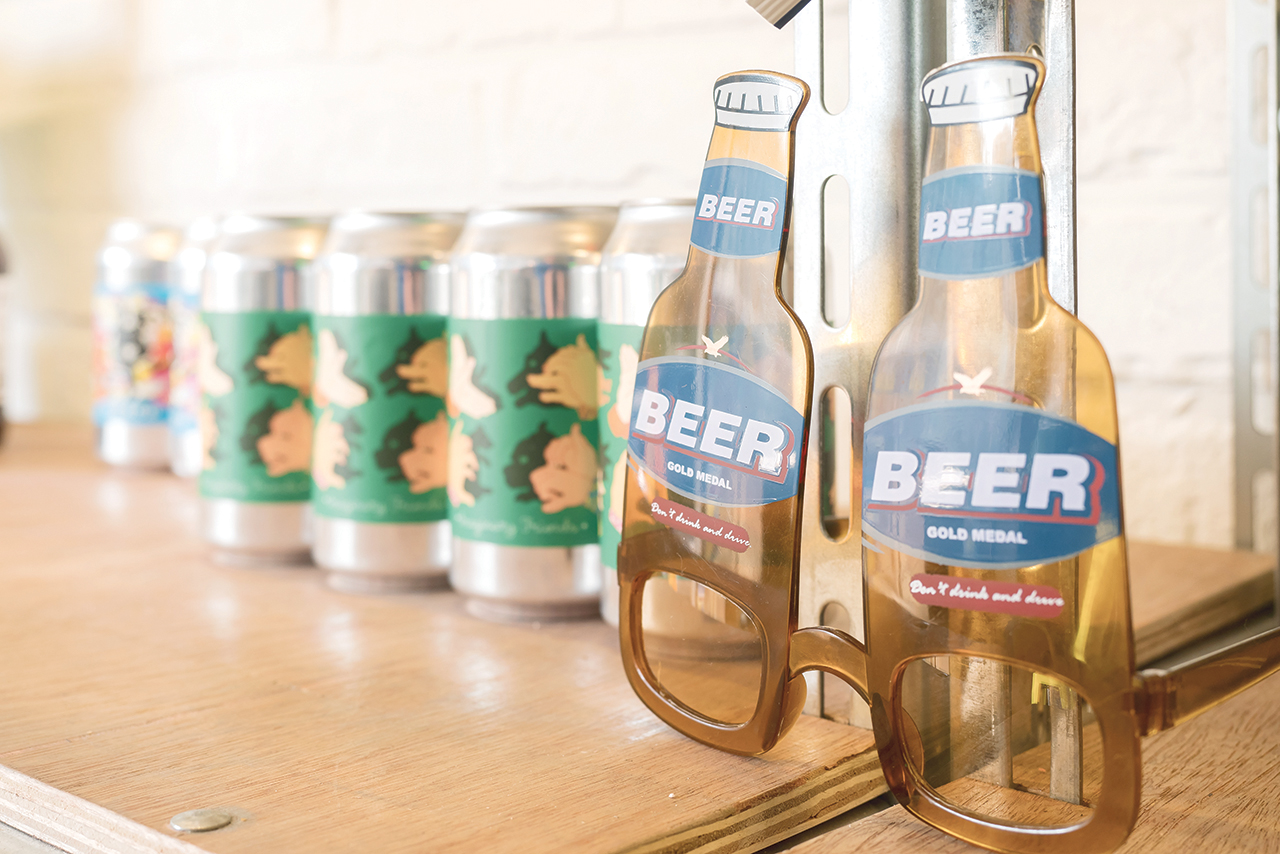 More Info.
Setakso Yeopjip 세탁소 옆집
80-1 Geumho-ro, Seongdong-gu
070-4115-1050 | Instagram: @next_to_laundryshop
Facebook: www.facebook.com/pg/nexttolaundryshop
Written by Jennifer Flinn
Photographed by Romain John
https://magazine.seoulselection.com/wp-content/uploads/2018/01/세탁소옆집-38.jpg
854
1280
rjkoehler
https://magazine.seoulselection.com/wp-content/uploads/2018/01/Seoul-logo.png
rjkoehler
2018-01-10 14:01:01
2018-02-13 15:39:24
Hip Beer in an Unexpected Location