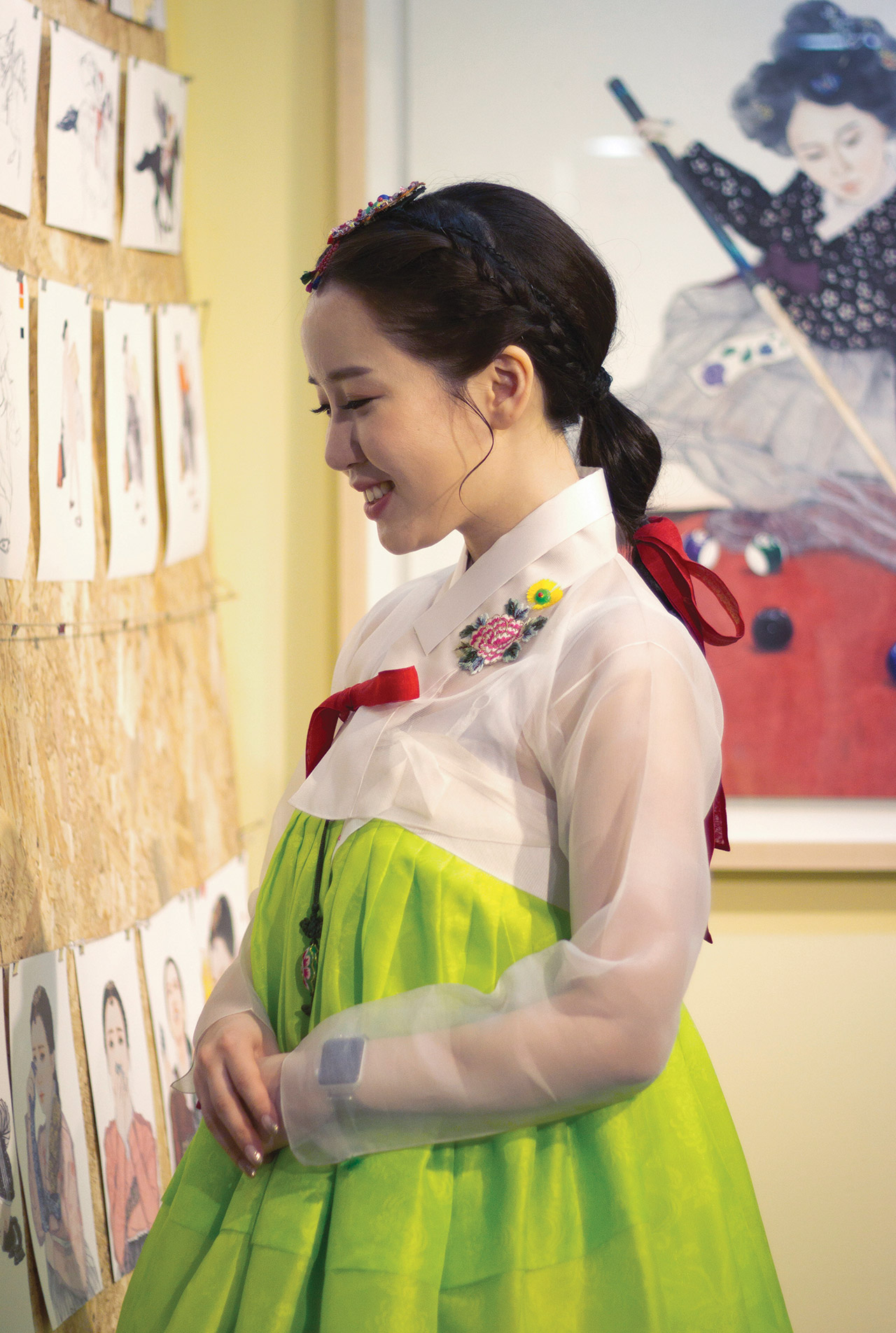 Artist Kim Hyun Jung is not your typical Korean artist behind a hanbok
Kim Hyun Jung is a breath of fresh air in the traditional Korean art scene. Few could picture a woman dressed in Korea's traditional dress, or hanbok, eating junk food or riding a motorcycle. These incongruous scenes unfold day in and day out in Kim's drawings. She humorously defies convention by placing women clad in hanbok in absurdly contemporary situations. These daring rebellions, far from offensive, are quite charming. The artist's quirky, pop art-esque style brings a smile to the face of the viewer.
A pop star in the Korean art scene, Kim breaks records wherever she exhibits her work while staying true to her 21st century femininity. Her 2014 solo exhibition at the Insa Art Center, "Feign Olympics," drew over 24,000 people in just ten days, an attendance record for the venue. The following year, she was the youngest artist featured in a special exhibit of Korean paintings at the Museum of Modern and Contemporary Art of Korea. In 2016, she was invited by the Metropolitan Museum of Art in New York for a solo exhibition. Earlier this year, she held another local exhibition, "Feign Amusement Park," which drew over 67,000 people.
Kim was recently selected by Forbes as one of its "30 under 30" in Asia. The magazine praised her as an artist who "defies convention with her Korean-influenced artwork."
Birth of Naesoong series
Even as a child, Kim was a traditional Korean artist in the making. "I've always loved the hanbok," she says. "Since I was young, I've loved its vibrant colors and fabric, as well as its traditional accessories."
She has been drawing from a very young age, too. "I loved imitating my older sister," she says. "She studied art as well. So naturally I started drawing when I was five, and went to art-focused middle and high schools."
Ultimately, she attended Seoul National University, majoring in Eastern painting. Her college years were foundational in forming her personal and artistic identity. "When I was 20, social relationships often left me in despair," she recalls. "I especially struggled with people's rash assumptions about me."
This painful time of depression inspired her signature drawing series, "Naesoong," which translates to "Feign." Naesoong is a deceptive attitude: docile on the outside, but sly and cunning inside. She initially began the series to capture observations of people in her life who exhibited this behavior. As she drew, however, she realized that her observations reflected herself.
Since then, she has drawn herself wearing the hanbok in a variety of modern life scenarios. The stereotypically ideal woman in hanbok is coy and docile. Not so in Kim's drawings, however. The drawing "Feign: You Move Me," for example, portrays a woman riding a McDonald's delivery motorcycle with her skirt running up her knees. In "Feign: Oops," a woman looks in distress at her ruined designer bag, stained by coffee from a spilt Starbucks cup. Unfortunately, she is eating instant noodles, and so cannot move the bag.
Likewise, notions of expectations and reality for Korean women are challenged through her work. "One of my motives for this series is to shake up the paradigm that we unconsciously consider unquestionable," she says. "While the standards we evaluate and judge can provide stability, they can also destroy unique, individual qualities."
Despite the modern play on traditional imagery, Kim applies Eastern painting techniques to her drawings. She photographs her figure for reference, sketches it on traditional Korean paper, or hanji, and repeats the rigorous process of collaging paper and layering Korean traditional ink for vibrant results. Each piece requires around 10 hours per day for over a month. As Kim's drawings are self-portraits, her inspiration naturally comes from her daily life. "My ideas come from my life experiences," she says. "I realize that life is not a repetition of groundbreaking events. Rather, it's a series of mundane occurrences that occasionally result in humorous episodes. I discover dynamic perspectives by observing differently and create through new approaches."
A communicating artist
Kim is also famous for her social media following. With over 19,000 followers on Instagram, she regularly posts about her art, life and upcoming events.
Realizing the importance of communication early, she set herself up to be communicating artist, double majoring in business management. Her unconventional education stemmed from her interest in both the commercial and public aspects of art. "I saw a close relationship between business and art marketing," she says. "I thought about how to minimize the perceived distance between the public and art, and realized finding humor in daily life and applying it to my work could be a solution. Studying business influenced my work in many ways." During this time, she adopted the vision of communicating with the public through art.
In addition to social media, Kim gives lectures and hosts workshops for corporations and educational institutions. She hopes to eventually start a genre called "social drawing," in which artists and the public can talk about art through social media, even creating art together. This could be an opportunity to not only collaborate, but also for people to create their own artwork.
Her active social media presence and offline interactions with the public stem from her artistic vision. "I want to become an artist that scratches people's itches," she says. "Artists should express the problems in society that people themselves are unable to express freely, despite being impacted by them. I don't want to become consumed by my own world, but continuously observe and communicate with the world around me."
Through her works, she also hopes to encourage aspiring artists, especially women, to dream. "In college, I thought about the limitations of the Korean art scene for young artists," she says. "I envisioned an ideal society where aspiring artists could work freely without worrying about financial stability."
She recognized, though, the importance for people to take risks to see their dreams become a reality. "I'm still learning, but I realize that never trying out of fear of failure is something to be embarrassed about," she says. "This moment will not return, and I want to encourage young people to work hard and take risks in the present."
[separator type="thin"]
More Info
Homepage: www.kimhyunjung.kr
Blog: blog.naver.com/artistjunga
Facebook: www.facebook.com/artistjunga
Instagram: www.instagram.com/hyunjung_artist
Written and photographed by Diana Park
https://magazine.seoulselection.com/wp-content/uploads/2017/09/KHJ2_3.jpg
1904
1280
cyn
https://magazine.seoulselection.com/wp-content/uploads/2018/01/Seoul-logo.png
cyn
2017-09-05 15:00:29
2017-09-12 14:58:09
Portrait of a Millennial Lady