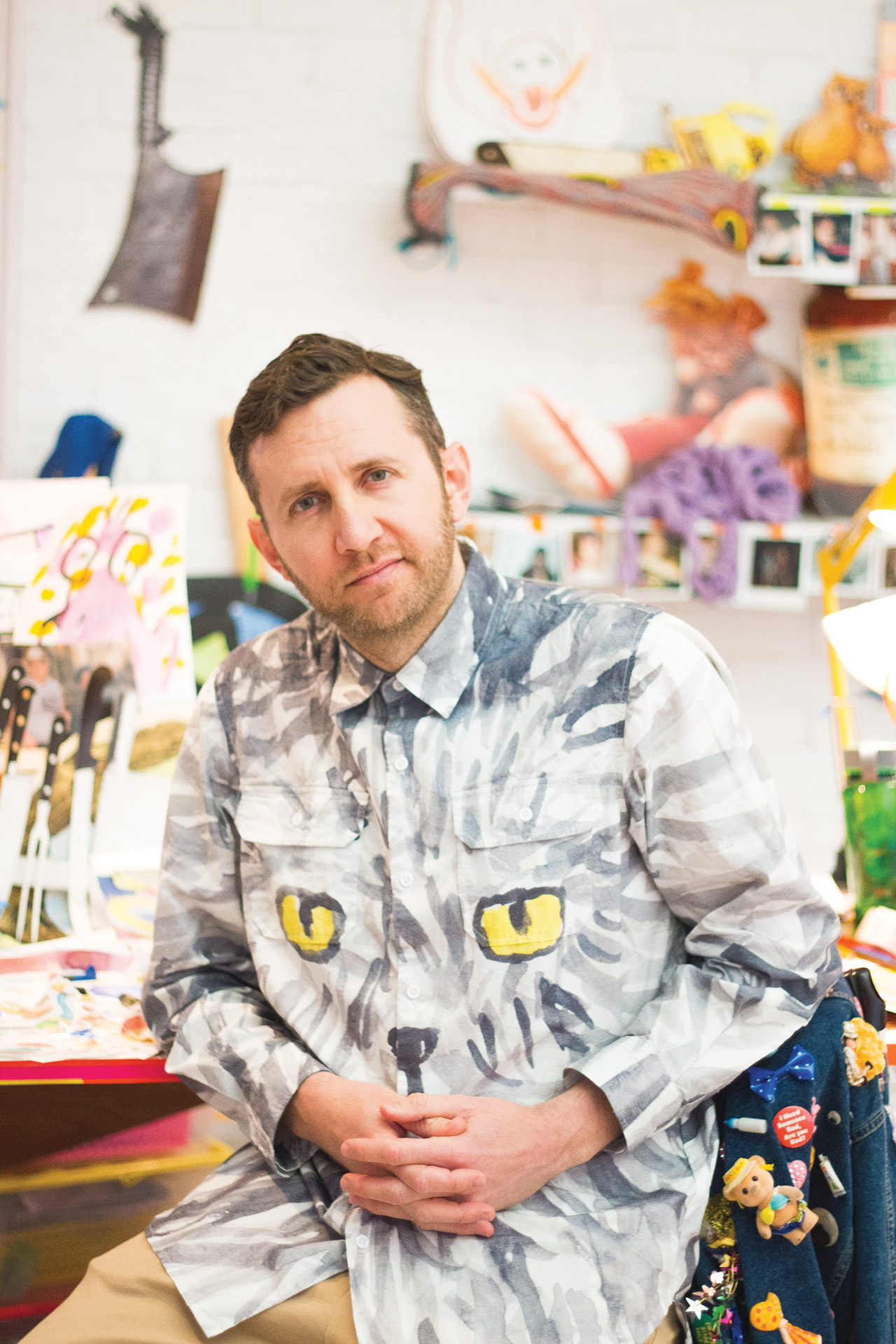 SEOUL speaks with the artist and curator behind the Daelim Museum's new 'The Selby House' exhibition
Selby in Seoul? Drums roll. Glass breaks. Jaws drop. The unlikely combination deserves an award for unexpected chemistry, but also makes perfect sense. The works of a colorful, maximalist American artist-photographer in the vibrant, fast-paced city of Seoul — why not?
The Daelim Museum is hosting Todd Selby's first solo show, "The Selby House," through Oct. 29. The exhibition explores Selby's fantastical world through four stories of photographs, illustrations and large-scale installations. Todd Selby is a photographer and illustrator known for his delightful documentation of the living and working spaces of some of the most influential — and some of the most under-the-radar — creatives around the world. "The Selby House" is divided into six sections that reveal Todd Selby both as an artist and as a man.
After shaking hands with Selby the Photographer and Illustrator, we take in his signature documentation photos from his books "The Selby is In Your Place," "Edible Selby," and "Fashionable Selby." As we move upwards, the exhibition unpacks Selby's personal, intimate side — a side unknown to most of the world — in the most colorful, in-your-face, jam-packed way possible. We travel with him to Los Angeles and San Francisco, take a look around his home and studio, and end up at the fragment of his childhood dream. He is no longer just a distant artist, but a fellow neighbor and friend. We're pulled so close to the world of Todd Selby that the colors bleed into us. Selby sums it up perfectly. "It's my opportunity to invite you into my home, my world."
Daelim Museum's exhibitions have always been refreshing and relevant. With the vision to "bring art in the everyday," the institution is committed to push the boundaries of how art and artists are viewed. Ahn Ju-hui, the chief curator of the exhibition, remarks, "We hope to introduce artists who are not bound by one single medium, but express through many mediums. We thought Selby would be great to introduce as a new type of artist, and we reached out."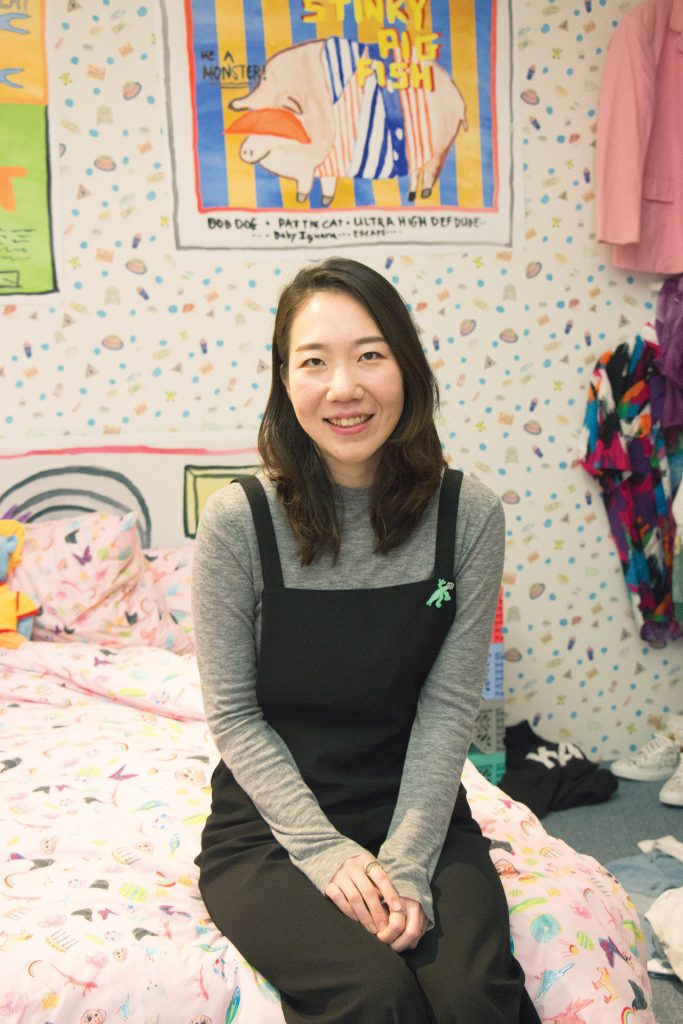 Working against the conventional norms
The moving force behind Selby's multi-media work has always been people. He says, "I've always been fascinated with people, so my work has always been about people. When you visit someone's home, you can learn so much about them, and that's the root of my work." He shares a memory that started it all. "At school, there was a guy who would sit during recess and draw Garfield the Cat over and over again," he recalls. "To me, he was the coolest. I didn't care for the athletes and cheerleaders — but was always for the artist and the outcast. My work continues to be a celebration of the outsider, creator and artist."
Ahn attributed Selby's enthusiasm for people as one of main factors of an enjoyable working process. "In the beginning stages, we put a lot of time and effort into establishing an understanding between the artist and the museum. Bridging the gaps takes a long time and can be strenuous," she says. "Selby, being an active communicator, figured out the personality of our institution and audience during his first visit to Korea. These steps helped so much with communication for the rest of the project."
The preparation, which took nearly two years, included up to 50 emails a day, installation mock-ups, business trips and how-to-install videos personally made by Selby himself. Ahn marveled at Selby's unending bank of ideas. "He has the drive and potential to create anything. He didn't just throw ideas, but followed through with content quality," she explains. "For example, when we gave feedback about a specific illustration piece, he would send back a complete new piece of work. He invested an enormous amount of passion and energy, and we learned a lot as well."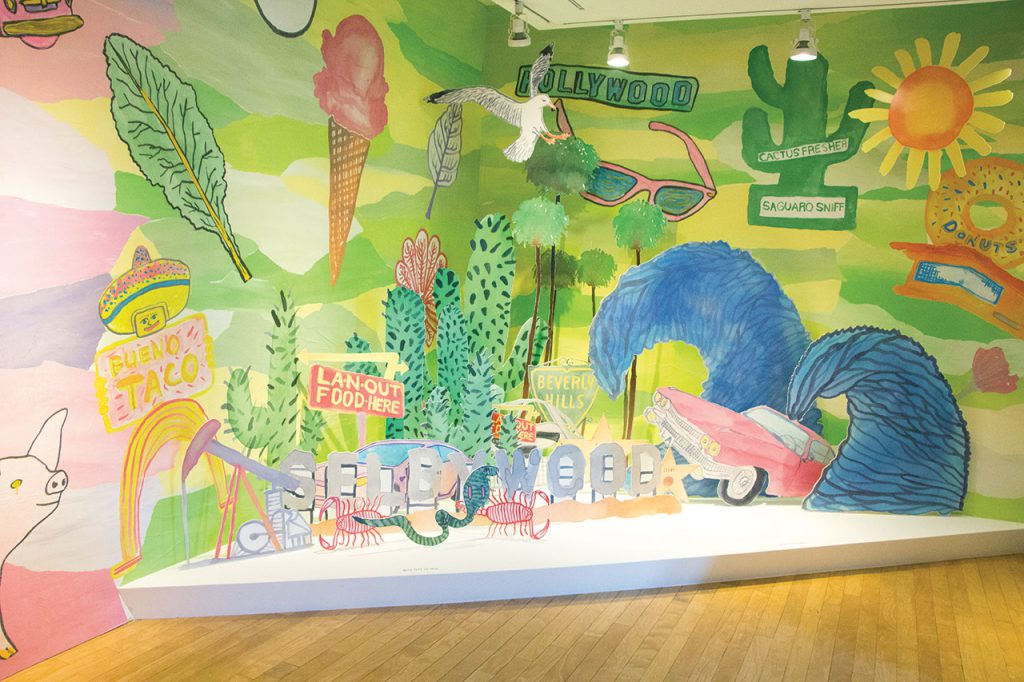 Ahn commented how this attitude may challenge the mindset of some. She observes, "Koreans tend to hesitate before doing something. They think, 'can I do this well?' Even children hesitate when drawing instead of just going for it! Selby's work shows the value of expressing yourself, and his life shows how art can be a resource to express emotions and share thoughts to others." She adds, "His free, confident attitude will inspire Korean audiences, especially adults like myself. A belief that I can do anything. If I make something, it can be art."
Up close and personal
It's not every day that you get to intimately meet a person through their artwork. The "Selby the Neighbor" section, however, does that. By entering Selby's uncensored personal space, we also learn about his personhood.
The museum suggested the idea for the section, believing that a Korean audience would want to know about Selby the Person. What better way than by showing his space? Ahn did have concerns though. She explains, "Placing a replica of an artist studio in a museum is not very interesting, so we combined fictional and real elements to make the space most Selby as possible."
The result was not an imitation of his Los Angeles home, but a merging of spaces he lived in his childhood, college years, 1990s to now. "By the way, I don't live in a house like this," Selby says, laughing. His wife is a minimalist and their home is the perfect array of clean and white, except for his cluttered, messy studio. Ahn adds, "Though his actual room is not maximalist, this section was a way for him to express himself outside of his home."
Laughs, replicas and imitations aside, Selby want the audience to express itself freely by experiencing this space. "I hope you will learn a thing or two through seeing my space," he says. "I also hope seeing a messy environment in a museum space will inspire and encourage the artistic and even messy people out there."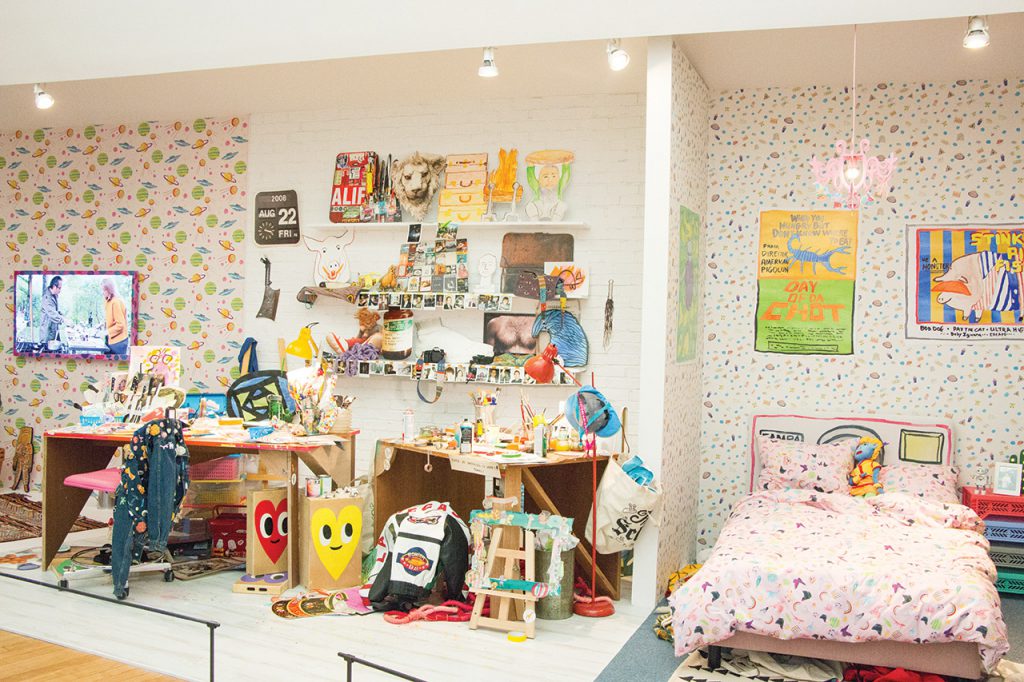 Dreams in working progress
The Selby House is a portal encompassing the past, present and future dreams of the artist, curator and viewers.
For the show, Selby broadened his artistic boundaries to produce the projects he always wanted to do. He says, "I try not to limited myself or put myself in a box. I'm not bound by medium and can freely move between mediums. That's an advantage of not being an expert. I try to stay to true to myself as a creator, but also constantly change, evolve and challenge myself and must give credit to the museum for encouraging me to do so. There is so much work here I haven't done before, like the illustration resin frames in 'Selby the Storyteller' and the jungle room with over 200 sculptures in 'Selby the Dreamer'."
The 3D reinterpretation of his largely 2D body of work was truly phenomenal. It was the result of active communication and support. Ahn explains, "The artist's role is to throw out ideas, and the museum helps the artist bring his vision to life. It was risky since we couldn't see some of the pieces in person until they were shipped to us. But we had trust knowing that we know our space the best and he knows his work the best. In the end, we felt satisfaction from turning his dreams into reality."
Ahn also talked about her favorite section: "I loved the jungle room the most. I loved that he revived a journal entry he wrote as a 13-year-old as someone who is now in his 40s. As an adult in my 30s, I gained inspiration and hope — and though it may seem cheesy, he did see his dream come true in that room."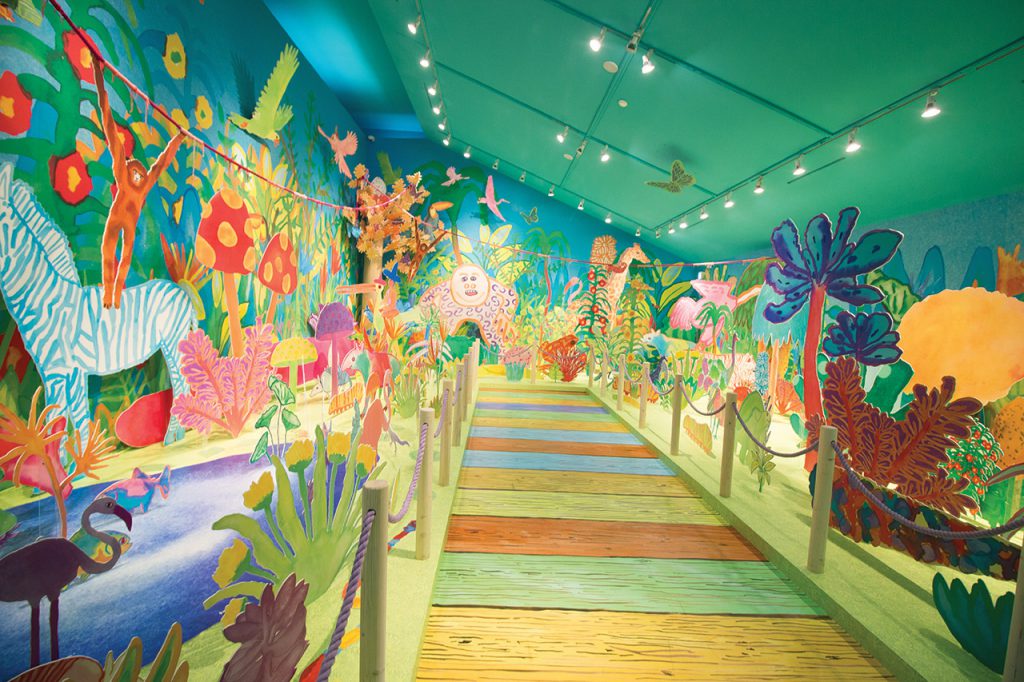 The public's response to the show has been overwhelmingly positive. "People really enjoy it and love the bright energy of the exhibition. I realize that if I work with joy, people will feel it as well," she says. "My role as a curator is to be the messenger of the artist's work to the audience. I'm content when the artist is satisfied with the results and the public responds well to our intentions. That's my fuel to continue what I do."
The true engine of this show may be reflected in the artist's personal philosophy. Selby says, "I believe that creative expression is something we can all do without professional training. As someone who's taught myself, I would like to encourage the viewers to go and make art yourselves." He adds that this is only the beginning of his journey with Korea. "My hope is that this show will introduce my work to Korea, so I can return many times and build a network in Seoul and do interesting work. I'm excited for the future I have here."
The Selby House is more than an art exhibition, especially in a place like Korea. To the viewers living in a competition- and pressure-filled society, Selby provides a delightful yet challenging insight into the world of a person who does not stop at the impossible. He is unconventional and successful. He did not live by the books, but became successful by staying true to himself.
Having drunk in the exhibit in its entirety, I left the museum inspired not just by what I had seen, but also from the awakening of my inner child with her dreams and visions. Poet Langston Hughes once said, "Hold fast to your dreams, for without them life is a broken-winged bird that cannot fly." Selby will continue dreaming. Ahn will continue to dream, too, by bringing the visions of her artists to reality.
[separator type="thin"]
More Info
Daelim Museum
GO> 21, Jahamun-ro 4-gil, Jongno-gu, Seoul
FYI> www.daelimmuseum.org/eng/index.do T.02-720-0667
Written and photographed by Diana Park
https://magazine.seoulselection.com/wp-content/uploads/2017/06/IMG_0410-1.jpg
1920
1280
cyn
https://magazine.seoulselection.com/wp-content/uploads/2018/01/Seoul-logo.png
cyn
2017-06-30 11:51:15
2017-09-12 15:12:43
Dreaming Will Never Get Old