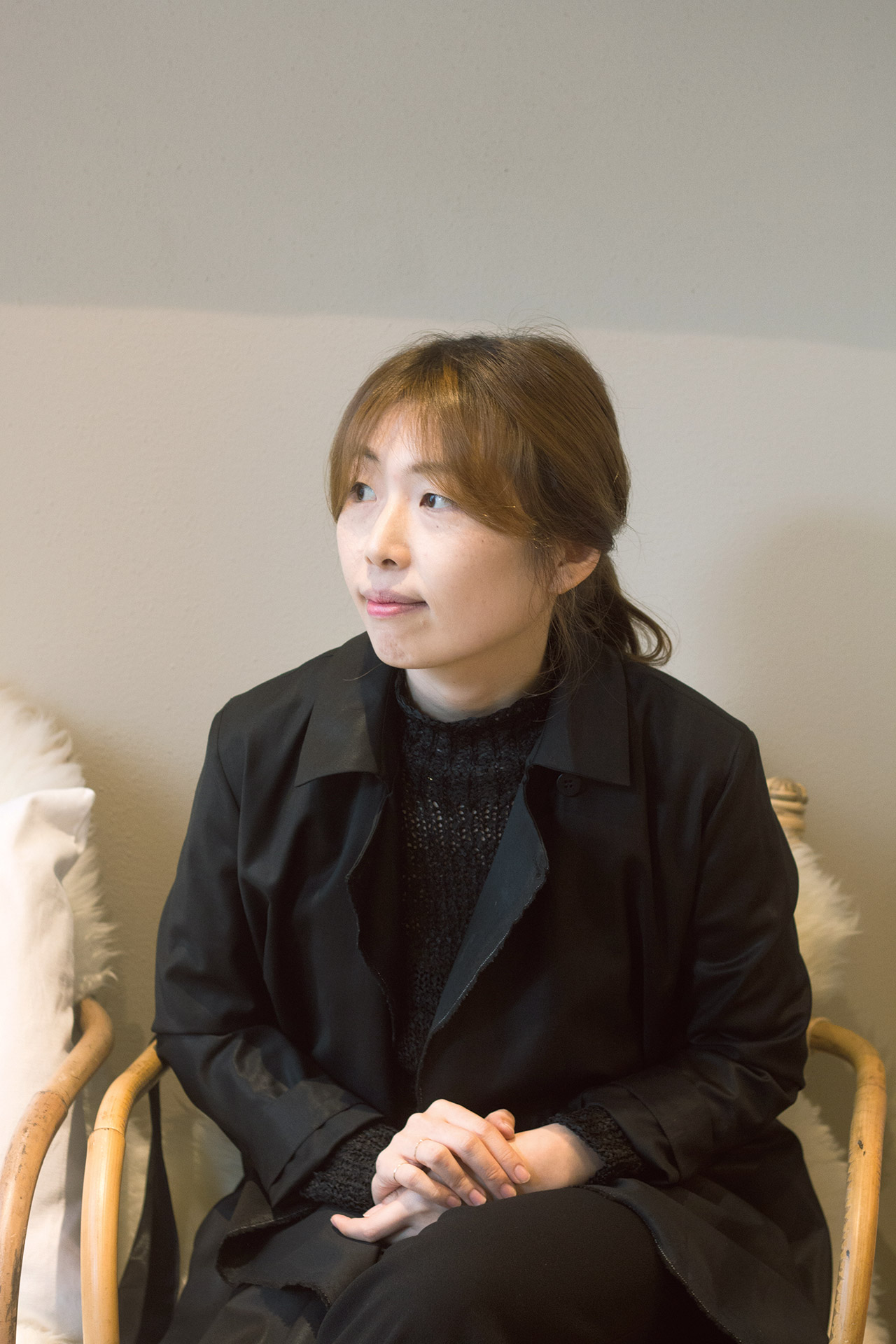 Chief art director Kim Mi-jae lends a magic touch to her new tea brand.
On a rainy day in April, Tea Collective's space exuded a change of pace from the busy world outside. Time stopped for a moment; you felt as if you'd entered a whole new world. With the peaceful environment – and the cup of persimmon tea – the day couldn't have been more perfect.
Kim Mi-jae is the mastermind behind some of the most stylish spaces around Seoul. She is the chief director of Artment.dep, an art studio specializing in spatial design and brand directing. She facilitates visual directing for high-end fashion brands and dining spaces – as well as tasteful collaboration projects with Aesop, Kinfolk, etc. After years of handling client work, she saw a need for a creative outlet elsewhere – and so Tea Collective was born.
Preparation meets opportunity
In 2015, when Artment.dep began a project for the Shinsegae Department Store's Culture and Life Zone, the golden opportunity presented itself. Kim explains, "While consulting on the Shinsegae mall's floor, we saw a need for a space for people to take a break while shopping. After researching possibilities, we signed up for the challenge to create the brand ourselves." The brand launch was the result of a well-intentioned desire and good timing. She shared, "Around that time, I grew tired of producing client work day in and out. I felt like this desire to try something new was met with an opportunity – and I took it." It was real-world demonstration of the maxim that luck is what happens when preparation meets opportunity.
Coupled with the incredible sensibility of a team made up of art directors and designers and commitment to locally grown, high-quality tea, Tea Collective is not a typical alternative to conventional tea brands. Kim's value for community and slow life also infuses into the brand's vision and products. The brand's vision states, "As with many people living in modern cities across the world, many of us living in Korea, especially in Seoul, tend to lead very busy, fast-paced lives. We wanted to offer a way for people to slow down, recharge and connect with the local community."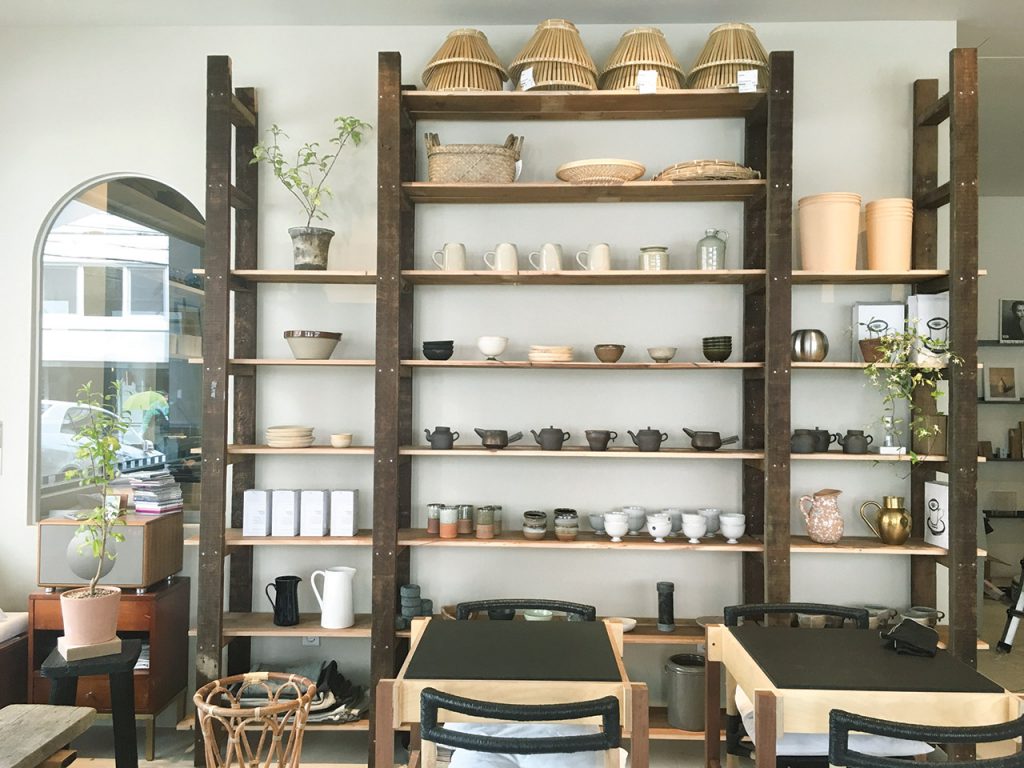 Respect the locals
Following the first pop-up and brand launch at the Shinsegae Department Store, Tea Collective opened up a store at the Queen Mama Market in Cheongdam in August 2016. Despite its location in the glittering modern face of Korea that is Gangnam, Tea Collective is committed to continuing the legacy of traditional Korean tea. Their tea collection boasts of local high-grade teas harvested in the rural county of Hadong in Gyeongsangnam-do, the home to Korea's first tea farm. Kim explains, "Our teas provide a purer and richer taste since our farmland strictly prohibits raising domestic animals or building any factories around the village to protect the quality of the teas."
Many locals and visitors from abroad discover the brand through social media channels. They find the unique selections like Gamip-cha (dried persimmon leaf tea) or Hobac-cha (pumpkin tea) refreshing. "Our customers enjoy the subtle, yet deep taste of our local teas. Coffee can be harsh for them and cause headaches, while many tea products in the market are infused with artificial additives. Our tea is different with 100 percent local ingredients," Kim added.
In fall 2016, the team held their first international presentation and tea tasting showcase in Berlin through a collaboration with Freunde von Freunden. Kim shares about the experience, "We were encouraged by the positive response of the locals there. They liked the taste of Korean tea, and the culturally different ways of serving and enjoying tea. Germany has a unique and thriving tea culture. Though all their tea is imported, they are developing creative ways to incorporate tea into their lifestyle. They perceive tea culture with fewer stereotypes – even on a same acceptance level as coffee."
In Korea, however, the situation is quite different. While coffee culture is exploding with a coffee house virtually on every corner, tea isn't as popular among young people because of its bitter taste and old-fashioned image. The lack of spaces to learn about Korean tea history or enjoy different types of tea reveals the unfamiliar or even negative perception.
Meanwhile, Tea Collective pioneers the artistry of sustaining tea tradition through modern, stylish visual identity. These efforts have manifested in product packaging with illustrations inspired by Hadong's beautiful scenery, as well as collaboration projects with designer fashion brands and hip cafés around the city. Their most exciting project yet is their first official store, which will soon open in Cheongdam-dong. Their store will not just be visually appealing, but act as a cultural space for people to witness the tea dripping process and sample different varieties of local tea. It will perhaps even be an opportunity for people to rethink their perceptions of tea – and come back for another cup with a greater sense of appreciation.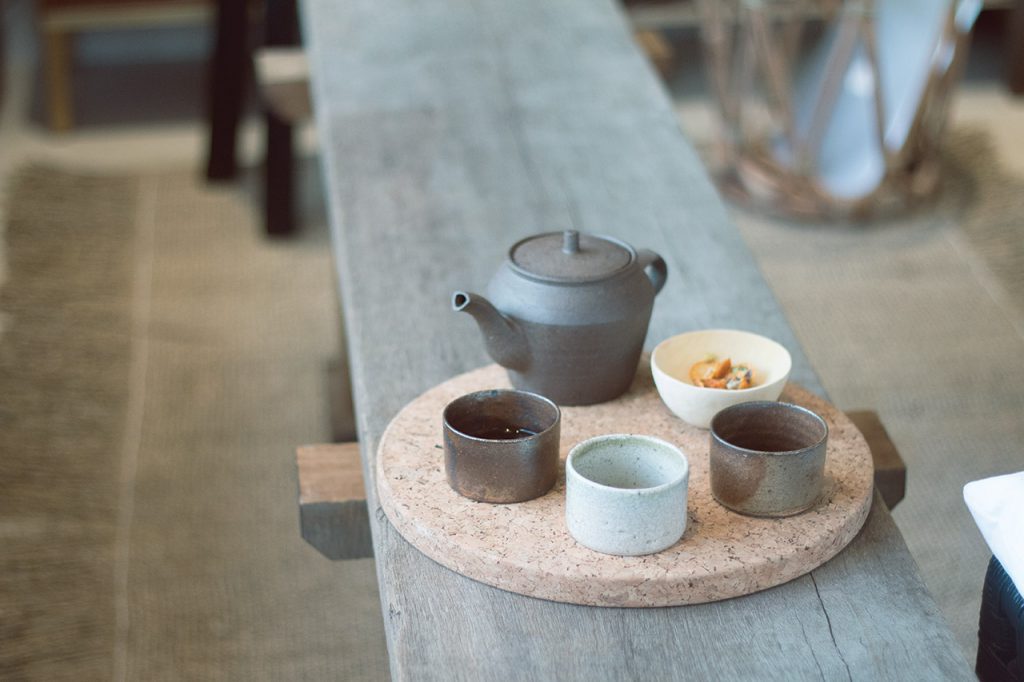 Mastering the art of spatial communication
Only a year after its official brand launch, Tea Collective will open its first store in the beginning of May. The space will encompass a tea café and Artment.dep's studio-office. Spatial communication has always been a topic of interest for Kim. Her studio has gone through many moves since it opened in 2012. She reminisces about her humble beginnings. "Back when we moved into our first studio, I wanted a big table, marble counter to wash my hands and make my own coffee, and a bookshelf to fit an entire wall…It was small and cold in the winter, but we were happy with all the things there." Her second studio had its charms, too. "It was a bright, white space like the first one. There were so many things I wanted to do and fill it with, and I especially loved our material wall. Trends constantly change, and while I understand and lead the commercial scene as an art director, I see that keeping our own taste is an important principle to appreciate differences."
Years later, she awaits the upcoming launch of her first café-studio space. It is perhaps the most completed representation of both Kim and the studio's aesthetic, lifestyle and vision. It's a progress in work, but surely looks like a more completed picture. She shares, "It's been emotional. We're opening this space with a hope for a new start. This space is definitely more fitting to our brand than previous spaces. We expressed our taste and sensibility of the brand in another way, and we hope that people will be able to be inspired by it." Her team put a lot of effort in each corner and every detail. They hand-picked the wood for the tables, as well as small props like pillows and vases.
When asked about the purpose of the space, she answers, "We hope that it will be a place for people to not just come in and out to drink tea, but also enjoy each other's company and the visuals around them as well…Most cafés nowadays have invisible walls. People don't interact with strangers; they just come and go. I want it to be a space where people get to know it with time. We want our space to be one without walls. We want communication and comfort to be cultivated in this space."
At the end of it all, Kim wants to maintain her focus on people over business profit. She reminds herself of her humble beginnings as a fuel to propel herself and the company forward. She concluded, "I find myself questioning: 'There are so many beautiful things that exist in the world, and what is the reason for me to sustain this work while giving up so many other things?' While I'm still searching for the answer, I hope to continue to enjoy the small beauties of life while creating and sharing with others. While laboring efforts make up 99 percent, I want to work happily in a fragrant space without losing elegance."
[separator type="thin"]
More info
GO> 1F 49, Dosandaero 55gil, Gangnamgu, Seoul
FYI> www.tea-collective.com, T. 02-3443-2259
Written and photographed by Diana Park
https://magazine.seoulselection.com/wp-content/uploads/2017/05/IMG_9927-1.jpg
1920
1280
cyn
https://magazine.seoulselection.com/wp-content/uploads/2018/01/Seoul-logo.png
cyn
2017-05-25 17:16:37
2017-05-25 17:16:37
When Tea Meets Art