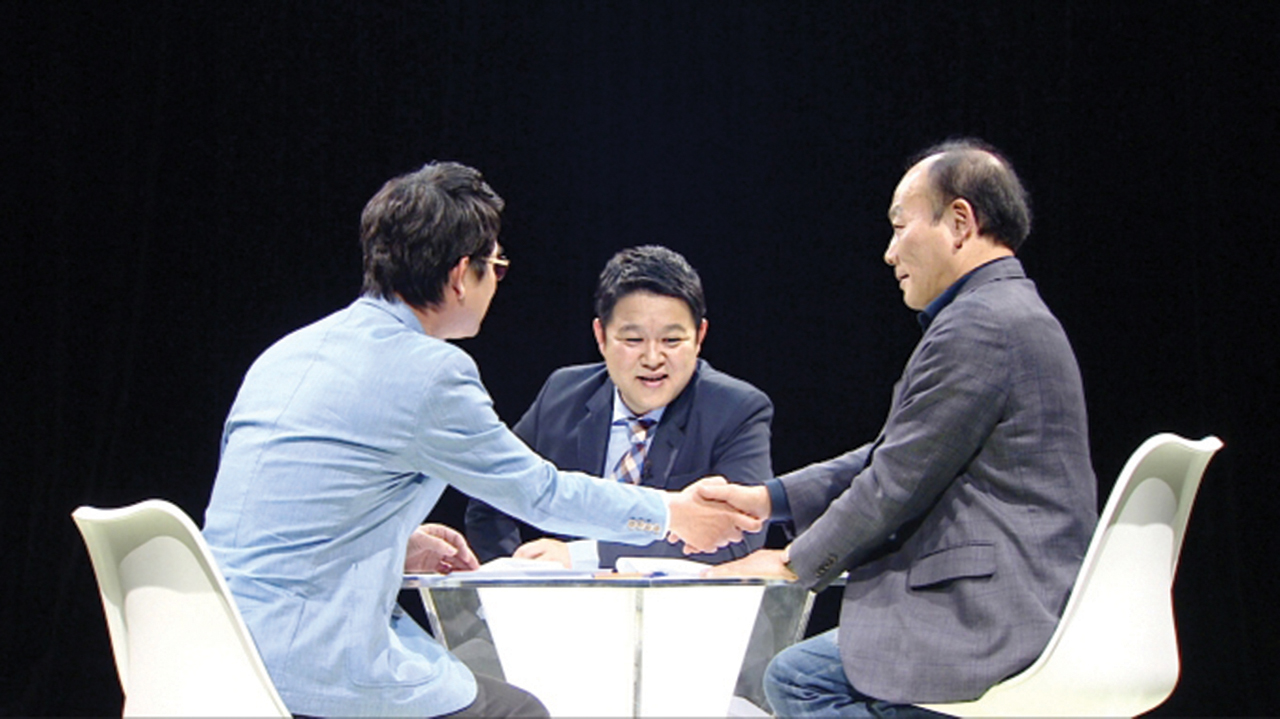 'Ssulzun' proves a hit by presenting the issues of the day in plain language
A recent Gallup Korea survey shows that the most popular TV show in Korea is "Ssulzun" (which means "Battle of the Tongues"), a talk show that deals mainly with current affairs. This was the first time a social commentary show was picked as the most beloved program in the monthly poll. Although the result came at a time when "Infinity Challenge," which ranked 1st for the 27th consecutive month last December, was on a seven-week break, "Ssulzun" began to build a solid audience base long before that. The show's average ratings hover around 6 percent, with an all-time high of 11.7 percent, a huge success for a talk show aired on a cable TV channel.
The format is simple. Three men sit around a small round table and talk about hot issues of the week, on and under bright triangles against a black background. The show also makes excellent use of captions, which pop up to summarize and emphasize what the cast is saying, with supplementary video clips and occasional jokes. When its first episode aired in 2013, the show consisted of two segments, one of which was devoted to current affairs. In 2015, however, its format changed. Kim Gu-ra, a comedian and MC, took over as moderator, and two regular debaters, one conservative and one liberal, joined the show. That's when it started to gain ground.
The presidential scandal has helped power the show's ratings, too. As news stories flooded in, more people turned to the program. "I can't wait to watch 'Ssulzun,'" said Chang Da-eun, an office worker in her 30s. "The panel talks about complicated issues in a plain language, and I can see both sides of each story." Indeed, "Ssulzun" stands out from other panel debate shows because the show makes it easier for many people to understand what's going on. Before "Ssulzun," most debate shows were serious and solemn, laced with script reading and emotional bickering. That wasn't enough for the people of a country that has a history of fighting for democracy, with many politically conscious people willing to get informed and sometimes even take to the street if they can make a change.
With the popularity of "Ssulzun," other networks rushed to air political commentary shows taking a similar format. No formidable contender has emerged, though. "The show tells the audience that political and social issues, previously considered irrelevant, are in fact closely related to our daily lives," said Kim Eun-jeong, the director of "Ssulzun," in an interview with the magazine Woman Sense. "I take a pride in informing people in a witty, easy-to-understand manner." Unlike other variety shows that need to respond to the changing appetite of the audience, "Ssulzun" is likely to be one of the longest running TV shows in Korea as issues continue to arise. As long as the show lives up to people's expectations, it will continue to succeed.
Written by Lee Jungjin
Photos courtesy of JTBC
https://magazine.seoulselection.com/wp-content/uploads/2017/04/04_썰전2.jpg
719
1280
rjkoehler
https://magazine.seoulselection.com/wp-content/uploads/2018/01/Seoul-logo.png
rjkoehler
2017-04-27 13:48:03
2017-04-27 13:48:03
Have Fun, Get Informed