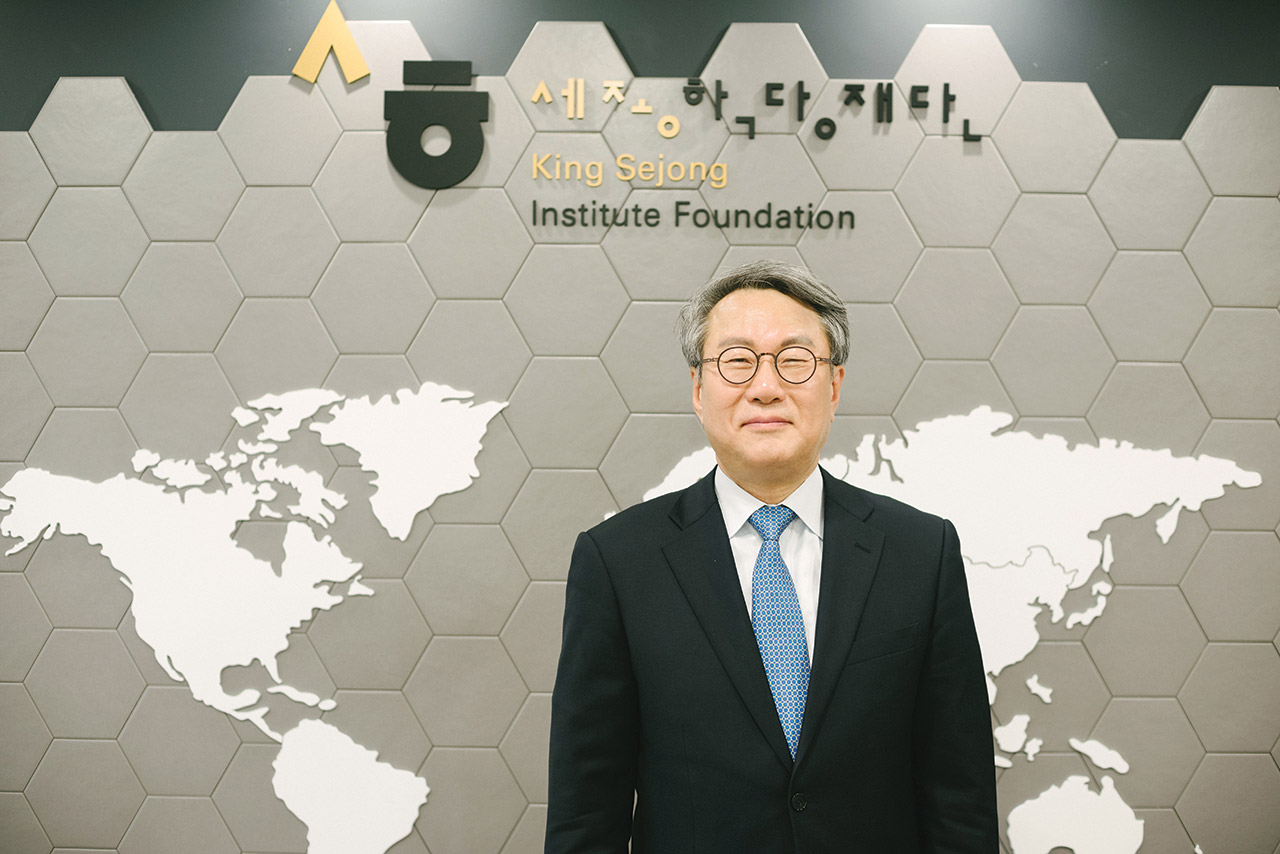 King Sejong Institute Foundation President Song Hyangkeun teaches the Korean language to global learners
세종 학당재단
"In the five years since the founding of the King Sejong Institute Foundation, we've grown both qualitatively and quantitatively."
Foundation president Song Hyang-keun, who oversees the operation of the government's international chain of Korean language schools, lays out the statistics. In 2012, there were 90 academies in 43 countries. Now there are 174 academies in 58 countries. Some 230,000 people have visited their local King Sejong Institute to study Korean. Another 80,000 have studied through the institute's website. All told, roughly 310,000 people have studied Korean or learned about Korean culture through the King Sejong Institute.
"About 30 percent of our students come to learn Korean out of interest in Korean pop culture," explains Song. "Some 50 percent study because they have an interest in Korea. There are also a lot of students who want to get a job with a Korean company, or want to study at a Korean university."
Teaching Korean. Transmitting culture.
The Korean government founded the King Sejong Institute in 2007, when it opened 13 schools in three countries. Song says, "You can see the King Sejong Institute as a national brand for teaching Korean as a second language to foreigners who want to learn it and for promoting Korean culture." Founded in 2012, the King Sejong Institute Foundation overseas the academies and provides support, including conducting projects to digitize Korean culture.
Unlike many overseas academies teaching the Korean language that target ethnic Koreans, the King Sejong Institute focuses on non-Korean learners. Moreover, unlike university Korean courses, which focus almost entirely on the Korean language, the King Sejong Institute teaches Korean culture in a systematic way. "We operate a cultural education program called the King Sejong Culture Academy," says Song. "It's an educational course that teaches Korean culture in its entirety."
The King Sejong Institute uses a standard curriculum in all its schools worldwide. All its schools use the same textbooks, too, specially created for the institute. The institute's foundation also provides books on Korean language and culture, music, television programs, movies and other cultural content. The institute also runs a website, the Nuri-Sejong Hakdang, where students who don't live near a Korean language school can study the language and experience Korean culture.
Song emphasizes the institute's role in promoting Korean culture. "Learning and teaching the Korean language is important, but so is promoting Korean culture," he says. "We send Korean university interns and cultural specialists to the schools to provide students with an opportunity to learn a variety of cultural things, such as K-pop, taekwondo, Korean classical dance and music."
Indeed, Korean culture appears to be a gateway to learning Korean. Song says Hallyu, or the so-called "Korean Wave," has greatly helped drive students to the institute. This is especially the case in Latin America, he says, where interest in Korean TV shows and Korean pop music has been strong.
Gathering support
Students at the King Sejong Institution receive a variety of benefits. The Foundation invites outstanding students to Korea to study through its scholarship program. The Foundation also hosts an annual speaking contest in Seoul. Participants, who are selected through preliminary contests in their home institutes, not only get an all-expense trip to Korea to compete, but are also given a 10-day opportunity to intensively learn about Korean culture.
Some 700 instructors teach Korean at King Sejong institutions worldwide. Of these, about 300 majored in Korean education. Others are certified teachers of Korean as a second language or have completed the institute's own teacher training program.
Interestingly, only 120 of the institute's teachers are sent from Korea. Most are recruited locally.
This coincides with one of the institute's goals, which is for individual institutes to become more localized and specialized. "With so many schools worldwide, all cannot be the same," he says. "Accordingly, we're developing a program so that each institute becomes specialized. To allow well-run academies to develop further, we will provide even more support."
The Foundation is also looking to Korea's business community for more support. "Koreans all say 'Hangeul is a great alphabet' or 'Korean is good,' but ultimately, the people take interest in promoting the Korean language and Korean culture," says Song. "We hope the people also take interest in the King Sejong Institute, which is playing that role. Many countries like France, Germany, Great Britain and China are working hard to promote their languages and cultures, because the added value earned from cultural promotion is great. In that aspect, too, I think we should play the role of promoting Korean."
More Info
www.ksif.or.kr
www.sejonghakdang.org
Written and photographed by Robert Koehler
https://magazine.seoulselection.com/wp-content/uploads/2017/04/DSC_3770.jpg
854
1280
cyn
https://magazine.seoulselection.com/wp-content/uploads/2018/01/Seoul-logo.png
cyn
2017-04-27 13:58:46
2017-04-27 13:58:46
Bringing Korean to the World