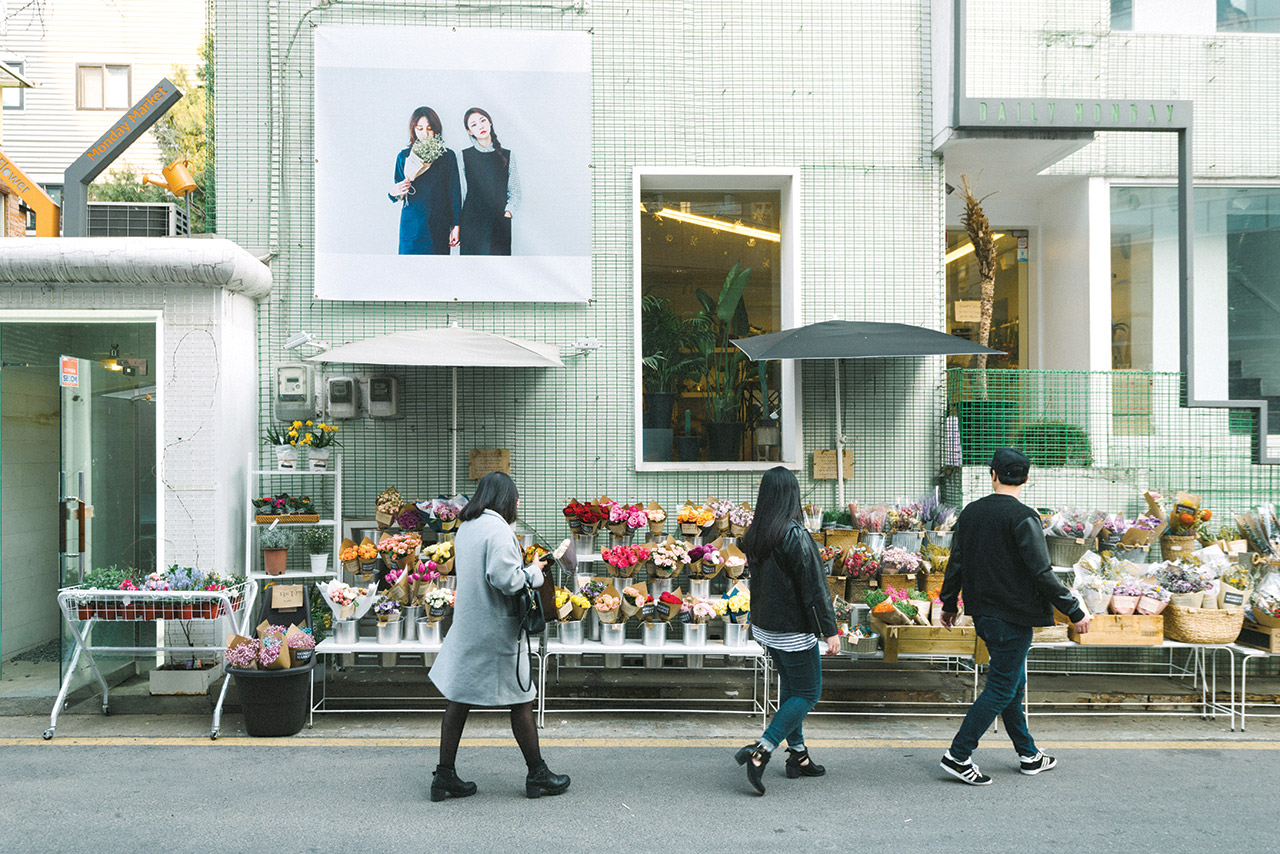 Flower shops present the colors of spring
Flowers are the messengers of spring.
Spring blossoms bring a much welcome dash of color after the long winter. While there are plenty of places to enjoy the flowers under the blue spring sky, you can also brighten up your home or office with a blossom or two. SEOUL suggests a couple of flower shops and markets where you can breathe in the scent of spring.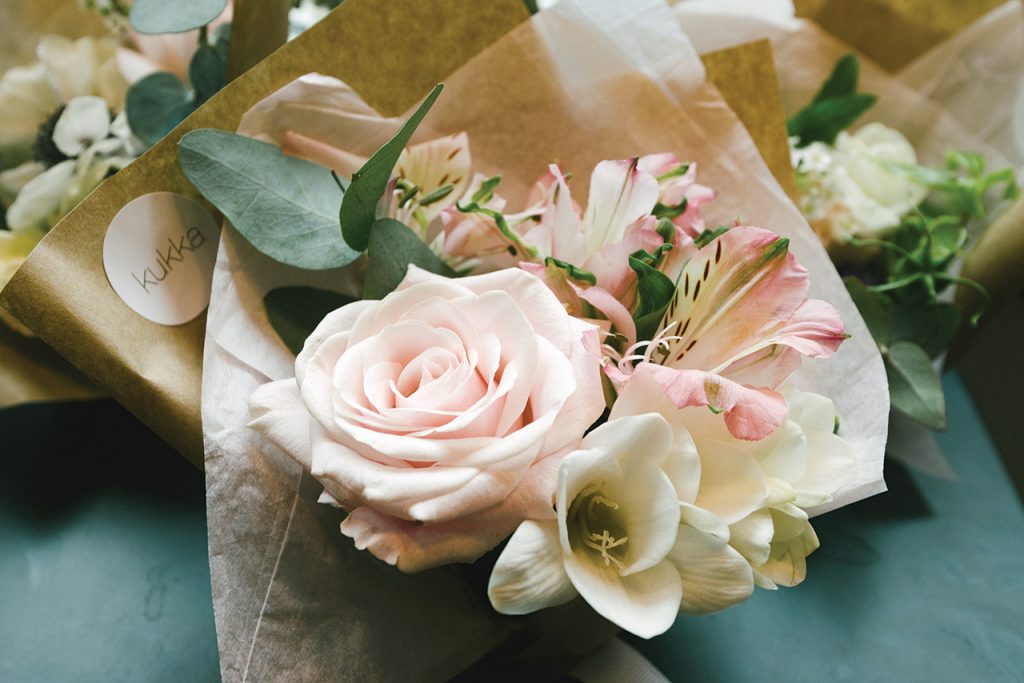 Yangjae and Express Bus Terminal flower markets
Located on the outskirts of southeastern Seoul, Yangjae Flower Market is Korea's largest purveyor of all things floral. The sprawling complex, run by the Korea Agro-Fisheries & Food Trade Corporation, has a potted plant market, a cut flower market, a wreath market, an auction space and even shops selling trees, gardening supplies and other horticultural paraphernalia. The market, which includes wholesale and retail sections, receives shipments from 3,461 growers and 337 groups. The market's early morning auction generates over KRW 300 million in sales a day.
The market is very popular in spring, when families and couples from all over Seoul flock here to get a taste of the season. The throngs especially love the potted plant market, housed in two large greenhouses, where hundreds of merchants sell almost every kind of flower or plant under the sun. The cut flower market, located in the basement of one of the buildings, is a good place to score freshly cut flowers and floral arrangements. The auctions are good fun to watch, too.
If you don't want to go all the way out to Yangjae-dong, the third floor of Express Bus Terminal's Gyeongbu Line holds a flower wholesale market. Most of the flowers here get sold to florists across Korea. Accordingly, general buyers can purchase flowers at much cheaper prices than at retail flower shops.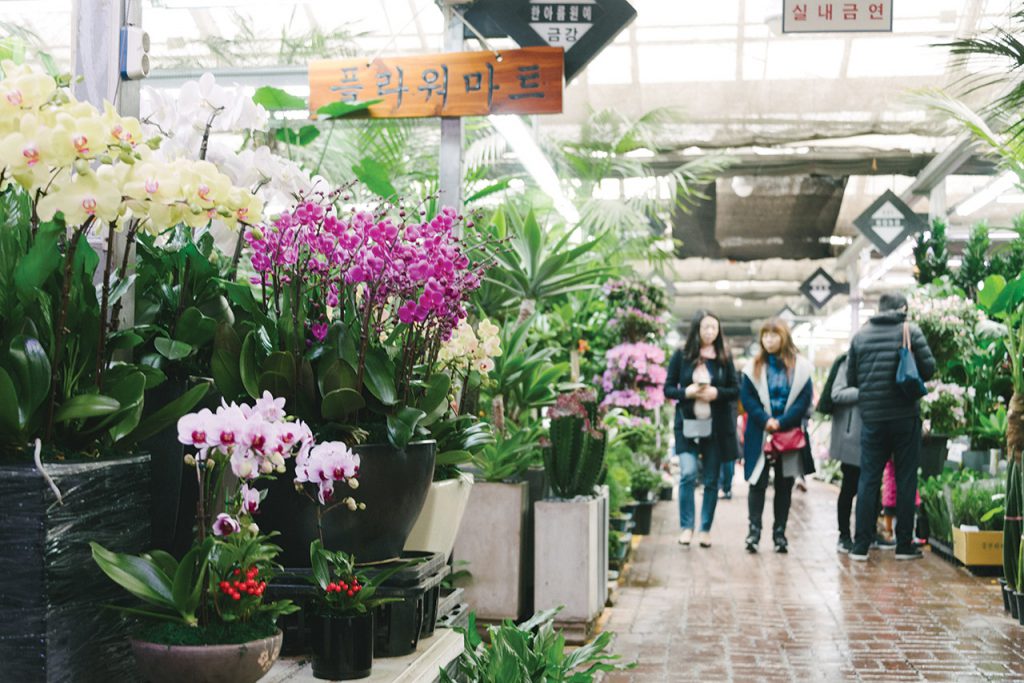 Itaewon Flower Shop
Over the last three years, the Gyeongnidan neighborhood has transformed from a quiet residential district into one of Seoul's hottest dining destinations. In the process, its alleyways have become almost unrecognizable to the long-term residents (such as this writer) who remain. Restaurants, cafes and bars have taken the place of the homes and small businesses that once defined the neighborhood.
Gentrification hasn't forced everyone out, though. Local resident Lee I-sun has run Itaewon Flower Shop for the last 40 years. The shop, located at the entrance of what is now Craft Beer Alley, adds a welcome dash of color and history to Gyeongnidan's urban grit. Lee's main customers are the many young couples and non-Koreans who wander the district's trendy alleys. "Chrysanthemums and freesias are popular nowadays," she says.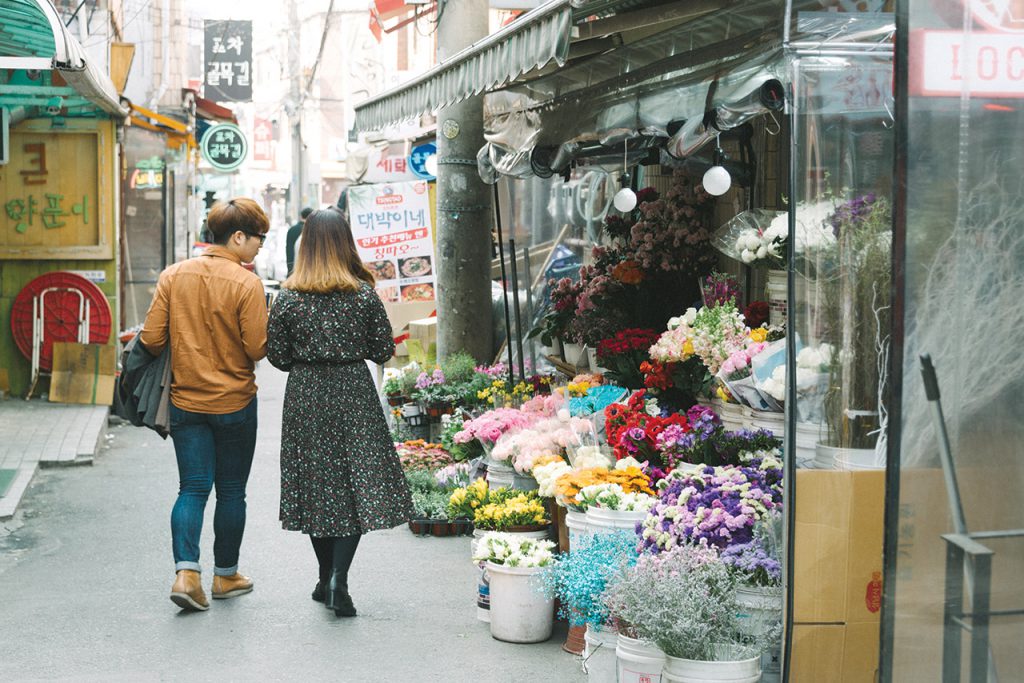 Monday Market
Much more contemporary, and certainly photogenic, is Hongdae's Monday Market, which bills itself as a "modern and stylish flower select shop." You'll recognize the picturesque store, which is just a short walk from Sangsu Station, from the neat rows of beautiful dry flower bouquets lined up in front of the delightfully minimalist building. Your Instagram account will love it.
Run by veteran florist Lee Ji-hye, Monday Market puts together some very beautiful arrangements of dried flowers, although fresh flowers and potted plants are available as well. Bouquets of dried flowers will run you KRW 32,000; larger arrangements will cost more, of course. The shop also hosts one-day classes, too.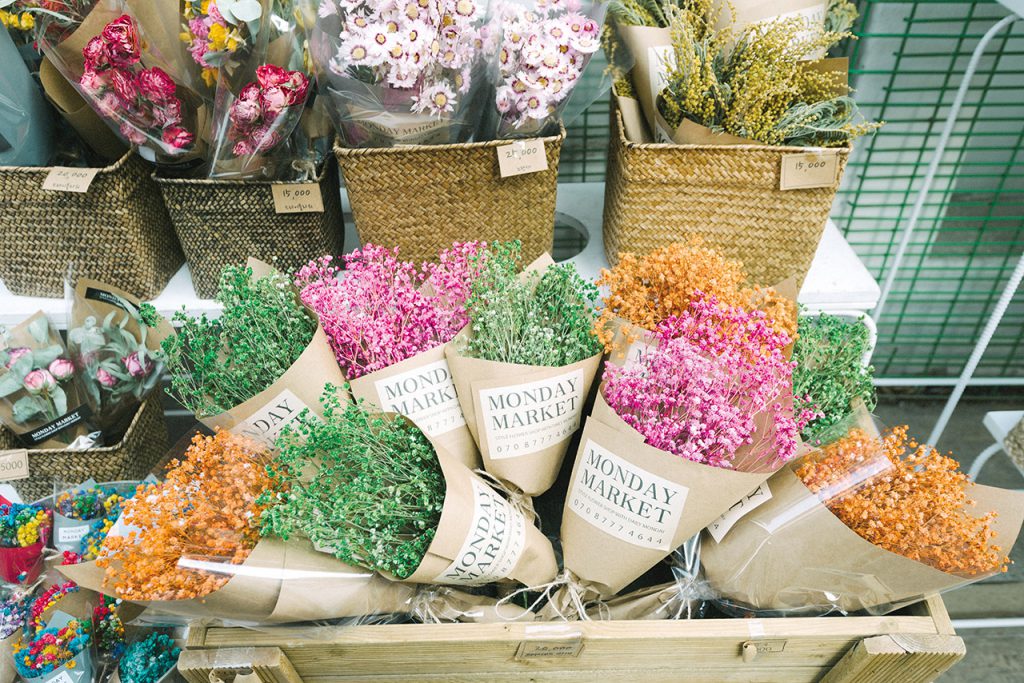 The Plant Room
Cacti are hot in Korea. Already famous on Instagram for her beautifully minimalist cactus arrangements, Heo Yu-kyung recently opened up a brick-and-mortar shop, The Plant Room, in the quiet Yeomni-dong district. The shop itself, a canvas of white adorned with a myriad of shapes of green, reflects Heo's "green interior" aesthetic.
The Plant Room is all about succulent plants, including cacti. So many people are decorating their tables or shelves with plants, says Heo, that there's even a word for it now, "table gardening." Her arrangements are simple, minimalist and and stunningly beautiful. A tillandsia on a candle holder or a cactus in a pot of pure white ceramic may be all it takes to turn a room around.
While you're in the neighborhood, you can also stop by one of its independent book stores or dessert cafe Mealan's, a SEOUL favorite.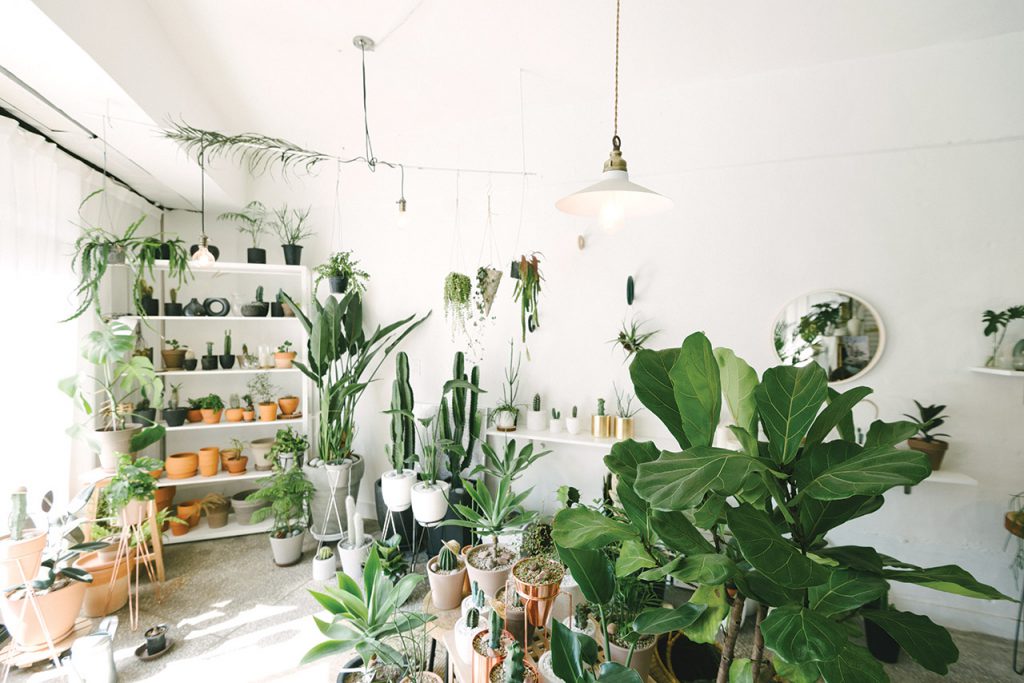 Kukka and Ver's Garden
If you don't necessarily want to decorate your own home with flora, you can at least spend an hour or two sipping a coffee amid the flowers at one of Seoul's growing number of "flower cafes."
One popular place is Kukka, a "flower bar and coffee lab" in the hilltop neighborhood behind Itaewon's Noksapyeong Station. Founded by online flower subscription service Kukka, the four-story space is equal parts cafe, showroom, shop and classroom. The cafe part, on the second floor, is a lovely spot to enjoy a hot beverage and a dessert beneath a ceiling of golden mimosa. There's a rooftop space in the warmer months. Kukka hosts flower arranging classes, too.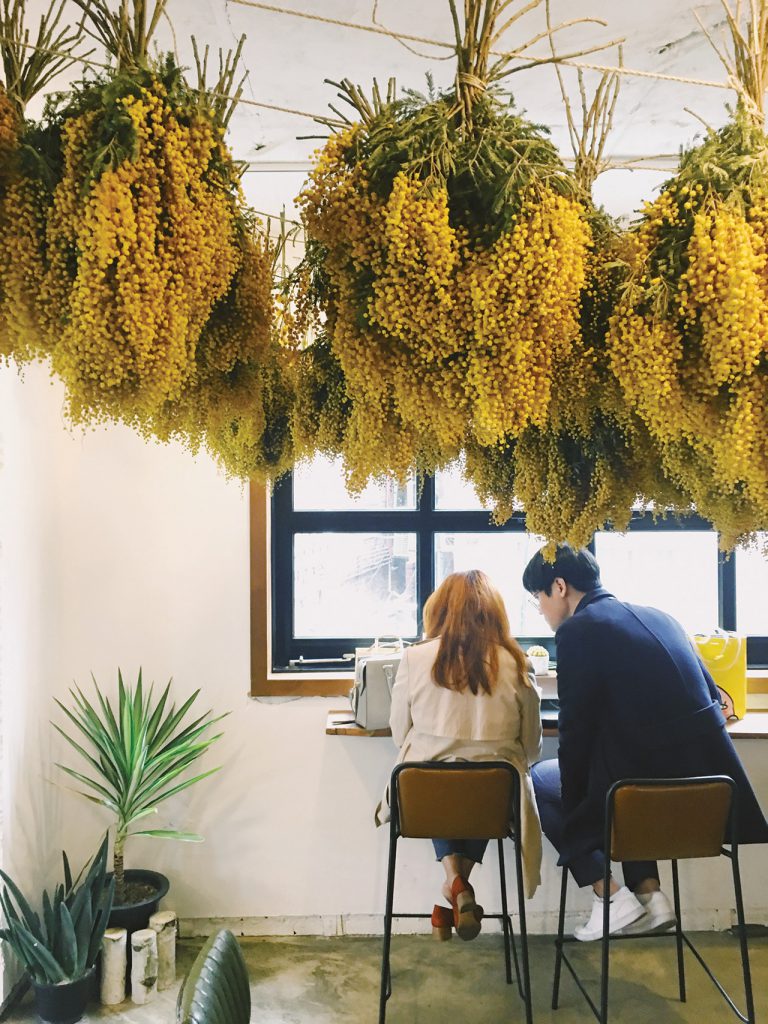 Across town in Yeonnam-dong is Ver's Garden, a cafe/wine bar where the experience is often likened to drinking tea in a forest. Seasonal plants and flowers, live and dry, adorn the entire space. Leafy green plants hang down from the ceiling like stalactites. Flowers and herbs decorate the teas and desserts.
[separator type="thin"]
More info
Yangjae Flower Market
Short walk from Yangjae Citizen's Forest Station (Sinbundang Line), Exit 4
27, Gangnam-daero, Seocho-gu
Express Bus Terminal Wholesale Flower Market
Express Bus Terminal (Lines 3, 7 and 9), Exit 8-1
194, Sinbanpo-ro, Seocho-gu
Itaewon Hwawon
Take Yongsan Maeul Bus 03 from Noksapyeong Station (Line 6), Exit 4 and get off at the stop called "Market."
Monday Market
From Sangsu Station (Line 6), Exit 1, walk straight until you get to the public parking lot. Swing a right, walk straight and swing another right at Yeoljeong Tteokbokki, and finally take a left on Wausan-ro 17-gil.
19-21, Wausan-ro 17-gil, Mapo-gu
T. 070-8777-4644
The Plant Room
Short walk from Ewha Womans University Station (Line 2), Exit 5
1F, 9, Sungmun 16ga-gil, Mapo-gu
T. 010-7358-4217
Kukka
Noksapyeong Station (Line 6), Exit 3. The cafe is on the hill across the street, behind Itaewon Elementary School.
37 Noksapyeongdae-ro 42-gil, Yongsan-gu
T. 070-4495-4100
Ver's Garden
Hongik University Station (Line 2), Exit 3
10, Donggyo-ro 41-gil
T. 02-3144-1888
Written and photographed by Robert Koehler
https://magazine.seoulselection.com/wp-content/uploads/2017/04/DSC_6469.jpg
854
1280
cyn
https://magazine.seoulselection.com/wp-content/uploads/2018/01/Seoul-logo.png
cyn
2017-04-25 17:51:07
2017-04-26 14:39:06
Floral Seoul 서울의 꽃집