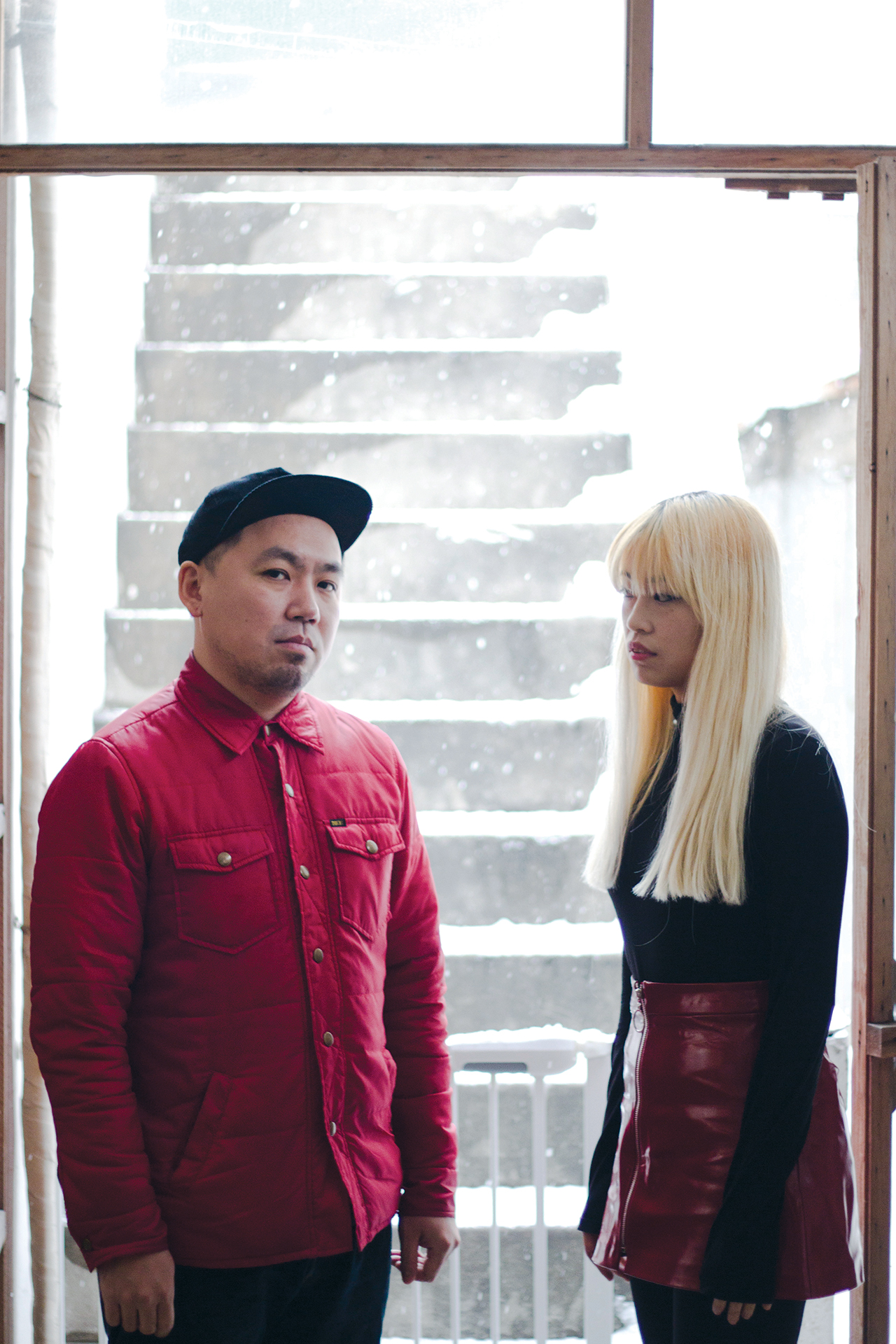 Annie Ko and Toby Hwang of Love X Stereo bring Korean indie music to a global audience
Love X Stereo is not your usual Korean electronic duo. The duo consisting of Annie Ko, vocalist and synthesizer player, and Toby Hwang, producer and guitarist, has been keeping their electronic game strong since 2011. Their performances in the clubs of Hongdae have now expanded to the stages of international music festivals like South By Southwest in Texas and CMJ Music Marathon in New York. They've only begun climbing the ladders of the international music scene — and are just revving up the engine for higher grounds.
Create and experiment
Originally a four-member band, Love X Stereo launched as an electro duo in 2011. They are heavily influenced by music from솓the '80s and '90s but emphasize that they're not bound by a genre. "We listened to a lot of synth pop, alternative, punk rock since we were young. Our music encompasses these styles, but we're not fixated on a specific style. No style is ultimately the best style," says Toby.
Their music stands out from the typical sounds of K-Pop and K-Indie genres. Ko adds, "K-Indie fans love the soft beats of Indie Pop. Fans from K-Pop-endorsing regions like Russia and South America love bands with male vocalists. We fit into neither category." The duo's focus on what they do well over current trends is creating a new musical territory in Korean music and eliciting positive responses in the international music circles. They attribute their unique sound to the value they place on an unhindered, experimental creative process. Hwang elaborates, "We don't find joy in settling in style. Nothing new comes out from that. We're always wanting to make something new. That's what makes the process fun. We create through play. We land on an interesting beat and start — and run with it!" The duo never forgets to have fun while creating but is also serious about technicality.
Blending technologies
Ko and Hwang are both instrument junkies, and receive inspiration from experimenting. "We use a blend of old and new technology to produce our music. Our focus is to catch unique sounds through the experimental process of playing with both," explains Hwang.
The duo appreciates the convenience and speed of digital music technology but enjoys the random, organic abilities of its older counterparts. "We use vintage analogue equipment — and mix it with software. The mix of the two seems right for us. Using only digital equipment can feel limiting and redundant at times, but analogue produces random, ever-changing sounds, " says Hwang.
In an age where modern technology overruns its slower predecessors, music lovers still appreciate nostalgic processes and sounds. Hwang recognizes the value of turning old technology into relevant expressions. He shares, "Back in the day, George Lucas wanted to create elaborate scenes in Star Wars, but there wasn't enough advancement in CG technology. Now we have access, but the new adaptations aren't receiving the best reviews." Ko adds, "The mix [of digital and analogue] is important. We're a hybrid in that way."
Through incorporating various technology tools, Love X Stereo creates relevant, one-of-a-kind sounds that set them apart from an ordinary K-Indie or K-pop band. Their sounds are more fitting for the opened minds and ears of the international arena.
In 2016, the duo co-produced their most recent album "We Love We Leave, Part 2" with Adrian Hall, who also worked with the Black Eyed Peas, Alicia Keys and Shakira. Hwang recalls this time as "one of my happiest moments of making music." He explains, "We really enjoyed and learned a lot in the process, and felt like we leveled up musically. Every track is special to us."
The duo's excitement for this album was met with contrasting responses from Korean and international audiences. "In terms of music, we believe Korea has a long way to go. [Koreans'] music tastes are limited. But we don't want to make music fitting to what people want," states Hwang. While the duo recognizes the reality of the music industry in Korea, they're excited about the increasing opportunities to engage with international fans.
An international artist
The worldwide fame of Korean dramas has been going strong for years now. Love X Stereo's "Hide and Seek" made it into the soundtrack of a recent hit series "Cheese in the Trap." The Korean soap opera is now airing in English-speaking countries and getting them exposure. "Our track is getting a positive response because international listeners can relate to it more than others," says Ko.
Their music is also being featured in American shows like "Roadtrip Nation" and "Miss Universe." Ko mentions, "This exposure is ironic and interesting for us at the same time… We enjoy it and are excited about opportunities ahead." The duo is excited about the unexpected outlets of exposure and looks forward to having more opportunities in the U.S.
It turns out this has been their goal from the beginning. "Since we first started Love X Stereo, we wanted to be global musicians. Indie bands and independent musicians in Korea are struggling, and we want to continue to  take advantage of social media platforms to share content with international audience," says Hwang.
Though their roots are in Korea, they identify closely, perhaps more, with the international music circles. In 2016, the duo performed alongside other Korean artists at South By Southwest in Austin, Texas — and the differences were evident. Ko explains, "When we went to SWSX, we went to the merchandise table and greeted fans after performing. That kind of interaction is not common with Korean artists." She points out that international fans understand their music better than local listeners. "Our international fans appreciate our sounds, and know what kind of music we're into. We have a blast performing overseas, and are grateful for the response," she says.
Relevant through changing times
Love X Stereo is not just committed to a unique musicality but sensitive to current tides. In the ever-evolving music industry, the combination of technology, musicality and business are the perfect equation. The industry has long since moved past the days of TV and major recording companies. New media tools and digital platforms are thriving.
Hwang says, "Before, we worked hard on content and album packaging to get high exposure. Due to the explosion of content nowadays, artists can be easily forgotten without notable name value and constant content production. We're constantly thinking about how to make relevant music for a long time."
Hwang and Ko decided to leverage the power of online tools in their upcoming album project "37." Instead of releasing a full-length album, they partnered with American crowdfunding platform Patreon to release 37 consecutive songs online. They were searching for ways to connect better with international fans — this platform makes this possible and also gives fans opportunities to support their music.
Aware of the platforms that weren't available for artists before, they are excited about the possibilities of social media and digital platforms. Ko shares, "We're really curious about the outcome of '37.' We wanted to experiment and want to see what this will bring." Hwang adds, "We eventually want to make our homebase overseas. We did everything that we can possibly do in Korea, but realize its limitations." The duo will continue to stay true to their colors – and that unique flavor will continue to invite the international music community into new realms of possibility and inspiration.
Written and photographed by Diana Park
https://magazine.seoulselection.com/wp-content/uploads/2017/02/IMG_1.jpg
1920
1280
cyn
https://magazine.seoulselection.com/wp-content/uploads/2018/01/Seoul-logo.png
cyn
2017-03-24 11:04:13
2017-09-22 11:35:00
Creating Through Play