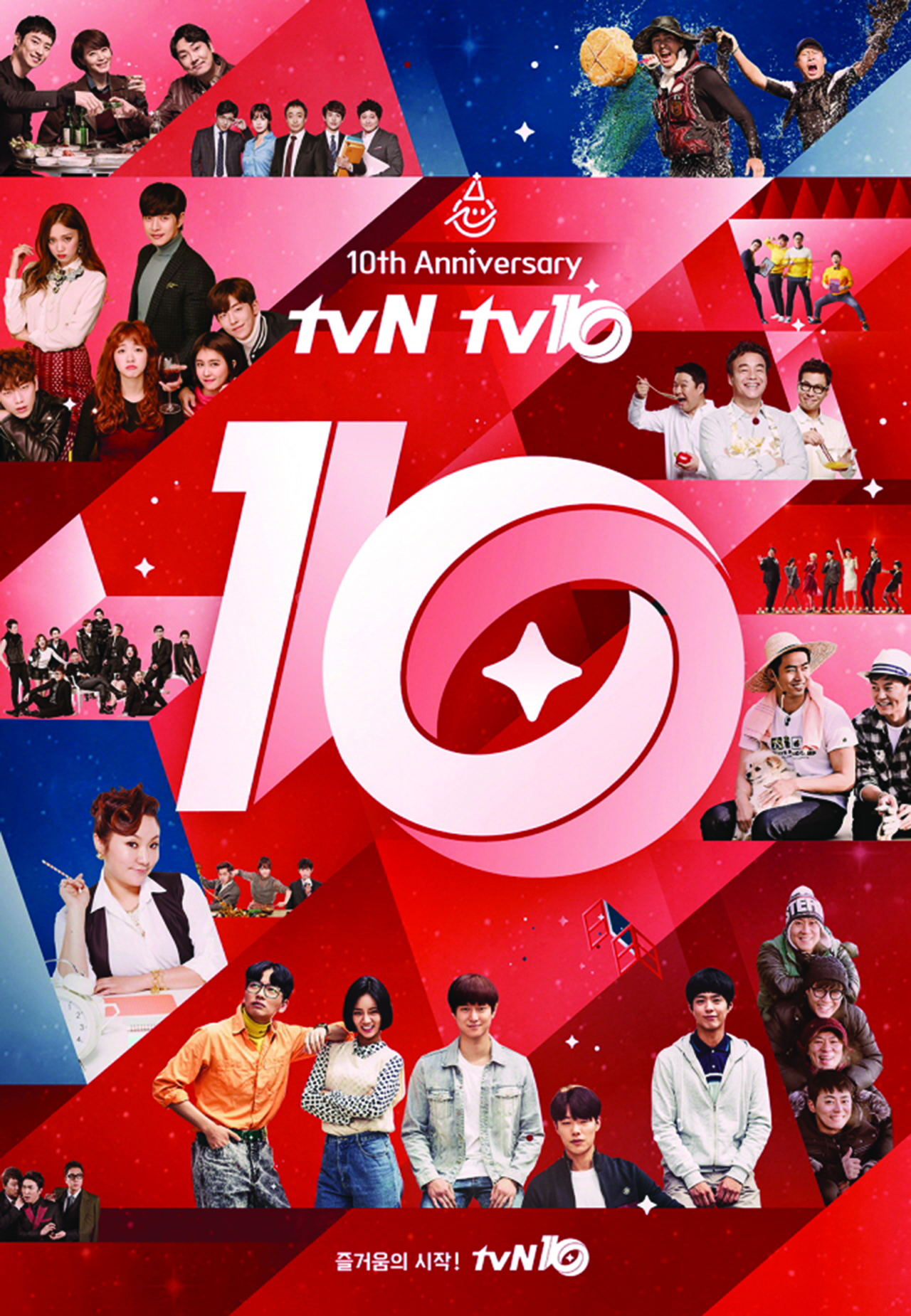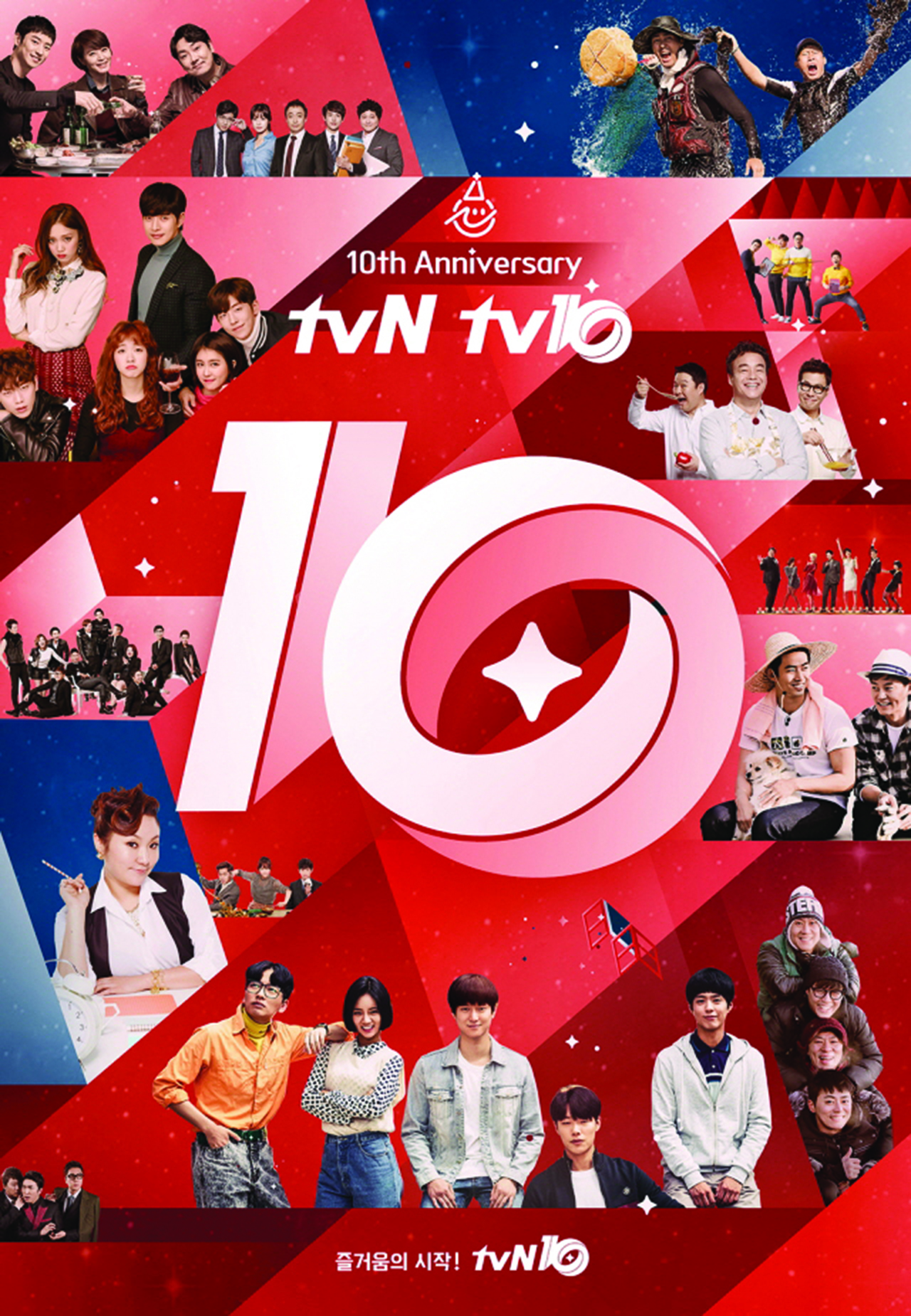 Cable station goes from vulgarity to victory
The old Korean adage says, "Ten years is long enough for even rivers and mountains to change." Equally tectonic and ever shifting is the TV industry, and 10 years is easily long enough for a cable TV channel to transform itself from vulgarity to victory.
tvN, a Seoul-based cable TV station, seemed like one of those broadcasters that wasted its advantage as a newcomer and pushed the limits of good taste with its launch on Oct. 9, 2006. One of its earliest programs was "tvNGELS," where half-naked female presenters or contestants in bikinis competed for the male gaze. There was also the show "Hyeong" which marketed itself as "a male version of the Korean 'Sex and the City.'" This wasn't because it had witty conversations about sex, dating and relationships. This was because it had female nudity, which wasn't – and still isn't – allowed on non-cable Korean TV.
However, with the start of the talkshow "Taxi" and the soap opera "Rude Ms. Young-ae" – which launched in 2007 and which is still on the air as one of the longest-running programs on tvN – the broadcaster, which is part of the major media conglomerate CJ E&M, moved beyond its former position as a mere cable broadcaster, or as a mere adult-oriented broadcaster, even if its earlier moves inclined toward the vulgar. A fresh, new, interesting format for a talkshow, with the hosts driving a taxi and inviting the guests to sit in the back and enjoy the drive, or a mockumentary comedy similar to BBC's "The Office" but with the lead character being a 30-something working woman, gradually and steadily expanded tvN's viewership.
Comedies like "Funny TV Roller Coaster" (2009) were the bridge programs to find the broadcaster's new identity. The segment "Research on Men and Women," part of the sketch show "Funny TV Roller Coaster" that was like a TV version of the book "Men are From Mars, Women are From Venus," was one of the main contributors that helped turn tvN into a watchable channel for small-screen audiences across the nation.
What stabilized the broadcaster's position as a top producer and trendsetter in the media industry, though, were their soap operas and telenovelas. The broadcaster aired its primetime dramas on Friday and Saturday nights, a bold step in the industry, considering the fact that most Korean soap operas aired on either two sequential days during the week, normally Monday-Tuesday or Wednesday-Thursday, or else on the two sequential weekend days of Saturday-Sunday.
The "Reply" series, based on 1980s and 1990s nostalgia and retro pop trends, so far has had three seasons – "Reply 1997," "Reply 1994" and "Reply 1988" – and has been the broadcaster's most successful hit. "Misaeng" (2014), or "Incomplete Life," a TV adaptation of the famous eponymous online comic strip by Yoon Tae-ho, had great reviews with its high-quality direction, and it successfully avoided that grand trope of Korean TV where the two lead characters – inevitably – fall in love.
Will tvN's success continue? Will it follow in the steps of HBO? No one knows if tvN's success will continue, but viewers across the nation will be waiting with bated breath for tvN's next season. Pass me the remote, please.
Written by Chang Iou-chung
Photos courtesy of tvN
https://magazine.seoulselection.com/wp-content/uploads/2016/10/티비엔10.jpg
1850
1280
rjkoehler
https://magazine.seoulselection.com/wp-content/uploads/2018/01/Seoul-logo.png
rjkoehler
2016-12-21 11:55:00
2016-12-21 11:55:00
Ten years of tvN