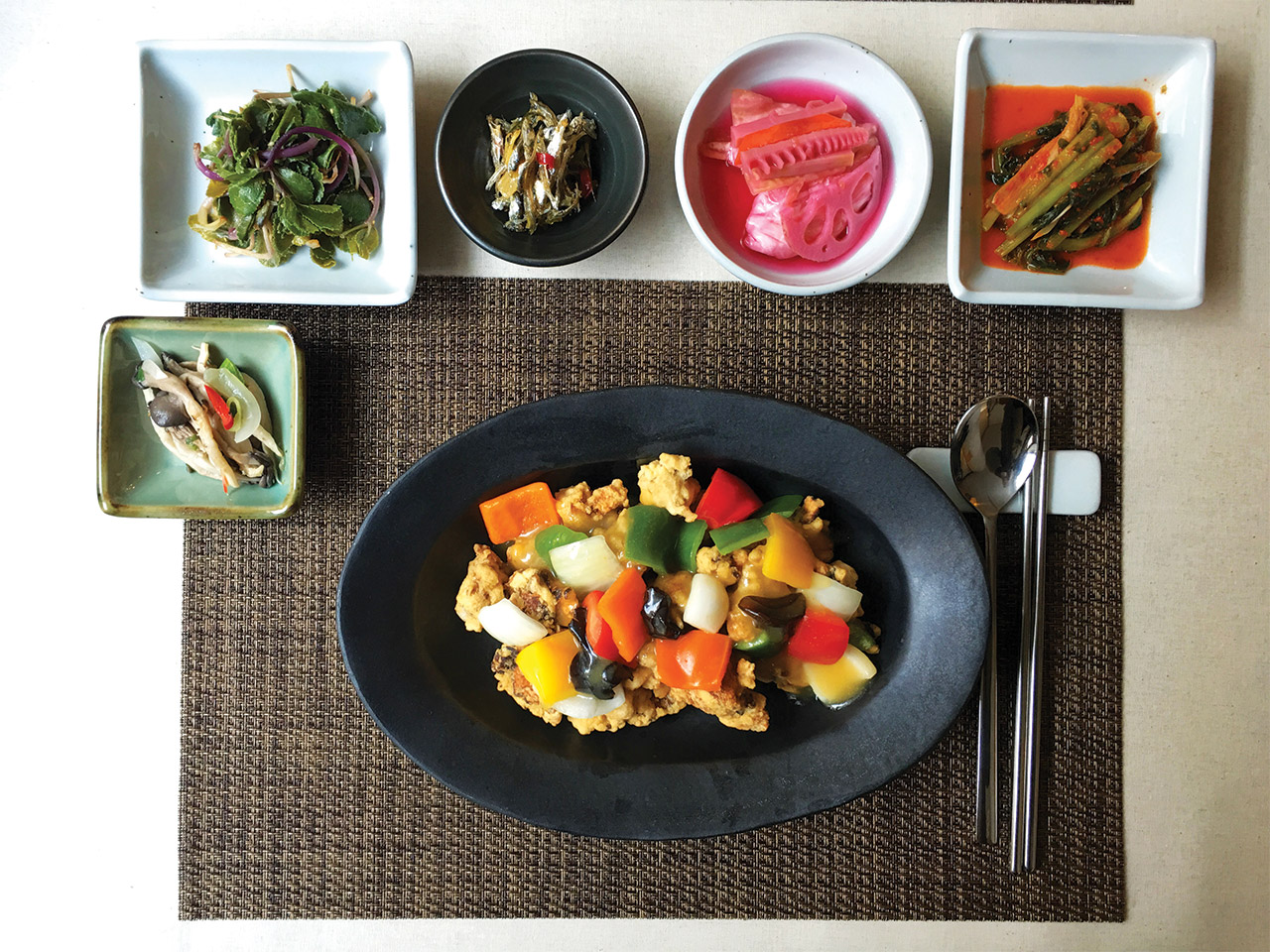 Three tasty, health-conscious eateries
Organic" may be a gastronomic buzzword eclipsed in recent years by other fads (or "movements," for the less cynical), yet there's no question that interest in healthy foods and healthy eating has stuck around. While the debate over the healthiest eating lifestyle continues to unspool, Seoul has in its restaurant haystack a few key eateries dedicated to wholesome dining. Sit down to a spread of healthful Korean fare and locally grown soybeans or some low-carb, low- sugar pizzas and pastas from a mysterious doctor (not a medical professional).
O'Yull (오율)
Daechi-dong 대치동     
The setting befits the location at this Gangnam-area "rawganic" restaurant near Samseong station. Tables are encased in private rooms with sliding doors and the servers are conservatively dressed, presenting O'Yull's menu via Samsung tablet.
O'Yull's food, despite the aforementioned tagline, is not all raw, but they attempt to maintain the "integrity" of the food as it would be raw by not adding salt, sugar or oil. The dinner and lunch menus focus heavily on steak – hanu steak, that is – prepared to your liking and meant to stand up on its own flavor without any rich sauces or salt.
The steak course meals run around KRW 70,000 for a medium-sized cut of beef. Three steamed starches serve as a teaser/first course: Korean pumpkin, white potato and sweet potato, simple and unembellished. The salad course consists of a mild, pearly-hued Korean grain gnarled a bit like barley. It's a clean-tasting refreshment in an apple and rosemary dressing and dusting of greens.
The Ribeye Steak with Abalone and River Snail is something of a Korean riff on surf 'n' turf and is embellished with dots of yuja citrus paste, dark purple seaweeds and a naturally salty Korean green herb. The lack of salt lends a lightness to an otherwise rich meal. O'Yull recommends reservations in advance.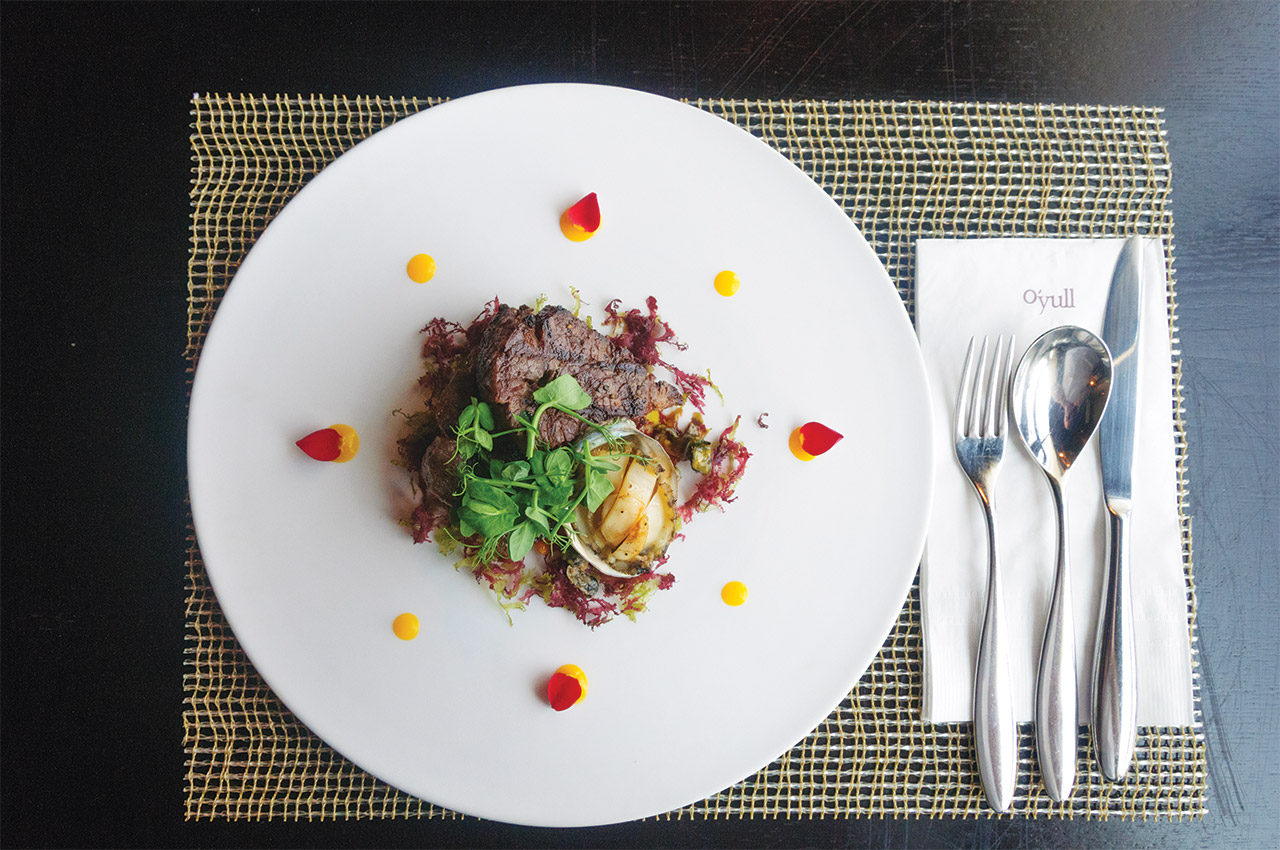 Ecotable  (에코밥상)
Gyeongbokgung St. 경복궁역
Organic ingredients bring flair to the homestyle Korean cooking at Ecotable (에코밥상), just a stone's throw from Gyeongbokgung Palace. Their "organically prepared" Korean foods like doengjang jjigae, yukgaejang and the bedrock of Korean health food, bibimbap, are made with organic rice, red pepper powder, sesame oil, perilla oil, domestically made soy sauce and brown rice. Ecotable's colorful menu (English available) is full of Korean classics. The prices are, indeed, organic food prices, though after the first bite of the vegetable bibimbap, KRW 15,000, it's clear that this dish is leagues above a sikdang rice salad. The gochujang is hearty and almost nutty; the whole-grain rice offers a rich texture to the mix. Those into raw food can choose the mixed rice with raw vegetable bibimbap for KRW 17,000.
The doenjang stew is a must for any umami-seekers. This is seriously bold fermented soy that inoculates the senses with dank flavor. It's KRW 13,000 for the original stew and KRW 19,000 for the seafood option.
As for meat, Ecotable offers platters of bossam and bulgogi as well as an enticing spread of smoked duck.

Dr. Robbin (닥터로빈)
Gwanghwamun  광화문      
Who has passed by a Dr. Robbin "Slim & Healthy" Bistro and not wondered about the identity/origin of the restaurant's moniker? Sure, doctors and healthy eating are pretty synonymous, and yet there is no rendering of the (likely nonexistent) Dr. Robbin in the restaurant's branding. The cleanly laid-out menu proclaiming "0% artificial," "no-sugar," "no- butter," and "low-carbohydrates" is crying out for a conventionally attractive actress in a white lab coat and a reassuring smile.
At any rate, Dr. Robbin develops its menu items using only the freshest natural ingredients. Its space in Gwanghwamun's swanky D-Tower is a bright and airy café-cum-brunch spot. Settle into a basket-weave chair and peruse salads, pasta dishes and low-carb pizzas. Groups should split the pumpkin soup two or three ways, which arrives piping hot in a hollowed-out pumpkin. Dr. Robbin gets an A for creativity: their Beef Miso dishes – an oil pasta and a cream pasta, KRW 14,500 each – are made with all-natural soy, including a soybean cream sauce. Try the new Spinach Ranch Sauce Pizza, also KRW 14,500, for the jolt of iron in the generous spinach salad atop the pie. The "ranch" sauce seems to lack the seasoning of the classic version, but it does add an extra creamy zip to the thin-crust pizza.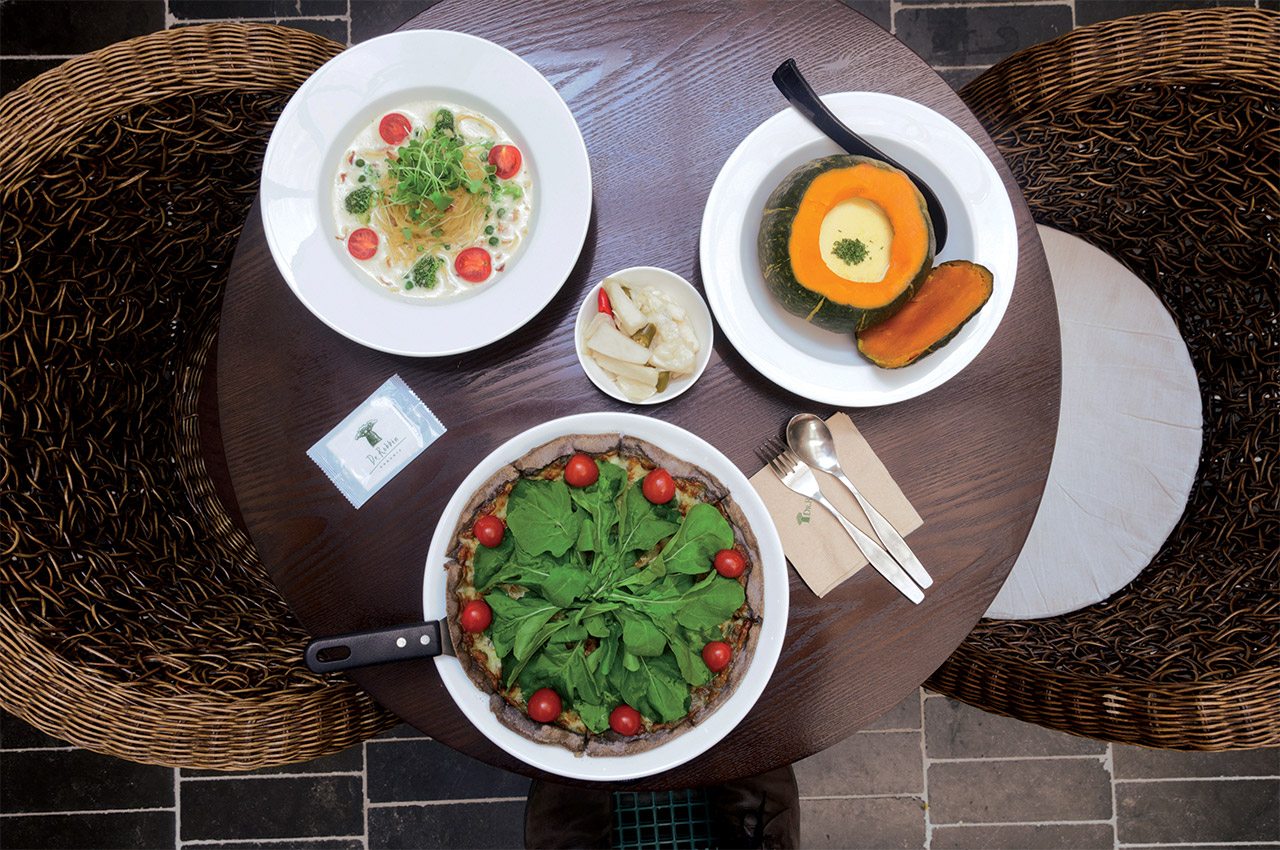 More Info
O'Yull
15th Floor, 434 Samseong-ro, Gangnam-gu
02-567-0511
oyull.co.kr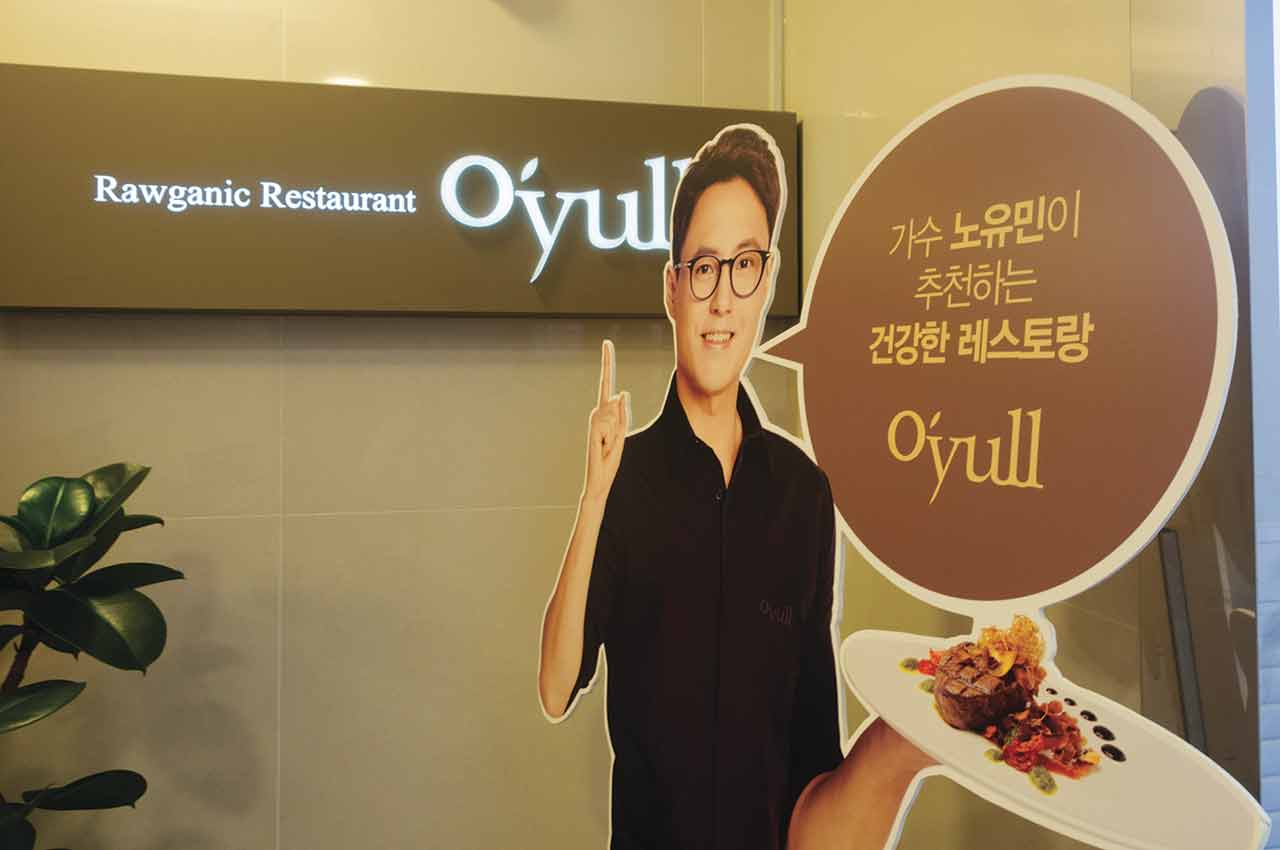 Ecotable
2nd Floor, 94 Jeokseon-dong, Jongno-gu
02-736-9136
ecotable.kr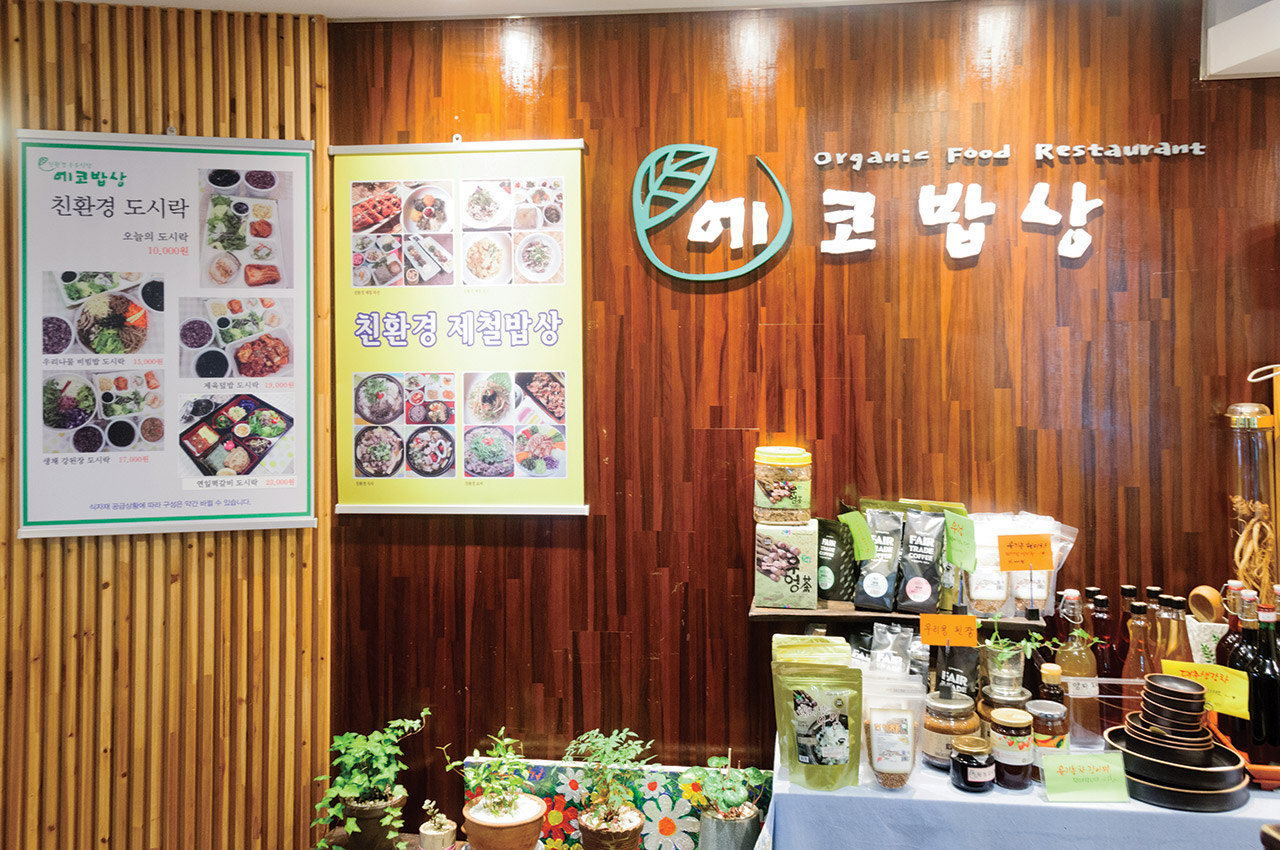 Dr. Robbin
5th Floor, D-Tower, 17 Jong-ro 3-gil, Jongno-gu
02-2251-8510
facebook.com/Dr.Robbin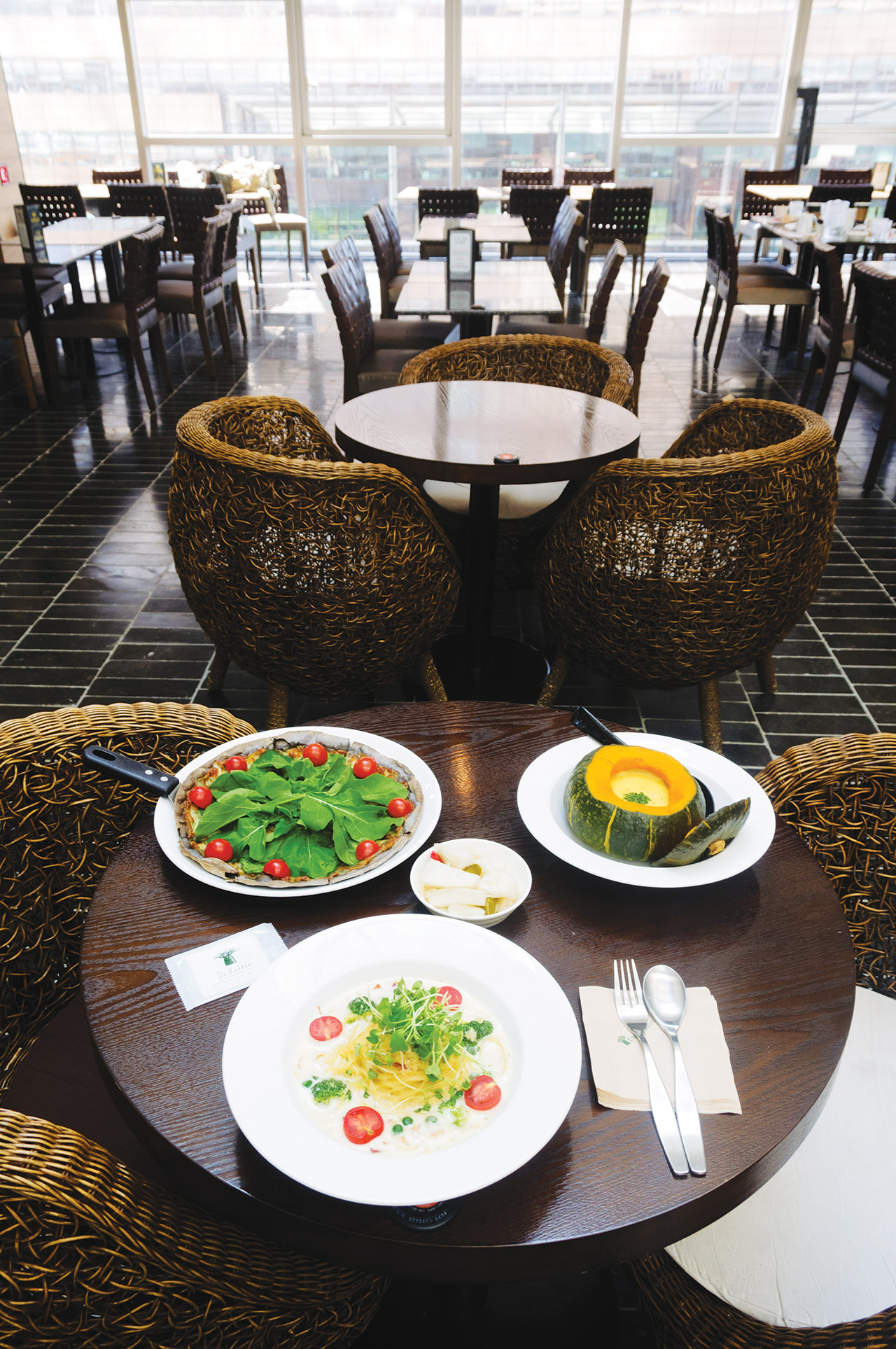 Written by Charlotte Hammond
Photographed by SEOUL staff
https://magazine.seoulselection.com/wp-content/uploads/2016/06/IMG_2778.jpg
960
1280
rjkoehler
https://magazine.seoulselection.com/wp-content/uploads/2018/01/Seoul-logo.png
rjkoehler
2016-06-24 15:27:32
2018-02-13 16:15:59
Naturally Delicious