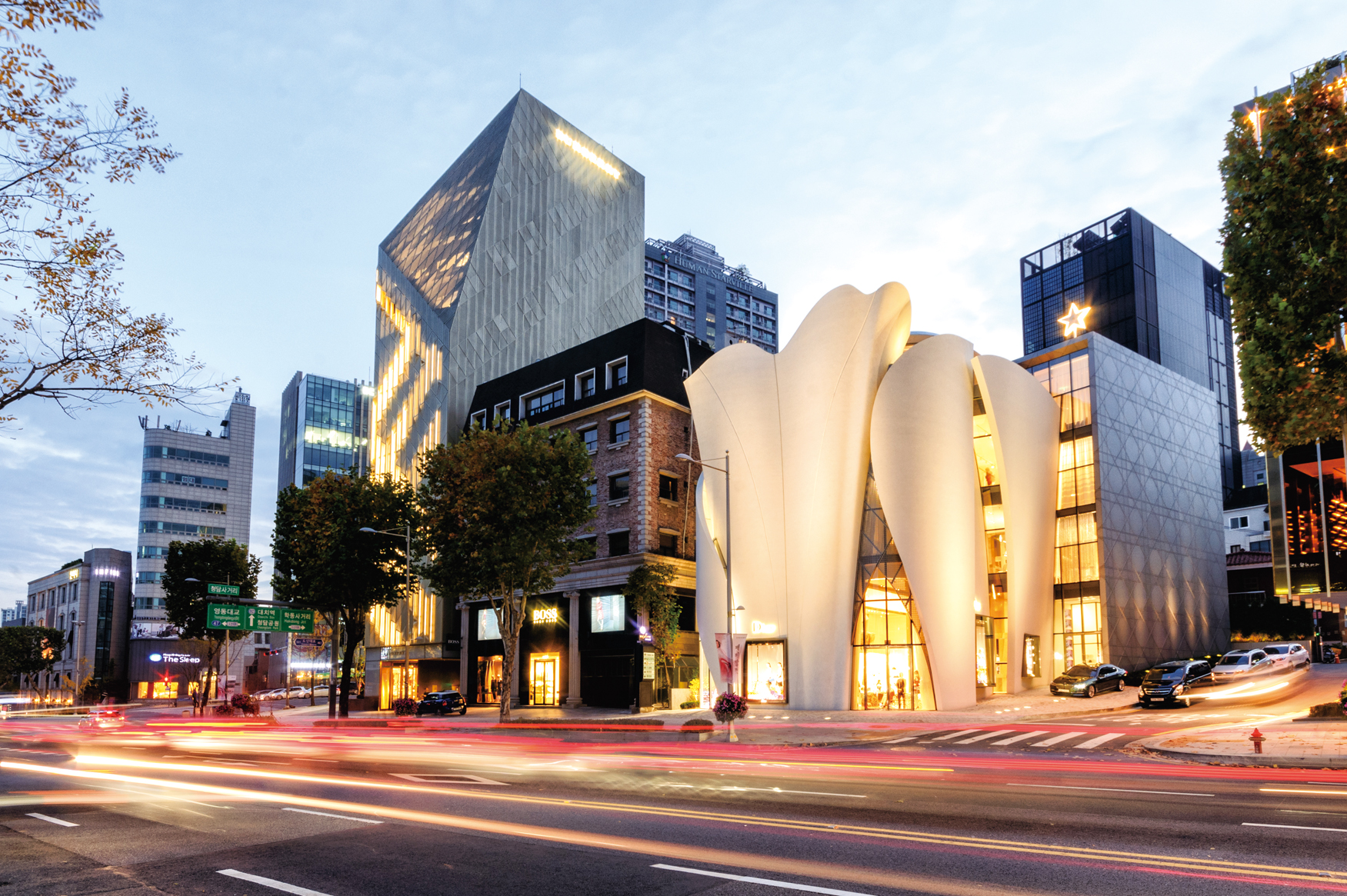 Gangnam's swanky Cheongdam-dong shopping district undergoes an architectural renaissance
Like the sexy swish of a runway model's dress, French architect Christian de Portzamparc's Dior flagship store in Cheongdam-dong has flowing folds of textured, white concrete draping down along the facade, with risqué slits between them, revealing layers of perforated metal fishnet lattice and glass underneath. Inside, there are three floors displaying US$2,000 sunglasses and US$6,000 dresses, connected by a monumental spiral staircase crafted of mirror-polished stainless steel plate, glass, and fine terrazzo treads. Standing on the ground floor and looking up through the center of the stairway is a truly transcendent experience. An art gallery on the fourth floor showcases artists' interpretations of Dior handbags and the sidewalk is plenty wide enough to park your Mercedes or Lamborghini right out front.
Apparently you should enjoy your fried chicken and beer elsewhere, because this party has gone upscale. Like celebrities at an exclusive event, the gilded global retail flagships and art galleries of Cheongdam-dong unabashedly clamor for attention, jostling cheek to jowl along the runway of Apgujeong-ro Street. Inebriated by a potent cocktail of new money, entertainment media and fashion and shaken and stirred by the global economy, many buildings here are just as swank, intricate, and well-crafted as the expensive artisan brands showcased inside.
A blue pond
Hundreds of years ago, during the Joseon Dynasty (1392-1910), this area was called "Cheongsutkkol," referring to a clear, blue pond that shimmered on the floodplains beside the Hangang River. The pond and the surrounding rice fields and farms were paved over as the government built new bridges and streets, relocated offices and built housing blocks there in the 1960s. Construction for the1988 Olympics and the high-rise Trade Tower were followed by a glut of real estate speculation over the last 20 years, and Gangnam has not looked back since. New wealth continued to consolidate in the area in the 1990s, and Cheongdam-dong and Apgujeong-dong solidified their places alongside the Champs-élysées, Rodeo Drive and Fifth Avenue as destinations for luxury brands, cutting-edge art galleries and haute cuisine.
Designed by talented local firms and world-renowned architects, much of the interesting architecture here is easy to see on foot. Apgujeong-ro, aka Luxury Brand Street, the main street that bends in a southeasterly direction from Apgujeongrodeo Street to Cheongdam Intersection, is where most of the action is. Further west, the alleys off Dosandae-ro, near Dosan Park, are worth visiting as well.
Less is a bore: Skin-deep beauty
As architectural metaphors for Cheongdam-dong that can be interpreted in many ways, most buildings along Luxury Brand Street are clothed in thin, flashy surface treatments that mask the conventional construction behind them. Working in concert with the advertising and entertainment media engines that propel luxury brands, these expensive skins project images of exclusivity, opulence and perceived value, and are part of what make people want to spend US$4,000 on handbags that cost US$300 to produce.
Next to the Dior building, Gucci's glittery facade looks like a dangly, garish piece of jewelry that somebody's rich aunt might wear, while Louis Vuitton, Cartier, Giorgio Armani, Salvatore Ferragamo and Prada's buildings show a bit more restraint. Using muted colors, understated lines and classic materials like limestone, marble, and steel, these well-established Euro brands don't want to seem like they're trying too hard, and they don't.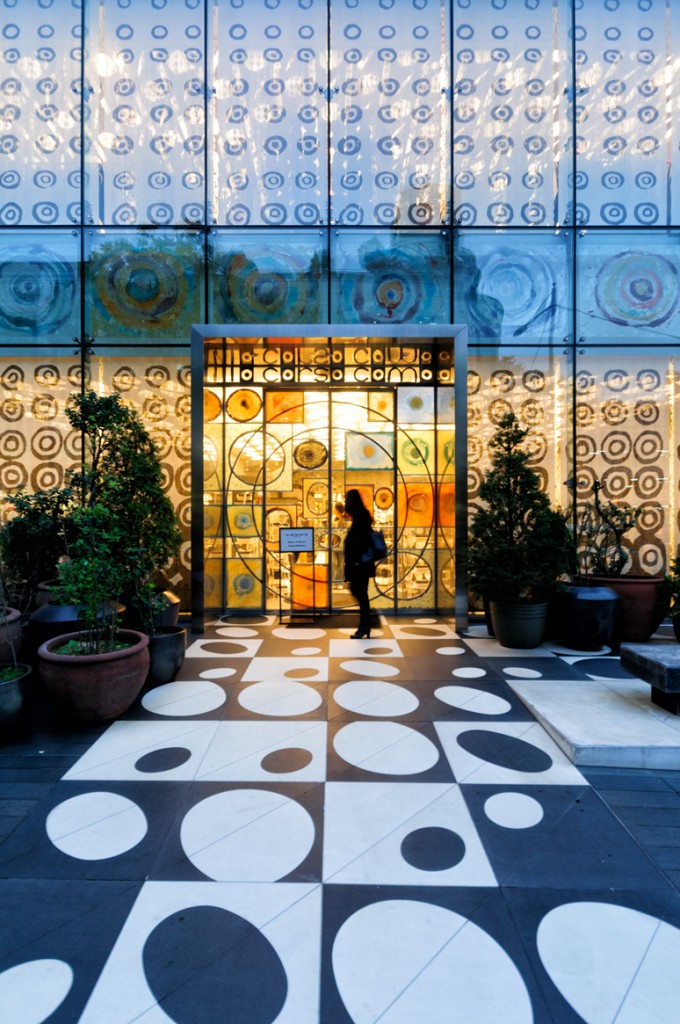 Less is more: Substance over style
A refreshing contrast to the stunning but superficial main street retail architecture is a very nice sampling of minimalist glass boxes; starkly honest, concrete modernist creations; and whimsical object buildings using conventional materials in new ways. Across the street from Galleria Department Store is 10 Corso Como Seoul (www.10corsocomo.com), a boutique, design gallery, bookstore, café and all-round cultural space founded in Milan in 1990 by publisher Carla Sozzani. The Seoul branch opened in 2008. Designed by American artist Kris Ruhs, it's a fantastic space to visit and stroll around.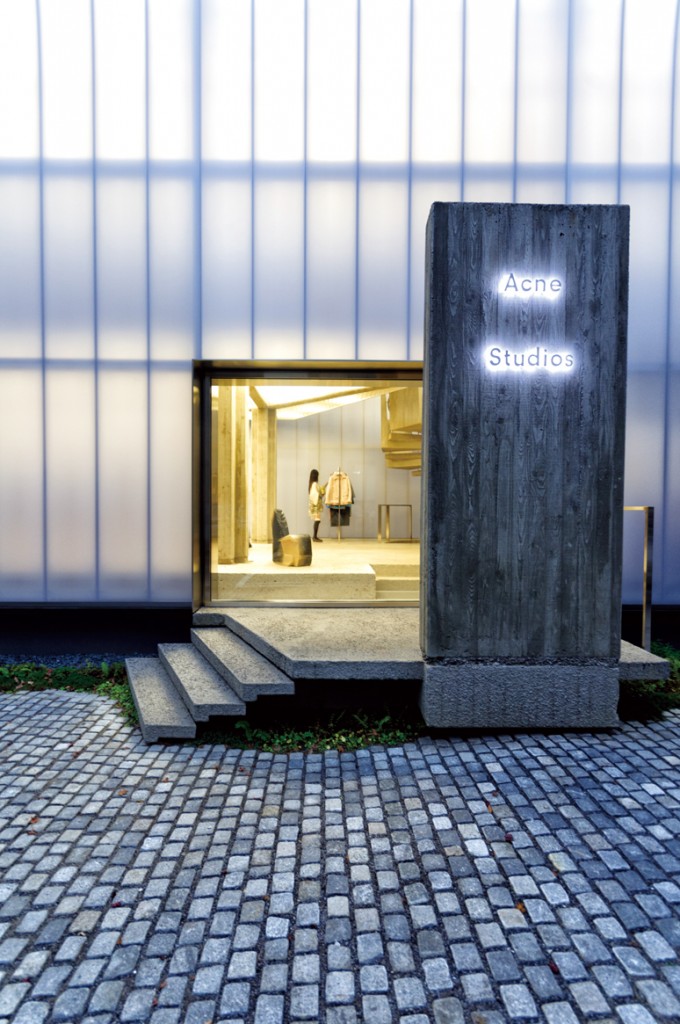 The most unpretentious and discreetly beautiful building in the area is the tiny Acne Studios flagship store tucked in a small alley behind the glass monolith of 10 Corso Como. London-based architect Sophie Hicks housed the progressive Swedish brand in a translucent box made of polycarbonate panels, stainless steel and concrete. Similar to other modernist masterpieces like the Pompidou Centre in Paris, the pipes and ductwork are arranged on the outside of the building, and the structure is celebrated on the inside, with exposed concrete columns and beams coarsely imprinted with the wood grain of the boards used to form them.
Around the corner, Boon the Shop is a pristine white limestone composition of severe angular volumes, containing shops, restaurants and cafés. Nearby, exuding the charm of a stone-faced harabeoji, Space Mue threatens to push you off the sidewalk, but has a softer side behind its brutal façade. A slot behind a wall leads you downstairs to a clean, warm interior housing premium men's brands catering to K-pop stars.
Dosan Park: Beautiful boxes and objects
Heading west, Dosan Park is home to some great design. Rena Dumas of RDAI architects in Paris designed a modernist's dream in Maison Hermès, a golden box clad with a sheer grid of square laminated glass plates housing a museum, café and shops. From a distance, the building's perfect surface shimmers and, depending on the angle, sometimes disappears into the sky or reflects the row of ginkgo trees along the sidewalk. Up close, the pattern of gold and white stripes on the glass, custom stainless steel connectors and other meticulous details are like the high thread count on a swath of fine silk fabric. At night, the building glows like a warm lantern and more layers of color are visible on the inside.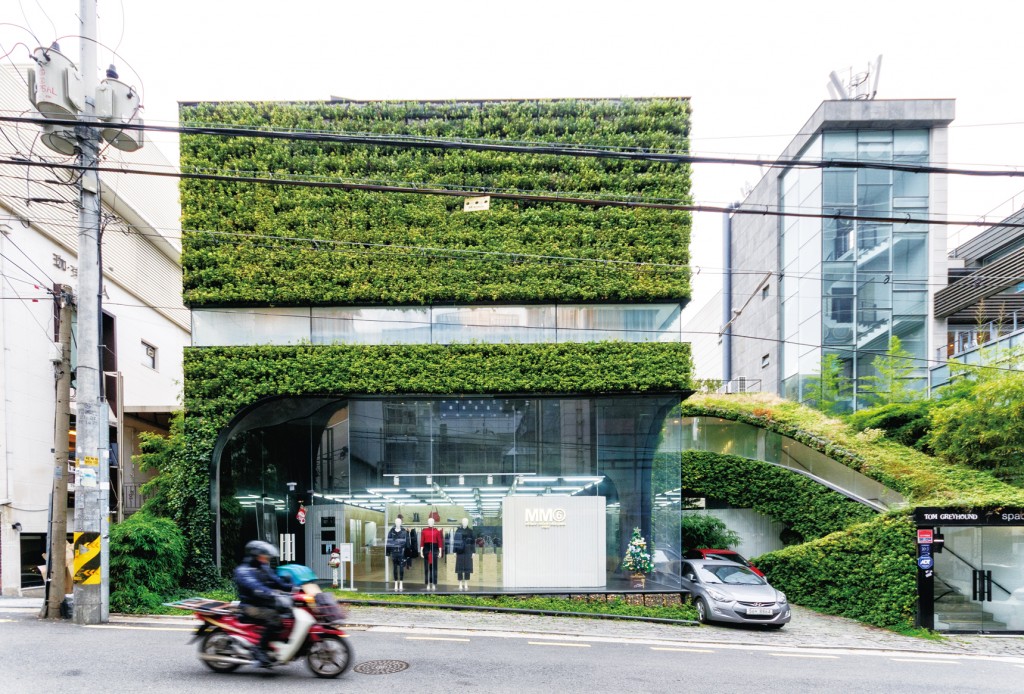 Tucked in an alleyway perpendicular to Maison Hermès are Hong Taek and Kim Chanjoong's Paul Smith building, and Cho Minseok's Ann Demeulemeester Shop. Paul Smith's former flagship store is a striking white polished monolith with a seductive organic shape not unlike a gigantic tooth. In spite of the colored sign now painted on the surface, it's still well worth a visit. A few doors down, the Demeulemeester shop is a curious creation with a green skin of living plants. Whether some might call it a chia building or the result of a sordid affair between Oscar the Grouch and a concrete culvert, it's pretty cool and definitely a must see.
Further south on the corner of Dosandae-ro and Eonju-ro, the Hyundai Motorstudio houses galleries, a café and lots of cars – tilted sideways and displayed in the front window. Conceived by local architect Suh Eulho of Suh Architects, he used 36,000 meters of steel pipes and anodized steel panels supplied by affiliates within the Hyundai Motor Group to create the interior and exterior architecture.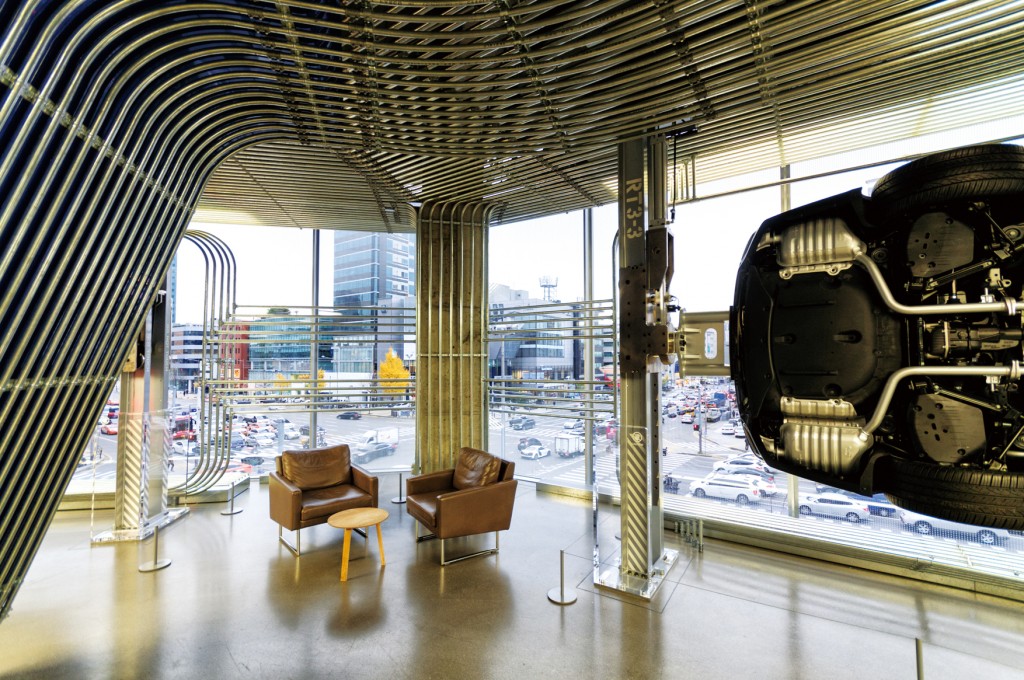 Change is good
The best thing about the architecture in Seoul is that it's always changing and there is always something new to see. Aside from this short list of highlights, Cheongdam-dong's back alleys and maze of small streets offer many nice surprises and some of the city's best designs. So grab your camera, put on your walking shoes and get lost in some good architecture.
[separator type="thin"]
More info
EAT> Just off Cheongdam Luxury Brand Street is Saebyeokjip (T. 02-546-5739), a popular Korean meat restaurant – its yukhoe bibimbap, made with raw beef, is to die for.
For something considerably more upscale, Jung Sik Dang (T. 02-517-4654), located between Luxury Brand Street and Dosan Park, is Korean fine dining at its avant-garde best; its New York branch has two Michelin stars. Lunches and dinners begin at KRW 50,000 and KRW 90,000, respectively.
We'd be amiss if we didn't mention the Galleria Department Store's Gourmet 494 (T. 02-3449-4061), quite simply the finest food court in Seoul with branches of popular eateries like Pizzeria D'Buzza, Café Mamas, Sushi Matsumoto and more.
GO> Cheongdam-dong's Luxury Brand Street is reached by Apgujeongrodeo Station (Bundang Line), Exit 2 or 3. The street begins there and ends at the Cheongdam Intersection.
To get to Dosan Park, head straight from Apgjeongrodeo Station's Exit 5 and swing a right at the Hakdong Intersection. Follow Dosandae-ro Street and take another right just after the Horim Art Center. Follow that road to the park.
Written by Michael Burkhardt
Photographed by Robert Koehler
https://magazine.seoulselection.com/wp-content/uploads/2015/12/DSC_2387-Edit.jpg
1165
1751
cyn
https://magazine.seoulselection.com/wp-content/uploads/2018/01/Seoul-logo.png
cyn
2015-12-09 16:42:37
2015-12-09 16:42:37
Substance versus Style