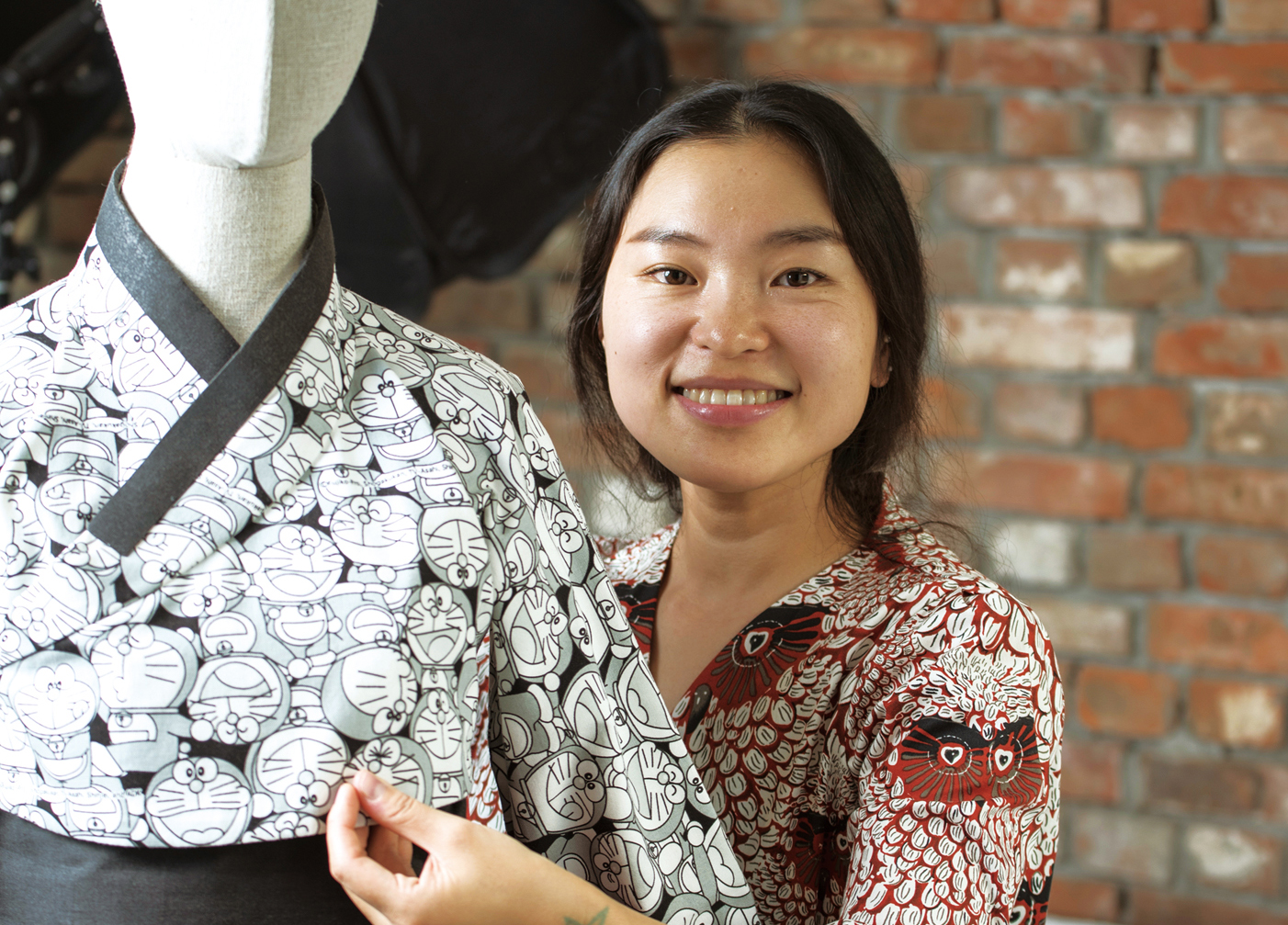 Designer In Oh of local studio Inohjudan adds a bit of youthful freedom to Korea's traditional attire
If you follow the western stone wall of Changdeokgung Palace, you will stumble upon a quiet road lined with small shops. There, the hanbok studio Inohjudan frames a single outfit in its window.
At first, the hanbok – as Korea's traditional attire is called – looks like a museum piece, with a silhouette that feels perfectly 18th century. As you peer closer, however, you'll notice the black-and-white print of the Japanese manga character Doraemon on the short jeogori (jacket) and the dark denim of the chima (skirt). If you could manage to peer even closer with a magnifying glass, you may even notice, albeit barely, the tiny, meticulous hand stitching around the collar.
Hopefully, you'll also catch a glimpse of designer In Oh herself, with her wide smile and mischievous, sparkling eyes. Her own personal style is as intensely contemporary and deeply old-fashioned as the hanbok she designs. Founded in 2012, "Inohjudan" comes from the designer's name, In Oh, combined with judan, which means "silk goods." Her fabric choices, though, extend far beyond silk. Oh plays with the textiles she uses in hanbok, and switches things up from the predictable bright silks typically seen.
When asked about the Doraemon print on the hanbok in the window, Oh smiles widely. "I would have preferred to use SpongeBob SquarePants fabric, but the design concept was black-and-white." Doraemon has never looked so stately.
Historical construction techniques
Her hanbok defy conventional expectations while honoring historical tradition. Oh immigrated to the United States with her parents after graduating from high school in Korea. Her parents worked in a family garment business, so they sent Oh to a nearby technical college. "At the school I ended up attending, the teachers were mostly tailoring masters or bustier-makers – they were quite old. I learned historical construction techniques," she recalls. "That's another country's traditional history. This technical background really impacts how I make hanbok."
After spending over a decade in Los Angeles, there were times that Korean cultural norms felt unfamiliar to Oh. "At first I had a hard time when I came back," she says. "There are still times when I make cultural mistakes. When Koreans look at me, they see that I'm Korean, so they think there's no excuse for making cultural mistakes. Korea is very strict in terms of hierarchy within a company. Hanbok companies can be even more strict because they are working with tradition." Coworkers would even make fun of her tendency to defy norms by calling her the "sister from a fourth dimension."
She doesn't pay too much attention to criticism. "I don't make hanbok 100 percent in the old way. But I do use at least 90 to 95 percent of the old-style construction methods. Yet, at the same time, a lot of people really say that my work feels more contemporary than other designers." She thinks that this stems from not caring much about how others will react to her work. "No one is telling me what to do; no one is forcing me to make these clothes. Instead, I have so much fun making them that I don't even realize time is passing."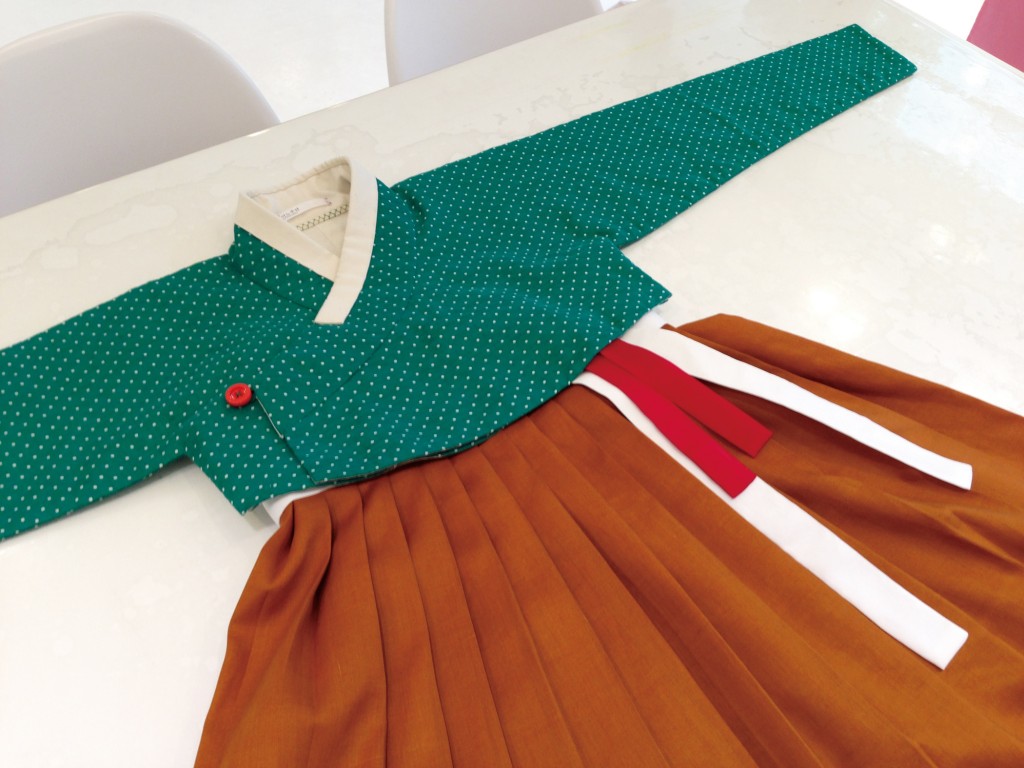 Returning to Korea
While living in Los Angeles, Oh developed a strong desire to return to Korea to study hanbok design. Her parents, however, strongly opposed her plans. "When I finally decided to come back to Korea, I realized that if I didn't go right away, I would never make up my mind. Within two weeks, I was in Korea. The only neighborhood I knew about was Hongdae, so I went there and lived in a small one-room apartment." Her first job was with Cheonui Hanbok, where she learned the construction techniques for hanbok one by one. "They wouldn't teach you everything at once. Right when you thought you had finally learned one skill, the owner would introduce a new technique." Later on, she made hanbok as a team member at Lee Young Hee, one of Korea's most renowned hanbok designers.
Hanbok, every day
When Oh first returned to Seoul, she tried really hard to popularize what she calls "everyday hanbok." She wore hanbok not just for special occasions but also day-to-day. When people would see her clothes, they would ask her where they could buy gaeryang hanbok, which can be roughly translated as "improved" hanbok. Oh would insist that she didn't wear improved hanbok, only everyday hanbok. While it may seem like just a simple word choice, it actually reflects a deeper sense of hanbok's role in contemporary life. The concept of improved hanbok intimates that hanbok are a thing of the past that need to be changed if they are to be used in modern life. Everyday hanbok, on the other hand, communicates a radical potential for hanbok in day-to-day life.
Conversing with hanbok
Oh's design process begins with a conversation. "I don't say a lot. Instead, I have the customer talk," she says. "After listening to them, I design their hanbok. We create hanbok with one customer, one design." The total design process for a single Inohjudan hanbok takes two and a half months. Inohjudan's signature phrase is, "Hanbok as clothing begins with using the word hanbok freely."
Knowing the past
Oh first opened Inohjudan in order to more deeply study historical hanbok. "I knew how to design so that contemporary people would like the hanbok I made," she says. "But these clothes are from the past, and changed a lot through cultural and historical events. There's a big difference between designing while knowing this past and designing without knowing." Oh started to work with people who were reconstructing Joseon-era funeral garments. "Each of the hanbok companies I had worked at has its own character, and I learned a lot from working with them. However, there was only one thing I couldn't learn from them: Joseon funeral garments. I decided I definitely need to learn this."
In Joseon culture, people were buried in layers of fancy clothing when they died, she says, but now, since most of the clothes from that time are gone, the burial clothes are taken out of the tomb, washed and examined so that we may follow the construction techniques to make exact copies. Oh directly participates in this literal reconstruction of the past.
The Inohjudan take on tradition is playful. Tradition, Oh says, should be at the core of the garment, not just added as some extra embellishment. "If you can't attract interest, a tradition will disappear."
[separator type="thin"]
More info
FYI> 97 Wonseo-dong, Jongno-gu, Seoul / 02-322-7336
Written by Nora Hauk
Photographed by Tato Gonzalez
https://magazine.seoulselection.com/wp-content/uploads/2015/11/DSC_5775-1.jpg
1007
1402
cyn
https://magazine.seoulselection.com/wp-content/uploads/2018/01/Seoul-logo.png
cyn
2015-11-14 15:39:50
2015-11-14 15:43:45
Not your mother's hanbok