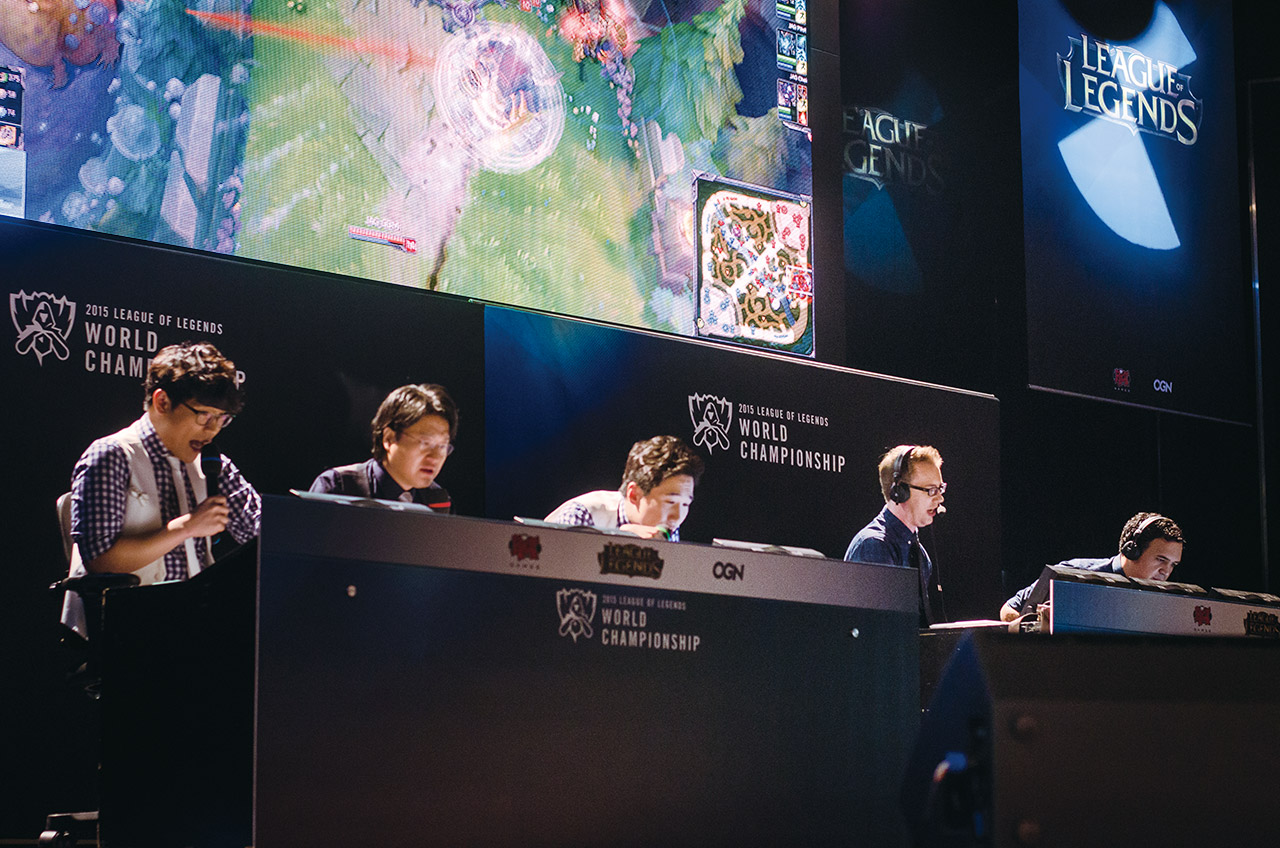 With each broadcast, Erik 'DoA' Lonnquist is helping define what an e-sports caster should be
On a Saturday in late August, Erik Lonnquist was backstage in Korea University's Tiger Dome in an improvised green room made out of office cubicle partitions. Lonnquist, an English-language commentator for the Korean e-sports channel OnGameNet, was getting his makeup done, preparing to do the play-by-play for the Champions Korea Summer 2015 League of Legends Finals. Out front, the arena's stage appeared ready for a pop concert; enormous video screens loomed over two aquarium-like game pods; a catwalk extended out toward the audience; the stadium's floor was filled with rows of gray plastic chairs that were split down the middle like they'd be at a wedding, one side for each team's fans – SK Telecom T1 on the left, KT Rolster on the right.
League of Legends (LoL) is one of the world's most popular PC games, a five-on-five team fight to destroy the opposing team's base, like a souped-up version of Capture the Flag. In a couple hours the arena would erupt in the sounds of screaming fans and digital blows, but for the moment things were relatively quiet. Lonnquist, who goes by the handle "DoA," and the event's color commentators, Christopher "MonteCristo" Mykles and Chris "PapaSmithy" Smith, used the lull to review game stats, work their iPads and perhaps think about how to do jobs they were half-inventing.
Press start
Lonnquist grew up in Wisconsin and Minnesota, the oldest of eight kids, and from his earliest days he was captivated by video games. "Ever since I went over to my friend's place and played Mario Bros. it was like a switch was flipped," he said. It was a fascination his family nurtured. Lonnquist's dad began teaching him basic gaming programming in kindergarten; with his mom he engaged in Tetris battles that, Lonnquist admits, she had the better of.
E-sports commentators are known as "casters," a shortening of "Shoutcaster," the name given to users of Shoutcast, the software used for broadcasting between media players. After college, Lonnquist began using similar software to call Starcraft matches in his free time. "I started off by just buying a microphone and recording my own commentary over replays of pro matches and then putting that on YouTube," he said. "It was basically like, well, I'll do it and then if people like it I'll keep doing it; if not, whatever." He soon began getting requests to call live matches. At the same time, he was staying up until 4 AM watching Korean Starcraft tournaments with friends. One night there was an advertisement seeking English-language casters in Korea, and one of Lonnquist's friends prodded him into applying. At the time, Lonnquist had been bouncing between jobs, whether it was selling insurance door-to-door, working at a pawn shop or doing tech support at Verizon. A few months after sending in his demo, he received an e-mail with a job offer in Seoul. "Be a huge failure and then eventually get popular on the internet," he joked. "That's the American dream, right?"
"Be a huge failure and then eventually get popular on the internet," he joked. "That's the American dream, right?"
Level up
Lonnquist moved to Seoul in 2011. He was just the third English-language caster in Korea, which at that time was the only country in the world where casting jobs even existed, he says. Unlike traditional sports, e-sports commentating is a young man's game. Only 32, Lonnquist claims to be the world's oldest LoL caster. With roughly a dozen English-language casters now in Korea and many more globally, Lonnquist – a (relatively) elder figure working in e-sports' Mecca – is in the curious position of being an authority in a job that's so new even he is still trying to figure out how it should be done.
One of Lonnquist's main concerns is setting a high standard in Korea in order to foster e-sports' worldwide growth. "The more appealing that I make e-sports look out here, the more appealing it's going to be for sponsors in North America and Europe or anywhere, really. to commit more to it," he explained. Besides calling four to five events a week, Lonnquist consults with video game companies on ways to make their games more spectator-friendly. He also focuses on ensuring that e-sports industry workers receive favorable working conditions and compensation, things he claims he did not always get when he began casting. "One of the big things I'd like to do is make sure that everything I do here makes it better for the next generation," Lonnquist said. "I will be happiest if the commentators that come after me when I'm done are more popular and make more money than I do. That means that I did it right."
A more concrete question is how exactly e-sports casting should be done. "One of the interesting challenges of e-sports is that it's done 100 percent by people that really don't have any sportscasting background or experience, really," said Lonnquist. "A lot of us that are successful are just good speakers."
Perhaps the main consideration is the extent to which e-sports should adopt traditional sportscasting norms. Broadcasts tend to err on the side of ESPN in North America, where telestrators and scripted deliveries have been experimented with, things Lonnquist is ambivalent about. "You do want to look to traditional sportscasting," he said, "but I think the trend right now, especially in LoL, is to look to it too much, and there is a difference. There's a difference in the culture as far as who watches e-sports, who watches traditional sports; there's a difference in how the games flow. . . . At the end of the day, it's a video game competition. It should be less serious; it should be a little more wild."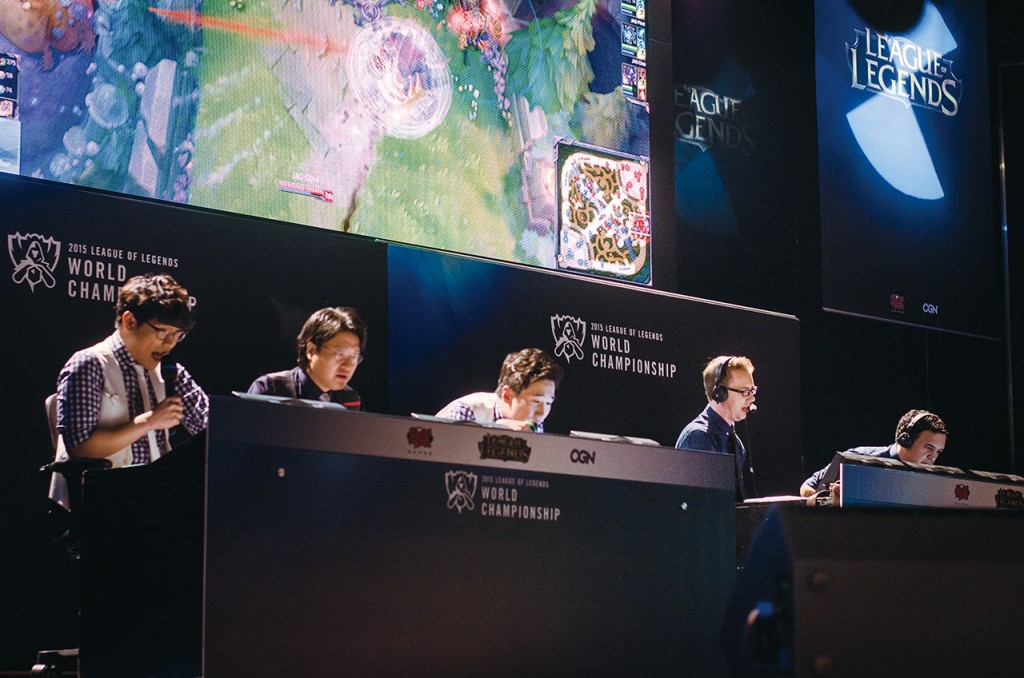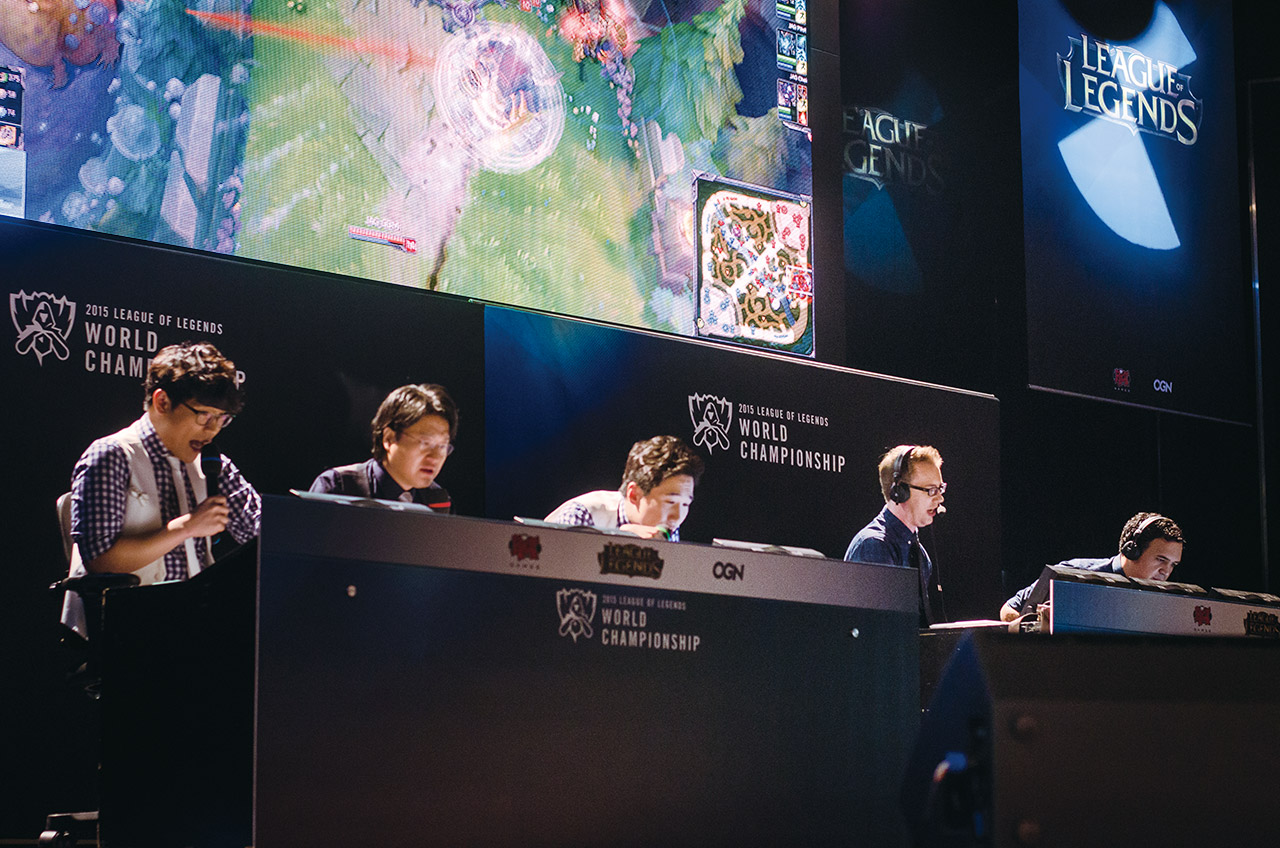 Good game
Just before 5:30, Lonnquist, Mykles and Smith slipped into their booth. The SK and KT players made their entrances, accompanied by video montages and flame machines, and filed into their team's pod.
To non-e-sports fans, much of a broadcast can seem plenty unreal – even incomprehensible. For starters, it's jokier, and everyone, even casters, uses game IDs. At work, Erik Lonnquist is never Erik Lonnquist; he's always DoA. Then there's the matter of understanding what's going on. Take, for example, this bit of commentary from Smith during August's championship match: "Even if the Trinity Force is picked up, it's gonna be pretty lineball who's gonna win the trade unless Gangplank can really kite around and get free damage harass with the Parlay."
While that's illuminating to aficionados, Lonnquist's play-by-play is surprisingly accessible to even an e-sports newcomer. As teams jockey for position, his voice produces a continuous, even-toned patter that suddenly, as a battle climaxes, swells into loud, rapid-fire bursts. It's a pattern familiar to any soccer fan. And, minus a noun or two, it uses terminology that's part of sport's lingua franca, seen in, description of Lonnquist's on a KT player: "This guy's a playmaker on the Thresh, and you do have to give it some respect even if you are two games up in a best of five." Change "Thresh" to "base paths" and you could just as easily be listening to the first round of the MLB playoffs.
Ultimately, neither the Thresh nor any other KT avatar made the plays. In game three, SK's frost archer snuck undetected into KT's base, and as it fired arrow after arrow at a rotating red crystal, methodically dropping its power to zero, Lonnquist's voice crescendoed. "And Bang is going to win Champions Summer for his team, SK Telecom! Three-oh in the spring season, three-oh in the summer season! This is the year of SKT!" With that, it was all over, and Lonnquist, Mykles and Smith calmly wrapped up their analysis. Then, as SK team members lifted the trophy and silver confetti rained down, the casters took off their headsets and quietly slipped backstage.
Written by Charles Usher
Photographed by Chris da Canha
https://magazine.seoulselection.com/wp-content/uploads/2015/09/17.jpg
848
1280
cyn
https://magazine.seoulselection.com/wp-content/uploads/2018/01/Seoul-logo.png
cyn
2015-10-23 17:49:05
2015-10-23 17:49:05
Game On