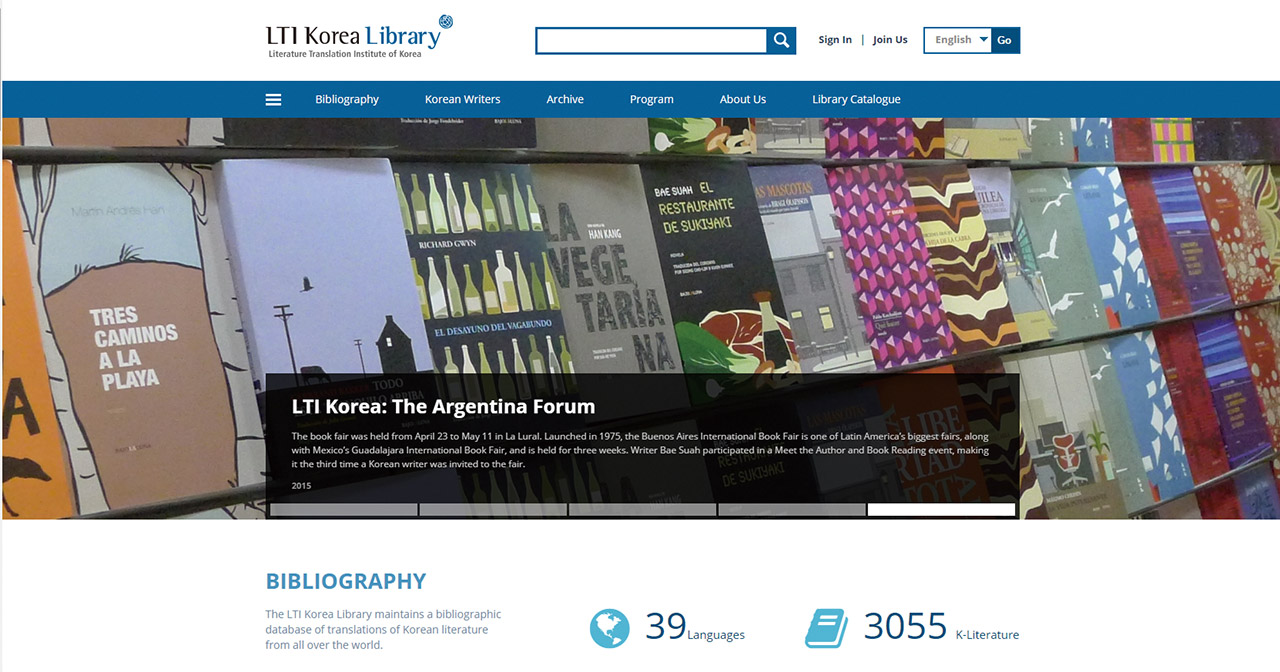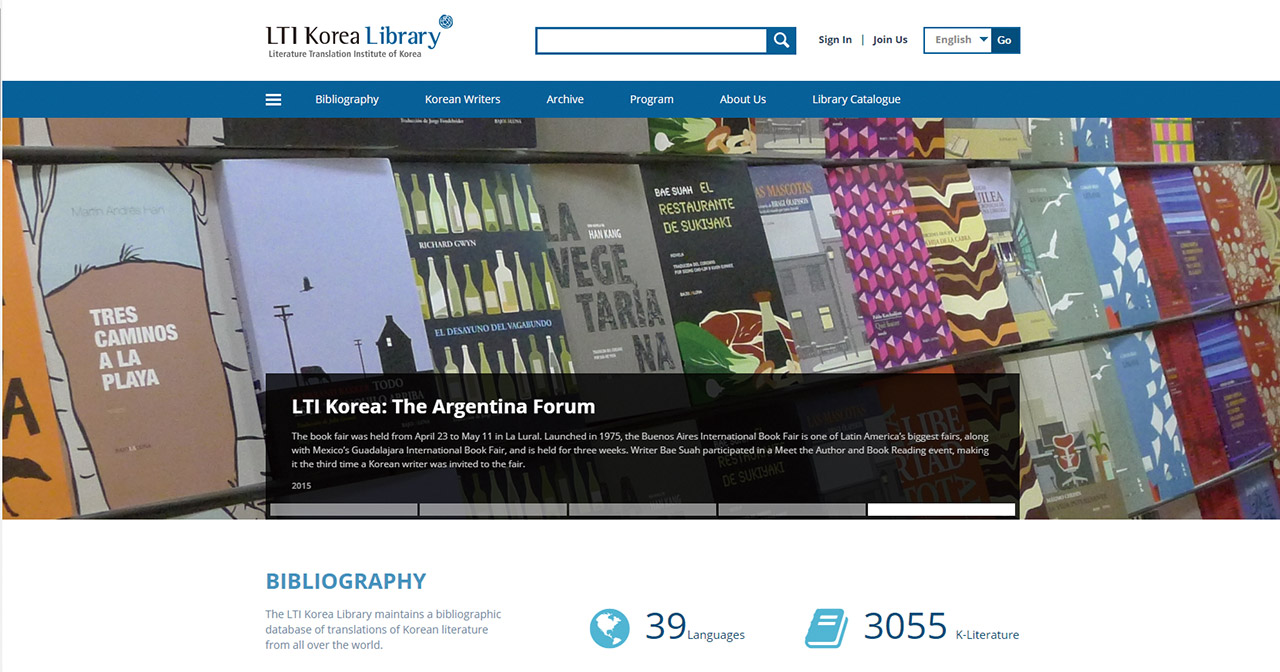 LTI Korea's online library makes the world of Korean literature accessible to the non-Korean speaking masses
Less than a decade ago, those living outside the country who hoped to track down works of Korean literature likely found themselves seeking out an Asian Studies Library, purchasing an academic reader or coming to Korea and buying translations here. Put simply, learning about Korean literature had some very real technical barriers. Today, however, nearly anyone with internet access can open his or her browser and in seconds be studying classic works of contemporary Korean novelists or reading up on famous Korean authors from the comfort of their computer or e-reading devices.
It's never been easier to become familiar with Korean literature.
A little background
When the Literature Translation Institute of Korea (LTI Korea) was originally founded in 2001 it focused on translation and text-based publications of Korean literature. LTI still honors this mandate, but there has also been a vast shift toward reaching more readers across the globe. To do this, however, embracing digital technology was key.
In person, the library is traditional looking, with 3,055 translations of Korean literature available in nearly 40 different languages available. While the library was first designed to serve the needs of those seeking print copies of the texts in question, it has evolved at an accelerating pace, moving quickly into the digital arena and taking full advantage of the opportunities afforded by the web.
Going digital
In 2009 the library opened its first e-library website (library.klti.or.kr). The site was relatively simple but evolved exponentially over time. Today the digital footprint of the LTI Korea Library is massive, with some 16,000 separate records. Its head librarian Kim Hye-young notes that, "One the most convenient elements of our (web) pages is that they are quick to access; comprehensive; can be reached any time, anywhere, and we have made a conscious effort to make certain that all related information is linked." Reflecting on the user-friendly nature of the site, she adds, "You can find almost all the information you want about an author on one page in the Korean Writers section of the site. If you want to learn more, the pages also contain links to deeper information on related pages."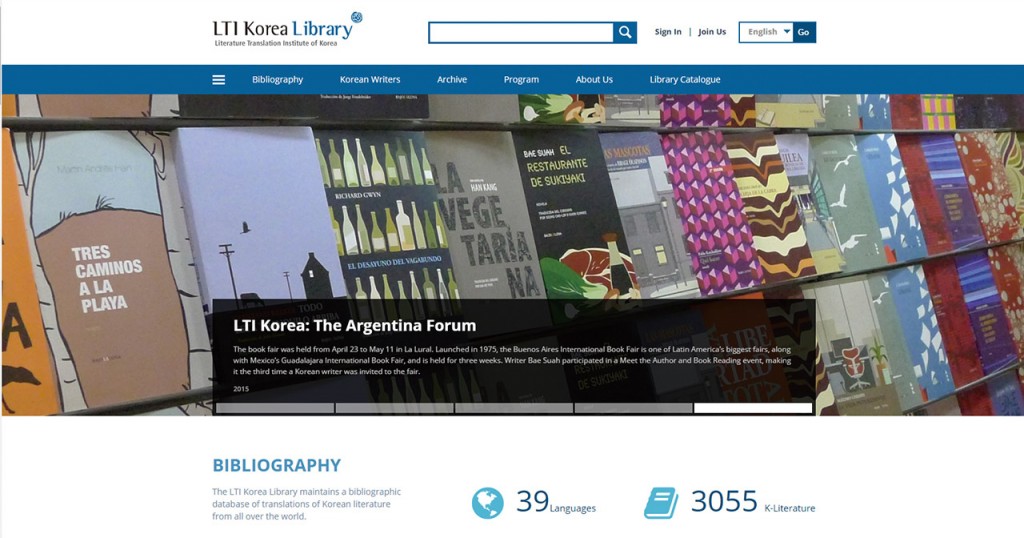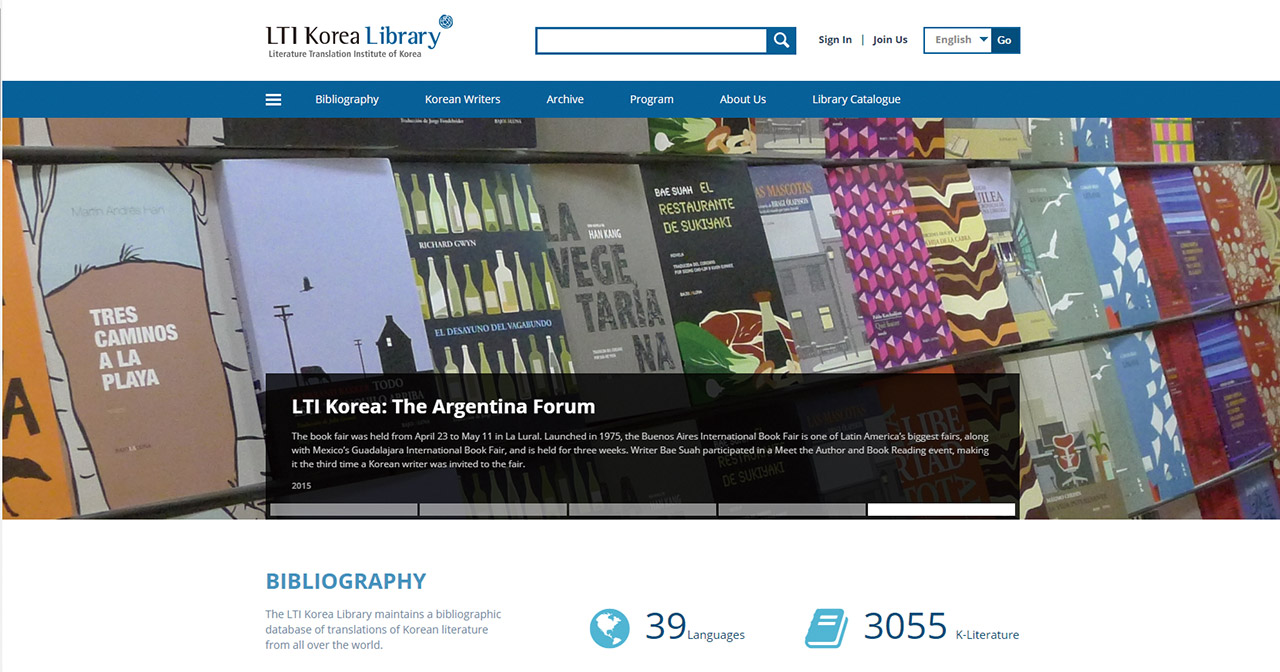 Myriad features
Perhaps the simplest way to use the site is to start at the bibliography page using a basic author search. This engine reveals one of the most impressive features of the website: its integration. The search tool at the top of the page connects users to a listing in which most Romanizations of Korean author names are recognized, with the first result leading to a page with complete information about each author and links to more extensive information in all areas. The author page includes biographical information in multiple languages, a listing of books and e-books published, news on the authors from abroad, a record of overseas appearances and a catch-all category that includes additional reports and publications. If you find a book you are interested in by a certain author, its entry also contains convenient links to online bookstores and libraries that have that book available, including whether or not it is available in the LTI e-Library, either free or for e-loan.
The site can be used in other ways as well, as the search tool will also find particular works, translators and other information any Korean lit aficionado may desire. For example, the LTI Korea Library site boasts 52 stories or novels of translated Korean literature from the "20th Century Korean Literature Series" in PDF or EPUB format, each of which being available for free download.
Even better? Many commercial books are available for e-check-out as the LTI Library, working with Overdrive, has made an increasingly wide variety of modern fiction available online. Simply go to the overdrive site (lti.lib.overdrive.com) and for 15 days you can "borrow" many of Korea's greatest works, from historical texts written in the Classical era to books like the recent international smash "Please Look After Mom" by Shin Kyung-sook.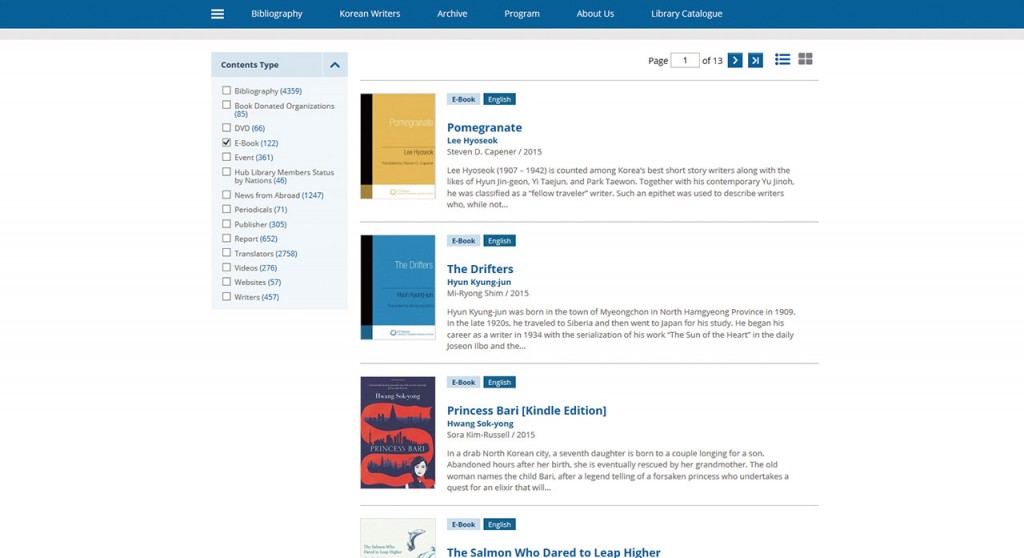 Checking in, checking out
Fortunately for avid readers, obtaining a membership is easy, requiring only your email and language preference. The LTI staff members are constantly keeping abreast of new additions to the e-publication scene, with the library hoping to expand its collection to include works that are not only available in English.
The site is also dedicated to providing links to external media related to Korean literature, including information about 276 online videos of Korean works that have been turned into movies. Moreover, site administrators have been known to post links to external articles from around the globe that are concerned with Korean literature in translation. In addition, the website contains related content including lists of translators, publishers and a range of reports on the status of Korean translation. At its core, the LTI Korea website is a one-stop location for information about translated Korean literature everywhere and anywhere.
The future
The year 2014 was a banner year for the library, as the team created a database for the names of Korean writers, established an e-library system and executed a successful overhaul of the LTI website. In 2016 another update will make the site even more comprehensive, a tribute to the LTI Korea Library's commitment to cutting-edge literary research.
The LTI Library likes to remind browsers and Korea literature fans that it is constantly evolving. As a part of this development, Kim Hye-young notes that LTI takes reader feedback extremely seriously. This year the LTI Library has created a two-month project that will integrate information gathered from visitor comments and feedback during the year 2015 in order to make the site more usable for the average website viewer. With a laugh, the librarian adds, "So please inspect the site and send us feedback."
At its core, the LTI Korea website is a one-stop location for information about translated Korean literature everywhere and anywhere.
LTI Korea Library
FYI>  T.02 6919 7700, www.klti.or.kr, Online Library: library.klti.or.kr
GO>  Bongeunsa Station (Line 9), Exit 4
Written by Charles Montgomery
 [separator type="thick"]
The K-Book Silk Road
LTI Korea President Kim Seong-kon is bullish on Korean literature's global future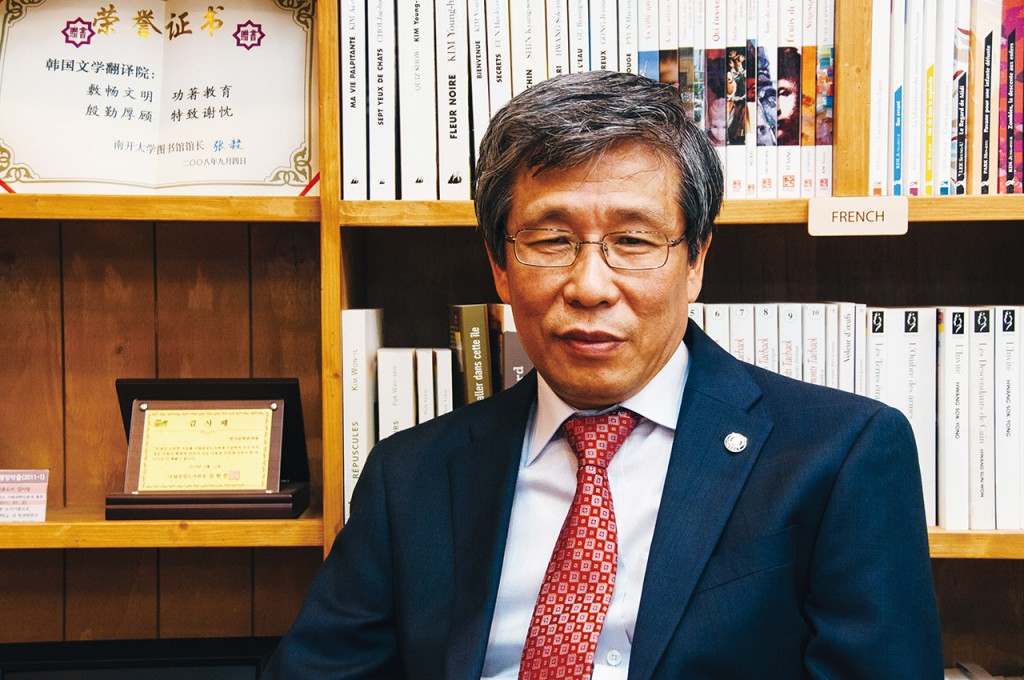 Kim Seong-kon, president of the Literature Translation Institute of Korea (LTI Korea), believes Korean literature is poised to take off globally. " Hallyu (the booming popularity of Korean pop culture overseas), information technology and fantastic economic development have built a Silk Road, especially to the West," he says. "So we can just hit the road."
An author, literary critic and academic with a long career in both Korea and the United States, Kim was reappointed to lead LTI Korea in February as a recognition of his efforts to globalize Korean literature. And with overseas interest in Korean literature growing, those efforts are bearing significant fruit. He notes, "We are currently knocking at the door of big publishers in New York and London, and by doing so, we can easily promote Korean literature because they have connections to things like the New York Times Review of Books."
Korea may have gotten a late start in promoting itself, says Kim, especially compared to neighbors with much longer histories of interaction with the West such as China and Japan, but Korea's growing economic and cultural prominence is giving Korean literature a certain cache it has hitherto lacked. And, more importantly, literature can present Korean culture in a way other media cannot. "K-pop or Hallyu cannot represent Korean culture comprehensively," he says. "Literature is a good medium of letting the world know about Korea – what we think, how we live – because literature incorporates history, politics, economics, all sorts of things."
Rome, however, wasn't built in a day. "It takes some time to make Korean literature conspicuous" in overseas markets, he cautions. "It's just beginning to emerge." To help it emerge more fully, certain things will need to change, beginning with Korean writers themselves. Citing the success of works that have adopted the detective story technique such as Dan Brown's "The Da Vinci Code" and Umberto Eco's "The Name of the Rose," he calls on Korean authors to produce more engaging writing. "Today, we have lots of fun things," such as television and the Internet, he says. "That's why we have to write intriguing work."
And it goes without saying that globalization also requires good translators – the kind of translators LTI Korea works hard to cultivate. According to Kim, good translation requires three things: knowledge of both languages and culture, a keen sense of literature and a polished writing ability. On top of that, you need to love the work you're translating. When you've captured these elements, "the translated work can be as good as the original work, or even better," he says.
Written by Robert Koehler
https://magazine.seoulselection.com/wp-content/uploads/2015/07/스크린샷-2015-07-20-15.43.jpg
672
1280
cyn
https://magazine.seoulselection.com/wp-content/uploads/2018/01/Seoul-logo.png
cyn
2015-08-22 14:03:14
2015-08-22 14:03:14
Korean lit goes digital