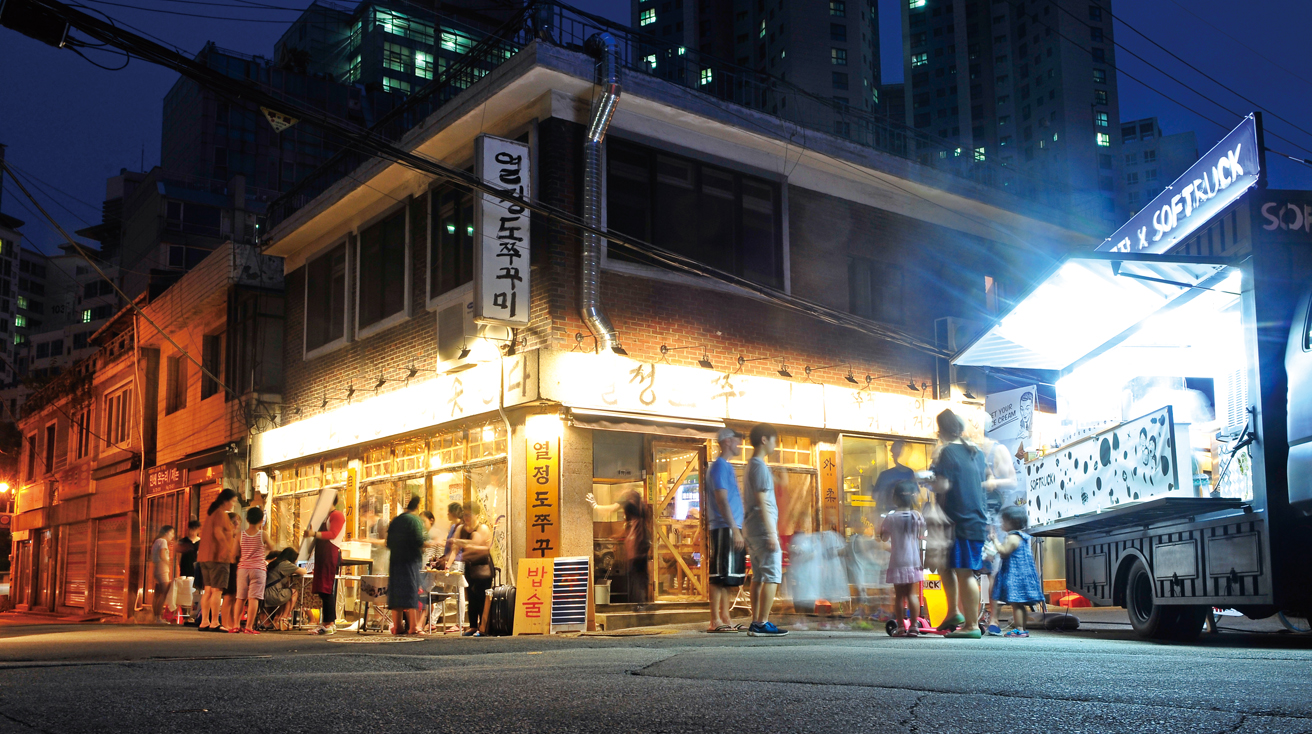 From newly sprung Passion Island to the shores of Itaewon
It's a hot Saturday in July, and rain seems long overdue. From a side street hidden between Yongsan-gu's forests of new apartment blocks, the smell of grilled meat wafts out into the early evening air. A gaggle of young people spills out into the next road eating beef baguette sandwiches. Further in, handwritten chalk signs and makeshift banners advertise Dutch coffee and various handmade items. New restaurants sell octopus in sizzling hot chili sauce and freshly made French fries. What has happened to this quiet neighborhood, previously known best for its printing houses?
Young sellers with a passion
The transformation began when a unique local company, Young Sellers, was on the lookout for a place to start doing business. While established commercial neighborhoods brought the promise of heavy foot traffic, they also came with rents to match. Consequently, Young Sellers' management decided to pioneer a new route: Take a low-key neighborhood with cheap rents and breathe some commercial life into it.
"This was a very quiet street when we first looked around," says Koo Hyun Do, member of Young Sellers and manager of new local pub Pan, referring to the gritty district near Yongsan's Namyeong Station. "Walking along it at night was a bit scary." Since the collective moved into the area last December, they've cultivated six independently run businesses whose managers will have the option of going independent after two years. Of the company's business model, Koo explains, "Our aim is to provide valuable experience for aspiring young entrepreneurs who have plenty of business enthusiasm and creativity but otherwise lack the capital to start their own businesses."
This sentiment is reflected in the name Young Sellers has given the street: Passion Island. "The 'island' part comes from the way the street is a different from the areas around it," adds Koo.
Passion Island is not (yet) a shopping street but a place for eating and drinking. Young Sellers' six businesses offer fare such as fried chicken, potato fries, grilled meat, octopus in spicy sauce with bean sprouts and, of course, lots of beverage options. Pan has a good selection of makgeolli (Korean rice wine) and other traditional drinks, accompanied by excellent side dishes such as jeon (a Korean-style savory pancake), parboiled sora (conch) and marinated raw octopus.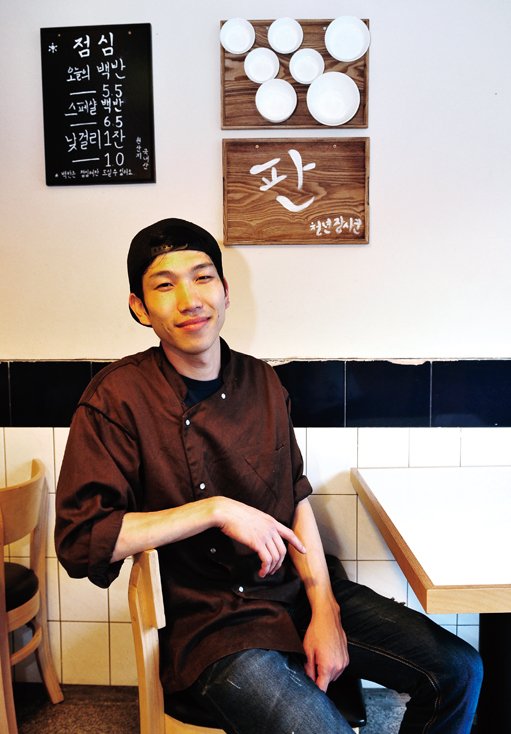 Flea market vibe
Passion Island is at its liveliest on the second Saturday of every month, when an evening flea market is held from 5 to 10 PM. Young vendors sell a variety of homemade items and trinkets, from quirky hand-drawn art books to jewelry, felt pouches and hand-dyed bags and scarves. Well-decorated food trucks serve kimchi fried rice, soft ice cream and more octopus.
Jeong Dayun is selling home madepottery, knitted accessories and fabric items at a small folding table at the side of the street. "It's my second time here," she says. "There's lots to eat, and plenty of foreigners."
"There are more young people here than at other markets" adds her friend, jewelry-maker Jo Minji. "I like the atmosphere."
In an open-fronted old store premises, market vendors are crowded along three walls. Among them is Englishman Lawrence Blackman, a self-described "figment of his own imagination" who is purveying a selection of his own art books and postcards, including the anthology "Animul" (2014).
These second Saturdays are the ideal time to visit Passion Island, but you can also drop in for lunch, dinner or a drink on any day of the week (except Sunday, when everything is closed).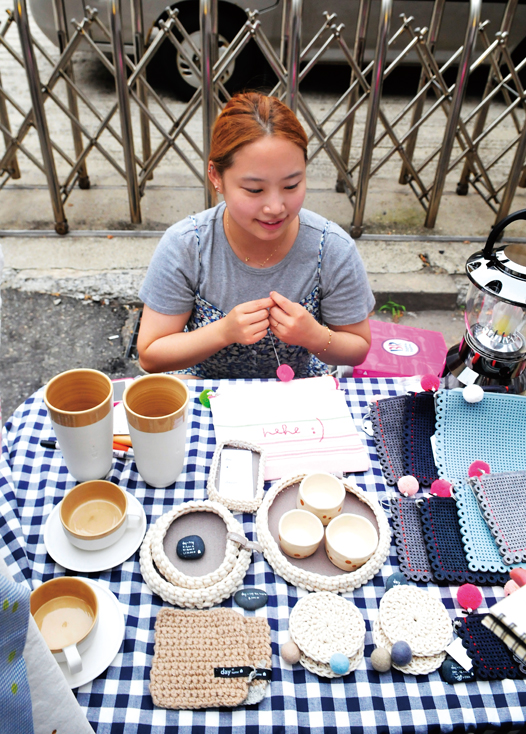 Bustling university neighborhood
Just north from Passion Island is a very different neighborhood. The area around Sookmyung Women's University up the road has long been full of restaurants, shops and cafés. While the nightlife is a lot tamer than other university areas such as Hongdae (around Hongik University) and Sinchon (near Yonsei and Ewha Womans universities), this is a good place to drop in for a bite to eat, a coffee or some shopping. Coco Bruni is a delightfully creative conversion of a seedy old motel into a light-filled, two-story café, with unexpected bits of the past left here and there among the whitewashed surfaces and giant lampshades. If you're trying to choose between the Classic Earl Grey and Classic Chocolate cakes here, you're missing the point; have both, and deal with the consequences later. Meanwhile, just up and across the road, Takobi does takoyaki (octopus roasted in balls of batter) so addictive you'll want to snort them, while Waffle House a couple of doors down is another local favorite for its deserts, such as strawberry bingsu (shaved ice with sweet toppings) and waffles, as well as American mainstays such as burgers and mashed potatoes.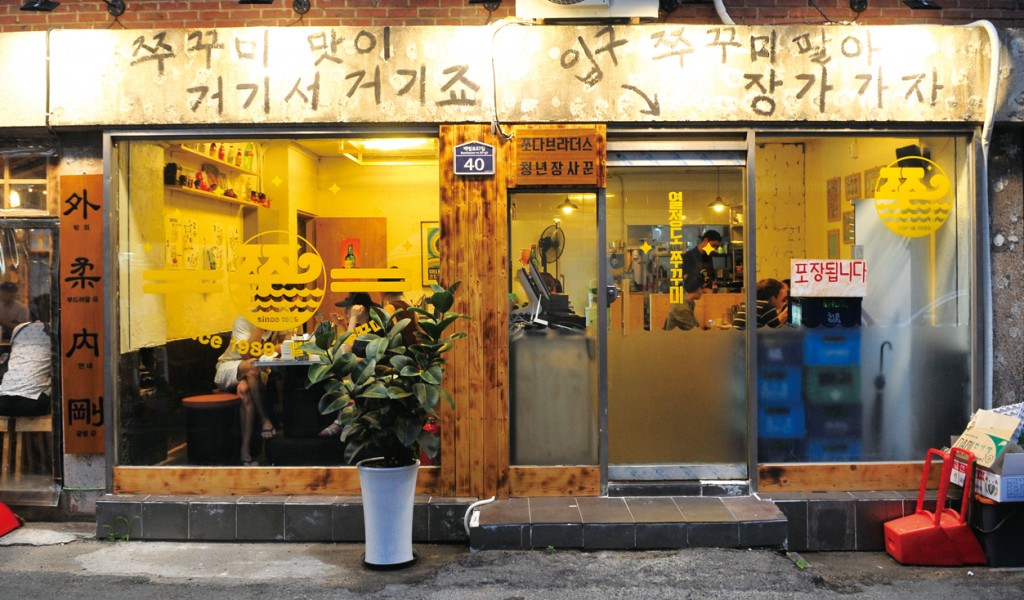 Hyochang Park
If you've had your fill of comfort foods and converted motels, head up the hill past Sookmyung Women's University to Hyochang Park. Once the site of Joseon royal tombs, the park is now the resting place of several prominent leaders of Korea's independence movement. While Japan ruled the country as a colony from 1910 to 1945, multiple independence armies and political movements formed in Korea and overseas. Among their members were Yun Bong-gil, Lee Bong-chang, and Baek Jeong-gi, three patriots who were martyred after trying to take direct action against Japan and whose remains now lie in Hyochang Park at the Tomb of the Three Martyrs. Kim Koo, one-time leader of the China-based Provisional Government of the Republic of Korea, is buried here, too. The park also contains the Kim Koo Museum & Library, which honors his comrades Lee Dong-nyeong, Cha I-seok and Cho Seong-hwan, among others. This large green space is an ideal place to relax, possibly with a picnic bought somewhere in the neighborhood below.
Lotte Mart and Yongsan Station E-Mart
Supermarkets: They may not be the kind of establishment you equate with a fulfilling tourist experience, but it turns out that some of them are highly popular among foreign visitors to Seoul. If you think you might be among them, head back through the Sookmyung Women's University district to Namyeong subway station. One stop to the north is Seoul Station; one to the South is Yongsan Station. Located at each is a giant supermarket full of Korean goodies to either eat yourself or take back as presents to curious friends and family back home. Lotte Mart, next to Seoul Station, is a constant hit with tourists stocking up on Korean roasted seaweed, instant noodles, sauces, teas and all sorts of other delicacies. E-Mart, down in the bowels of the massive Yongsan Station building, offers a similar selection. Even if you're not in shopping mode, it can be fun to troll the food sections for the abundant free samples of grilled meat, seafood, baked goods and more.
Itaewon
Let's not ignore the elephant in the room, which is that, for many foreigners, Yongsan-gu effectively equals Itaewon and its adjacent neighborhoods. Having all but shaken off its former image of catering to the various needs of personnel stationed at the nearby U.S. Army Garrison Yongsan, this area on the southern flank of Mt. Namsan now boasts some of the capital's hottest nightlife and best dining. There are too many great restaurants, bars and clubs to even begin listing – if you're looking for a fun night out, this should be where you round off your day exploring Passion Island and Yongsan-gu. Close to Yongsan Station and Sookmyung Women's University by taxi, Itaewon is also reachable by Line 6 of Seoul Metro.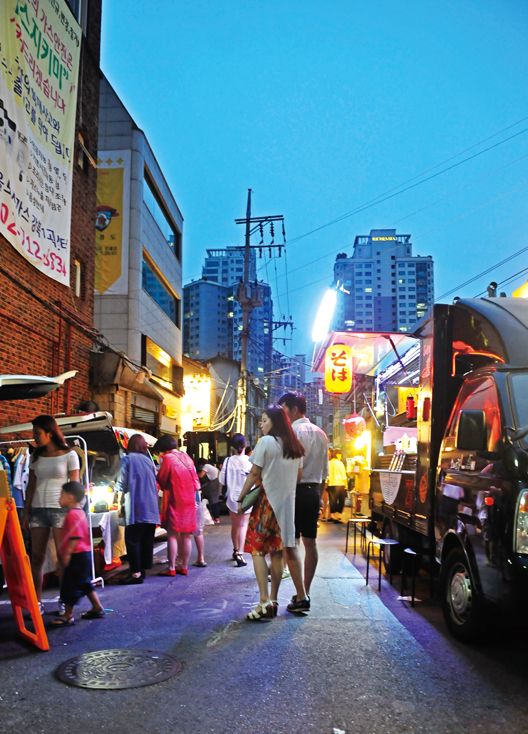 [separator type="thin"]
More info
FYI> Passion Island has no English-language website.
For information on other major attractions, try the Korea Tourism Organization website at english.visitkorea.or.kr.
GO> Passion Island
Namyeong Station (Line 1), Exit 1. Turn left out of the exit, cross the street and pass the BMW dealership on your left. Turn left about 200 m down the road, after Hollys Coffee. Passion Island is the second small street on the right.
Sookmyung Women's University neighborhood
Sookmyung Women's University Station (Line 4), Exit 9. Double back at the top of the exit stairs, then turn left after 50 m and head through the underpass. Cross the main road after the underpass before heading up the side road. Coco Bruni will soon appear on the right.
Hyochang Park
From Coco Bruni, either head here by continuing over the hill past Sookmyung Women's University or come out of Exit 1 of Hyochang Park Station (Line 6), and climb up the hill for about 600 m.
Seoul Station Lotte Mart and Yongsan E-Mart
Two stops apart on Line 1 of the Seoul Metro (with Seoul Station accessible through the Gyeonghui Line, as well as the KTX and Airport Railroad lines).
Itaewon
Itaewon Station (Line 6). Pick any exit.
Written by Ben Jackson
Photographed by Ryu Seunghoo
https://magazine.seoulselection.com/wp-content/uploads/2015/07/RYU5350.jpg
734
1312
cyn
https://magazine.seoulselection.com/wp-content/uploads/2018/01/Seoul-logo.png
cyn
2015-08-07 18:03:05
2015-08-07 18:03:05
Exploring the Yongsan archipelago