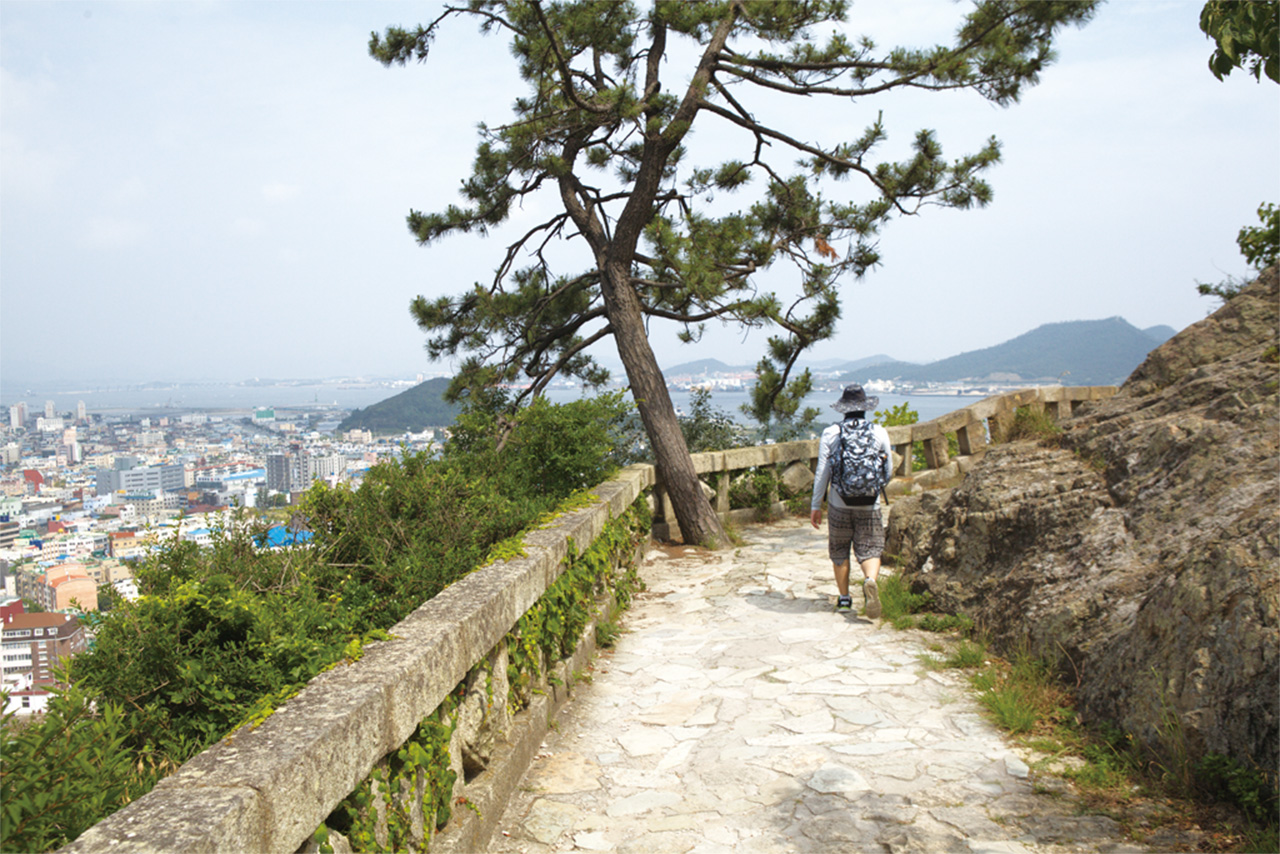 Mokpo intoxicates with heady mix of history, beauty … and fermented skate
On the southwestern tip of the Korean peninsula, laid out across ferry-filled harbors and rolling hillsides, is the vibrant port city of Mokpo. By virtue of this land-meets-water harmony there has been much progress in recent years and based on the frenzied rate of development at the city's periphery, one may even imagine urban planners running amok-po, if one may permit such a play on words.
Despite feeling the last fading ripples of Korea's economic miracle, Mokpo's growth has been substantial, with a great network of sea routes and a burgeoning seafood trade, not to mention the recent construction of a KTX stop bringing in business from richer big-city dwellers.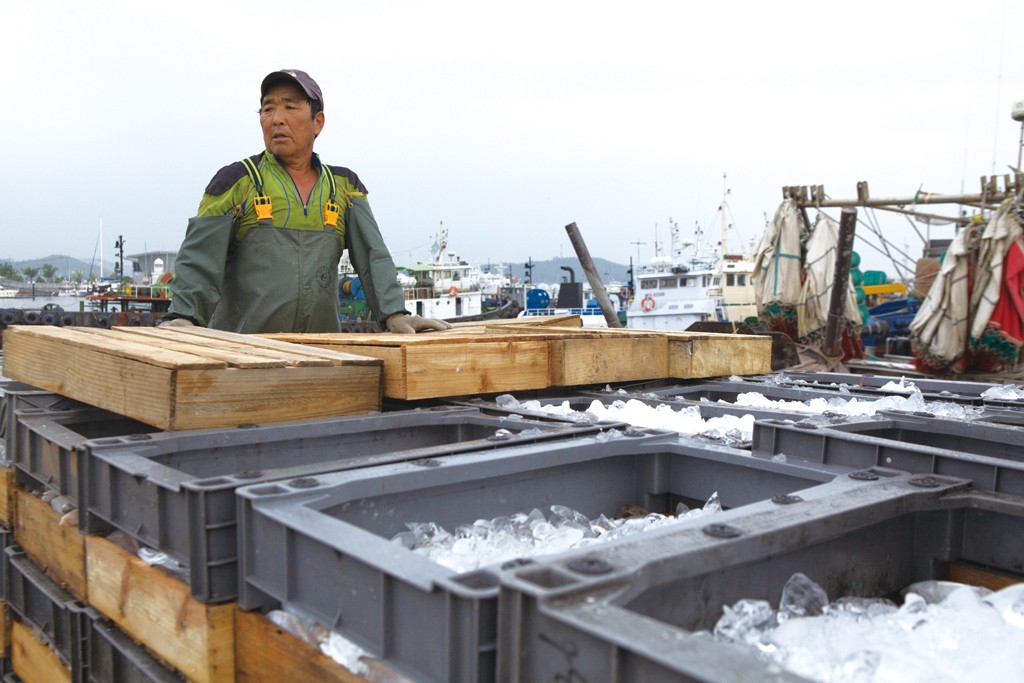 Mokpo's geographic location has also made it a popular starting point for those looking to explore some of the coastal attractions in the area. Though the most high-profile destination is Jejudo Island, the more than 1,700 islands of Dadohae Haesang National Park also make for some great port-hopping. With that, one may easily gather that Mokpo offers ample rewards to those willing to invest the time, thus, the city of "beauty, romanticism and dreams."
Yet by simply rubbernecking around the city's old quarters with a camera in hand, one may also see how Mokpo's charm came at a high price – paid, of course, by Koreans themselves under Japanese colonial rule.
While the "city of sea and sun" – another one of its many nicknames – dates back to the Goryeo period (918-1392) and served as an important garrison for Admiral Yi Sun-sin during the late 16th-century Japanese invasions, it wasn't until Mokpo's opening as a port city that it started to take the shape we see it today.
Painful memories
From 1897 and onward, boatloads of Japanese settlers arrived in Mokpo intent on developing the city, which at the time was nothing more than rice fields, some fishing boats and small straw huts. Progress was the objective as its establishment came after Busan, Wonsan and Incheon. The Japanese commenced their colonizing by first installing a faux government and by occupying the best concessionary lands between Mt. Yudalsan and the harbor.
In fact, one of the biggest hallmarks of this period can be visited today – the former Japanese consulate building. It is currently known as the Mokpo Culture Hall, inside which one can find photos retelling the city's history. Out back, one could also find an interesting archive building and a former air raid shelter with replicas of Japanese officers using their clubs at will and Korean workers smashing rocks with pick axes, a reenactment of the status quo between oppressor and the oppressed. Its redbricked exterior is also reminiscent of the Renaissance style.
The Mokpo Modern History Museum is also worth a visit, located 200 meters from the Culture Hall. It was once the Mokpo Branch of Oriental Development Company, entrusted with the task of, to put it plainly, plundering crops and exploiting local workers. Nowadays, it exhibits several vivid pictures of the colonial era and serves as a teaching place for the younger generations.
Head across the street to marvel at what is perhaps the best preserved Japanese home in Mokpo. Salvaged by a man named Lee Yeong-chul and converted into a high-end cafeteria, "This house (was) the enemy's house," he says in a plain-faced manner. "After the defeat of the Japanese in World War II, many houses that were owned by the Japanese were transferred into private residences," he explains. "This one was used as a shore patrol base and the navy's dispensary. People say that this house should have been demolished, but I insisted on keeping it because we have to let our descendants know about our history. It was a tough decision, but I bought it and remodeled it into a café."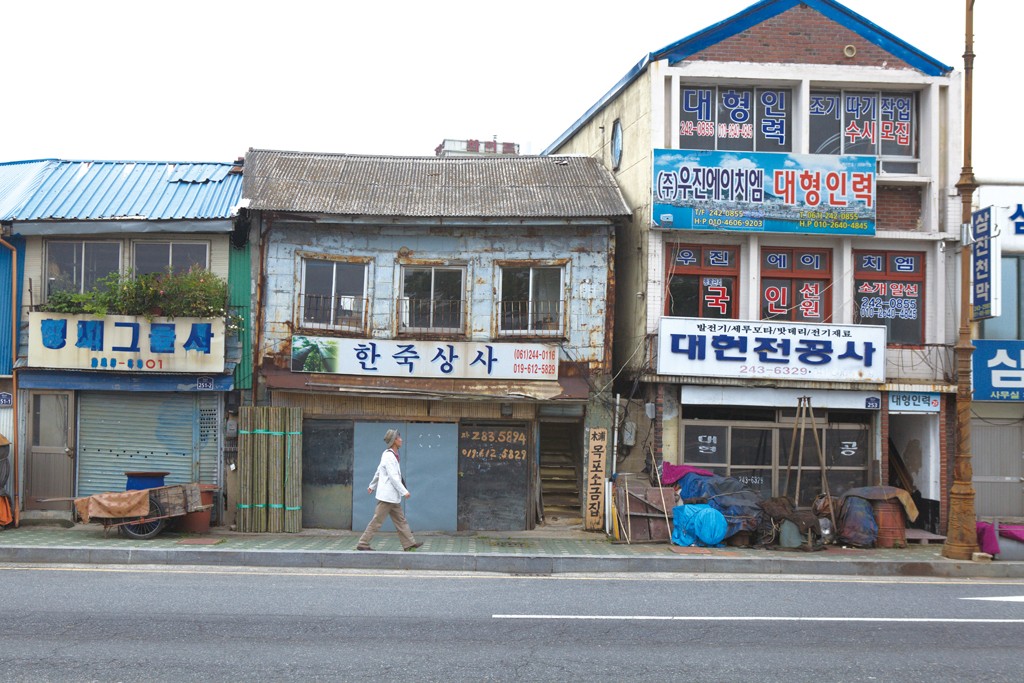 Inside the House Full of Happiness—as the café was named after Yeong-chul's wife's interior design talents—a sign reads "No children under 10 years old." This is perhaps justifiable as there are several delicate objects inside such as antique vases, radios, typewriters, old photos and faded tables, as well as hanging cotton shirts and plenty of earthenware in an open crockery cabinet. The home's tranquil atmosphere and lush Japanese-style garden are well worth the southbound KTX from Seoul until it can go no farther, at least for a weekend trip.
A trek up Mt. Yudalsan is one of Mokpo's biggest highlights. After passing five pavilions en route to its peak, as well as a stolidly postured bronze statue of Yi Sun-sin, a monument commemorating Lee Nan-yeong's famous song, "Tears from Mokpo," and an old canon used to fire a noon signal, you'll arrive at a point where you can take in an incredible panoramic view of the city. About halfway up, be sure to try a Korean fried pancake, or pajeon, at a small restaurant and some rice beer, or dondongju, heavily endorsed by the locals.
Pungent delicacy
At the same place where fishermen head out from the harbor before dawn, they return at dusk to haul off Mokpo's most prized catch – the skate, or hongeo. Once turned over, this humble, diamond-shaped ray shall undergo a most interesting preparation in the hands of local chefs.
Hongeo is an essential serving at family gatherings in the Jeollanam-do region. It is so important, in fact, that if left out then one is simply "depressed and feeling cheated," says Kim Kyung-sun at Mokpo's tourist information centre. Though this food is considered by many to be wretched in taste – mainly due to hongeo's fermentation process of being stewed in its own urine, which results in a heavy ammonia smell – locals will not pass on any opportunity to eat it. At Mokpo's central fish market directly in front of the port, you could pick some up, or even better, head to a restaurant where a plate of the smelliest dish out there costs anywhere from KRW 50,000 to 70,000. One of the city's best known hongeo restaurants is Deok Inn Jip ran by Kim Mal-sim. It has been in operation for thirty-three years and continues to thrive today.
"Hongeo is a well-known food all over the world," she says, "and my restaurant serves the most delicious skate straight from the island of Heuksando." Despite the city's economy being highly dependent on hongeo, there is a lower-quality variation entering the market. This has caused such a stir that the government has initiated the need for certificates of authenticity.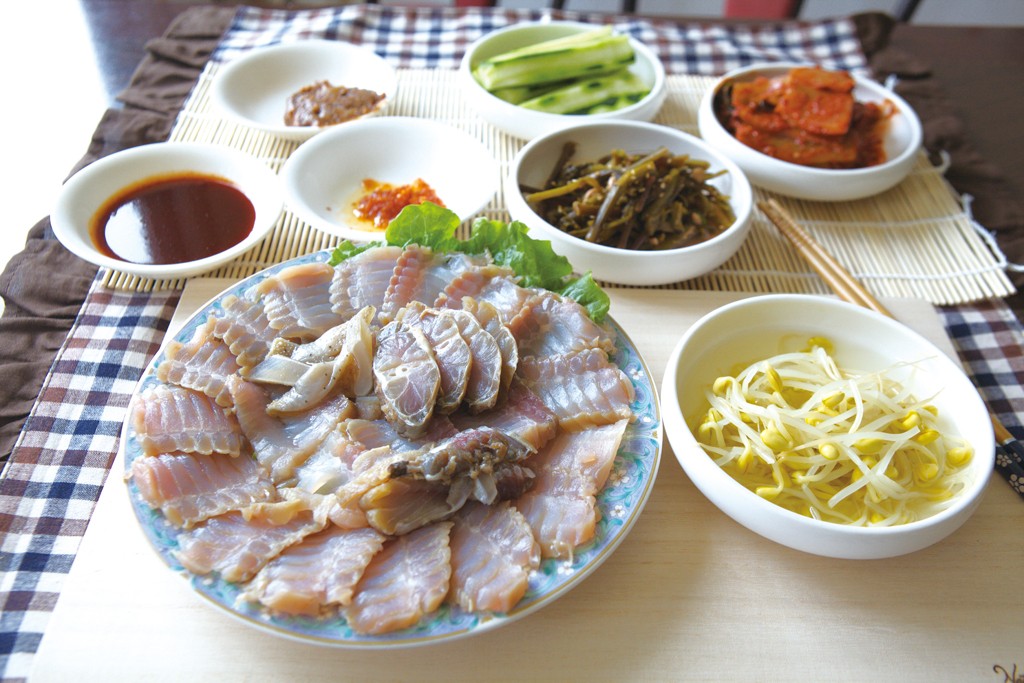 "Imported hongeo contains a lot of preservatives," she says, "but hongeo from Heuksando is fresher. I compared both and the imported hongeo's condition was worse, so it cannot be sold."
Apart from Mokpo's aquaculture, the province of Jeollanam-do's agricultural largesse is also quite impressive, producing tons of rice, wheat and fruits due to the region's mild climate year-round. This could explain why Mokpo is also home to the Bohae Company, a producer of Bokbunjajoo fruit wine, interestingly packaged in their familiar rugby ball-shaped bottles. Also produced is a brand of soju called A Hop Si Vahn, literally translated as "9:30" because, according to the company's website, this is the time "that real talk begins," presumably of the business kind.
Nine-thirty is also the time things start to slow down in Mokpo, making it an ideal time to traipse through the shopping district near the train station to marvel its luminaria motifs, a dazzling – if not dizzying – display of neon that also gives Mokpo the name "City of Lights." At the same time the following morning, you can start your day visiting the National Maritime Museum where you can see traditional boats from the region and learn about Korea's shipbuilding history. All in all, Mokpo is something like a living museum, where traditions are sacred and its heritage and history are never forgotten. It offers a most rewarding trip to Korea's land's end, to escape the chaos and congestion of Seoul.
[separator type="thin"]
More info
STAY> Mokpo has many cheap motels in the port area around the old quarter. For something a bit higher end, take a taxi to Pyeonghwa Plaza and try Benikea Hotel Fontana (T. 061-288-7000).
EAT> Give your taste buds a challenge and try  hongeo at one of the restaurants near Mokpo's fish market. Deok Inn Jip near the train station is a simple establishment that prides itself on its tradition of serving great hongeo dishes (T. 061-242-3767). A three-person portion will run you KRW 70,000. If fermented skate is not up your alley, try nakji bibimbap (rice and veggies mixed with spicy stir-fried octopus) at Dokcheon Sikdang (T. 061-242-6528).
GO> Direct KTX trains from Yongsan Station to Mokpo Station (travel time: 2 hours, 30 minutes) depart several times per day. Please consult www.letskorail.com for more information. Several buses depart daily from Seoul's Central Bus Station to Mokpo along the Honam Line (travel time: about 5 hours). The Sea Star Cruise ferry departs from Mokpo's Port Passanger Terminal to Jejudo daily at 9 AM, arriving at 1:20pm. The Pink Dolphin ferry leaves at 2 PM, arriving at 5:10 PM. Contact Mokpo's Port Passenger Terminal for more information (T. 061-243-1927). There are three daily ferries to Dadohae Haesang National Park (Hongdo and Heuksando Islands). The same ferry serves both locations stopping at Heuksando first (1 hour, 30 minutes) and then Hongdo (another  45 minutes).
Written and photographed by Marius Stankiewicz
https://magazine.seoulselection.com/wp-content/uploads/2015/06/IMG_3748.jpg
854
1280
cyn
https://magazine.seoulselection.com/wp-content/uploads/2018/01/Seoul-logo.png
cyn
2015-07-03 17:48:43
2015-07-03 17:49:00
Port of dreams and romance