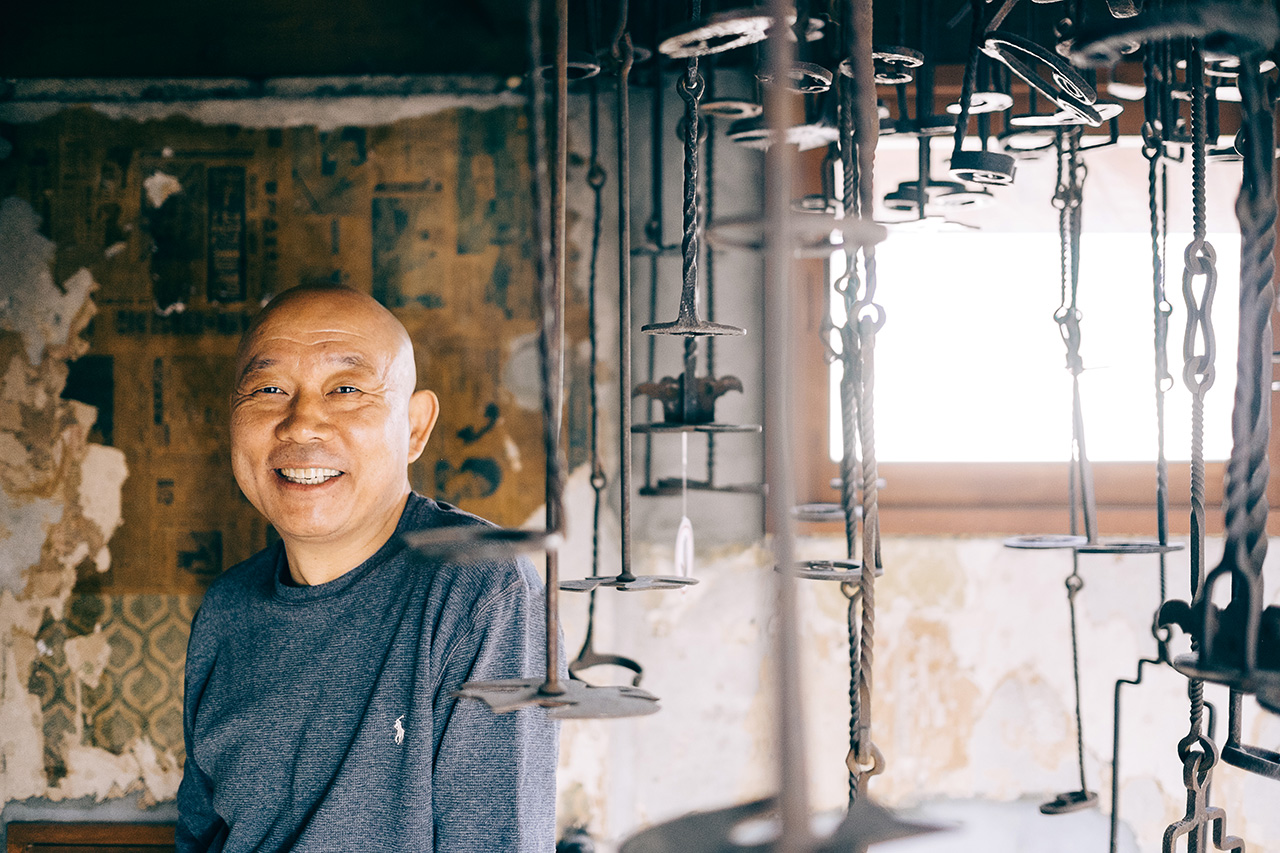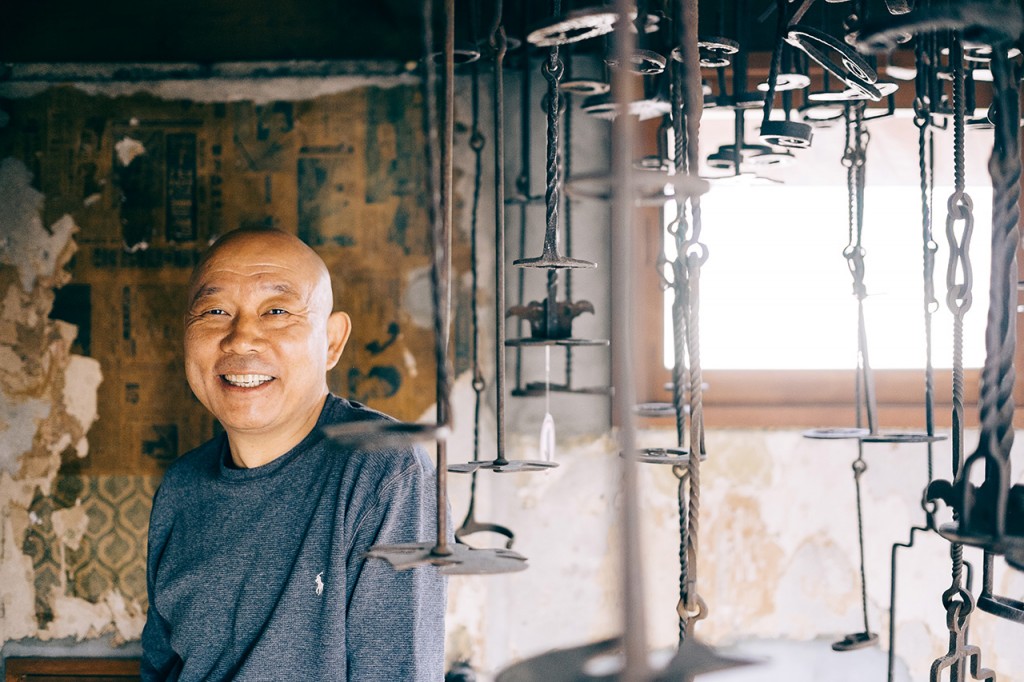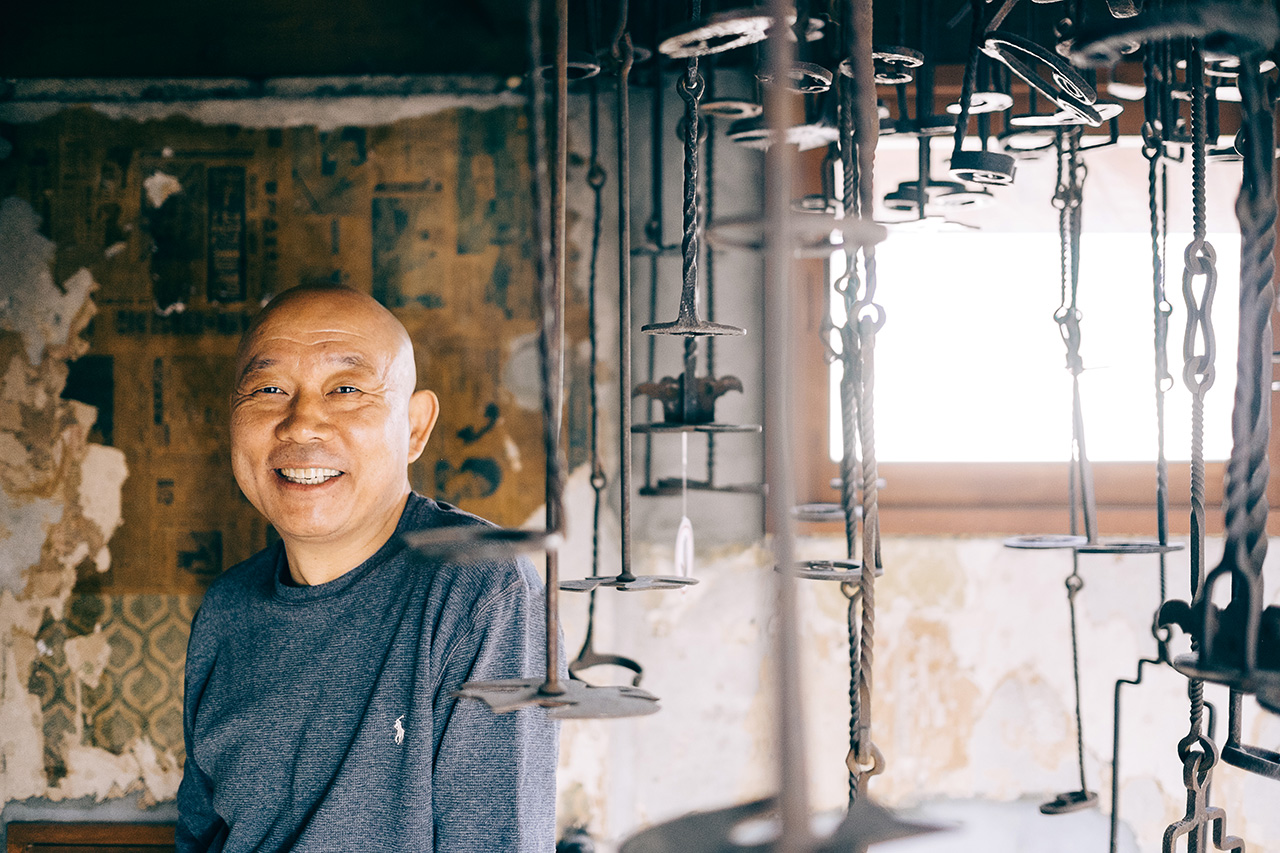 As director of Seoul's Lock Museum, Choi Hong-kyu breathes life into Ihwa-dong
[dropcap letter="P"]ast the bustling pedestrians of Daehangno lies the quiet, tree-covered pathways of Marronnier Park. Walk further past the neighborhood's most prized green space and you'll find a hard-to-miss four-story building that stands like a gatekeeper to Ihwa-dong; wrapped in rusting metal and little else, the whole structure is often a mystery to curious passersby. In actuality, this portrait of modern architecture is the Lock Museum, an institution that guards a collection of locks from both Korea and abroad, with some dating as far back as the Joseon Dynasty (1392-1910). In many ways, this building is an apt representation of its owner, Choi Hong-kyu, who is a craftsman, a collector and, above all, a keeper of the past.
The warmth of iron
Choi opened this museum in 2003 to display a collection of locks that has taken an entire lifetime to pull together. He first started collecting the devices as a hobby in his early 20s while he worked for Sunpyeong Metals, a hardware store in Euljiro 2-ga. He wasn't always fond of ironware, however, having only worked for the manufacturer as a part-time job while he was preparing to retake the college entrance exam. Working with iron was a difficult discipline because it required a great deal of patience and skill.
"It felt very cold to me," says Choi. "I hated working with ironware, but I stayed with the store because I wanted to earn the favor of my mentor, the owner, so I worked diligently to please him." With persistence, his affection for the metal grew. "I realized that iron is warm in nature. I think it is more emotional than logical. It's re-usable, it's flexible, you can cut it up and stick it together or melt it. With it, I can express any thoughts."
When his mentor passed away, Choi started his own hardware store, Choega Cheolmul, in Gangnam. His business quickly flourished because his products were made using time-honored crafting methods.
"The timing was great. It was when they had the '86 Asian Games and the '88 Olympics, so the demand for unique ironware was high," says Choi. He had no previous education in design , but he developed his own creative method by studying from his collection of ironware, going on to make everything from door handles and benches to wastebaskets. "Locks and keys are comparably small, and don't cost much," says Choi. To develop a distinctive aesthetic of his own, Choi roamed around Hwanghak-dong and Insa-dong looking for unique locks and ironware. His work ethic gave him the title "hardware designer."
I want to help make a village that is small but strong, simple but has class.
Unlocking his collection for the world
Though his business was at its peak, when Choi hit his 50s, he felt the need to try something new. With a collection of locks and ironware that had grown to the tens of thousands, he began looking to preserve the historical value of his collection, coming to the decision that a museum would be the best option.
"The idea of building a museum gave me vigor," he explains. "Though it was very difficult and I invested all that I had in it, I really enjoyed myself and it initiated the second act of my life."
His affection for locks is very apparent when you hear him talk about them. "I have a philosophy when it comes to collecting locks. Even if the lock isn't real, if I like it, I don't regret getting it. I don't speculate how much value it has as a property because that's not important to me. If the lock can give me inspiration then I don't care if it's fake."
Locks, apparently, are also so much more than a tool for securing personal property. During the Joseon Dynasty, locks often functioned as a talisman of sorts. For example, fish were often incorporated into lock design during this time because of the symbolism they carried. Since fish live underwater, their presence implied that whatever had been locked up would be safe from fire. Moreover, because fish sleep with their eyes open, it was believed that they would keep a vigil over a person's treasures.
Another concept that is particular to Korean locks is that of yeolsoepae, a decorative amulet that, despite serving a purely decorative purpose, derives its form from a key chain. "It's from shamanism. Mothers gave it to their daughter as a present when they were getting married," explains Choi. Daughters hung these gifts on their walls and prayed for fertility.
Preserving Ihwa-dong
Choi first came across Ihwa-dong when he was looking for a site for his museum. When he got to see every nook and cranny of the village, down to the small pots and plants, he fell in love with the area. "Ihwa-dong reminded me of my childhood. When I first came here, I felt as if I'd just ridden a time machine and recovered a lost treasure from the past," says Choi.
Steep slopes, narrow stairs, townhouses that were built in the '50s and wooden utility poles were all preserved in the village like live artifacts. He wanted to find a way to protect its distinctive character while at the same time invigorating the village. In 2012, he moved his own family into the neighborhood and, now as both a resident and a business owner, started devising the Ihwa-dong Village Museum Project. He collaborated with the local residents and artists from out of town to open 15 different museums and galleries that are now scattered throughout the area. "I wanted to regenerate the stories that this village has. So we created 'live' museums and galleries that visitors can not only see but also go to so that they can experience the stories of our residents."
Ihwa-dong Village Museum, the home base of the project, exhibits video interviews of elderly residents who have lived in the area for decades. A living memoir of modern Korean history, each item on display also tells a fascinating story about the area. For example, part of the museum's display is a nickel-silver pot that was donated by a local senior whose son had given it to her as a gift nearly 50 years ago. Though simple and low-key, such mundane items embody the living history of the village and its people.
Choi has many more plans and projects that he hopes to carry out, but for now, the focus is on making a system that generates profit for the inhabitants. "Residents should own this village, not some big companies," says Choi, "I want to help make a village that is small but strong, simple but has class." Overall, his efforts in this area have been successful: He managed to convince locals to renovate their homes as guesthouses, galleries and cultural platforms so the village can be more than just a place with pretty murals. "With sincerity and the right timing, you can achieve great things. I believe the time is right for such a change, and with our honest efforts, the village will be a great brand that represents Seoul."
Written by Claire Jang
Photographed by Dylan Goldby
https://magazine.seoulselection.com/wp-content/uploads/2015/03/DSF8540.jpg
853
1280
cyn
https://magazine.seoulselection.com/wp-content/uploads/2018/01/Seoul-logo.png
cyn
2015-04-01 01:04:46
2015-04-01 18:18:52
Safekeeping the past