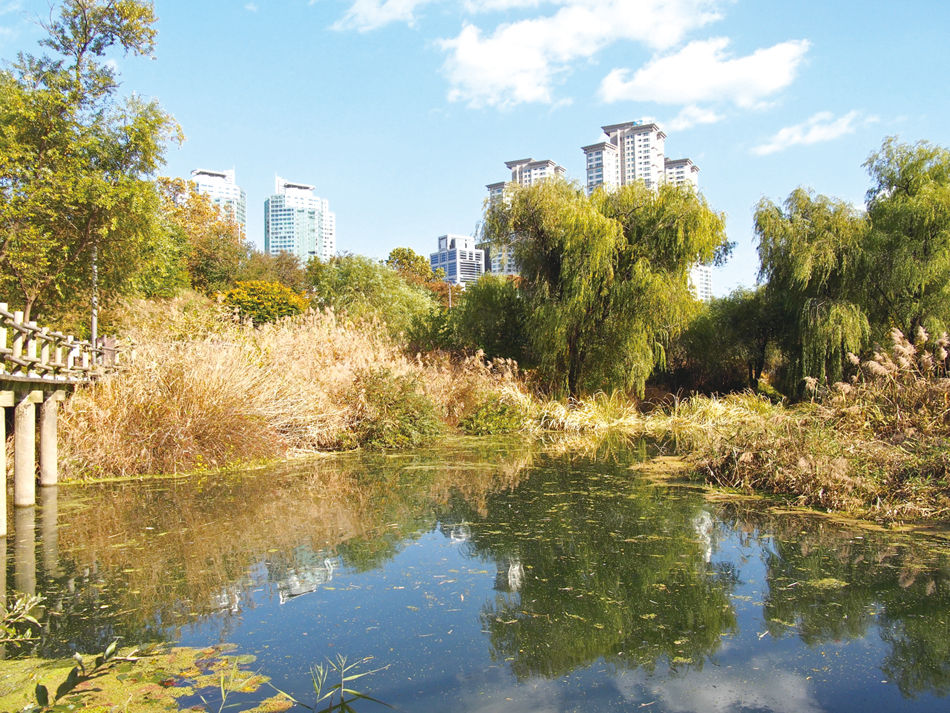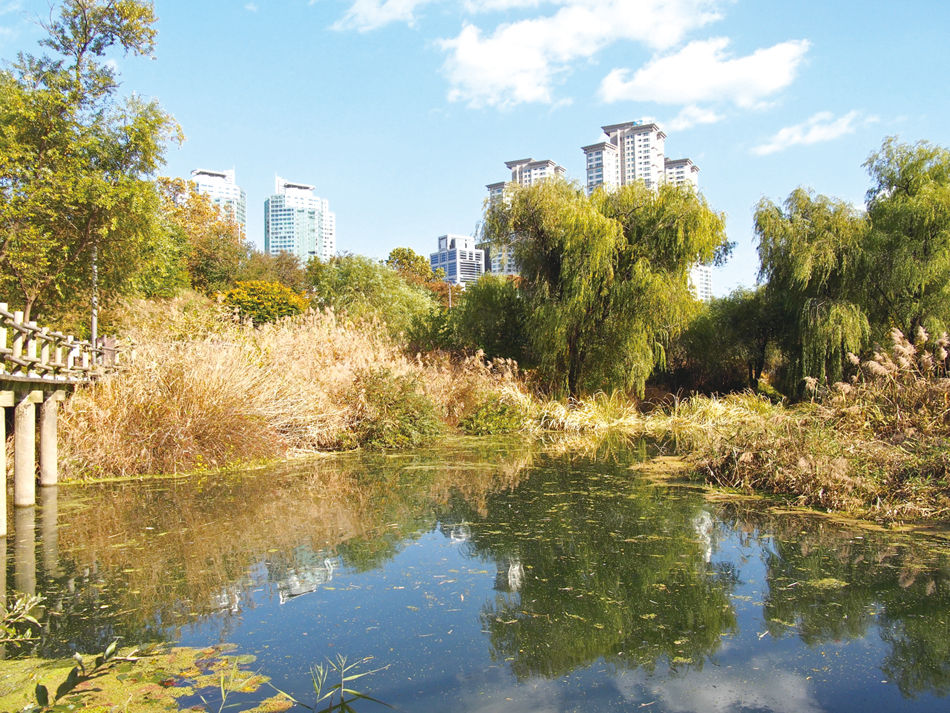 Yeouido's east end is not only home to Seoul's most instantly recognizable building but is also the site of one of its best parks and an unexpected bit of Anatolia.
The word saetgang (샛강) is one of those uber-specific words, like schadenfreude, that makes you feel like your own language is missing out. The term refers to a small channel in a river that separates an island from the mainland, and the station bearing its name sits right alongside the slender waterway that defines Yeouido.
Immediately next to the station is Ankara Park (앙카라공원), a small triangle commemorating Seoul's sister city relationship with the Turkish capital, as well as the Traditional Turkish Vineyard House (터키 전통포도원 주택), a replica of what you might find in Anatolian wine country. Decorated inside with Turkish folk articles, the exterior features a handsome whitewashed facade and bay windows beneath a red tile roof.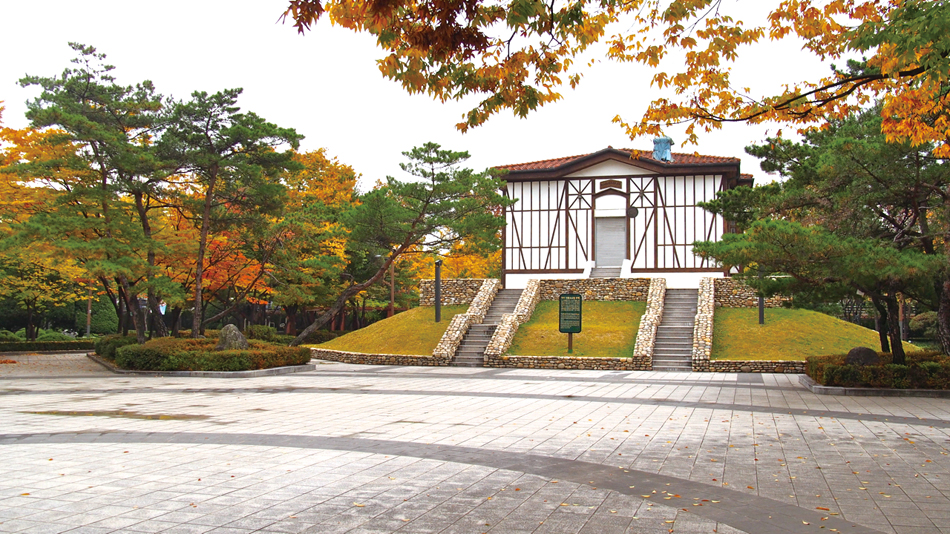 Just across from Ankara is Saetgang Park (샛강생태공원), one of the best in the city. The park runs along and around the narrow waterway separating Yeouido from the mainland, forming a crescent along the entire southern side of the island. For a long time a neglected piece of land, the 1990s saw it transformed into an eco-park, and, despite being manmade, when you're alone on one of its many paths, two-meter high beds of reeds on either side of you, it can feel like one of the wildest places in the city.
Within the park are a visitors center and the gorgeous Saetgang Bridge, but it's the walking paths that are the best place to be, wending between trees, along beds of cattails and past several ponds and the olive-gray saetgang. The park is home to a variety of wildlife, and sightings of herons and egrets are common in the warmer months.
Not far from the northeastern tip of the park is Seoul's most iconic structure, the 63 Building (63빌딩), its signature metallic sheen the product of a thin layer of 24-karat gold. The structure's basement levels hold numerous entertainment options; in addition to an IMAX theater and what is likely the world's only wax museum featuring King Sejong, the building is home to 63 SeaWorld. Korea's first aquarium, the site boasts 54 tanks that are home to over 400 species.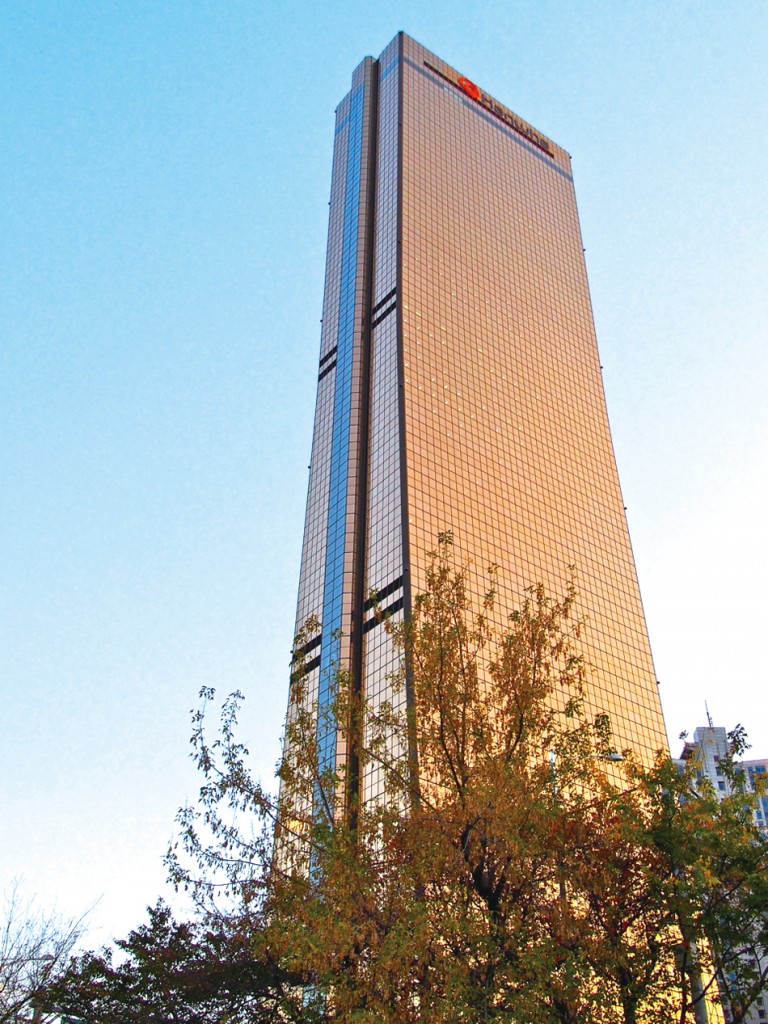 Really, though, you need to go up if you want to take in the former tallest building in Korea's main attraction: the 60th floor, which is home to an art gallery and observation deck. Take a look at the paintings and photography if you want, but the most stare-worthy sight is undoubtedly the one out the windows. The 63 offers clear views in every direction from its perch on the banks of the Han, letting you take in the city's buildings, mountains and waters, all in one glimpse.
[separator type="thin"]
Ankara Park (앙카라공원)
Hours | Weekdays 10:00-17:00
T. 02-2670-4089, 010-8903-8621
Exit 3, Saetgang Station (Line 9)
Traditional Turkish Vineyard House (터키 전통포도원 주택)
Saetgang Park (샛강생태공원)
Exit 3, Saetgang Station (Line 9). U-turn, Cross Yeouidong-ro (여의동로), descend stairs
63 Building (63빌딩)
T. 02-789-5663, www.63.co.krExit 3
10:00-22:00 (Hours for specific attractions available on the website)
Walk Straight on Yeouidaebang-ro (여의대방로), turn right on Gukjegeumyoong-ro (국제금융로) and left on 63-ro (63로)
Written by Charles Usher
Photographed by Merissa Quek
https://magazine.seoulselection.com/wp-content/uploads/2015/01/PB031263.jpg
713
950
cyn
https://magazine.seoulselection.com/wp-content/uploads/2018/01/Seoul-logo.png
cyn
2015-02-08 15:15:56
2015-04-03 10:58:03
Saetgang Station