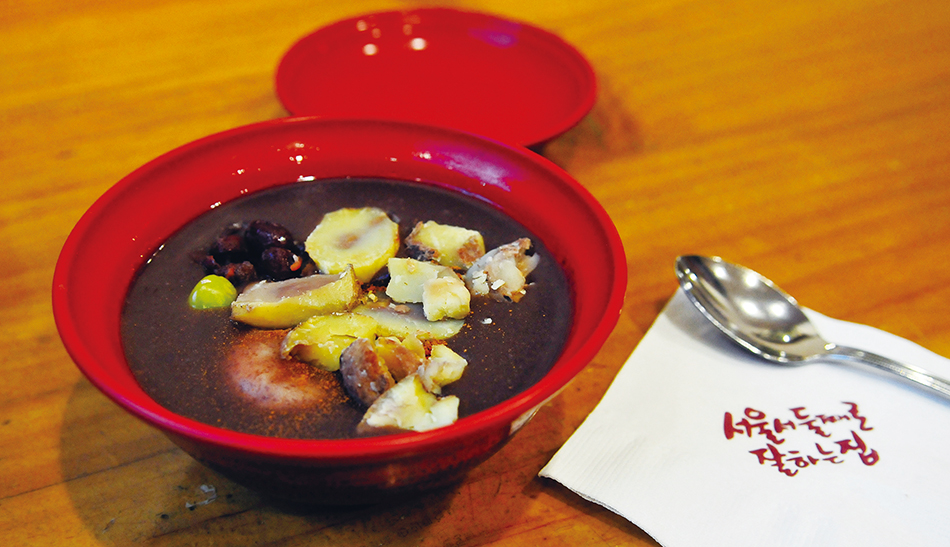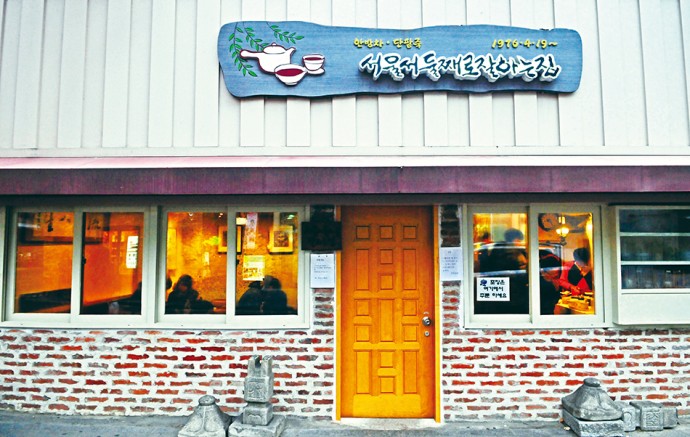 Three tasty ways to survive the Seoul winter
[dropcap letter="B"]r-r-r-r! This is definitely north east Asia. Korea has some of the coldest winters in its latitude. Thankfully, the food is designed for this annual occurrence. Winter is street food season. Steaming carts emerge, selling the usual hotteok, fish cakes and sundae sausage (not to be confused with ice cream). Yet some come with an abundance of ingeobbang (goldfish bread), roasted sweet potatoes and hot chestnuts. Consider these hand warmers.
However, there is only so much street food and standing out in the cold a human can bear. Here are some restaurants where you can take refuge from the Siberian cold fronts and warm up that inner snowman.
[separator type="thin"]
Danpatjuk at The Second Best in Seoul 서울서둘째로잘하는집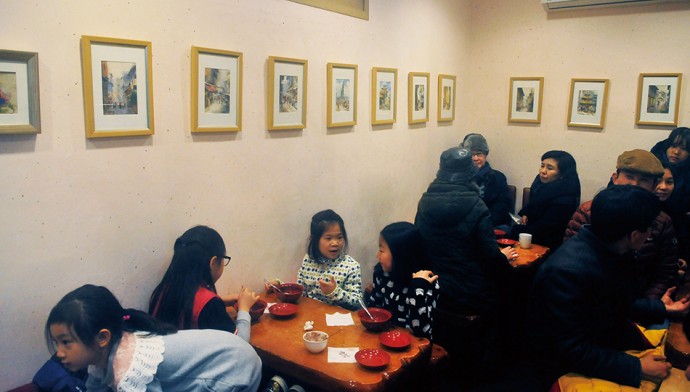 Cheeky name. Great porridge. danpatjuk, or sweet red-bean porridge, is traditionally eaten on the winter solstice, the shortest day of the year. The color red is considered to stave off evil spirits. It also keeps the Snow Miser away, providing warmth in a deep blanket of comfort food. The Second Best in Seoul, in the classic tree-lined Samcheong-dong neighborhood, has been around since 1976. It maintains that nostalgic look of a Korean 1970s teahouse, and not out of some portent of hipster irony. It's authentic. In the sweet bowl of goodness dances a combination of chestnuts, gingko nuts and morsels of chewy tteok, or rice cake.
So, what's with the name? The logic goes that when places brag that they are the best, they're usually full of bluster. But if they say they're the second best, it shows how honest they are and how seriously they take their food.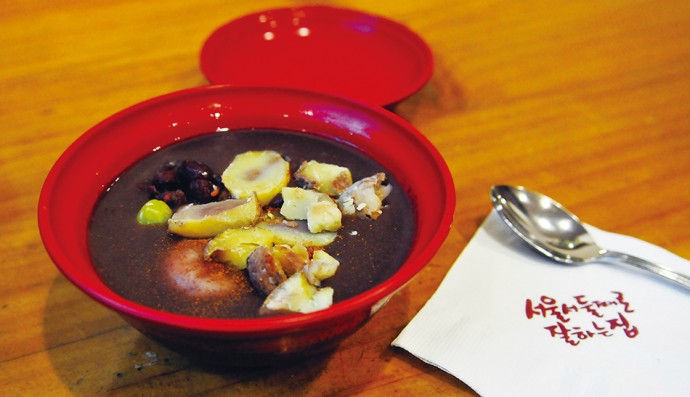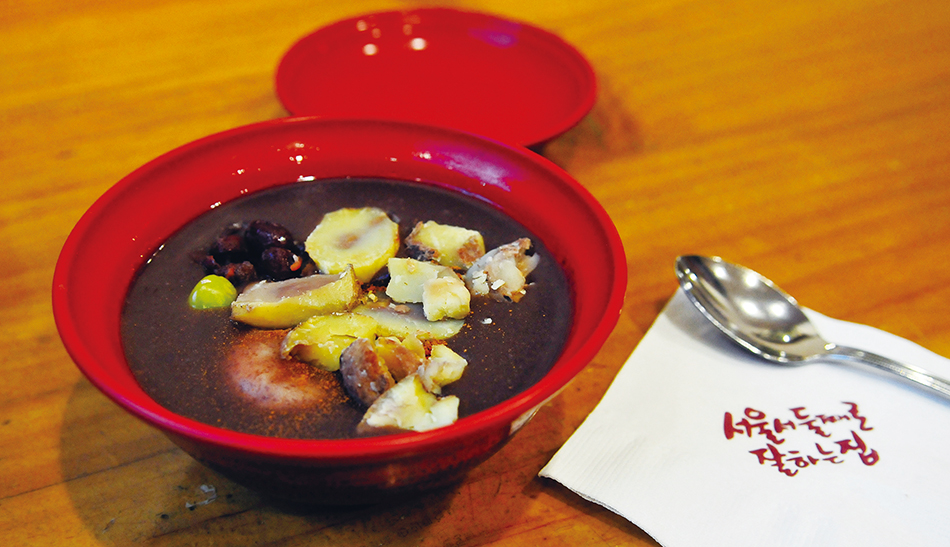 GO> Anguk Station 안국역 (Line 3), Exit 1. Follow the road next to Pungmoon Girls' High School all the way up to the Samcheong-dong area. The restaurant is right next to Korea Banking Institute.
FYI> T. 02-734-5302
122-1 Samcheong-dong, Jongno-gu
[separator type="thin"]
Gomtang at Hadongkwan 하동관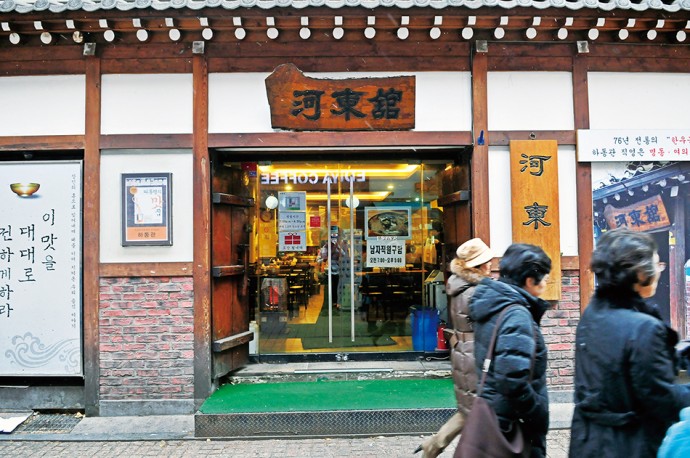 Korean beef bone soups are perfect for icy days. It's satisfying to walk in from the frigid winds and steam up your glasses with a boiling black bowl of rich beef soup. Gomtang, or beef soup, is the pure distillation of this concept. Hadongkwan has been around for over seventy years, right near the Myeong-dong shopper's paradise, so they must be doing something right.
The restaurant has been using the same beef supplier for sixty years. They also are proud to never use MSG, which is becoming more and more of a crutch for younger soup shops. Their radish kimchi is bright, fresh, and fruity. Best of all, they are not stingy with the beef.
There is a rookie mistake that is common. One needs to season the soup with salt and onions before eating. Salt it carefully. More can always be added, but too much salt and the entire thing is ruined.
After downing a bowl, sit back and enjoy a civilized cup of barley tea.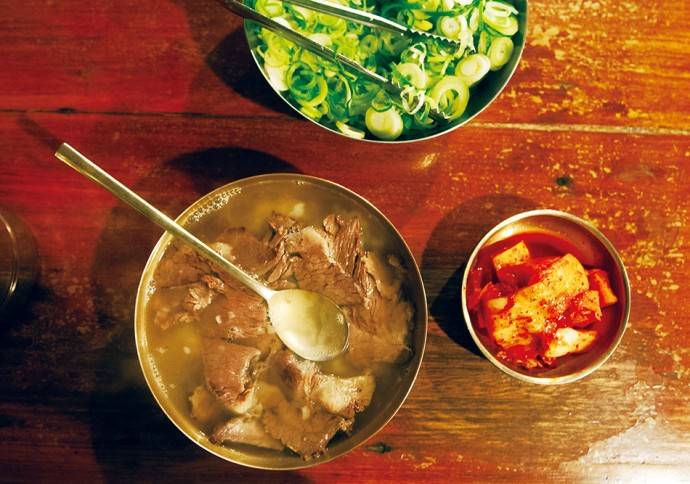 GO> Euljiro 1-ga Station 을지로입구역 (Line 2), Exit 5. Walk straight out and turn right at the Seven Eleven. Follow the street until you see Hadongkwan on your left.
FYI> 10-4 Myeong-dong 1-ga, Jung-gu
T. 02-776-5656
[separator type="thin"]
Grilled shellfish at Jogaechon 조개촌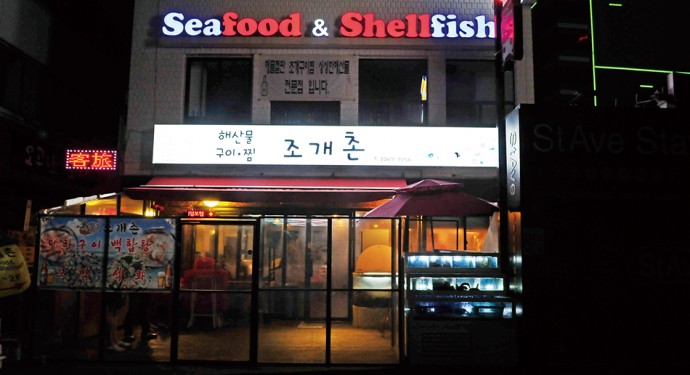 Most shellfish are in peak season during the winter. Time for a clambake! Korea loves to grill its proteins, and shellfish are not an exception. An unfortunate trend that has grown, especially in restaurants far from the coast, is loading the shellfish with red gochujang and mozzarella cheese. In this writer's opinion, that ruins the delicate flavor of the shellfish. It's likely used to cover up bad shellfish.
Being so, the challenge is finding a place that keeps the cheese and sauce at bay. There are a string of places at the end of the number 4 subway line, near Oido Station, if one wishes to venture that far. Inside Seoul, a good option is Jogaechon, the "No Stress Shellfish Cafe" across the main road from Tapgol Park, towards Cheonggyecheon Stream. (No, that's not where they get the shellfish.)
Though some cheese and gochujang make some appearances, they don't dominate the pure flavor of the shellfish. Clams, oysters, scallops, shrimp reside on the tabletop grill alongside kijogae, a large scallop-like shellfish that sliced razor thin. Be careful. This is one of the riskier dishes in the Korean repertoire because hot juices can spit out. Enjoy with friends and a bottle of soju.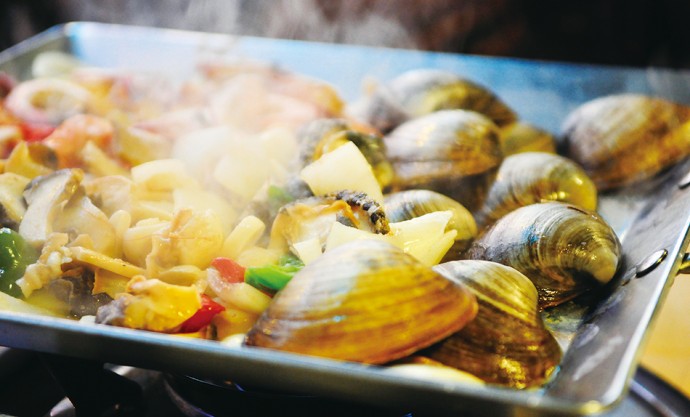 GO> Jongno 3-ga Station 종로3가역 (Line 1, 3 or 5), Exit 15. Walk straight out and turn left after the YBM. Jogaechon will be on your right.
FYI> 159-2 Gwansu-dong, Jongno-gu
T. 02-2269-9256
Written by Joe McPherson
Photographed by Ryu Seunghoo
https://magazine.seoulselection.com/wp-content/uploads/2015/01/RYU1723.jpg
547
950
cyn
https://magazine.seoulselection.com/wp-content/uploads/2018/01/Seoul-logo.png
cyn
2015-01-28 16:09:07
2015-04-02 23:34:54
Braving the cold