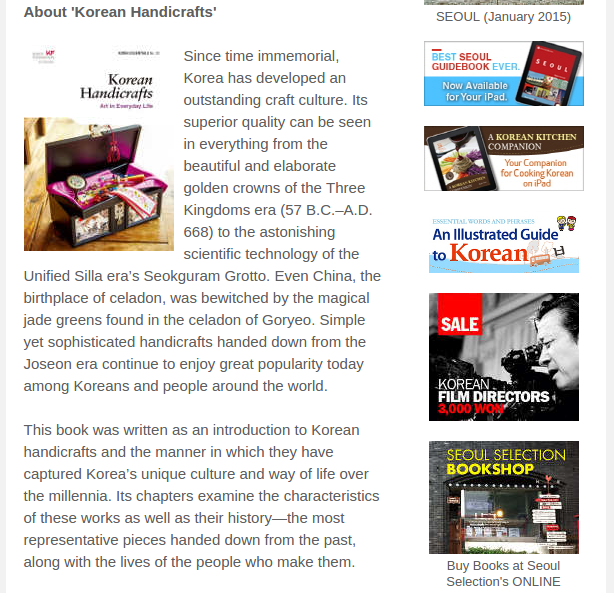 Dec. 26, 2014 / Issue No. 664

Panel Discussion Participants Needed

SEOUL is looking for people who can talk about love and dating in Korea for our February issue. If you are interested, send an email to Claire at english@seoulselection.com.

'Korean Handicrafts' & 'Korea's Historic Clans'
Seoul Selection releases two more titles of our 'Korea Essentials' series

Seoul Selection is pleased to announce the release of "Korean Handicrafts: Arts in Everyday Life" and "Korea's Historic Clans: Family Traditions of the Jongga," the latest in the Korea Essentials series.

About 'Korean Handicrafts'

Since time immemorial, Korea has developed an outstanding craft culture. Its superior quality can be seen in everything from the beautiful and elaborate golden crowns of the Three Kingdoms era (57 B.C.–A.D. 668) to the astonishing scientific technology of the Unified Silla era's Seokguram Grotto. Even China, the birthplace of celadon, was bewitched by the magical jade greens found in the celadon of Goryeo. Simple yet sophisticated handicrafts handed down from the Joseon era continue to enjoy great popularity today among Koreans and people around the world.

This book was written as an introduction to Korean handicrafts and the manner in which they have captured Korea's unique culture and way of life over the millennia. Its chapters examine the characteristics of these works as well as their history—the most representative pieces handed down from the past, along with the lives of the people who make them.

Price: KRW 9,800

About 'Korea's Historic Clans'

A jongga is a family that can trace its line of progenitors back to a single distinguished ancestor. The eldest living son of this main lineage is the jongson, and his wife is the jongbu. This couple is charged with performing numerous ancestral rites and entertaining the numerous guests that
visit the jongga. Many families have preserved this tradition even through the turbulence of Korean modern history and the prevalence of nuclear family culture brought on by industrialization.

There is more to jongga culture than the bloodline alone. It is an emotional haven and a spiritual compass, providing an identity not only for the members of the family but for the Korean people as a whole. Reviewing the history of jongga culture and examining what it is today can teach a person things about the Korean spirit and culture that often elude the eye.

Price: KRW 9,800

SEOUL January Issue Out
COEX, Skiing and more

Celebrate the New Year with the January issue of SEOUL, Seoul Selection's monthly travel and culture magazine.

In this issue of SEOUL, we explore the newly reopened COEX, do some skiing in Gangwon-do, do a Templestay at Woljeongsa Temple, walk around trendy Sinsa-dong, talk with a couple of very altruistic soap makers, and much, much more.

If that's not enough, there's always our Goings On Around Town, our listings of the month's concerts, festivals, exhibits and other happenings. So go out and get a copy while it's still got that new magazine smell.

Oh, and don't forget about our mobile magazine apps! (iOS, Google). The Android version for the January issue is out now; the Apple version will be out soon!


---

AROUND THE WEB

A miscellany of high-quality hyperlinks from the week, courtesy of SEOUL editor-in-chief Robert Koehler.

---

EVENTS

New Year Celebrations Around Seoul

Seoul's answer to Times Square's big ball drop, the Jonggak Bell Ringing event (midnight, Dec. 31) is Korea's biggest new year celebration. Throngs of people will be on hand to watch the mayor and 16 other city notables ring in the new year. The ringing will be accompanied by other cultural events, too.
Jongno-gu will be hosting its own sunrise bell-ring ceremony at Mt. Inwangsan's Cheongun Park at 7 am on Jan. 1. The ceremony will be preceded by performances of Korean traditional music and dance.

Speaking of sunrises, sunrise festivals will be held on Gwangjin-gu's Mt. Achasan, Seongdong-gu's Mt. Eungbongsan and Seongbok-du's Mt. Gaeunsan. Be sure to dress warmly and bring a flashlight. Sunrise is at around 7:40. My personal favorite place to see the sunrise, though, is Mt. Maebongsan near SIndang-dong.

If you're like this newsletter writer and like to take the occasion photo, there are a couple of nearby places to take in the final sunset of the year (Korean), including Yeongjongdo's Geojampogu, Ganghwado's Janghwari and Songdo's Incheon Bridge Observatory.

See more info on places to take in the sunrise/sunset (in English!) here.

Co-living Scenarios

Seoul Museum of Art (SeMA) and Junglim Foundation have cooperated to showcase a research project about new ideas for community, individuals and co-living. "Co-living Scenarios" is a project sparked by the current issues of Korean society, such as low birthrate, aging population and excessive urbanization. Such issues have caused rapid growth in the percentage of single-person households. Now, in Korea, single-person households occupy over 25 percent of the population. These changes in society have altered the conventional ideas of family and community. This exhibition suggests alternative living scenarios for today's world. Nine artist teams have used their architectural imaginations to come up with different scenarios that suggest new patterns and definitions for urban communities. The exhibition showcases how these teams have experimented with the possibilities of "co-living"that could replace the traditional idea of "closed living."

VENUE: Seoul Museum of Art
PERIOD: Thru Jan. 25
MORE INFO: T.02-2124-8800, sema.seoul.go.kr
ADMISSION: Free
GETTING THERE: Seoul City Hall Station 시청역 (Line 2), Exit 10.

ARA GULER: The Eye of Istanbul

Ara Guler is a Turkish photojournalist nicked named as "the Eye of Istanbul," for his life-long dedication to capture everyday lives of Turkish people in Istanbul. When people think about Istanbul, most people recall the image of an exotic place where Europe, Asia, Islam and Christianity clashed to form a unique vibe. However, for Ara Guler, people — men selling fish on markets, passerby busily walking through streets, or children playing with bread — are the focus of his photos. He said, "When I'm taking a picture of Aya Sofia, what counts is the person passing by who stands for life." He believes that photos must capture the memories, lives and realities of human life. That's why rather than calling himself a photographer, he calls himself a "visual historian." Ara Guler's staggering portrayal of realism and human life has won him the title as one of the most prominent photographers of today. In the 1950s, he photographed for Time-Life, Paris Match, Stern and the London Sunday Times; in the 1960s, Henri Cartier-Bresson recruited him for the Magnum Photos agency. He was awarded the Master of Leica in 1962. This exhibition consists of black-and-white vintage photos taken in Istanbul from the 50s to the 70s, the golden age of photojournalism. Out of the 100 exhibited pieces, Ara Guler has hand-picked the printed material and frames for 40 of them. These photos were manually printed in a dark room in the 1950s. Some of the photos have been exhibited in the Ara Guler Museum for a long time but this will be their first time on public display.

VENUE: The Museum of Photography
PERIOD: Thru Mar. 28
MORE INFO: T. 02-418-1315, www.photomuseum.or.kr
ADMISSION: KRW 5,000–6,000
GETTING THERE: Mongchontoseong Station ëª½ì´Œí† ì"±ì—­(Line 8), Exit 2.

RASKB Excursion: The Natural History Museum of Kyunghee University

In January, the RASKB offers a series of indoor tours to escape the winter cold. The first of these is a trip to Kyung Hee University (KHU), a private comprehensive university renowned for its beautiful garden-like campus. However, it also has plenty of indoor attractions.
The KHU Natural History Museum is one of the oldest such museums on the Korean Peninsula, first opening in 1978 to fulfill the university's founding spirit of "creating a civilized world" through research in nature. Housing over 90,000 pieces, it includes displays of various wildlife found around the peninsula and abroad.

VENUE: Seoul
DATES: Jan. 10
MORE INFO: See this link.
ADMISSION: KRW 10,000–15,000
GETTING THERE: See link above.


---

EVERYDAY KOREANS

Sunset over the frozen Hyangwonji Pond and Hyangwonjeong Pavilion, Gyeongbokgung Palace. Photographed by Robert Koehler.

NOTIFICATIONS

Seoul Selection's Free Book Giveaway – Our free book give-away continues! Check out the list in last week's newsletter here.

Seoul Selection Offline Bookshop Sale – One of the greatest repositories of Korea-related English-language books anywhere, Seoul Selection is offering a 10% sale on any and all books published by Seoul Selection purchased from our OFFLINE bookshop next to Gyeongbokgung Palace.

Looking for Translators – Seoul Selection is looking for a few good translators (Korean to English) for general translation work. Those interested should send a resume and cover letter to Kyehyun at atoz@seoulselection.com. Experienced translators only.

Seoul Selection eBooks – You can purchase some Seoul Selection titles in ebook format via Amazon.com (for Kindle) and Apple's iBookstore. Titles include Ask a Korean Dude, Moon Tides, Doing Business in Korea, Once Around the Sun, and seven volumes of our Korean Film Directors series: BONG Joon-ho, IM Kwon-taek, KIM Jee-woon, LEE Chang-dong, LEE Man-hee, PARK Chan-wook, and SHIN Sang-ok.

Send Your Event Info – If you would like to advertise any upcoming events you are organizing, please send us the press release material at pubco@seoulselection.com by the preceding Friday in order for it to appear in the following Tuesday's issue.

Freelance Contributors Wanted – SEOUL Magazine needs writers who are fluent in both Korean and English. Writers should have a strong interest in Korean culture and be able to interview Koreans. Send your resume and writing samples to english@seoulselection.com.

We Buy & Sell Used Books – Seoul Selection buys and sells used books in English. Unlike our regular selection of publications that specialize in Korea-related topics, our Used Book section carries books on all subjects. It's all part of our effort to make life easier for the English-speaking community.

SEOUL (January 2015)


Buy Books at Seoul Selection's ONLINE Bookshop!




---

---

RECOMMENDED


Tales from the Three Kingdoms

---

NEW BOOKS


Korean Small Businesses: Development, Current Situation and Priorities for the Future


Handbook of Korean Vocabulary


Patterns


Busy Koreans : Essays on Contemporary Culture and Society of South Korea in East Asian Context


Korean Vocabulary Learning of Foreigners


---

NEW DVDs


B) The Housemaid


It's Time to Love


The Divine Move


No Tears For the Dead


The Tunnel
Copyright © , All rights reserved.
Our mailing address is:
https://magazine.seoulselection.com/wp-content/uploads/2014/12/스크린샷-2014-12-29-092453.png
593
614
rjkoehler
https://magazine.seoulselection.com/wp-content/uploads/2018/01/Seoul-logo.png
rjkoehler
2014-12-29 00:23:57
2014-12-29 09:26:45
SEOUL Weekly: 'Korean Handicrafts' & 'Korea's Historic Clans'