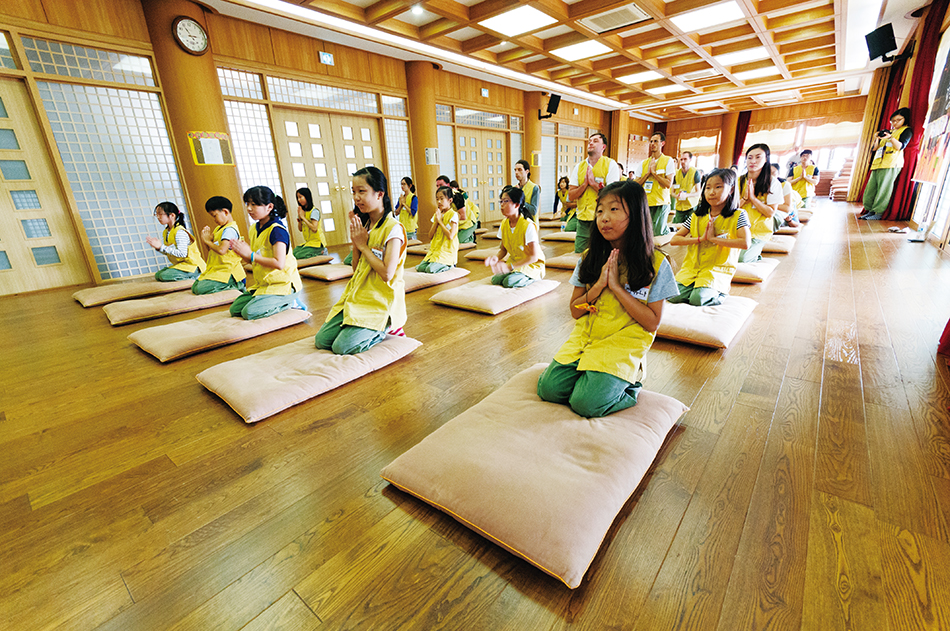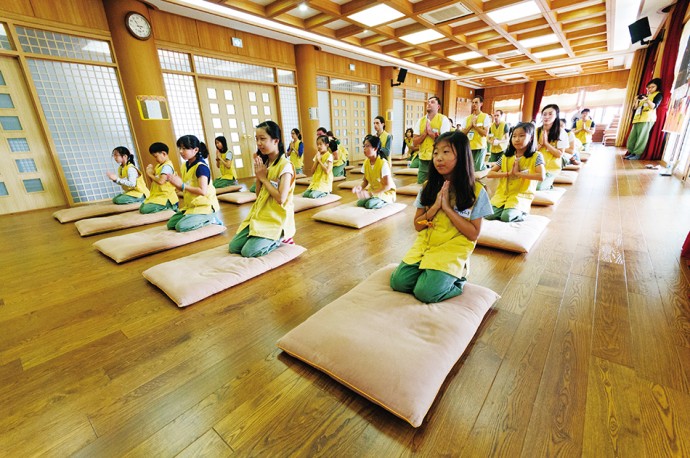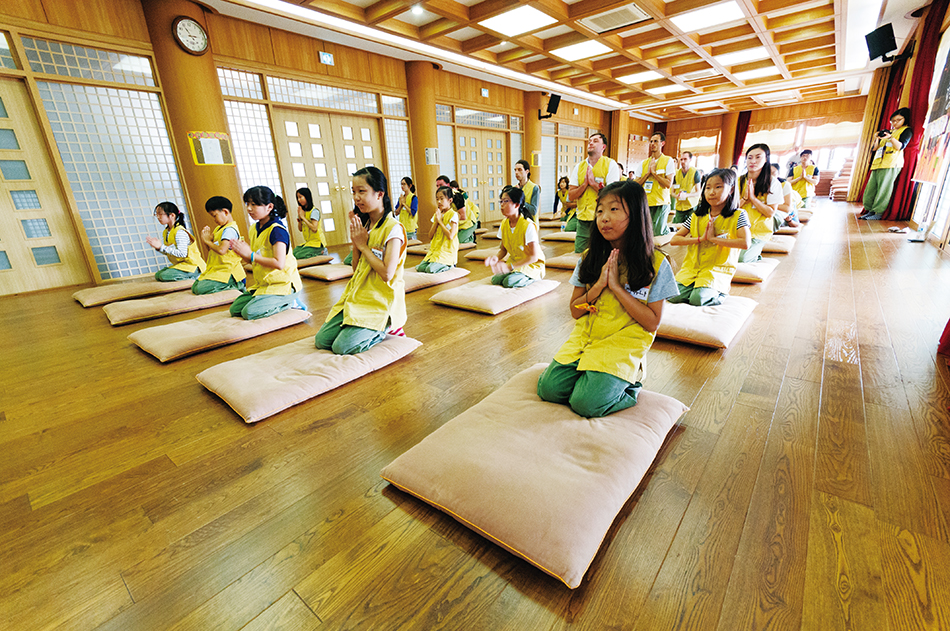 Yongjoosa's Templestay program is a chance to reflect on what kind of son or daughter you've been
Buddhist temples are a good place to learn about yourself.
At Yongjoosa Temple, however, you can also reflect on that most Korean of values: filial piety.
Nestled away on a hillside in the rural town of Hwaseong, just a stone's throw from the city of Suwon, Yongjoosa is called the "original temple of filial piety" thanks to its unique history closely intertwined with one of the most tragic events in the royal history of the Joseon Dynasty (1392–1910). Located immediately next to a royal tomb and surrounded by beautiful forests, the grounds are a great spot to get away for a weekend to not only learn about a 1,700-year-old Korean tradition but also to spend time reflecting on life, yourself and those most closest to you.
A Dutiful Son Builds a Temple
Although a temple has stood in Yongjoosa's location since the days of the Silla kingdom, today's temple was built in 1790 at the behest of King Jeongjo. One of the most progressively minded kings of the Joseon Dynasty, Jeongjo is most famous for ordering the construction of the magnificent city walls of Suwon's Hwaseong Fortress, now a UNESCO World Heritage Site. Long before then, however, he was the son of Crown Prince Sado, the central figure in one of Korea's most heart-wrenching tales. When Sado was a young man, news reached his father, the long-reigning King Yeongjo, that he had been menacing members of the court. Some claim he was deranged, while others believe he was the victim of a political conspiracy. Either way, Yeongjo felt an obligation to protect his subjects from his heir, and thus his son would have to die lest he assume the throne in his own right. By law, however, the king could not kill his son with own hands, so he ordered Sado to climb into a giant wooden rice chest, which was sealed up and placed in a palace courtyard on a hot summer day. It took eight agonizing days for the crown prince to die.
Sado's young son grew into one of the finest kings to rule Korea, but he never forgot what happened to his father. In 1789, he moved his father's tomb from Yangju, north of Seoul, to Hwaseong, close to the new royal capital he was building in Suwon. Next to the tomb, Jeongjo had a Buddhist temple constructed to protect the royal resting place and pray for the soul of his departed father. This temple was Yongjoosa.
When Jeongjo died in 1800, he was buried with his father at the Hwaseong site. The tombs, now known as Yungneung and Geolleung, are still there today and, together with all the other Joseon Dynasty tombs, are registered on UNESCO's list of World Heritage sites.
Yongjoosa is home to several relics related to King Jeongjo and the devotion he showed to his father. In the temple museum you'll find the so-called "Sutra of Filial Piety to One's Parents," a tablet carved in 1796 at the behest of King Jeongjo as an act of gratitude toward his parents. Also worth seeing is a period painting of a procession to Prince Sado's tomb.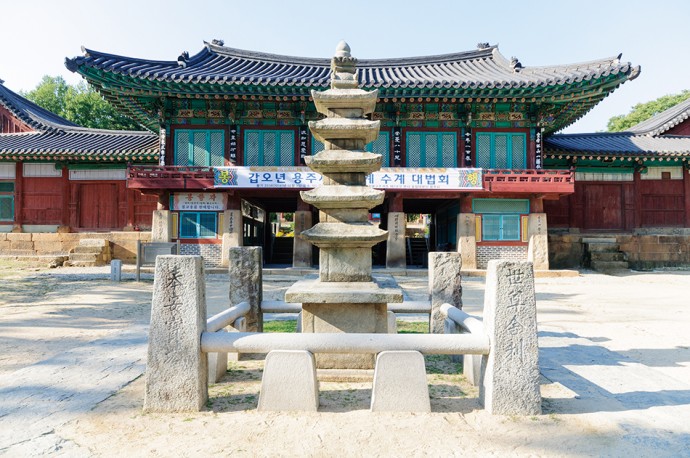 Forested Tranquility
Perhaps because it is attached to a royal tomb, Yongjoosa possesses an atmosphere quite unique for a Buddhist temple. It's part of two worlds—this and the next. Like a royal shrine, the temple is surrounded by thick forests of fantastically twisted pines and towering oaks. In the early mornings and late afternoon, when the forest is penetrated by golden rays of sunlight, it's a magical place to be.
As with any large Buddhist temple, Yongjoosa is composed of several courtyards surrounded by wooden halls where images of various Buddhist deities are kept. The most important of these buildings is the Daeungbojeon, the large main hall of the temple. Dating from the temple's founding in 1790, the hall has maintained its original appearance despite several restorations, and also houses several exquisite Buddhist wall paintings. The Cheonboru, a raised pavilion under which visitors must pass to enter the main courtyard, is equally spectacular. Be sure to seek out the space under the pavilion, as it offers inspiring views of both the Daeungbojeon and an old stone pagoda in the temple's front courtyard.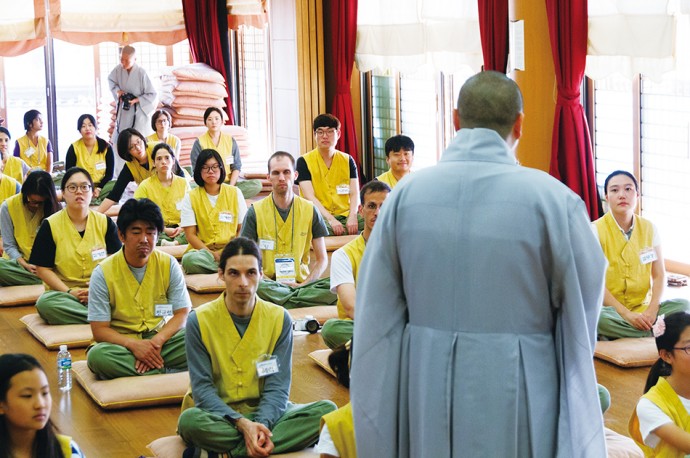 Experiencing Buddhist Life
Yongjoosa's weekend Templestay program is a popular one with both locals and international participants thanks to the temple's beauty and its proximity to cultural hubs like Seoul and Suwon. Program guides are quick to point out that you need not be a Buddhist to take part, and participants come from all faiths and walks of life. In her introductory address to new participants, Dae Hyun Sunim, the Buddhist nun who runs Yongjoosa' Templestay, explains that the ultimate goal of the program is to find one's "true self," a quest easier said than accomplished.
The two-day program is similar to offerings at other Buddhist temples throughout the country. After arriving at the monastery, participants change into loose-fitting Korean clothing and sit for an introductory lesson on basic Buddhist etiquette, most importantly on how to bow properly. This is followed by a tour of the temple. As to be expected, dinner is vegetarian in accordance with Buddhist principles, but meals at Yongjoosa are especially hands-on, with participants taking turns serving rice and soup to other participants. The evening is dedicated to chanting and sitting meditation before the lights go out at 9 PM.
Early next morning, participants get up in the pre-dawn hours to hear the tolling of the temple bell and congregate for morning chanting. This is followed by one of the highlights of the program, the 108 bows, an intensive form of training that's meant to lower oneself as a first step to respecting others and building self-confidence. After breakfast, there are chores to be done, walking meditation on the forested hill behind the temple, a Buddhist handicraft program and a conversation with the monks over tea. Participants head home around noon.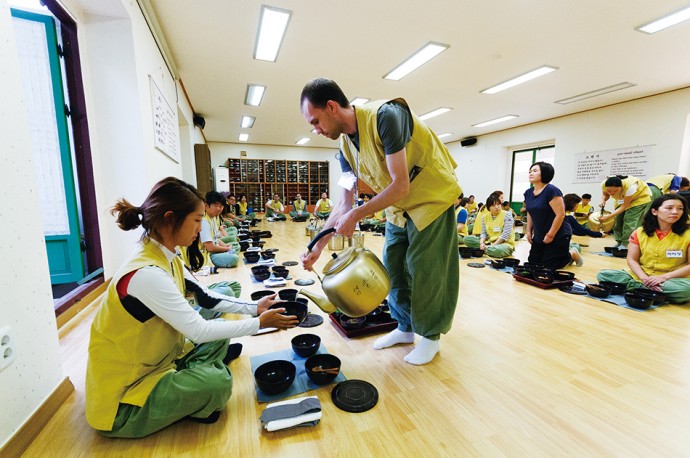 How to get there:
GO> From Byeongjeom Station병점역, walk out of Exit 2. Go straight until you get to the  main road and take a right. Catch Bus 35-1 and get off at Yongjusa Station. The bus ride should take around 20 minutes. From the bus stop, follow the signs to the main entrance of the temple. The walk from the bus stop to the temple is about 55 meters.
Written and photographed by Robert Koehler
https://magazine.seoulselection.com/wp-content/uploads/2014/10/dsc_0881.jpg
631
950
cyn
https://magazine.seoulselection.com/wp-content/uploads/2018/01/Seoul-logo.png
cyn
2014-12-19 18:14:39
2015-04-03 10:07:42
Temple of Filial Piety