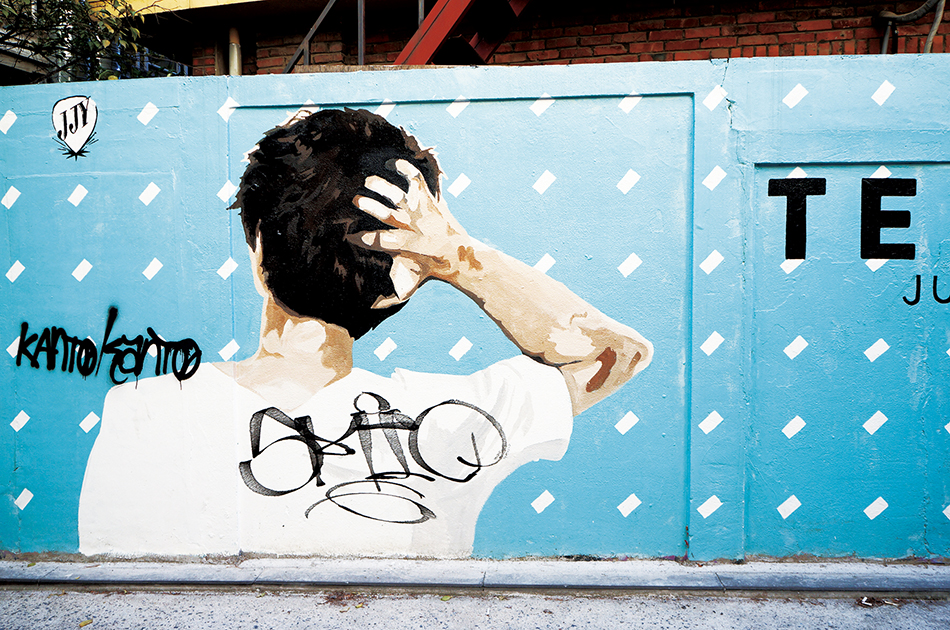 [box_light]Hongdae Stylin' It Up
See why Hongdae is still the place to be[/box_light]
Written by Deanne Nguyen
Photographed by Jessica Ling
[divider]
This course is the evening segment of the Sangam & Hongdae one-day tour, designed to give you the full Korean Wave experience. Sangam-dong, the new Hallyu headquarters with several major production and broadcasting companies, is perfect for a day trip, while Hongdae, four subway stops away,  is the scene where Korean culture, both pop and indie, manifests, especially at night. More information on planning a Sangam day trip can be soon found at visitseoul.net.
[divider]
K-stars and their K-style – if the Korean Wave has washed over you, thenthere's no better place to tread the path of such tastemakers as Hongdae, the live-wire district of music and art culture. The ever-trending university area remains the only place in Seoul where you can transition from daytime exploring to nighttime adventures just as easily asyou shuffle through your K-Popplaylist.
To the uninitiated, Hongdae can be a bit overwhelming at first: Its bright lights, meandering alleyways and undiscovered hole-in-the-wall shops make finding your niche a bit challenging among the neighborhood's art-kid energy. For this reason, SEOUL has brought in some help, this month in the form of big data, the collaborated efforts of the Seoul Tourism Organization, SK Telecom and Shinhan Card. While some of the results may not be surprising–we noticed a surging interest for Korean fashion – it has aided in our search for the most popular sights in this iconic neighborhood, as well as help us tease out some of the underrated experiences. In light of these discoveries,we suggest you give Hongdae's bustling evening scene another shot: Check out our how-to for the quintessential Korean night on the town, and give yourself a makeover that'sedgy and fun – no hearsay, no rumors, just facts.
'Happen Ending'
Finding the YG Entertainment building from Hapjeong Station isn'tas difficult as you'd think, but grab a coffee anyways, for you're on one of best streets anywhere to do so. As you snap a few photos next to the avant-garde tower – selfie sticks for KRW 5,000 in the subway station were a good investment – you can imagine seeing Tablo emerge, and the song "Happen Ending" pops into your head from Epik High's new album. In case you weren't aware, night of party is what is about to "happen." Energy restored, now you're ready for the pre-game: shopping.
'Dali, Van, Picasso'
Walking toward the university gate, you pass by a series of street makeup brands with life-sized posters of male actors like Kim Soo-hyun or Jo In-sung. The scenery takes a sudden turn when you enter an alley off the main street with wall-to-wall murals. After gazing at each one intently, you begin humming the chorus to Beenzino's rap "Dali, Van, Picasso" as you reach the east side.
Hongdae's vibe, as you now see from the stores and the people-watching, is effortless with a bent edge–the true Hongdae touch. The must-go spots, so you're told, are the flagship stores Style Nanda, sitting on a nearbyside street parallel with the art school, and Atria, closer to Exit 8 of Hongdae Station.Style Nanda is for bold street-style-photographer bait. There's also the quintessential Hongdae  institution Aland and the up-and-comer Understar, with popularity that's now been big-data affirmed.
'I'm Different'
Despite being shopped out, there's still the matter of primping. When else can you get an authentically K-Pop star-esque look? There are a dozen hair-and-makeup salons nearby. One of the Hair by Miga chain salons is near the subway where simple, party-prepped hair is listed for KRW 20,000-25,000. Their limited English isn't a problem; a picture of CL alone will suffice.
Leaving the salon feeling freshly dusted with "I'm different" by Hi Suhyun playing overheard, you catch whiffs of live music mixed with the cheers of an impressed crowd. A couple streets from Exit 9, there are buskers abound: A magician charms the crowd on one end and a caricature artist works on a nearby ledge, but what resonates with you is a songstress offeringanacoustic rendition of AOA's comeback, "Like a Cat."
It goes for Korea too that drinks are expensive in clubs, not to mention impossible to get once the places are properly packed. Pre-gaming is not a bad idea, especially if it's accompanied with Korean-style fried chicken, now statistically proven to be one of Korea's most popular foods among the young and hip. A good place to get some is BBQ Hapjeong Star. It's owned by Sungyeol, a member of the pop group Infinite, but don't let that turn you away – the food is actually worth seeking out.
'Fantastic Baby'
The final tier to the evening cake is still to come: clubs. Thursday Party has an American college town pub kind of vibe, right down to the beer pong and its English-speaking regulars. Naked seems to be the place to be; a queue of club-ready people outside speaks volumes. A few minutes away on foot are local favorites, NB1 and NB2, acronyms for the first and second Noise Basements, and both have huge lines and the familiar sounds of K-Pop blasting out their respective front doors. The crowd is part of the fun, but if you actually want room to dance, arriving before midnight is key.
The DJ interlaces samplings of AmericanTop 40 with techno and electronic synth, and bass with a bit of shuffle is a familiar and catchy boost. It's the remix of Big Bang's "Fantastic Baby" that reminds you that K-Pop has been your reliable pulse throughout the day and continues on into the night.
Dance cardio drains the group and everyone is eager for some street-style tteokbokki, sweet and fiery rice cakes, and some fresh air. One spicy bite makes you exhale your 4 AM weariness as you inhale the crisp air of early winter. Looking around, couples linking arms laugh and shuffle into taxis for some late night Korean barbeque, while groups of men post-army discharge race to gulp down soju-coffees outside a convenient store to keep the party going. Hongdae is still ready to shuffle; all you have to do is press play.
This content is based on Korea Culture & Tourism Institute's R&D project to analyze big data compiled from roaming services.
https://magazine.seoulselection.com/wp-content/uploads/2014/11/mural-street3.jpg
630
950
cyn
https://magazine.seoulselection.com/wp-content/uploads/2018/01/Seoul-logo.png
cyn
2014-12-19 17:43:35
2014-12-19 17:43:35
Hongdae Stylin' It Up