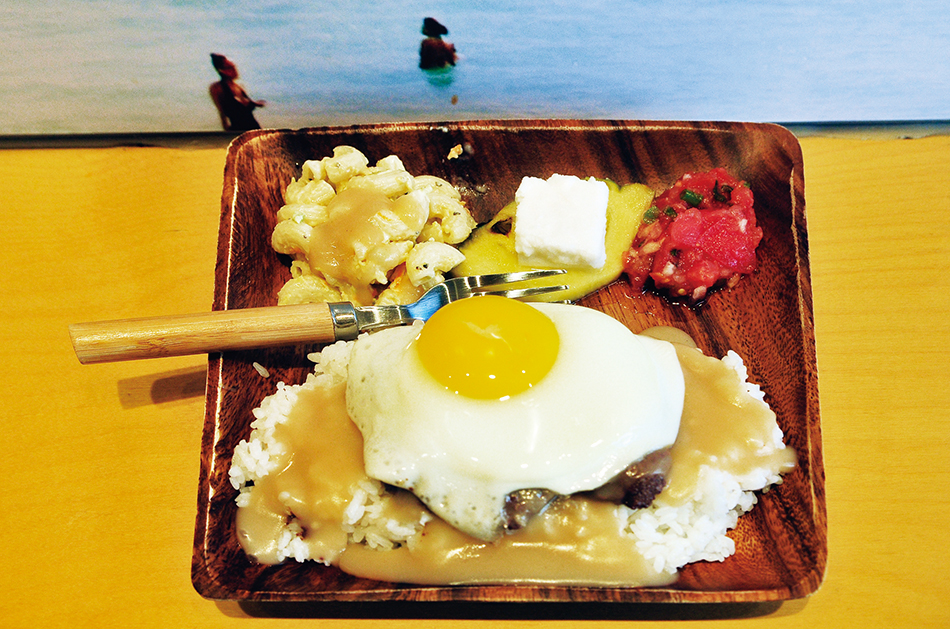 [box_light]Finders keepers
New hidden gems in Hongdae[/box_light]
Written by Joe McPherson
Photographed by Ryu Seunghoo
Long relegated to the status of simply a clubbing district, Hongdae is developing into both an oasis of interesting restaurants and an incubator for new food trends. This is chiefly because the "anything goes" attitude leaves room for experimentation. Sometimes that experiment is just having quality food at a good price. Given the diverse tastes of the Hongdae crowds these days, it's easier to take a gamble with new concepts.
[divider]
Shimseuntang Budae Jjigae  심슨탕 부대찌개
Budae jjigae, the "army base stew," has its devotees and its haters. A bubbling stew of kimchi, hot dogs and Spam can be one person's nightmare and another's heavenly backyard barbecue in a bowl. Regardless, this dish is one of the first East-meets-West fusion cuisines of the 20th century
Shimseuntang plays even more with this blurring of cultural boundaries. What makes this place special is the rice: At the table are little packages of butter, soy sauce and garlic cloves with a garlic press, and diners mix the butter, soy sauce and crushed garlic with the rice, creating an addictive compliment to the meaty stew. An optional dessert is piping hot rolls with icing to dip them in. For the jaded palates, Shimseuntang reawakens one's passion for hearty Korean fare.
GO> Hongik Univ. Station 홍대입구역 (Line 2, Gyeongui Line & AREX), Exit 9. Walk a block, cross the street and take a left. Shimseuntang is on the second alley to your right.
[divider]
Gusto Loco Moco 구스토 로코모코
There looks to be a Hawaiian trend bubbling in Hongdae, with two garish tiki-themed bars/lounges currently gaining traction. A new place in what some would call a closet is run by a Hawaiian expat couple serving authentic Hawaiian comfort food. Their specialty is the loco mock, a hamburger patty smothered in rich gravy sitting on a bed of rice, topped with a runny sunny-side-up egg.
For the truly hard-core Hawaiian aficionados they also offer musubi, which can best be described as Spam sushi. A slice of Spam is placed on top of rice and wrapped in nori seaweed. The result is your new favorite food.
GO> Hongik Univ. Station 홍대입구역 (Line 2, Gyeongui Line & AREX), Exit 9. The directions can be tricky if it's your first time here but they have a helpful little map on their webpage (gustolocomoco.com) that you can refer to.
FYI> T. 02-3142-8226
[divider]
Taverna de Portugal 타버나 드 포르투칼
Yes, there is Portuguese food in Seoul. Run by an expat from Portugal and his Korean wife, this quaint and cozy inn boasts dishes that have been making the highly picky and ornery Seoul foodie community swoon. Their specialty is Piri Piri grilled chicken, a spicy chicken dish borne from the Portuguese settlements in Africa.
The dish causing the most buzz is the Francesinha, a northern Portuguese sandwich with roasted meat, sausage and cheese swimming in a tomato beer sauce.
GO> Sangsu Station 상수역 (Line 6), Exit 1. Take a right and walk for about five minutes until you see Wausan-ro on your left, then take a left. You'll find the restaurant on your left.
FYI> T. 02-3144-4819
[divider]
The Beastro 더 비이스트로 
Think American classics in fresh new clothes. Located right next to the playground, The Beastro plays with its food. Chimichurri fries find a place next to Buffalo mac 'n' cheese (Buffalo chicken astride bubbling macaroni and cheese). Southern fried chicken with mashed potatoes makes a strong appearance. Their must-get dish, however, is the 24-hour hanger steak with potatoes cooked in beef fat. Expect an intense beefy punch in the mouth. If that isn't enough comfort food to make one sleep for a week, finish with their cookies & milk – brown butter chocolate cookies with a rich drinking chocolate.
GO> Hongik Univ. Station 홍대입구역 (Line 2, Gyeongui Line & AREX), Exit 9. Get to the main entrance of Hongdae, find The Body Shop, and The Beastro is two stores away.
FYI> T. 02-334-2500
https://magazine.seoulselection.com/wp-content/uploads/2014/11/RYU1299.jpg
629
950
cyn
https://magazine.seoulselection.com/wp-content/uploads/2018/01/Seoul-logo.png
cyn
2014-12-19 17:41:23
2018-02-13 16:26:36
Finders keepers