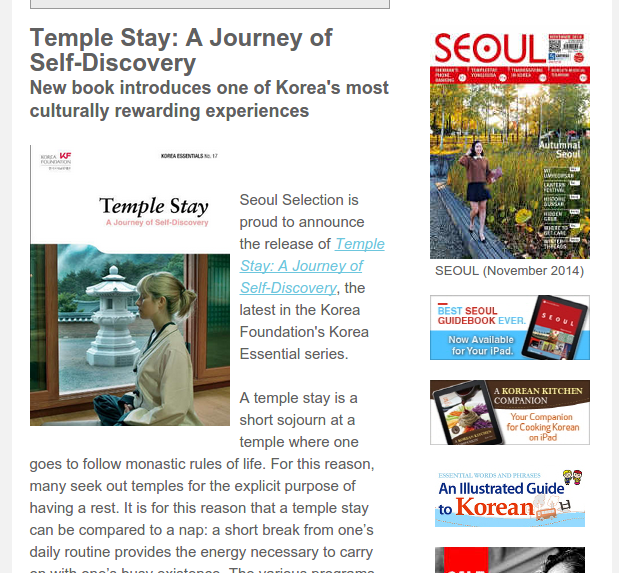 Nov. 6, 2014 / Issue No. 657

Writer for SEOUL Needed!

SEOUL Magazine is hiring a full-time reporter. Writers proficient in both Korean and English preferred. If this sounds like you, send a resume and cover letter to hankinseoul@gmail.com.

Temple Stay: A Journey of Self-Discovery
New book introduces one of Korea's most culturally rewarding experiences

Seoul Selection is proud to announce the release of Temple Stay: A Journey of Self-Discovery, the latest in the Korea Foundation's Korea Essential series.

A temple stay is a short sojourn at a temple where one goes to follow monastic rules of life. For this reason, many seek out temples for the explicit purpose of having a rest. It is for this reason that a temple stay can be compared to a nap: a short break from one's daily routine provides the energy necessary to carry on with one's busy existence. The various programs offered around the country all possess, to some degree, the essence of Korean Buddhism. This book uses simple terms to explain the meaning of some of the rituals that one may encounter at a temple stay and gives insight into the history, philosophy and practices of Korean Buddhism. Are you ready to transcend the boundaries of religion and depart for a temple stay, the storehouse of Korean Buddhist culture? Open your mind to the information contained in this book.

Price: KRW 9,800


---

AROUND THE WEB

A miscellany of high-quality hyperlinks from the week, courtesy of SEOUL editor-in-chief Robert Koehler.

---

EVENTS

Dulwich College Seoul: Senior School Open House

Dulwich College Seoul, which prides itself on its British educational program and its high-quality activities, will be hosting an Open House for its senior school on the morning of Nov. 20 (Thur) starting at 10 AM.

DATE: Nov. 20, 10 AM
MORE INFO: http://www.dulwich-seoul.kr, admissions@dulwich-seoul.kr, T. 3015-8500
GETTING THERE: See here.

HSM Signature Roast Turkey Cooked Dinner Sets



High Street Market's cooked dinners are available all year-round for any special occasion, event, or lazy weekend you might have! Regardless if it's holiday season or not, sometimes you just need a big cooked dinner with all the trimmings.
All year long they will feature four kinds of meats available including side dishes, carving options, warming options, and full delivery service all over Korea. During holiday seasons, they will have special meats available such as whole turkeys and whole bone-in hams.
Full payment up front is the ONLY way to reserve and guarantee your order for a fully cooked meal. Without payment there is no guarantee of your order being fulfilled. There are also no exchanges or refunds for the cooked meals.

MORE INFO: Hours of Operation: 10:00–21:00, T. 02-790-5450, www.highstreet.co.kr
GETTING THERE: From Exit 2 of Itaewon Station, simply walk straight until you pass the Starbucks and IP Boutique Hotel on your left. You should see High Street Market on your left, on the second floor of the next building.

Reproduction of Mihwangsa Temple's Thangka

An exact reproduction of Mihwangsa Temple's beautiful and massive gwaebul (thangka) will be on display at Insa-dong's Ara Art Center through Nov. 11. The exhibit, originally scheduled to end on Nov. 4, has proven so popular it was extended for an extra week. The reproduction was a three-year project by nine Buddhist painting majors from Dongguk University. The original, produced 287 years ago during the Joseon Dynasty, is brought out only once a year during the Gwaebuljae ceremony. Both the original and reproduction stand 12 meters high, so finding an exhibit space was not easy. Luckily, the Ara Art Center's basement proved just right.

VENUE: Ara Art Center
PERIOD: Thru Nov. 11, 10 AM to 7 PM
MORE INFO: T. 733-1981
ADMISSION: Free
GETTING THERE: See here.

Food Week Korea 2014

Taste and drink your way around the world with Food Week Korea, the country's largest and food show in the country. This year's event has six new special sections within its program: ASEAN Local Food; Health and Healing; Solar Salt and Low Sodium; Desserts and Delicacies; Trendy and Traditional Korean Food; and Single and Simple Food. Guests will now be able to explore every aspect of the food and beverage industry, from raw ingredients, machinery and appliances to packaging, drinks and desserts—everything all under one roof. Another key event will be the Great Korean Beer Festival. Visitors may sample various craft beers to savor a wide range of flavors and fragrances from a variety of handcrafted brews. The event will also offer a one-on-one business-matching program that pairs buyers with manufacturers. In addition, there will be food symposiums, vendor seminars, interactive workshops and demonstrations, as well as a live cooking show featuring star chefs. Last year's event saw 602 companies showcasing goods from 29 countries around the world to an estimated 75,000 buyers and visitors. This year, more than 1,000 domestic and overseas businesses in the food and beverage industry will exhibit across 1,800 booths.

VENUE: COEX Convention and Exhibition Center
PERIOD: Nov. 12–15
MORE INFO: T. 02-6000-8138, foodweek.info@coex.co.kr
GETTING THERE: Samseong Station 삼성역 (Line 2), Exit 6

Benjamin Millepied & L.A. Dance Project

Born in France, Benjamin Millepied is a dancer and choreographer who is perhaps best known for his work in the film "Black Swan" (2010). He began dancing at only 8 years old under the instruction of his mother, a former dancer, but later moved to New York City, where he studied at the School of American Ballet, the official school of New York City Ballet. After joining the NYCB and winning several awards for his work, he was made a principal dancer in 2001. Millepied started choreographing soon afterwards, and in 2002 founded Danses Concertantes, a company that toured the world with a variety of dancers. He then went on to receive great acclaim for his work as a choreographer and in 2012, having moved to Los Angeles, he founded the L.A. Dance Project. The company uses both emerging and established artists, and was given full-time residence at the Los Angeles Theatre Center with the objective of presenting new works throughout the city.

VENUE: LG Arts Center
PERIOD: Nov. 13–14, 20:00
MORE INFO: T. 02-2005-0114, www.lgart.com
ADMISSION: KRW 30,000–70,000
GETTING THERE: GS Tower B1 floor is directly connected to Yeoksam Station 역삼역 (Line 2), Exit 7. Take the LG Arts Center elevator from there.

Hyundai Card Culture Project 16: Ballet Preljocaj Presents 'Snow White'

Ballet Preljocaj is a French dance company that was founded in 1984 by Angelin Proljocaj, a choreographer of contemporary dance. He has since created 45 choreographic works, ranging from solo acts to large-scale dance performances. Known for physically demanding yet conceptually complex pieces that usually tell a story without explicitly spelling it out, Proljocaj is a favorite among classical dance companies, despite being a figure in contemporary dance. His choreography can be characterized by clean, clear lines and crisp swiftness; his dances demand strictly maintained physiques and precise coordination. The Ballet Preljocaj performs about 100 times a year, both in France and abroad. Their production of "Snow White" has set out to turn the Grimm Brothers' original tale on its head, with the Los Angeles Times noting, "Never has death-by-poison-apple been so shocking."

VENUE: Seoul Arts Center, Opera Theater
PERIOD: Nov. 14–16
MORE INFO: T. 02-1577-5266, www.sac.or.kr
ADMISSION: KRW 30,000–150,000
GETTING THERE: Nambu Bus Terminal Station 남부터미널역 (Line 3), Exit 5. Transfer to shuttle bus, or green bus No. 4429.

Seoul Shakespeare Company Auditions for Titus Andronicus

Seoul Shakespeare Company is excited to announce auditions for its fifth main stage production—William Shakespeare's bloody revenge tragedy, "Titus Andronicus."
Ray Salcedo, director of "A Midsummer Night's Dream" earlier this year, is looking to cast actors of all experience levels in this brutal, beautiful, and shockingly contemporary play.

Audition Information

Audition Dates: Saturday November 29, 11:00 AM – 3:00 PM, and Sunday November 30, 11:00 AM – 3:00 PM
(Call backs on Sunday, December 7, 12 – 2 PM.)

Location: Camarata Music Company Studio, Haebangchon

Sides will be provided for cold readings.
*IN ADDITION actors should prepare a one-minute monologue from a Shakespearean text that is not from "Titus Andronicus."
The piece can be from any Shakespearean genre—comedy, tragedy, sonnet—and should serve to highlight the actor's strengths.

To schedule an audition:

Email : info@seoulshakespeare.com with name, phone number, and preferred audition time

*Actors who are unable to attend the following times can arrange for a private audition.

Saturday November 29:
A: 11:00 – 11:50
B: 12:00 – 12:50
C: 1:00 – 1:50
D: 2:00 – 2:50

Sunday November 30
A: 11:00 – 11:50
B: 12:00 – 12:50
C: 1:00 – 1:50
D: 2:00 – 2:50

GETTING THERE: Exit 2 from Noksapyeong Station (line 6). Walk straight for approximately 100 meters and bear left at the wall of kimchi pots to enter Haebangchon. Continue straight for approximately 400 meters (about 5 minutes). Camarata Music Company Studio will be on your left (look for the white sign), in the same building as CU Mart. (Jacoby Burger is directly across the street.)

RASKB Excursion: Old Gunsan: Exploring the Remains of Colonial Korea

Once a small fishing village on Korea's West Sea coast, Gunsan developed into one of Korea's most important ports after it was opened to international trade in 1899. During the colonial era, Japanese traders, merchants and farmers settled en masse in Gunsan and the nearby Honam Plain, Korea's most fertile agricultural region, and the city became especially important as the port of exit for Korean rice exports to mainland Japan. The Japanese left an indelible imprint on the city, and while the Japanese left following Korea's liberation from colonial rule in 1945, their presence can still be felt in the city's exotic historic architecture.
In this tour, we will visit some of Gunsan's historic colonial architecture and learn a bit about Japanese colonial rule in Korea.

VENUE: Jeollabuk-do
DATES: Nov. 8
MORE INFO: See this link.
COST: KRW 60,000–72,000
GETTING THERE: See link above.


---

EVERYDAY KOREANS

Red maples of Gyeongbokgung Palace. Photographed by Robert Koehler.

NOTIFICATIONS

Seoul Selection's Free Book Giveaway – Our free book give-away continues! Check out the list in last week's newsletter here.

Seoul Selection Offline Bookshop Sale – One of the greatest repositories of Korea-related English-language books anywhere, Seoul Selection is offering a 10% sale on any and all books published by Seoul Selection purchased from our OFFLINE bookshop next to Gyeongbokgung Palace.

Looking for Translators – Seoul Selection is looking for a few good translators (Korean to English) for general translation work. Those interested should send a resume and cover letter to Kyehyun at atoz@seoulselection.com. Experienced translators only.

Seoul Selection eBooks – You can purchase some Seoul Selection titles in ebook format via Amazon.com (for Kindle) and Apple's iBookstore. Titles include Ask a Korean Dude, Moon Tides, Doing Business in Korea, Once Around the Sun, and seven volumes of our Korean Film Directors series: BONG Joon-ho, IM Kwon-taek, KIM Jee-woon, LEE Chang-dong, LEE Man-hee, PARK Chan-wook, and SHIN Sang-ok.

Send Your Event Info – If you would like to advertise any upcoming events you are organizing, please send us the press release material at pubco@seoulselection.com by the preceding Friday in order for it to appear in the following Tuesday's issue.

Freelance Contributors Wanted – SEOUL Magazine needs writers who are fluent in both Korean and English. Writers should have a strong interest in Korean culture and be able to interview Koreans. Send your resume and writing samples to english@seoulselection.com.

We Buy & Sell Used Books – Seoul Selection buys and sells used books in English. Unlike our regular selection of publications that specialize in Korea-related topics, our Used Book section carries books on all subjects. It's all part of our effort to make life easier for the English-speaking community.

SEOUL (November 2014)


Buy Books at Seoul Selection's ONLINE Bookshop!




---

---

RECOMMENDED


An Encyclopaedia of Korean Culture

---

NEW BOOKS


The Social and Psychological Acculturation of North Korean Refugees


Transformation of Modern Korean Sport: Imperialism, Nationalism, Globalization


Reflections Of A Zen Buddhist Nun


Self-Learning Korean the Easy Way


Anthology of Korean Traditional Patterns


---

NEW DVDs


A Hard Day


The Attorney


Cheer Up, Mr. Lee


Shuttlecock


For the Emperor
Copyright © , All rights reserved.
Our mailing address is:
https://magazine.seoulselection.com/wp-content/uploads/2014/11/스크린샷-2014-11-06-180756.png
573
619
rjkoehler
https://magazine.seoulselection.com/wp-content/uploads/2018/01/Seoul-logo.png
rjkoehler
2014-11-06 09:02:49
2014-11-06 18:09:58
SEOUL Weekly: Temple Stay: A Journey of Self-Discovery