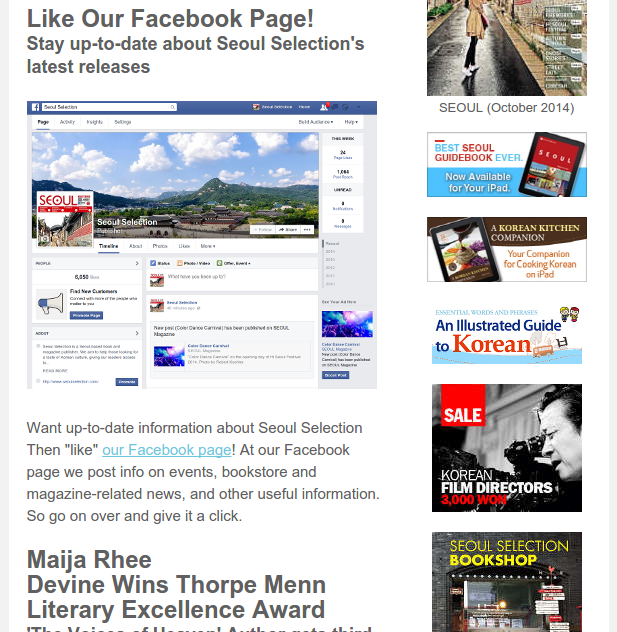 Oct. 8, 2014 / Issue No. 653

Bookshop Video Wanted

Seoul Selection bookshop is looking for volunteers to shoot some videos of our bookshop to help promote what we do. If you are interested, send an email to publisher@seoulselection.com

Like Our Facebook Page!
Stay up-to-date about Seoul Selection's latest releases

Want up-to-date information about Seoul Selection Then "like" our Facebook page! At our Facebook page we post info on events, bookstore and magazine-related news, and other useful information. So go on over and give it a click.

Maija Rhee Devine Wins Thorpe Menn Literary Excellence Award
'The Voices of Heaven' Author gets third American award of the year

Korean-American writer Maija Rhee Devine, author of The Voices of Heaven, has been awarded the Thorpe Menn Literary Excellence Award by the American Association of University Women-Kansas City Branch. Established in 1979 to honor Thorpe Menn (1912–1979), long-time book editor of the Kansas City Star, the award celebrates local Kansas City authors. This is the third American award Maija Rhee Devine has won this year.


---

AROUND THE WEB

A miscellany of high-quality hyperlinks from the week, courtesy of SEOUL editor-in-chief Robert Koehler.

---

EVENTS

Seoul Traditional Temple Week

Seoul's major Buddhist temples, including Jogyesa Temple, the head temple of the Jogye Order of Korean Buddhism, will be hosting "Seoul Traditional Temple Week" from Oct. 10 to 12. Anybody wanting to experience a Korean Buddhist temple is welcome to visit and take part in the event, which will include temple tours and hands-on programs like Buddhist painting. If you post a selfie at the event, organizers will send you a gift, too.

VENUE: Jogyesa Temple and other Seoul temples
PERIOD: Oct. 10–12
MORE INFO: T. 2031-2000, support@templestay.com

Seoul Arirang Festival

Fans of Korean traditional music should not miss the Seoul Arirang Festival, to be held for three days (Oct. 10–12) in Gwanghwamun Square. The festival celebrates the designation of the Korean folk song of Arirang as a UNESCO Intangible Cultural Heritage of Humanity. Visitors will be able to take in performances or participate in artistic programs with the folk song Arirang as their theme.

VENUE: Gwanghwamun Square
PERIOD: Oct. 10–12
MORE INFO: https://www.facebook.com/seoularirangfestival
GETTING THERE: Gwanghwamun Station, Line 5

St. Petersburg Philharmonic Orchestra

The St. Petersburg Philharmonic Orchestra was formed in 1882, making it Russia's oldest symphony orchestra. Initially called the "Imperial Music Choir," they were called on to perform privately for emperor and autocrat Alexander III of Russia. It started to give public performances in the 1990s, and was even conducted by Richard Strauss in 1912. At one time, it was even renamed the Leningrad Philharmonic Orchestra shortly after Vladimir Lenin's death. The orchestra was renamed to the St. Petersburg Philharmonic in 1991, after its home city regained its original name. Its current director is Yuri Temirkanov, who's been commanding the orchestra for the last 20 years.

VENUE: Seoul Arts Center, Concert Hall
DATE: Oct. 10, 19:30
MORE INFO: T. 070-8680-1277, T. 02-1577-5266, www.sac.or.kr
ADMISSION: KRW 70,000–250,000
GETTING THERE: Nambu Bus Terminal Station 남부터미널역 (Line 3), Exit 5. Transfer to shuttle bus, or green bus No. 4429.

Woyzeck, the Musical

"Woyzeck" was originally a stage play written by the German dramatist Georg Buchner. Unfortunately, however, he died before completing it, leaving it in a fragmentary state that was then heavily edited by Austrian novelist Karl Emil Franzos, who was the first to publish it. The first production was staged in Munich, in 1913, produced by Max Reinhardt. The play's story is loosely based on the life of Johann Christian Woyzeck, a wigmaker who later become a soldier. Woyzeck, in a fit of jealousy, murdered a widow with whom he'd been living, and was later publicly beheaded. This musical version is being helmed by director of Yun Ho-jin, who is known for the two Korean musicals "Last Empress" and "Hero."

VENUE: LG Arts Center
PERIOD: Oct. 9–Nov. 8
MORE INFO: T. 02-2005-0114, www.lgart.com
ADMISSION: KRW 40,000–80,000
GETTING THERE: GS Tower's B1 floor is directly connected to Yeoksam Station 역삼역 (Line 2), Exit 7. Take the LG Arts Center elevator from there.

The Crown Prince Rudolf, the Musical

Originally released as the novel "A Nevous Splendor: Vienna 1888-1889," written by Jewish-Austrian writer Frederic Morton, this musical revolves around the story of Rudolf, archduke of Austria and crown prince of Austria-Hungary, who died in a suicide pact with his mistress. This morbid but romantic account of his demise often lends to the story being called "the last kiss." With monarchical pressures upon his shoulders, Rudolf becomes enveloped in a political battle with his father, Emperor Franz Joseph. Additionally, his marriage to Princess Stephanie of Belgium begins to deteriorate after he falls in love with a baroness who's only 17 years old. However, scandals are a common sight in the political world, used to end careers—and perhaps lives. This musical will be performed in Korean.

VENUE: D-Cube Arts Center
PERIOD: Oct. 11–Jan. 4, 2015
MORE INFO: T. 02-1544-1555, www.musicalrudolf.co.kr
ADMISSION: KRW 60,000–130,000
GETTING THERE: Sindorim Station ì‹ ë"림역 (Line 1, 2), Exit 1

RAS-KB Excursion: Ganghwa-do

Ganghwa is the fifth largest island in Korea and is situated at the mouth of the Han River just south of the DMZ. Because of its location near Songdo (Kaesong) and Seoul, it was used as a place of refuge by kings fleeing from Mongolian and Manchurian armies during the Georyo and Jeosun period. Ganghwa dominated the sea approach to Seoul and saw several clashes with foreign naval forces just prior to the "opening" of Korea in 1876.

VENUE: Ganghwa Island
DATE: Oct. 11, 8 AM to 6:30 PM
MORE INFO: See this link.
ADMISSION: KRW 49,000 for members and KRW 58,000 for non members
GETTING THERE: See link above.


---

EVERYDAY KOREANS

"Color Dance Carnival" on the opening day of Hi Seoul Festival 2014. Photographed by Robert Koehler.

NOTIFICATIONS

Seoul Selection's Free Book Giveaway – Our free book give-away continues! Check out the list in last week's newsletter here.

Seoul Selection Offline Bookshop Sale – One of the greatest repositories of Korea-related English-language books anywhere, Seoul Selection is offering a 10% sale on any and all books published by Seoul Selection purchased from our OFFLINE bookshop next to Gyeongbokgung Palace.

Looking for Translators – Seoul Selection is looking for a few good translators (Korean to English) for general translation work. Those interested should send a resume and cover letter to Kyehyun at atoz@seoulselection.com. Experienced translators only.

Seoul Selection eBooks – You can purchase some Seoul Selection titles in ebook format via Amazon.com (for Kindle) and Apple's iBookstore. Titles include Ask a Korean Dude, Moon Tides, Doing Business in Korea, Once Around the Sun, and seven volumes of our Korean Film Directors series: BONG Joon-ho, IM Kwon-taek, KIM Jee-woon, LEE Chang-dong, LEE Man-hee, PARK Chan-wook, and SHIN Sang-ok.

Send Your Event Info – If you would like to advertise any upcoming events you are organizing, please send us the press release material at pubco@seoulselection.com by the preceding Friday in order for it to appear in the following Tuesday's issue.

Freelance Contributors Wanted – SEOUL Magazine needs writers who are fluent in both Korean and English. Writers should have a strong interest in Korean culture and be able to interview Koreans. Send your resume and writing samples to english@seoulselection.com.

We Buy & Sell Used Books – Seoul Selection buys and sells used books in English. Unlike our regular selection of publications that specialize in Korea-related topics, our Used Book section carries books on all subjects. It's all part of our effort to make life easier for the English-speaking community.

SEOUL (October 2014)


Buy Books at Seoul Selection's ONLINE Bookshop!




---

---

RECOMMENDED


Rat Fire: Korean Stories from the Japanese Empire

---

NEW BOOKS


Korean Culture for Curious New Comers


Confucian Statecraft and Korean Institutions


The Origins of the Choson Dynasty


Wrongful Deaths (Selected Inquest Records from Nineteenth-Century)

---

NEW DVDs


Experience Korea through your five senses


Obsessed


The Target


Her Lovely Heels


The Attorney
Copyright © , All rights reserved.
Our mailing address is:
https://magazine.seoulselection.com/wp-content/uploads/2014/10/스크린샷-2014-10-10-152656.png
632
617
rjkoehler
https://magazine.seoulselection.com/wp-content/uploads/2018/01/Seoul-logo.png
rjkoehler
2014-10-10 06:22:03
2014-10-10 15:44:59
SEOUL Weekly: Like Our Facebook Page!