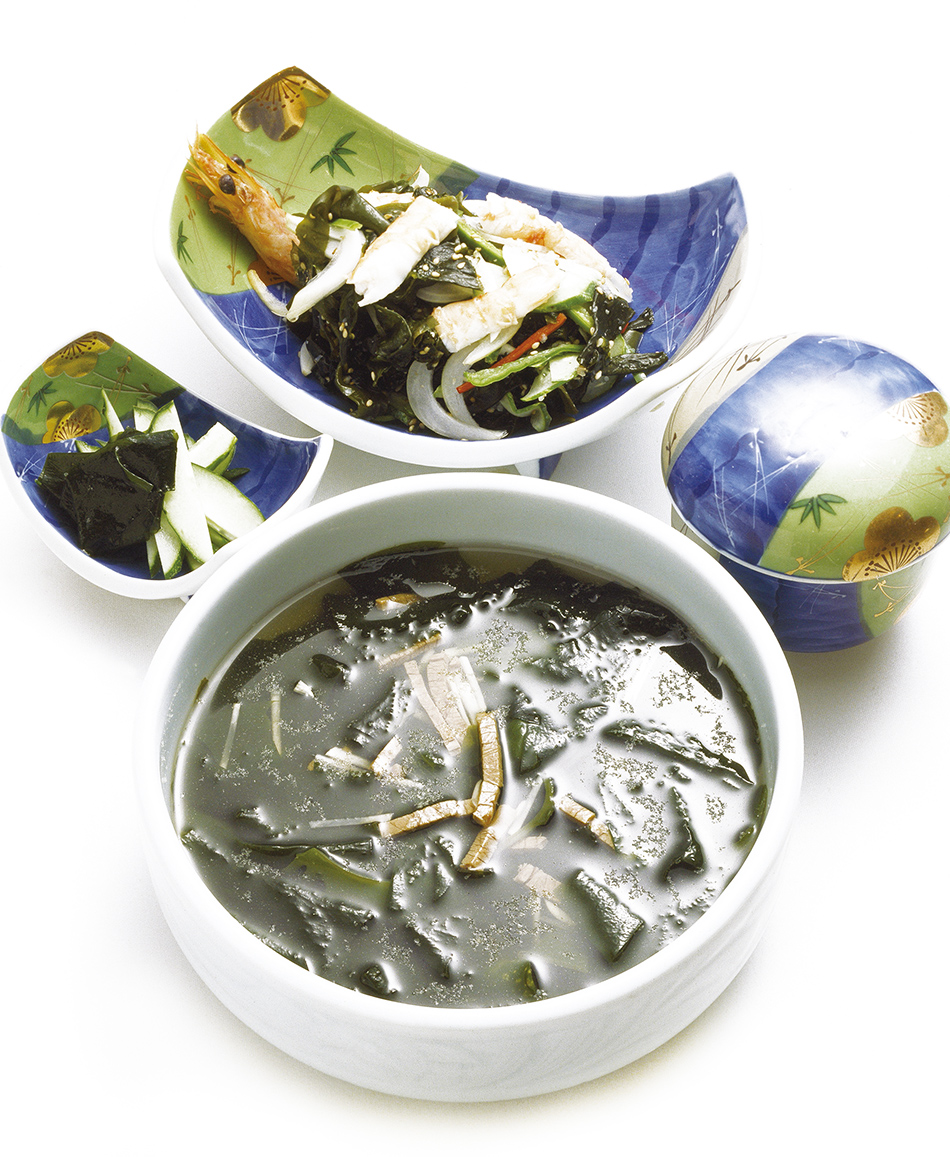 [box_light]A Super Birthday Food
How about some seaweed soup (미역국) instead of birthday cake?[/box_light]
Written by Ogan Gurel, MD
Welcome to the inaugural column in a series that explores the world of "Healthy Living in Korea." In these pages, traveling through time, melding Korean traditions with modern realities, we'll cover food, exercise, culture, medical care and the many other ingredients to "healthy living." Whether you live in Korea, are visiting, or just intrigued, these words offer a monthly dose of healthy tips and cultural insights. So as we give birth to this column, what better topic to start with than Korean seaweed soup, or miyeok guk (미역국).
"Why," you might wonder, "start with seaweed soup?" In the West, birthdays are typically accompanied by a hefty portion of birthday cake, laden with sugar and fat—and about as unhealthy a concoction imaginable. In Korea, it's quite the opposite: instead of cake, seaweed soup—yes, seaweed soup, low in calories, yet loaded with protein, calcium and iodine—is traditionally eaten on birthdays. (Of course, here in Korea there's plenty of birthday cake, though you'll be hard-pressed to find a party with both cake alongside seaweed soup.)
"How is it," you then ask, "that birthdays became associated with seaweed soup?" It turns out that seaweed soup is regularly eaten by women in Korea after giving birth, being a rich source of calcium (for building bones), iodine (for thyroid function), omega-3 fatty acids (anti-inflammatory), and B vitamins (for cell growth). Call it a post-partum "super food," a tradition inspired, as folklore would have it, by the observation that whales ate seaweed after delivering their calves. And traditionally, pregnant women would eat seaweed soup for about a month prior to giving birth though that custom is less prevalent nowadays. But eating seaweed soup for one's birthday has prevailed: as a way to celebrate one's birth, and to remember a mother's sacrifice and care. In fact, in Korea it is not uncommon to greet a friend on their birthday by asking, "Have you eaten miyeok guk?"
Beyond the ancient traditions, apocryphal as they may sound, we do know certain facts about seaweed, also known as "sea mustard", and more scientifically called Undaria pinnatifida. The plant is loaded with nutrients, including protein, calcium and B vitamins, especially folate. U. pinnatifida has one of the highest concentrations of omega-3 fatty acids, which claims to have anti-cancer, anti-oxidant, and heart protective effects, though these purported benefits still remain unproven. There is somewhat more evidence for the anti-inflammatory (pain-reducing), which may be one of the reasons seaweed has found a place as a post-partum elixir. While this is about as "super" a super food gets, the sodium content is relatively high. So there's no need to add salt.
Which leads to the next question: "How does it taste?" If it is so healthy—so green—how can it, you might surmise, taste good? To me, seaweed is an acquired taste. Rather than as the central feature to a dish, I like seaweed more as an accent to food, as in kimbab (김밥), or sprinkled on rice. In any case, miyeok guk as a soup—a kind of side-dish (반찬)—is not a main dish so its mildness complements many other foods well. It can be prepared with beef broth (the most common variety when served at a birthday celebrations) or seafood stock such as mussels, clams and dried fish. A dash of sesame oil enhances the taste.
Miyeok guk (미역국): the first food a new mother eats after giving birth, transmitted via breast milk to the newborn and then eaten again, in celebration, birthdays thereafter. So, on the birth of this column, how about enjoying a bowl of Undaria pinnatifida? It's healthier than cake.
[box_dark]Dr. Gurel is a Director at the Samsung Advanced Institute of Technology (SAIT), also holding an appointment as Visiting Professor at the Samsung Advanced Institute of Health Sciences & Technology (SAIHST) at Sungkyunkwan University (SKKU). He lives with his family in Bundang and among other hobbies enjoys taking healthy walks along the Tancheon River. The opinions expressed herein are solely those of the author and should not be considered as formal medical advice in the absence of consultation with one's personal physician.[/box_dark]
https://magazine.seoulselection.com/wp-content/uploads/2014/06/twi001t134284_.jpg
1157
950
cyn
https://magazine.seoulselection.com/wp-content/uploads/2018/01/Seoul-logo.png
cyn
2014-10-06 11:30:15
2014-10-06 11:30:15
A Super Birthday Food