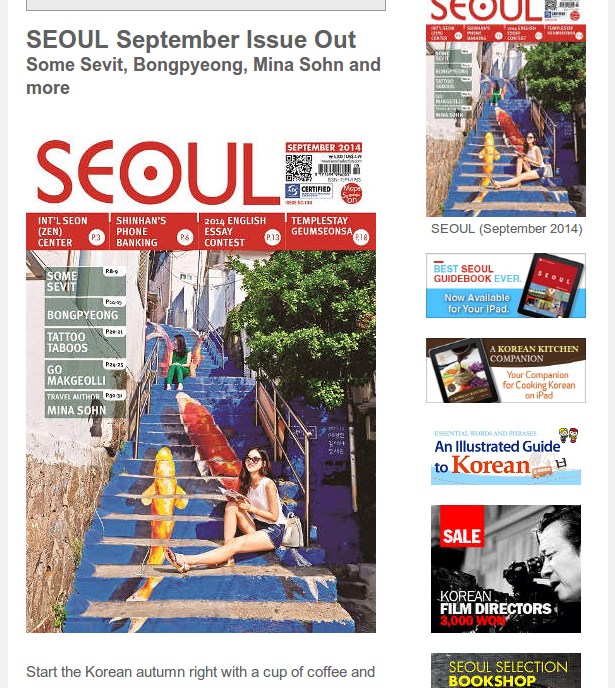 Aug 21, 2014 / Issue No. 646

Bookshop Marketer Wanted: Seoul Selection is hiring a staff member to handle local and overseas marketing for our bookshop. Applicants should speak English and Korean. Foreign applicants must also have their own visas—we cannot sponsor your visa. If this seems interesting, send a resume and cover letter to Hank at hankinseoul@gmail.com.

SEOUL September Issue Out
Some Sevit, Bongpyeong, Mina Sohn and more

Start the Korean autumn right with a cup of coffee and a fresh copy of the September issue of SEOUL, our monthly travel and culture magazine.

In this issue of SEOUL, we visit the newly reopened Some Sevit (formerly the Floating Islands), walk amidst the beautiful buckwheat fields of Bongpyeong, talk with former TV journalist and travel writer Mina Sohn, experience the Templestay program of Geumseonsa Temple and much, much more.

f that's not enough, there's always our Goings On Around Town, our listings of the month's concerts, festivals, exhibits and other happenings. So go out and get a copy while it's still got that new magazine smell.

Discount Books at Seoul Selection
Good deals on great books

Seoul Selection Bookshop offers 50% off on copies of our titles with slight imperfections or damage (like dog ears, etc). We've even made a separate corner for them so drop by and see what's in there because whatever's there is a steal.

Titles currently in the 50% off corner include:

ê½ƒì œë¹" 영대
Camping in Korean National Parks
Baekdudaegan Trail
Korea Guidebook
Korean Antique Furniture
ê¸°ì ì—ì"œ 성숙으로
Inside Korea (Hollym)
Into this World
The Korean Way of Tea
Traditional Music
Korean Ceramics
The Voices of Heaven
Across the Tumen
Ask a Korean Dude
컬러로 보는 한국ì "쟁
돌의 향기(사진집)
Korea through Her Birds
Azalea 2008, 2010, 2011
Yogong: Factory Girl (RAS)
Korea's 1884 Incident (RAS)
Eternity Today
Korean for Beginners (Tuttle)


---

AROUND THE WEB

A miscellany of high-quality hyperlinks from the week, courtesy of SEOUL editor-in-chief Robert Koehler.

---

EVENTS

Zorro, The Musical

A classic story made into a hit musical, "Zorro" is a tale that's sure to inspire anyone—especially when K-pop superstars are involved! Shinee's Key, Beast's Yang Yoseob, AOA's Choa and singer Wheesung join popular musical actor Kim Woo-hyeong to form an unforgettable cast. Diego is a wealthy young caballero from California who finds himself forced to attend school in Spain, making him to leave behind his childhood love, Luisa. When he gets there, however, he befriends a group of gypsies and soon runs away from school. Meanwhile, back in California, a man named Ramon is wreaking havoc in Diego's hometown, accumulating political power and terrorizing the locals. To legitimize his authority, Ramon has claimed that Don Alejandro, the town's real leader and Diego's father, is dead, when in fact he's being imprisoned by Ramon himself. Diego, after hearing such news, dashes back to California immediately, where he becomes a brave masked vigilante who fights for justice. After saving three innocent victims who are about to be hanged, Diego quickly becomes the talk of the town, who only know him by his alias, Zorro. In his pursuit of justice, Diego tries to win back Luisa's heart while struggling to conceal his newfound identity.

VENUE: Chungmu Art Hall, Grand Theater
PERIOD: Aug. 27–Oct. 26
MORE INFO: T. 02-2230-6601, www.cmah.or.kr
ADMISSION: KRW 50,000–130,000
GETTING THERE: Sindang Station ì‹ ë‹¹ì—­ (Line 6), Exit 9. Walk about 50 meters in the direction of Dongdaemun Stadium.

Landscapes: Seeking the Ideal Land

This exhibition will offer a retrospective look at the form and function of East Asian landscape painting, a genre not only used as a method to record natural scenes but also as a way to express one's highest ideals. The showing will feature 109 works from various museums across the globe, including many from Korea herself. Significant donors on the list include the Metropolitan Museum of Art, the Shanghai Museum and the Kyoto National Museum. The most famous painting on display is the Yi Inmun's (1745–1824) "Mountains and Rivers Without End," an 18th-century masterpiece that conveys an ideal world through scenes of peaceful mountains and charming people, with occasional buildings scattered about in a seemingly random way. Some scholars claim that Yi was trying to convey a utopia where Confucian scholars and civil leaders carried out their duties responsibly and with conviction, and in return the common folk would remain obedient and respectful. Plenty of other thought-provoking works are also on display, with 42 of them brought in from China and Japan.

VENUE: National Museum of Korea
PERIOD: Thru Sep. 28
MORE INFO: T. 02-2077-9499, www.museum.go.kr
ADMISSION: Free
GETTING THERE: Exit 2, Ichon Station, Line 4

Phoenix Park Pool Festival

This summer, a whole host of Seoulites will descend on Phoenix Park's pool in Gangwon-do before heading to a DJ afterparty. Fee comes with free transport and accommodation.

VENUE: Phoenix Park, Gangwon Province
PERIOD: Aug. 23, 7:00—Aug. 24, 18:00
COST: KRW: 115,000
MORE INFO: goodtimesrok@gmail.com
GETTING THERE: Various meeting points around Seoul

RASKB: Cheongpyeong Boat Excursion

Spend your Saturday outside of Seoul, enjoying the green countryside and relaxing atmosphere of the area around Cheongpyeong Lake. Today's excursion will be quite leisurely, and offers a choice of activities; the RAS therefore recommends this as an excursion for the whole family.

VENUE: Chuncheon, Gangwon-do
DATE: Aug. 23
MORE INFO: See this link
COST: KRW 80,000–96,000
GETTING THERE: See link above.


---

EVERYDAY KOREANS


Yet another rainy day in Bukchon. Photographed by Robert Koehler.

NOTIFICATIONS

Seoul Selection's Free Book Giveaway – Our free book give-away continues! Check out the list in last week's newsletter here.

Seoul Selection Offline Bookshop Sale – One of the greatest repositories of Korea-related English-language books anywhere, Seoul Selection is offering a 10% sale on any and all books published by Seoul Selection purchased from our OFFLINE bookshop next to Gyeongbokgung Palace.

Looking for Translators – Seoul Selection is looking for a few good translators (Korean to English) for general translation work. Those interested should send a resume and cover letter to Kyehyun at atoz@seoulselection.com. Experienced translators only.

Seoul Selection eBooks – You can purchase some Seoul Selection titles in ebook format via Amazon.com (for Kindle) and Apple's iBookstore. Titles include Ask a Korean Dude, Moon Tides, Doing Business in Korea, Once Around the Sun, and seven volumes of our Korean Film Directors series: BONG Joon-ho, IM Kwon-taek, KIM Jee-woon, LEE Chang-dong, LEE Man-hee, PARK Chan-wook, and SHIN Sang-ok.

Send Your Event Info – If you would like to advertise any upcoming events you are organizing, please send us the press release material at pubco@seoulselection.com by the preceding Friday in order for it to appear in the following Tuesday's issue.

Freelance Contributors Wanted – SEOUL Magazine needs writers who are fluent in both Korean and English. Writers should have a strong interest in Korean culture and be able to interview Koreans. Send your resume and writing samples to english@seoulselection.com.

We Buy & Sell Used Books – Seoul Selection buys and sells used books in English. Unlike our regular selection of publications that specialize in Korea-related topics, our Used Book section carries books on all subjects. It's all part of our effort to make life easier for the English-speaking community.

SEOUL (September 2014)


Buy Books at Seoul Selection's ONLINE Bookshop!




---

---

RECOMMENDED


Korean Phrase Book for Travelers

---

NEW BOOKS


Reading Korean for Academic Purposes: Advanced


TOPIK Essential Vocabulary 1000 – intermediate


New TOPIK 1


The Mountain Rats

---

NEW DVDs


Innocent Thing


The Marines Who Didn't Come Home


Huibin Jang


A Public Cemetery of Wolha


Broken
Copyright © , All rights reserved.
Our mailing address is:
https://magazine.seoulselection.com/wp-content/uploads/2014/08/스크린샷-2014-08-21-155607.png
688
615
rjkoehler
https://magazine.seoulselection.com/wp-content/uploads/2018/01/Seoul-logo.png
rjkoehler
2014-08-21 07:04:34
2014-08-21 16:05:50
SEOUL Weekly: SEOUL September Issue Out