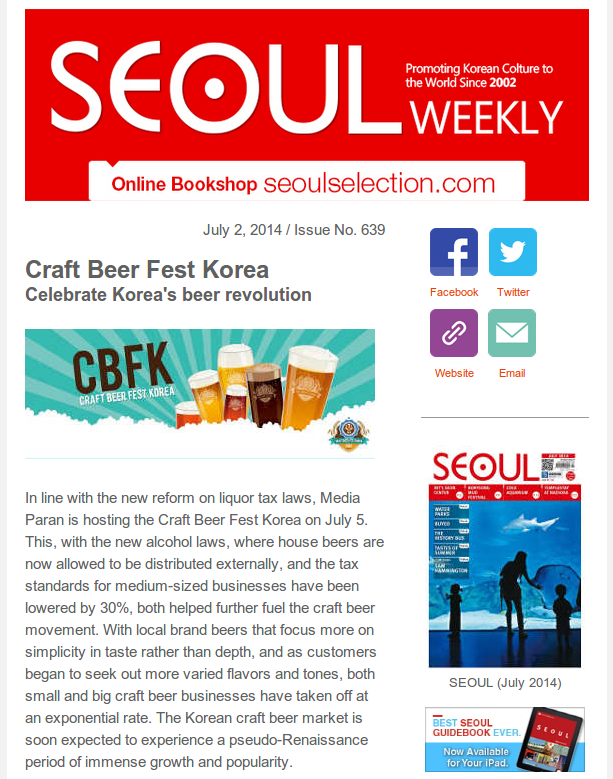 July 2, 2014 / Issue No. 639

Craft Beer Fest Korea
Celebrate Korea's beer revolution

In line with the new reform on liquor tax laws, Media Paran is hosting the Craft Beer Fest Korea on July 5. This, with the new alcohol laws, where house beers are now allowed to be distributed externally, and the tax standards for medium-sized businesses have been lowered by 30%, both helped further fuel the craft beer movement. With local brand beers that focus more on simplicity in taste rather than depth, and as customers began to seek out more varied flavors and tones, both small and big craft beer businesses have taken off at an exponential rate. The Korean craft beer market is soon expected to experience a pseudo-Renaissance period of immense growth and popularity.

Craft Beer Fest Korea will be held at Duke's, located near the War Memorial Museum in Yongsan-gu, the center location of the craft beer movement. The fest will feature 24 locally crafted beers, with pizza and snacks to munch on.

From stencil tattoo of the event logo to live bands, this will be an exciting outdoor event.

VENUE: Duke's (Interior and Outdoor Deck) near the War Memorial of Korea
DATE: July 5, 5–10 PM
ADMISSION: KRW 25,000
MORE INFO and GETTING THERE: See this link.


---

AROUND THE WEB

A miscellany of high-quality hyperlinks from the week, courtesy of SEOUL editor-in-chief Robert Koehler.

---

EVENTS

Banyan Tree Club & Spa: Night Bazaar

Please come and enjoy the "Night Bazaar" seafood feast every Saturday at Granum Dining Lounge. Meet a variety of fresh seafood and fish that are caught by Banyan Tree associates. The fish will be displayed on ice wooden boxes so you can watch and pick what you like, and will be cooked and directly delivered to your table. Enjoy the exotic taste of "Night Bazaar," a seafood feast especially for the summer season.

VENUE: Granum Dining Lounge, Banyan Tree Club & Spa
PERIOD: July (every Saturday)
MORE INFO: T. 02-2250-8143, 8080
COST: KRW 99,000–119,000
GETTING THERE: See this link.

The Orchestra de la Suisse Romande with Clara Jumi Kang

The Orchestre de la Suisse Romande (OSR) literally translates to the "Orchestra of French-Speaking Switzerland," and was founded in 1918 by Swiss conductor Ernest Alexandre Ansermet, a mathematics professor who later turned to conducting. Currently consisting of 112 world-class musicians, it has been led since September 2012 by Artistic and Musical Director Neeme Jarvi, a conductor from Estonia, with Kazuki Yamada as the orchestra's principal guest conductor.
Although born in Germany, Clara Jumi Kang is one of Korea's most revered violinists, another one of those extremely gifted prodigies who start their musical career at a young age—three years old, to be exact. She was accepted into the Juilliard School with a full scholarship at age seven. She went onto to perform with orchestras such as the Leipzig Gewandthaus, Hamburg Symphony, Kiel Philharmonie, Nice Philharmonie, Atlanta Symphony, Seoul Philharmonic, KBS Orchestra, Korean Chamber Ensemble and more. However, an unfortunate finger accident at age eleven halted her performance career for over four years, a hiatus she used to acquire her Bachelor's and Master degree at the Korean National University of Arts. After returning to the stage, she continued to dazzle audiences and critics, winning several fans and awards along the way. Be sure to pay special attention to her performance of Tchaikovsky's Violin Concerto.

VENUE: Seoul Arts Center, Concert Hall
DATE: Jul. 15, 20:00
MORE INFO: T. 02-580-1300, www.sac.or.kr
ADMISSION: KRW 50,000–240,000
GETTING THERE: Nambu Bus Terminal Station 남부터미널역 (Line 3), Exit 5. Transfer to shuttle bus or green bus No. 4429.

42nd Street

Based on the classic 1933 movie musical of the same name, 42nd Street tells the story of Peggy Sawyer, a small-town girl with starry eyes and big dreams who comes to Broadway to fulfill her lifelong ambition to become a star. Things are hard at first, for Peggy loses her first chance to audition because she can't work up the nerve to walk onstage until the audition is over. In a fortunate turn of events, however, Peggy manages to catch the attention of the director, who casts Peggy when he turns up one chorus girl short. 42nd Street opened at the Winter Garden Theatre on August 25, 1980, and has since become one of the world's most popular musicals, especially in Korea, where show after show never fails to turn out packed houses of eager audiences. It has also been nominated for several Tony Awards, including Best Revival in 2001. As of this year, 42nd Street is the fourteenth longest-running show in Broadway history.

VENUE: Seoul Arts Center, CJ Towol Theater
PERIOD: Jul. 8–Aug. 31
MORE INFO: T. 02-580-1300, www.sac.or.kr
ADMISSION: KRW 60,000–120,000
GETTING THERE: Nambu Bus Terminal Station 남부터미널역 (Line 3), Exit 5. Transfer to shuttle bus or green bus No. 4429.

RASKB Excursion: Mongolian Adventure

Horses, archers, wrestlers, steppes, deserts, ancient ruins, monasteries and more await you on this exciting excursion. RAS is offering this overseas excursion after a hiatus of several years. It is timed to coincide with Mongolia's National Day and the opening of the main Naadam festival. This is a unique opportunity to discover a beautiful country whose history has been closely linked with that of Korea for centuries past.

VENUE: Ulaanbaatar, Mongolia
PERIOD: June 7–13
MORE INFO and GETTING THERE: See this link.
COST: KRW 2,430,000 for RASKB members; KRW 2,650,000 for non-members

SIWA Event: Dongdaemun Fabric Market

Dongdaemun's fabric market is a five story building organized into four quadrants. The tour guide will help you navigate through the labyrinth of fabrics, notions, craft materials, buttons, upholstery, sewing services and more.
Dongdaemun Market opened in July 1905 in Yeji-dong, the literal meaning being "a neighborhood for learning politeness," so the market was originally called Baeugaejang meaning "market for learning." The Dongdaemun area has been enlarged over the years, and in 1998–1999, large shopping malls were built in the district and the market was renovated with a modern atmosphere among the traditional market. Thus this area became the largest of its kind in Asia. In 1985, a new wing was added to the fabric market section of the Dongdaemun Shopping Town. This area now encompasses five buildings divided into A, B, C, D and the Shopping Town. There are over 5,000 shops located in this district, offering everything and anything related to textile material.
The group will have lunch during the tour in the one of the Dongdaemun buildings.

VENUE: Dongdaemun, Seoul
DATE: July 5, 10AM to 2PM
MORE INFO and GETTING THERE: See this link.
COST: SIWA members: KRW 5,000; non-SIWA members: KRW 15,000. Lunch paid individually.


---

EVERYDAY KOREANS

Sunrise at Yangsu-ri, Yangpyeong, Gyeonggi-do. Photographed by Robert Koehler.

NOTIFICATIONS

Translators Needed (not only English) – Seoul Selection is looking for part-time translators to translate material from Korean into several languages, including French, German, Dutch, Hindi and Japanese. If you're interested, please send a resume and cover letter to atoz@seoulselection.com.

Seoul Selection Offline Bookshop Sale – One of the greatest repositories of Korea-related English-language books anywhere, Seoul Selection is offering a 10% sale on any and all books published by Seoul Selection purchased from our OFFLINE bookshop next to Gyeongbokgung Palace.

Looking for Translators – Seoul Selection is looking for a few good translators (Korean to English) for general translation work. Those interested should send a resume and cover letter to Kyehyun at trans@seoulselection.com. Experienced translators only.

Seoul Selection eBooks – You can purchase some Seoul Selection titles in ebook format via Amazon.com (for Kindle) and Apple's iBookstore. Titles include Ask a Korean Dude, Moon Tides, Doing Business in Korea, Once Around the Sun, and seven volumes of our Korean Film Directors series: BONG Joon-ho, IM Kwon-taek, KIM Jee-woon, LEE Chang-dong, LEE Man-hee, PARK Chan-wook, and SHIN Sang-ok.

Send Your Event Info – If you would like to advertise any upcoming events you are organizing, please send us the press release material at book@seoulselection.com by the preceding Friday in order for it to appear in the following Tuesday's issue.

Freelance Contributors Wanted – SEOUL Magazine needs writers who are fluent in both Korean and English. Writers should have a strong interest in Korean culture and be able to interview Koreans. Send your resume and writing samples to book@seoulselection.com.

We Buy & Sell Used Books – Seoul Selection buys and sells used books in English. Unlike our regular selection of publications that specialize in Korea-related topics, our Used Book section carries books on all subjects. It's all part of our effort to make life easier for the English-speaking community.

SEOUL (July 2014)


Buy Books at Seoul Selection's ONLINE Bookshop!




---

---

RECOMMENDED


Bi-lingual Edition Modern Korean Literature Set 5

---

NEW BOOKS


Korean


Korean Abstract Painting: A Formation of Korean Avant-Garde


Contes macabres et autres merveilles de Coree


Robbery Training (ASIA 61)


Culture and Politics: Bourdieu in Korean Cases


---

NEW DVDs


A melodu of stranger


Did You Hear She Sings?


Total Messed Family


The Dinner
Copyright © , All rights reserved.
Our mailing address is:
https://magazine.seoulselection.com/wp-content/uploads/2014/07/스크린샷-2014-07-02-104700.png
779
613
rjkoehler
https://magazine.seoulselection.com/wp-content/uploads/2018/01/Seoul-logo.png
rjkoehler
2014-07-02 01:46:17
2014-07-02 10:50:01
SEOUL Weekly: Craft Beer Fest Korea