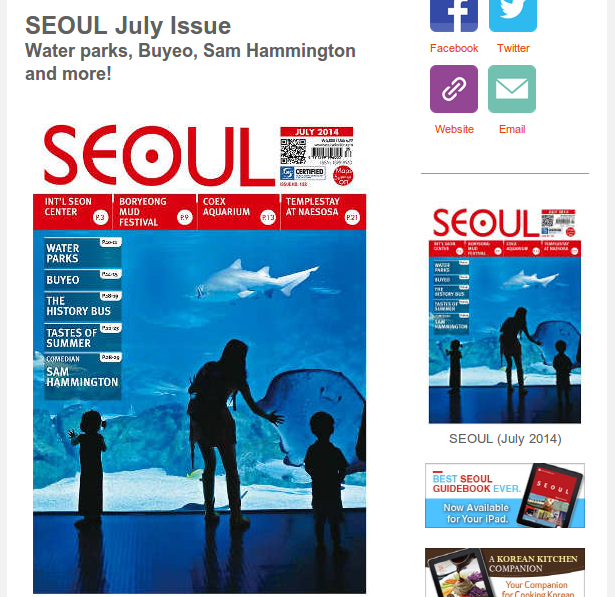 June 25, 2014 / Issue No. 638

SEOUL July Issue
Water parks, Buyeo, Sam Hammington and more!

Hot and humid out there? Well, turn on the air conditioner and get comfortable with a copy of the July issue of SEOUL, Seoul Selection's monthly travel and culture of magazine!

In this issue of SEOUL, we get cool at the best water parks in the Seoul area, explore the historic town of Buyeo, talk with comedian Sam Hammington, try some this summer's hottest dishes and much, much more.

If that's not enough, there's always our Goings On Around Town, our listings of the month's concerts, festivals, exhibits and other happenings. So go out and get a copy while it's still got that new magazine smell.


---

AROUND THE WEB

A miscellany of high-quality hyperlinks from the week, courtesy of SEOUL editor-in-chief Robert Koehler.

---

EVENTS

Craft Beer Fest Korea

This coming July 5, in line with the new reform on liquor tax laws, Media Paran is hosting a Craft Beer Fest Korea. This, with the new alcohol laws, where house beers are now allowed to be distributed externally, and the tax standards for medium-sized businesses have been lowered by 30%, both helped further fuel the craft beer movement. With local brand beers that focus more on simplicity in taste rather than depth, and as customers began to seek out more varied flavors and tones, both small and big craft beer businesses have taken off at an exponential rate. The Korean craft beer market is soon expected to experience a pseudo-Renaissance period of immense growth and popularity.

Craft Beer Fest Korea will be held at Duke's, located near the War Memorial Museum in Yongsan-gu, the center location of the craft beer movement. The fest will feature 24 locally crafted beers, with pizza and snacks to munch on.

From stencil tattoo of the event logo to live bands, this will be an exciting outdoor event.

VENUE: Duke's (Interior and Outdoor Deck) near the War Memorial of Korea
DATE: July 5, 5–10 PM
ADMISSION: KRW 25,000
MORE INFO and GETTING THERE: See this link.

A Tale of Two Cities, the Musical (Broadway Version)

Based on Charles Dickens' novel of the same title, the Broadway musical depicts a desperate love triangle against the backdrop of tumultuous French Revolution. With beautiful sets and captivating musical numbers, the musical has been acclaimed as a return of the classic Broadway musical for its perfect musical adaptation of the masterpiece. The upcoming run features veteran actor Lee Geon-myung and rising star Han Ji-sang.

VENUE: Main Hall Hae, The National Theater of Korea
PERIOD: Thru Aug. 3
MORE INFO: T. 02-2280-4115, www.ntok.go.kr
ADMISSION: KRW 20,000–130,000
GETTING THERE: Dongguk Univ. Station 동대입구 (Line 3), Exit 2

A Moonlit Night on the Baengma River

To mark the 40th anniversary of the passing of renowned playwright "Dong Rang" Yoo Chi-jin, Seoul Institute of the Arts is hosting a performance by the Mokhwa Repertory Company of the award-winning drama "A Moonlit Night on the Baengma River." The performance also marks the 30th anniversary of the founding of the Mokhwa Repertory Company, one of Korea's most highly regarded theater troupes, and features veterans of TV, film and stage such as Sohn Byung-ho, Seong Ji-ru, Park Hee-soon and Lee Wong-seung.

VENUE: Namsam Art Center Drama Center
PERIOD: Thru July 6
MORE INFO: T. 02-778-0261
ADMISSION: KRW 30,000
GETTING THERE: A short walk from Exit 1 of Myeong-dong Station, Line 4. See this link for a map.

PSCORE Rock Out Concert Vol. 8.

PSCORE, an NGO focusing on the Human Rights issue in North Korea, is planning to hold a fundraising concert at Club Freebird 2-Big Bird in Hongdae. The proceeds from the charity concert will go to the funding of educational activities and social programs for North Korean defectors in South Korea. They will also go to activities that raise awareness of the ongoing human rights violations taking place in North Korea.

VENUE: Club Freebird 2-Big Bird
PERIOD: July 19, 8PM
MORE INFO: See this link.
ADMISSION: KRW 15,000
GETTING THERE: See this link.

RASKB Excursion: A walk through Yongsan: the complications of urban renewal

This excursion will be like no other, as much of what participants will visit is already demolished and gone. The excursion will meet at the top of the front steps of Yongsan Station (see picture above), where one can get an appreciation of the scale of urban renewal that has hit the area. From there, participants will walk through a tent village of street food businesses built on empty land in between Yongsan and Sinyongsan stations.

Next comes a visit to the location of the so-called "Yongsan Disaster," a highly politicised urban renewal zone that claimed the lives of five evictee protesters and one police officer on January 19, 2009. Since demolition, the area has become an empty field full of garbage and reeds, a black hole in the center of a high-price real estate area.

VENUE: Yongsan-gu, Seoul
DATE: June 28, 3:30PM to 6:00PM
COST: KRW 20,000 for members, KRW 25,000 for non-members
MORE INFO and GETTING THERE: See this link.

SIWA Event: Itaewon's Back Alleys: Exploring the Heart of the Expatriate Community

You many know the main streets of Itaewon, but have you seen the huge thread spool in the street, or a car or an army vehicle on a rooftop? How about a large fork on a street corner? Participants will see these sites along with a military coin shop, interesting pottery, hidden stairways and unexpected views. Participants will also stroll down Antique Street and visit the Islamic Seoul Central Mosque.

VENUE: Itaewon, Seoul
DATE: June 30, 9:30AM to 11:45AM
MORE INFO: See this link.
ADMISSION: SIWA members: KRW 5,000. Non-members: KRW 15,000.
GETTING THERE: See link above.


---

EVERYDAY KOREANS

A rainy lunch hour in Samcheong-dong. Photo by Robert Koehler.

NOTIFICATIONS

Translators Needed (not only English) – Seoul Selection is looking for part-time translators to translate material from Korean into several languages, including French, German, Dutch, Hindi and Japanese. If you're interested, please send a resume and cover letter to atoz@seoulselection.com.

Seoul Selection Offline Bookshop Sale – One of the greatest repositories of Korea-related English-language books anywhere, Seoul Selection is offering a 10% sale on any and all books published by Seoul Selection purchased from our OFFLINE bookshop next to Gyeongbokgung Palace.

Looking for Translators – Seoul Selection is looking for a few good translators (Korean to English) for general translation work. Those interested should send a resume and cover letter to Kyehyun at trans@seoulselection.com. Experienced translators only.

Seoul Selection eBooks – You can purchase some Seoul Selection titles in ebook format via Amazon.com (for Kindle) and Apple's iBookstore. Titles include Ask a Korean Dude, Moon Tides, Doing Business in Korea, Once Around the Sun, and seven volumes of our Korean Film Directors series: BONG Joon-ho, IM Kwon-taek, KIM Jee-woon, LEE Chang-dong, LEE Man-hee, PARK Chan-wook, and SHIN Sang-ok.

Send Your Event Info – If you would like to advertise any upcoming events you are organizing, please send us the press release material at book@seoulselection.com by the preceding Friday in order for it to appear in the following Tuesday's issue.

Freelance Contributors Wanted – SEOUL Magazine needs writers who are fluent in both Korean and English. Writers should have a strong interest in Korean culture and be able to interview Koreans. Send your resume and writing samples to book@seoulselection.com.

We Buy & Sell Used Books – Seoul Selection buys and sells used books in English. Unlike our regular selection of publications that specialize in Korea-related topics, our Used Book section carries books on all subjects. It's all part of our effort to make life easier for the English-speaking community.

SEOUL (July 2014)


Buy Books at Seoul Selection's ONLINE Bookshop!




---

---

---

NEW BOOKS


Bridging the Technology Gap: Historical Perspectives on Modern Asia


Global Challenges in Asia: New Development Models and Regional Community Building


Culture and Politics: Bourdieu in Korean Cases


The Shadow of Arms

---

NEW DVDs


The Suspect


Bel Ami


Steal My Heart


Marriage Blue


The Plan Man
Copyright © , All rights reserved.
Our mailing address is:
https://magazine.seoulselection.com/wp-content/uploads/2014/06/스크린샷-2014-06-26-091034.png
597
615
rjkoehler
https://magazine.seoulselection.com/wp-content/uploads/2018/01/Seoul-logo.png
rjkoehler
2014-06-26 00:23:28
2014-06-26 09:25:37
SEOUL Weekly: SEOUL July Issue