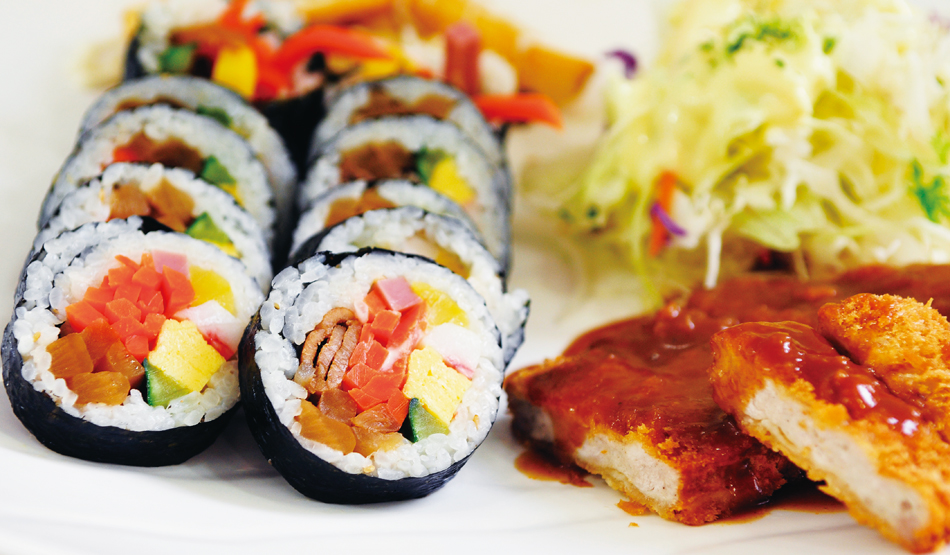 [box_light] The Premium Gimbap Movement
After trying one, one would proclaim, 'What took so long?' [/box_light]
Written by Joe McPherson
 Seoul has cycled through its fair share of trends, yet most of them have focused on foreign foods—the Burger Renaissance, gourmet pizzas, Ko-Mexican, craft beer. Korean staples have been the nerdy girl in the '80s teen comedy: always waiting for her moment in the spotlight. She's pretty in her own way, but goes unnoticed until she transforms herself into the hot, fresh commodity with prom-queen potential. This year, the transformation has taken the form of premium gimbap.
Think about it. Premium gimbap is a no-brainer: It's accessible, almost everyone eats it, it can be filled with anything you can think of and with rolls ranging from KRW 3,000 to KRW 8,000, it's also cheap enough to be affordable in spite of gourmet ingredients inside.
There have been hints of this trend taking hold—foreshadowing, if you will—as some gimbap shops would feature a single special roll, like one stuffed with stir-fried anchovies or chopped galbi. But it wasn't until this spring that the movement hit full craze status. We have three great places are listed here, but it's already getting to the point where a premium gimbap joint is opening in each major neighborhood, even in the suburbs. What's also interesting is that the trend hasn't come from the major gimbap franchises; many of these places are single mom-and-pop shops or brand new enterprises. 
[divider]
The Box 더박스
Right on the edge of Insa-dong in the building next to the police station is a restaurant aptly named The Box. This tiny Korean deli specializes in organic gimbap with premium ingredients. The Gyedong gimbap eats like breakfast, with fresh free-range eggs and super-aged kimchi. Other rolls include hanu bulgogi, spicy pork (maeun jeyuk) and kohlrabi salad. Any of these would pair nicely with a refreshing bottle of housemade Mungyeong Omija Berry Iced Tea, prepared with a touch of vinegar. It revives the soul after a day of trekking the Insa-dong alleyways.
 Outside Anguk Station, Exit 6
 461 Unhyeongung SK Hub, 101-dong 101-1-ho, Samildaero, Jongno-gu
 FYI> T. 02-733-2558, www.xn–9m1b19n6sf.com
 GO> Anguk Station 안국역 (Line 3), between Exits 5 & 6
[divider]
Lee's Gimbap 리김밥
Opening in 2012, one could say this was the grandaddy of gourmet gimbap. A non-descript shop outside Apgujeong Station (watch for its simple black-and-white sign between Exits 2 and 3), Lee's has the aesthetic of a genius at work. The menu board looks like the blackboard of a mad scientist, with items circled and notes scribbled in marker and some offerings covered with Post-It notes with new items scribbled on top. If anything, Lee's openness to flexibility is an experiment in progress. They already make some fat rolls, but what makes them special is that they offer combinations like bulgogi and mushroom. What makes them extra special is that they also sell cheese gimbap with gouda and edam. You can even ask for one with double-cheese.
FYI>  T. 02-548-5552
 GO> Apgujeong Station 압구정역 (Line 3), Exit 2. Take a left at the first alley and look to your right.
[divider]
Bapuri Sutbul Gimbap 바푸리 숯불 김밥
This operation is the little chain that could. "Sutbul" means "charcoal-grilled," and while they don't actually grill the gimbap over charcoal, they do stuff it with charcoal-grilled pork as their signature roll. Other rolls include donkkaseu (pork cutlet), double cheese, bul jeyuk (spicy grilled pork) and the must-try saeng wasabi chamchi. For the inexperienced, that last item is tuna salad mixed with fresh wasabi, which will spoil your regular tuna gimbap experience for the rest of your life.
FYI> T. 02-3144-4975, www.bapuri.co.kr
GO> Hongik Univ Station 홍대입구역 (Line 2, Gyeongui, & AREX), Exit 9. Take a right towards Hongdae and take another right. The joint is next to Hongik Children's Park.
https://magazine.seoulselection.com/wp-content/uploads/2014/05/RYU5741.jpg
555
950
cyn
https://magazine.seoulselection.com/wp-content/uploads/2018/01/Seoul-logo.png
cyn
2014-06-02 18:04:12
2019-11-04 15:18:57
The Premium Gimbap Movement