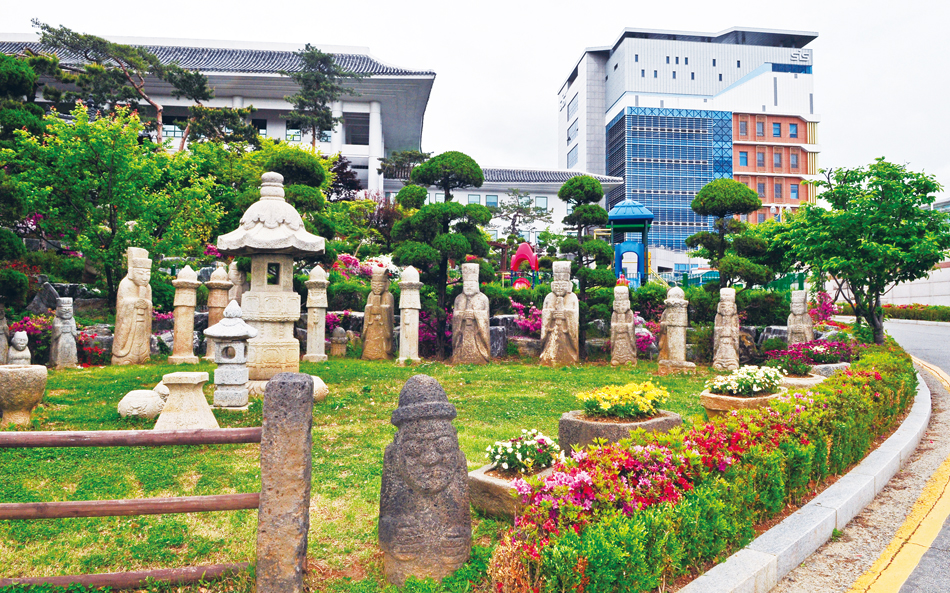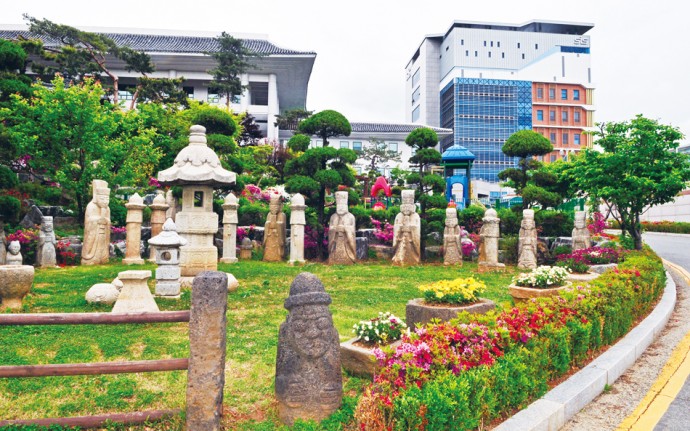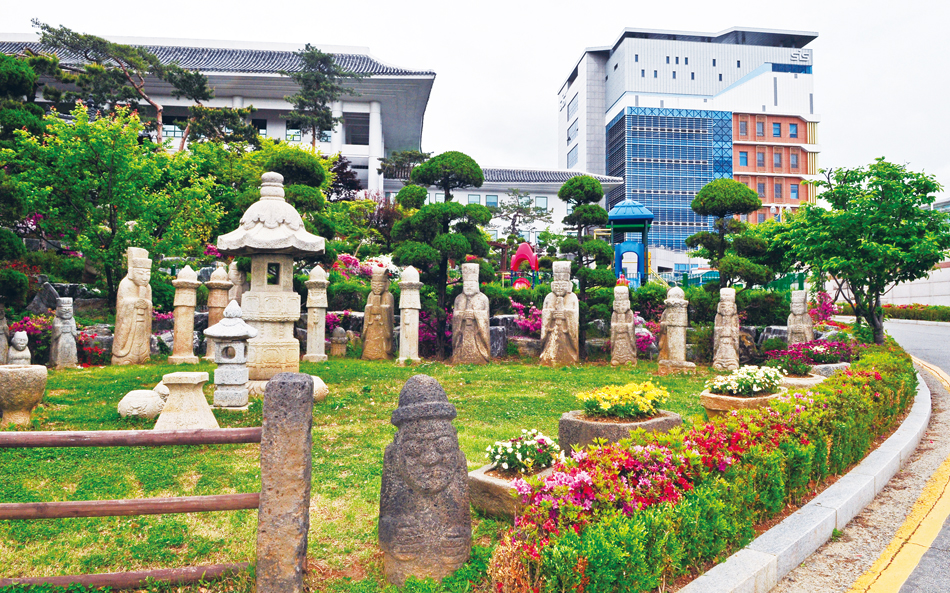 A School for Life and for the World
The schoolyard of Seoul International School (SIS) is filled with students dressed in orange t-shirts with tigers on them. They talk excitedly about their day as they walk in small groups, passing by the school buildings with traditional Korean roofs, pagodas and stone statues from Jeju Island.
Outside the school's gates, there is a peaceful quiet to this corner of Seoul. The city's buzzing business district Gangnam is less than 20 minutes away by subway, but from the schoolyard, the only thing that can be seen is houses belong to the surrounding villa neighborhood and, behind them, the mountains.
Service for Humanity
"SIS has a culture of achievement," says Admissions Director Irene De Shazo. The school delivers a US curriculum for primary and secondary international students, and 100 percent of the school's graduates move on to prestigious universities in the United States and Northeast Asia. Today, a total of 2,200 alumni are working as lawyers, doctors and business owners all over the world.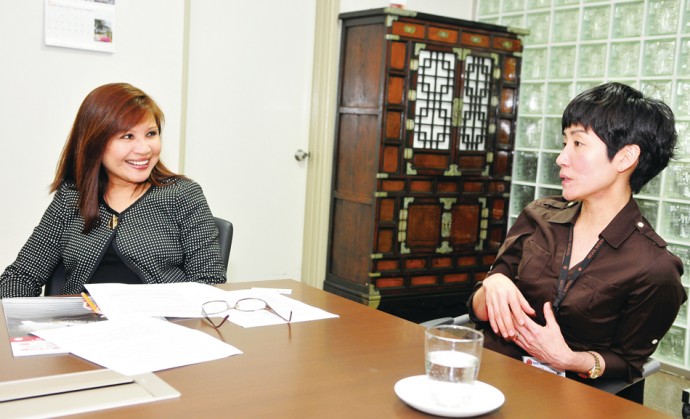 Everywhere in the school, there are small exhibitions of the students' art work, posters for orchestra concerts and flyers raising awareness for various social issues. Committed to art, humanities and the sciences, SIS holds 19 AP classes to maximize each student's potential.
But a student's success here is not only based on academic excellence, for at SIS, the greatest emphasis is placed on the importance of being a good person—to be of service for humanity.
"The students are trained to be compassionate, think globally, consider diversity and to have empathy," says De Shazo.
To reflect these aims, the school has established what it calls its 5 TIGER Values, derived from the school symbol: Trustworthy individuals, Independent thinkers, Global citizens, Effective communicators and Reflective learners.
The significance of these core values is integrated into all subjects by the school's team of international teachers, and the institution is also running several volunteer programs.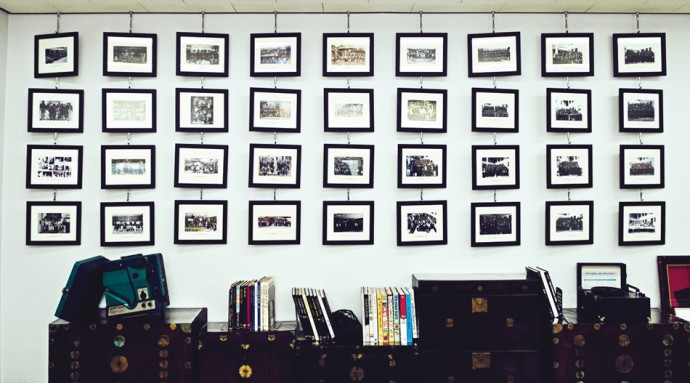 Every year, for example, elementary students host a fundraiser to give books to children in third-world regions. This year's efforts raised KRW 5,000,000, which was matched by the headmaster, Dr. Kim Hyung-shik, bringing the total to KRW 10,000,000.
The school is also a part of Habitat for Humanity, with two annual trips to underdeveloped countries where students can contribute to the area's housing projects.
Alongside their international initiatives, the school is working locally to support a homeless shelter and helping a community close to campus obtain clean water and adequate heating.
A Community for Life
SIS was founded in 1973 by Edward B. Adams and was the first foreign school to be fully recognized by the Ministry of Education.
Throughout the years, the school's mission and values have inspired a strong sense of loyalty from teachers and alumni alike. Many of the Korean staff members have worked there for over 30 years, and former students often visit or give back in some way.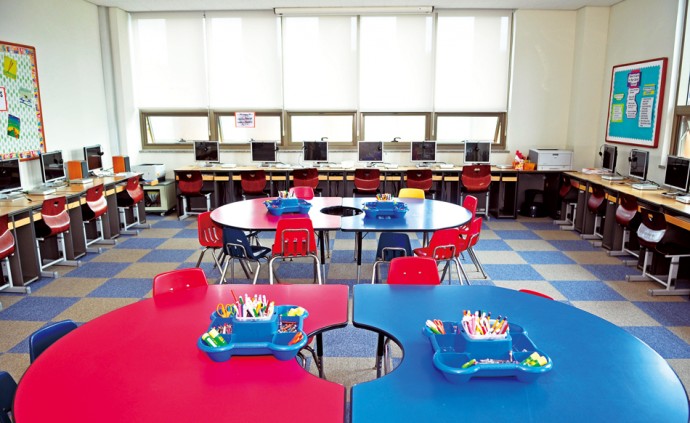 Kwak Yang-min, Deputy Director of the Admissions Office, is one of such students. When she started at SIS in 1979, the school was located on the Konkuk University Campus and had 100 students and one school bus. After studies in the United States, she returned to Korea with her husband. Today, the couple's children attend SIS, now with 1,050 students and 19 school buses.
"Most parents choose SIS because of its stability," she explains.
De Shanzo, originally from the United States, has worked at the school for five years and has no plans to leave. In SIS, she has found so much more than just a school.
"It's like family," she explains. "We are sad when the children get sad, when they are happy we are happy and when they rejoice, we rejoice with them."
Written by Ida Kymmer
https://magazine.seoulselection.com/wp-content/uploads/2014/05/RYU5253.jpg
593
950
cyn
https://magazine.seoulselection.com/wp-content/uploads/2018/01/Seoul-logo.png
cyn
2014-06-02 18:05:23
2015-04-03 15:59:06
Seoul International School