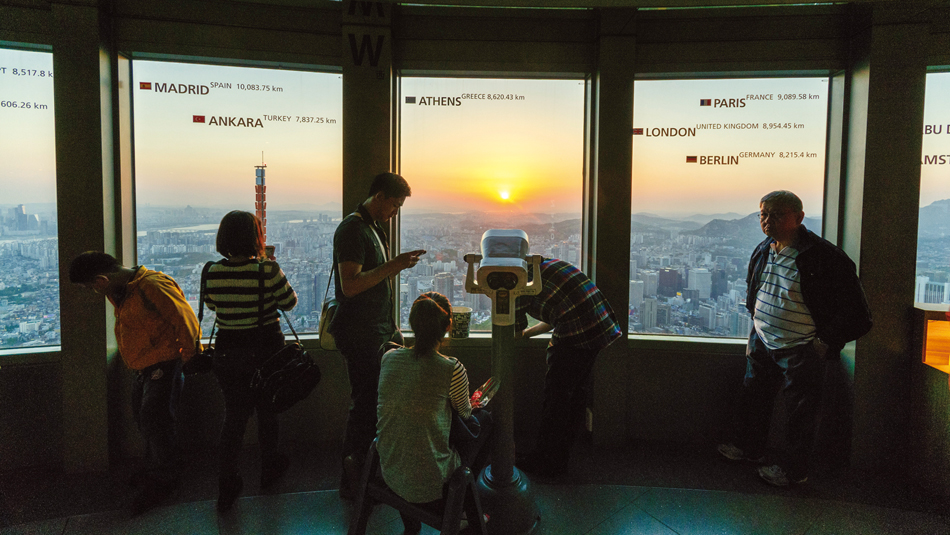 [box_light] Reality Walks
Visit the locales of some of your favorite reality TV programs [/box_light]
Written and photographed by Robert Koehler
While Korean soap operas and K-pop music have gotten the most attention overseas, a number of Korean variety shows such as "Running Man" (2010), "We Got Married" (2008) and "2 Days & 1 Night" (2007) have become major overseas hits, too. In this walk, we'll visit some downtown spots that have appeared in some of your favorite variety shows. In so doing, we'll learn a bit about the history of Seoul as well.
The Heart of Old Seoul
We begin at Gwanghwamun Square, where members of the "Running Man" team held a sports competition. Stretching from Gwanghwamun Gate, the entrance to Gyeongbokgung Palace, to Gwanghwamun Intersection, the landmark plaza that opened in 2009, has been the administrative center of Korea for centuries. Just as it was during the Joseon Dynasty (1392–1910), it continues to be lined by important ministries and government bodies. The square is best known for its beautiful fountain, which lights up at a night, and its grand statues of Joseon war hero Yi Sun-sin and brilliant 15th century monarch King Sejong the Great. Underneath the plaza are exhibit halls dedicated to Yi and King Sejong where you can learn more about these two important historical figures.
 A short walk east from Gwanghwamun Square brings you to the entrance of artsy Insa-dong street, where you'll find the Miss Lee Café (T. 02-739-0939), a delightfully eclectic teashop where singer/actor Jung Yong Hwa went on a date with singer Seohyun on the popular reality show "We Got Married." Insa-dong has plenty of wonderful Korean teahouses, but this one is designed with a modern—if a bit kitsch—sensibility that makes it popular with the younger crowd. In addition to Korean teas and snacks like bingsu (shaved ice), it also serves old-school lunch boxes of the type enjoyed by the students of yesteryear.
 Stroll down Insa-dong, passing by its many galleries, craft shops and eateries, until you reach the end of the street. There you'll see the Nagwon Arcade, Korea's most famous musical instrument market. It's also where the cast of "Running Man" spent an episode, well, running around. There are hundreds of shops selling all sorts of musical instruments, amps and other audio equipment on the second and third floors of the large complex, which sits atop pillars allowing traffic to pass underneath. It's also a good place to get your instrument fixed, if need be. Film buffs will want to check out the fourth floor, where you'll find Seoul Art Cinema as well as a theater specially designed for the elderly.
Early Modernity to the Best Views in Seoul
A 10-minute walk south from Nagwon Arcade will eventually bring you to Seoul Metropolitan Library (T. 2133-0300), a historic building finished in 1926 that for decades served as Seoul's city hall. The "Running Man" crew also spent an episode exploring the structure. After the opening of the massive new City Hall building, located just behind it, the old building was converted into a library, which opened in 2012.
The library is home to over 200,000 books, including a sizable foreign-language section. The old mayor's office has been preserved as a museum, and the top floor has an exhibit hall with artifacts from the building's construction and renovation. The top floor also features a nice, cheap coffee shop and a wonderful roof garden. The grass plaza in front of the library is a popular gathering place that regularly hosts cultural events, performances and rallies.
Across the main street from the library is Deoksugung Palace and the pleasantly tranquil neighborhood of Jeong-dong, Seoul's historic legation quarter, which appeared in the popular travel-related variety show "2 Days & 1 Night." Along its tree-lined streets you'll find old churches, missionary schools and diplomatic compounds, as well as the Seoul Museum of Art. To get a bird's eye view of the neighborhood, visit Jeong-dong Observatory, a café on the 13th floor of Seoul City Hall's Seosomun Annex.
From Jeong-dong, it's a bit of a hike through the heart of the city until you reach the buzzing Myeong-dong district, the commercial heart of Seoul. This is where you'll find some of Korea's best shopping and dining opportunities. It's also home to one of Korea's most beautiful pieces of religious architecture, Myeong-dong Cathedral, which readers may know from an episode of "2 Days & 1 Night." Built by French missionaries, the grand Gothic church was completed in 1898. In addition to being the mother church of Korea's Catholic community, the cathedral was also an important place of sanctuary for activists during Korea's democratization struggle. The cathedral has a crypt chapel holding the relics of nine martyrs, including several French priests martyred in the 19th century.
 From Myeong-dong, hop on a Mt. Namsan–bound bus and take it to N Seoul Tower, perhaps the city's most recognized landmark. It was also a featured date location on "We Got Married." Opened as a transmission tower in 1969, the 236.7-meter-high tower sits at the summit of 243-meter-tall Mt. Namsan, providing jaw-dropping views of the city from its observation deck. The restrooms have awe-inspiring views, too. The tower itself has several restaurants, while the plaza below it has coffee parlors, shops, viewpoints and cultural facilities. There's also a fence covered in locks placed by visiting couples as symbols of their undying love.
[box_info]SUGGESTED ROUTE: Gwanghwamun Square (Running Man)→Miss Lee Café ("We Got Married")→ Nagwon Arcade ("Running Man")→Seoul Metropolitan Library ("Running Man")→ Jeong-dong ("2 Days & 1 Night")→ Myeong-dong Cathedral ("2 Days & 1 Night")→ N Seoul Tower ("We Got Married")[/box_info]
Popular Korean Variety Shows
→Running Man: Hosted by Yoo Jae-suk, this popular variety show on SBS makes guests race through urban environments as they complete tasks in well-known and lesser-known landmarks. Going strong since 2010, the show has proven so popular internationally that several overseas episodes have been filmed.
→We Got Married: Debuting in 2008, this reality show on MBC pairs up popular Korean celebrities to show what their lives would be like if they were married. There's a Chinese version, too, and a couple of global episodes featuring entertainers from other Asian countries have also been shot.
→2 Days & 1 Night: This travel-related reality show first aired on KBS2 in 2007. Participants engage in a series of missions during trips to interesting—and often remote—locations throughout Korea.
https://magazine.seoulselection.com/wp-content/uploads/2014/05/dsc_4842.jpg
535
950
cyn
https://magazine.seoulselection.com/wp-content/uploads/2018/01/Seoul-logo.png
cyn
2014-06-02 18:08:37
2019-11-04 15:18:33
Reality Walks