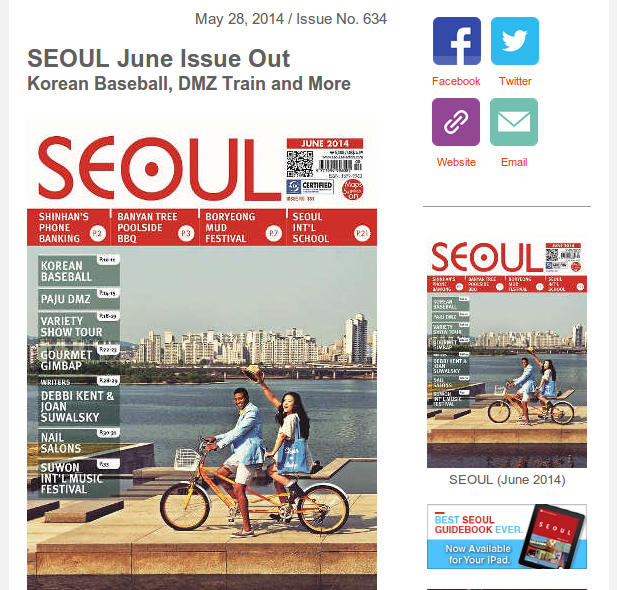 May 28, 2014 / Issue No. 634

SEOUL June Issue Out
Korean Baseball, DMZ Train and More

As the weather heats up, so does SEOUL, Seoul Selection's monthly travel and culture magazine. In the June issue, we discover the world of Korean baseball, take the new DMZ train to the inter-Korean frontier in Paju, talk with writers Debbi Kent and Joan Suwalski of "100 Thimbles in a Box" fame, dine on gourmet gimbap, and much, much more.

If that's not enough, there's always our Goings On Around Town, our listings of the month's concerts, festivals, exhibits and other happenings. So go out and get a copy while it's still got that new magazine smell.


---

EXPAT LIVING

Deanne is on vacation. Her column will restart when she returns next week.


---

AROUND THE WEB

A miscellany of high-quality hyperlinks from the week, courtesy of SEOUL editor-in-chief Robert Koehler.

---

EVENTS

A Plus Dental Clinic: Special Offer for Clear Orthodontic Solution

Have you thought of improving your smile without braces?

Check out the clear aligner, which is an invisible and removable appliance. Now A Plus Dental Clinic is offering it at a better price!

* Clear Aligners : KRW 2,400,000 -> now KRW 2,000,000 (payment plan up to 2 months)

* Orthodontist : Dr. Eung-Soo Kim
– Educated and trained in Columbia University, NY
– American Board Certified Orthodontist (only 25% of orthodontic specialists in US)

Please feel free to contact A Plus Dental Clinic for a complimentary consultation with our orthodontist Dr. Kim.

* Promotion Period : Thru July 5

MORE INFO: T. 02-3442-7616
GETTING THERE: Click here.

Hair & Joy Treatment Service

Hongdae hair salon is offering free hair treatments when you get a coloring, highlights or roll-light procedures.

Hair & Joy's English-speaking stylists have been trained at Toni & Guys and Vidal Sassoon Academy in the UK.

MORE INFO: Call Johnny at 010-5586-0243
GETTING THERE: See here.

Seoul Shakespeare Company: Park Performance of A Midsummer Night's Dream!

Bring the wine, the sun, the trees – due to popular demand, Seoul Shakespeare Company is reprising its production of A Midsummer Night's Dream for one final performance in the beautiful amphitheater of Seonyudo Park.

There will be guides in costume to aid you in your journey onto the island from Exit 2 of Seonyudo Station.

Seonyudo Island is a magical setting fit for the bard, the tree's entwined among old abandoned industrial settings. Participants will move from city amphitheater settings to the trees of the enchanted forest. This is environmental theatre as you have never experienced.

VENUE: Seonyudo Park
DATE: Sunday, June 1, 1PM
ADMISSION: Pay what you can donation
MORE INFO and GETTING THERE: See this link.

Jongmyo

While the word "Jongmyo" may remind locals of the Jongno area in Seoul, its roots in Korean history are much more meaningful. The structure is located within Gyeongbokgung Palace and served as one of the most important palatial structures during the Joseon period. When the capital of the Joseon Dynasty was moved to Hanyang (Seoul), Jongmyo was one of the first areas to be constructed. It served as the ceremonial grounds for royal officials performing their ancestral rites. The elaborate presentation would involve good food and drink for all, and current kings would honor the achievements of their predecessors while praying for the prosperity of their souls in the afterlife. There is usually a small fee charged to spectators, but visitors can now marvel at its historical grandeur for free. Those who stop by should make a point of seeing the various instruments and ceremonial objects used during the royal rituals.

VENUE: National Palace Museum of Korea
PERIOD: Thru Aug. 3
MORE INFO: T. 02-3701-7500, www.gogung.go.kr
ADMISSION: Free
GETTING THERE: Gyeongbokgung Palace Station 경복궁역 (Line 3), Exit 5

Moms and Tots: National Children's Museum

The Seoul International Women's Association is taking a moms and tots trip to the National Children's Museum at the National Museum of Korea this June. There will be chances to make pottery, dress up and more.

VENUE: National Children's Museum, Ichon
DATE: Jun. 3, 10:30–12:00
MORE INFO: See this link.
ADMISSION: Free
GETTING THERE: Ichon Station 이촌역 (Line 4). Walk underground directly to the museum.

East Sea Trip

Get adventurous for the Memorial Day weekend by taking a trip with the Seoul Hiking Club to the East Sea for biking, hiking and scuba diving.

VENUE: East Sea, Gangwon-do
PERIOD: Jun. 5–8
MORE INFO: See this link.
ADMISSION: From KRW 92,000
GETTING THERE: Meeting place: Express Bus Terminal ê³ ì†í"°ë¯¸ë"ì—­ (Line 3,7,9), Exit 6

Banyan Tree Club & Spa Seoul: The Roof is On Fire

Banyan Tree Club & Spa Seoul invites you to the Festa Rooftop to enjoy Draft Beer & Caribbean style BBQ snack menu. Various kinds of grilled snack menus such as Caribbean Avocado Shrimp Salad with Fresh Lemon Vinaigrette Dressing and draft beer such as Hitachino Nest, Corona, Asahi, and Guinness will be prepared on the spot. In addition, you can also enjoy the music such as Reggae, Rumba, and Samba style. With fresh summer breeze from Namsan, come and enjoy an exciting summer night.

VENUE: Banyan Tree Club & Spa Seoul's Festa Rooftop
DATE: Thru June 30
PRICE: Draft beer is KRW 12,000
MORE INFO: T. 02-2250-8170
GETTING THERE: See here.

RASKB Excursion: Daehangno and Hyehwa-dong: An Architectural Walk

During this excursion of Daehangno and Hyehwa-dong, participants will look at a variety of styles of Korean architecture in the 20th century. The tour will begin in around the Marronnier Park, which were Seoul National University and its Japanese colonial forerunner, the Gyeongseong Imperial University were located. Several university buildings built during the colonial period still stand, including the former headquarters building which was designed by Park Kil-yong (1898-1943), a noted Korean architect during the colonial period.

VENUE: Hyehwa-dong, Seoul
DATE: June 8, 1PM to 4:30PM
COST: KRW 20,000 (members), KRW 25,000 (non-members)
MORE INFO: Click here.


---

EVERYDAY KOREANS

Alleyway near Huam-dong Market, with N Seoul tower in the distance. Photo by Robert Koehler.

NOTIFICATIONS

Translators Needed (not only English) – Seoul Selection is looking for part-time translators to translate material from Korean into several languages, including French, German, Dutch, Hindi and Japanese. If you're interested, please send a resume and cover letter to atoz@seoulselection.com.

Seoul Selection Offline Bookshop Sale – One of the greatest repositories of Korea-related English-language books anywhere, Seoul Selection is offering a 10% sale on any and all books published by Seoul Selection purchased from our OFFLINE bookshop next to Gyeongbokgung Palace.

Looking for Translators – Seoul Selection is looking for a few good translators (Korean to English) for general translation work. Those interested should send a resume and cover letter to Kyehyun at trans@seoulselection.com. Experienced translators only.

Seoul Selection eBooks – You can purchase some Seoul Selection titles in ebook format via Amazon.com (for Kindle) and Apple's iBookstore. Titles include Ask a Korean Dude, Moon Tides, Doing Business in Korea, Once Around the Sun, and seven volumes of our Korean Film Directors series: BONG Joon-ho, IM Kwon-taek, KIM Jee-woon, LEE Chang-dong, LEE Man-hee, PARK Chan-wook, and SHIN Sang-ok.

Send Your Event Info – If you would like to advertise any upcoming events you are organizing, please send us the press release material at book@seoulselection.com by the preceding Friday in order for it to appear in the following Tuesday's issue.

Freelance Contributors Wanted – SEOUL Magazine needs writers who are fluent in both Korean and English. Writers should have a strong interest in Korean culture and be able to interview Koreans. Send your resume and writing samples to book@seoulselection.com.

We Buy & Sell Used Books – Seoul Selection buys and sells used books in English. Unlike our regular selection of publications that specialize in Korea-related topics, our Used Book section carries books on all subjects. It's all part of our effort to make life easier for the English-speaking community.

SEOUL (June 2014)


Buy Books at Seoul Selection's ONLINE Bookshop!




---

---

RECOMMENDED


Easy Talk in Korean

---

NEW BOOKS


Essentials of Self-Cultivation: Dharma Instructions by Master Daesan


Talk To Me In Korean Workbook Level 3


Folk Tales form Korea


Sasang Constitutional Typology: A Beginner's Guide to Sasang Constitutional Medicine


North Korean Writers in Exile PEN LITERATURE


---

NEW DVDs


Friend, The Great Legacy


City:hall


INGtoogi: The Battle of Internet Trolls


Lazy Hitchhikers' Tour de Europe


Way Back Home
Copyright © , All rights reserved.
Our mailing address is:
https://magazine.seoulselection.com/wp-content/uploads/2014/05/스크린샷-2014-05-28-131601.png
590
617
rjkoehler
https://magazine.seoulselection.com/wp-content/uploads/2018/01/Seoul-logo.png
rjkoehler
2014-05-28 04:15:16
2014-05-28 13:18:15
SEOUL Weekly: SEOUL June Issue Out