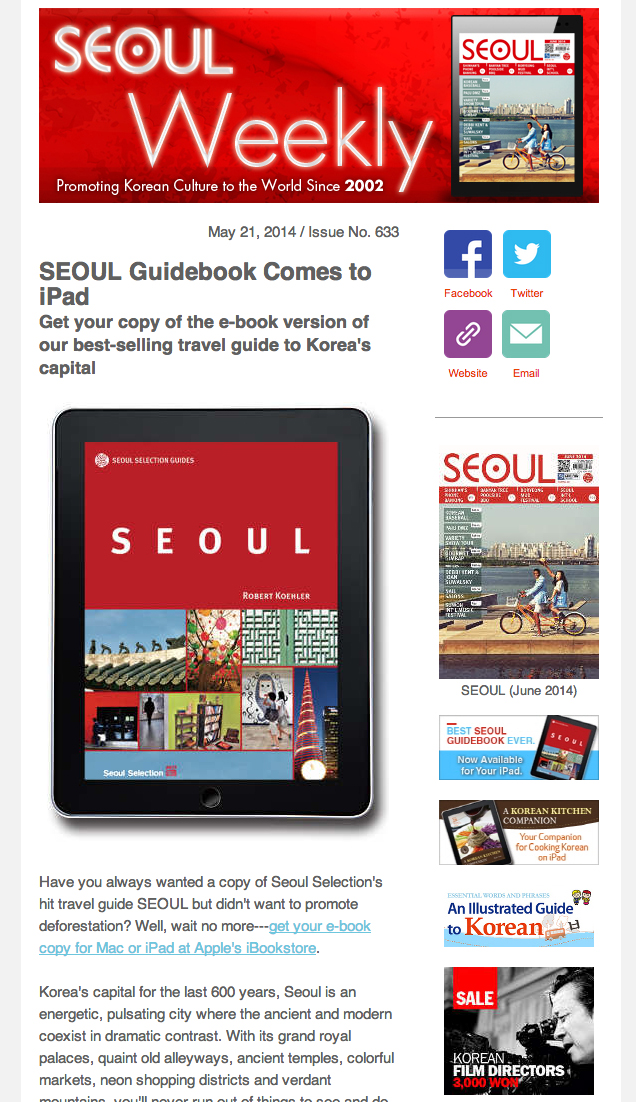 May 21, 2014 / Issue No. 633

SEOUL Guidebook Comes to iPad
Get your copy of the e-book version of our best-selling travel guide to Korea's capital

Have you always wanted a copy of Seoul Selection's hit travel guide SEOUL but didn't want to promote deforestation? Well, wait no more—get your e-book copy for Mac or iPad at Apple's iBookstore.

Korea's capital for the last 600 years, Seoul is an energetic, pulsating city where the ancient and modern coexist in dramatic contrast. With its grand royal palaces, quaint old alleyways, ancient temples, colorful markets, neon shopping districts and verdant mountains, you'll never run out of things to see and do. This guide will get you started.

Comprehensive and detailed NEIGHBORHOOD-BY-NEIGHBORHOOD DESCRIPTIONS of one of Asia's most dynamic cities
BEAUTIFUL PHOTOGRAPHS that bring alive Seoul's scenic charms
HELPFUL TIPS to ensure you make the most of your visit
DETAILED MAPS and TRANSPORTATION INFORMATION
CULTURE AND HISTORY NOTES that provide background information and stories to enrich your traveling experience
Information on DAY TRIPS TO INTERESTING LOCALES outside of Seoul, including the DMZ and Korea's royal tombs
Text provided in FUN-TO-READ AND EASY-TO-USE manner




---

EXPAT LIVING

Deanne is on vacation. Her column will restart when she returns the week after next.


---

AROUND THE WEB

A miscellany of high-quality hyperlinks from the week, courtesy of SEOUL editor-in-chief Robert Koehler.

---

EVENTS

Pianist Mikhail Pletnev Recital in Seoul

After a six-year hiatus spent focusing on conducting, Russian pianist Mikhail Pletnev decided to return to the ivories last year by touring with Gidon Kremer's Kremerata Baltica. He has since been steadily regaining his reputation as one of the world's foremost pianists, and will be performing in Seoul for the first time in nine years. Pletnev was the First Prize winner of the Tchaikovsky International Piano Competition in 1978, a feat he accomplished at only 21 years old. After earning worldwide recognition, he was invited to perform in the 1988 superpower summit in Washington, where he managed to kindle a friendship with Mikhail Gorbachev. Through his ties with Gorbachev, Pletnev worked to increase artistic freedom in Russia, and in 1990 formed the country's first independent orchestra, the Russian National Orchestra, which he conducted personally. The piano master won a Gramophone Award in 1996 and a Grammy in 2005, with BBC Music hailing his recording of Scarlatti's Keyboard Sonatas as "piano playing at its greatest." His upcoming performance in Seoul will feature his interpretations of Bach, Schubert and Scriabian.

VENUE: Seoul Arts Center, Concert Hall
DATE: Jun. 1, 14:00
ADMISSION: KRW 50,000–150,000
MORE INFO: T. 02-541-3183, www.sac.or.kr
GETTING THERE: Nambu Bus Terminal Station 남부터미널역 (Line 3), Exit 5. Transfer to shuttle bus, or green bus No. 4429.

Italian Design Meets Jewelry

In honor of 130 years of diplomatic relations between Italy and Korea, the Korea Foundation Cultural Center presents an exhibition that offers a new way to appreciate Italian design. Although the country's aesthetic is famous throughout the world, most people don't associate it with the country's jewelry, which this exhibition proves is about more than simple necklaces and rings. Spanning from the 1950s to today, visitors will get a feel for how the craft of jewelry has changed throughout the decades, and how concepts like postmodernism and minimalism are applied to what we often don't associate with philosophical ideas—wedding rings, necklaces and all other types of bling we might use to adorn ourselves.

VENUE: KF Cultural Center Gallery
PERIOD: May 22–Jul. 2
ADMISSION: Free
MORE INFO: T. 02-2046-8500, www.kf.or.kr
GETTING THERE: See this link.

Steve Barakatt's 'Rainbow Bridge Story' at The Plaza

The Plaza hosts "Rainbow Bridge Story" by Steve Barakatt, the world's most famous master of New Age music, at its top floor Xystum House. Steve Barakatt will play several of his hits; the concert will be followed by an after-party and photo event. Prior to the concert a chef's special dinner will be prepared for those who purchase VIP tickets. VIP tickets will be offered to two couples through a lucky draw event running through May 23, and room packages for the day of the concert are available, too. For reservation and inquiries, call 02-310-7780.

VENUE: The Plaza's Xystum House
DATE: May 30, 8PM (the VIP dinner is 6:30)
ADMISSION: KRW 150,000 (VIP), KRW 100,000 (R seats)
MORE INFO: T. 02-310-7780
GETTING THERE: See here.

Banyan Tree Club & Spa Seoul: The Roof is On Fire

Banyan Tree Club & Spa Seoul invites you to the Festa Rooftop to enjoy Draft Beer & Caribbean style BBQ snack menu. Various kinds of grilled snack menus such as Caribbean Avocado Shrimp Salad with Fresh Lemon Vinaigrette Dressing and draft beer such as Hitachino Nest, Corona, Asahi, and Guinness will be prepared on the spot. In addition, you can also enjoy the music such as Reggae, Rumba, and Samba style. With fresh summer breeze from Namsan, come and enjoy an exciting summer night.

VENUE: Banyan Tree Club & Spa Seoul's Festa Rooftop
DATE: May 23–June 30
PRICE: Draft beer is KRW 12,000
MORE INFO: T. 02-2250-8170
GETTING THERE: See here.

RASKB Excursion: Suwon Hwaseong Fortress

The walled city of Suwon is the best constructed (late 1700's), most original /well preserved examples of monumental fortifications in Korea. The current city walls were built to protect the new royal country palace, the "Hwaseong Haenggung," which itself is an exquisite example of Korean monumental architecture, constructed on a more human and aesthetic style for its country setting and purpose.

This excursion to Suwon, its country palace and impressive walls, gates and fortifications will be led by Mr. Peter Bartholomew, a 45 year resident in Korea who has made intensive study of the Joseon Dynasty from an architectural and historical perspective.

VENUE: Suwon, Gyeonggi-do
DATE: May 25, 9AM to 6PM
COST: KRW 38,000 (members), KRW 45,000 (non-members)
MORE INFO: Click here.


---

EVERYDAY KOREANS

Gwanghwamun Square at night. Photo by Robert Koehler.

NOTIFICATIONS

Translators Needed (not only English) – Seoul Selection is looking for part-time translators to translate material from Korean into several languages, including French, German, Dutch, Hindi and Japanese. If you're interested, please send a resume and cover letter to atoz@seoulselection.com.

Seoul Selection Offline Bookshop Sale – One of the greatest repositories of Korea-related English-language books anywhere, Seoul Selection is offering a 10% sale on any and all books published by Seoul Selection purchased from our OFFLINE bookshop next to Gyeongbokgung Palace.

Looking for Translators – Seoul Selection is looking for a few good translators (Korean to English) for general translation work. Those interested should send a resume and cover letter to Kyehyun at trans@seoulselection.com. Experienced translators only.

Seoul Selection eBooks – You can purchase some Seoul Selection titles in ebook format via Amazon.com (for Kindle) and Apple's iBookstore. Titles include Ask a Korean Dude, Moon Tides, Doing Business in Korea, Once Around the Sun, and seven volumes of our Korean Film Directors series: BONG Joon-ho, IM Kwon-taek, KIM Jee-woon, LEE Chang-dong, LEE Man-hee, PARK Chan-wook, and SHIN Sang-ok.

Send Your Event Info – If you would like to advertise any upcoming events you are organizing, please send us the press release material at book@seoulselection.com by the preceding Friday in order for it to appear in the following Tuesday's issue.

Freelance Contributors Wanted – SEOUL Magazine needs writers who are fluent in both Korean and English. Writers should have a strong interest in Korean culture and be able to interview Koreans. Send your resume and writing samples to book@seoulselection.com.

We Buy & Sell Used Books – Seoul Selection buys and sells used books in English. Unlike our regular selection of publications that specialize in Korea-related topics, our Used Book section carries books on all subjects. It's all part of our effort to make life easier for the English-speaking community.

SEOUL (June 2014)


Buy Books at Seoul Selection's ONLINE Bookshop!




---

---

RECOMMENDED


Essentials of Self-Cultivation: Dharma Instructions by Master Daesan

---

NEW BOOKS


My Korean Women: From Tradition to Self-reinvention


The Suffering of Two Generations (ASIA 27)


Harvard Studies in Korean Linguistics XV


Hangeul Master


North Korean Writers in Exile PEN LITERATURE


---

NEW DVDs


City:hall


INGtoogi: The Battle of Internet Trolls


Lazy Hitchhikers' Tour de Europe


Way Back Home
Copyright © , All rights reserved.
Our mailing address is:
https://magazine.seoulselection.com/wp-content/uploads/2014/05/Screen-Shot-2014-05-21-at-11.25.58-PM.jpg
1102
636
rjkoehler
https://magazine.seoulselection.com/wp-content/uploads/2018/01/Seoul-logo.png
rjkoehler
2014-05-21 14:30:38
2014-05-21 23:32:32
SEOUL Weekly: SEOUL Guidebook E-Book Released