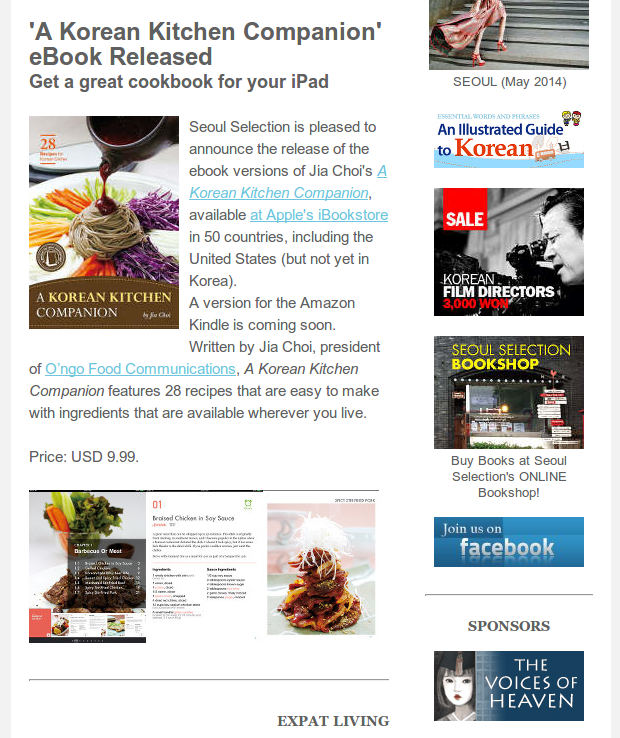 May 14, 2014 / Issue No. 632

'A Korean Kitchen Companion' eBook Released
Get a great cookbook for your iPad

Seoul Selection is pleased to announce the release of the ebook versions of Jia Choi's A Korean Kitchen Companion, available at Apple's iBookstore in 50 countries, including the United States (but not yet in Korea).
A version for the Amazon Kindle is coming soon.
Written by Jia Choi, president of O'ngo Food Communications, A Korean Kitchen Companion features 28 recipes that are easy to make with ingredients that are available wherever you live.

Price: USD 9.99.




---

EXPAT LIVING

Clothing Matters

Written by Deanne Nguyen

Spring cleaning one's closet can be more like spring molting. The result is piles of old skins, forgotten, underworn or unwanted to us, but could in fact be the new duds of another. While most neighborhoods have a donation bin (resembling a green post box), I've seen far too many well-to-doers just poke around for free goodies (guilty). So, how to ensure they enter the right hands?

Enter Beautiful Store (아름다운 가게) and the Salvation Army. Like at home, these charity shops share one noble, non-profit calling; to assist those who can not otherwise. All the proceeds from donated items (generally small and gently used) go directly to those in need.

Not only do they have several locations sprinkled thoughtfully throughout the city, they will even come pick up your items for you, though both have one distinctly different criterion. The Beautiful Store prefers to take clothing donations one person can carry; the Salvation Army prefers them in bulk (at least 4 filled grocery bags).


---

AROUND THE WEB

A miscellany of high-quality hyperlinks from the week, courtesy of SEOUL editor-in-chief Robert Koehler.

---

EVENTS

Seoul Metropolitan Dance Theater: Dancing Scarecrow

Have you ever wondered what a dancing scarecrow looks like? Even if you haven't, aren't you curious what that would look like? Why would a scarecrow even dance anyway? A nonverbal performance, "Dancing Scarecrow" takes audiences through the journey of a scarecrow who's trying to protect his home against gentrification projects. Land developers are eager to bulldoze his home village for a reconstruction project with the potential to make millions, but the scarecrow isn't going to give up without a fight—or a dance. In a time when anything that looks "old" or "outdated" is automatically torn down to make room for high-rise apartments and glass-wrapped office towers, "Dancing Scarecrow" is a thrilling tale that blends comedy, drama and action. In addition to dancing, audiences will also be astounded by the unique lighting and visual effects used to highlight the dancers' movements.

VENUE: M Theater, Sejong Center for the Performing Arts
PERIOD: May 28–June 1
ADMISSION: KRW 20,000–30,000
MORE INFO: T. 02-399-1114, www.sejongpac.or.kr
GETTING THERE: Gwanghwamun Station 광화문역 (Line 5), Exit 1 or 8. Follow the signs to Sejong Center for Performing Arts.

A Plus Dental Clinic: Special Offer for Clear Orthodontic Solution

Have you thought of improving your smile without braces?

Check out the clear aligner, which is an invisible and removable appliance. Now A Plus Dental Clinic is offering it at a better price!

* Clear Aligners : KRW 2,400,000 -> now KRW 2,000,000 (payment plan up to 2 months)

* Orthodontist : Dr. Eung-Soo Kim
– Educated and trained in Columbia University, NY
– American Board Certified Orthodontist (only 25% of orthodontic specialists in US)

Please feel free to contact A Plus Dental Clinic for a complimentary consultation with our orthodontist Dr. Kim.

* Promotion Period : May 1–July 5

MORE INFO: T. 02-3442-7616
GETTING THERE: Click here.

Dongguk University Seon Center: 'Korea's Best Stone Buddhas: Seokguram and Borisa'

In this Dharma Talk, Prof. David Mason will explain the architecture, spiritual significance and artistic motifs of the Seokguram Grotto Shrine and the Borisa Seated Sakyamuni Statue, regarded as the best ancient stone Buddha statues in Korea. Their identity as Hwaeom School artworks will be discussed, and plenty of photos will be shown.

VENUE: Dongguk University International Zen Center
DATE: May 17, 2PM
MORE INFO: T. 2260-3891 / ysoo@dgu.edu
GETTING THERE: Location: 3 minute walk from Exit 6, Dongguk Univ. Station, Subway Line 3

HBC Festival

The biannual local music festival returns for its spring edition this May. Sixteen venues and countless expat bands are participating in the highly popular event.

VENUE: Haebangchon and Gyeongnidan, Yongsan District
DATES: May 16, 17
ADMISSION: Free
MORE INFO: www.facebook.com/hae.bangchon
GETTING THERE: Noksapyeong Station 녹사평역 (Line 6), Exit 2

Shake Shop Vol. 15

Mixing local indie music with sexy shimmies from expat and Korean bellydancers, the 15th edition of the Shake Shop concert series takes place on Saturday, May 17. The event will feature the Seoul bands Dead Buttons, Ludistelo, and Counter Reset all doing live collaborations with bellydancer Eshe and her Navah troupe. Fast-rising duo Dead Buttons just wrapped up their first UK tour and were praised for their infectious, anthemic bluesy rock. Comprised of members from highly-regarded local acts The Ratios, Sugar Donut, and Copy Machine, electro-pop band Ludistelo issued their full-length debut, "Experience," in April. And melodic skate punk stalwarts Counter Reset have been a fixture in Korea's live scene since 2001.

VENUE: Club Freebird, Hongdae
DATE: May 17, 9PM
ADMISSION: KRW 15,000 (with 1 free drink)
MORE INFO: https://www.facebook.com/events/234254930114421/
GETTING THERE: See link above.

SIWA Seoul Fortress Wall Walk

Did you know that the Seoul Fortress Wall is 18.2 km long? We will walk along a section of it during this tour. The Fortress Wall was built for the purpose of city defense over 617 years ago (1396) and was constructed during the fifth year of King Taejo's reign (Joseon Dynasty). It was improved during the reigns of Kings Sejong and Sukjong. You will be amazed to find it still standing strong!

Participants should wear comfortable walking/hiking shoes. Bring water and snacks. The hike will be approximately 90 minutes long, then participants will have lunch at a Korean restaurant.

VENUE: Seoul Fortress Wall (near Hyehwamun Gate)
DATE: May 20, 10AM to 1PM
COST: KRW 5,000 (SIWA members), KRW 15,000 (non-SIWA members)
MORE INFO: See this link.
GETTING THERE: See link above.

RASKB Excursion: Sajik Park and Inwangsan Shamanic Shrines Walking Tour

This is an interesting guided visit to unusual but fascinating sites very close to busy and modern downtown, including the Sajik Joseon-Dynasty Altars to the Earth and Harvest, the tall statues of a great Neo-Confucian philosopher and his mother, the large shrine for King Dan-gun (mythical founder of Korea, grandson of the Lord of Heaven) just up behind the park, great views by the old Seoul City Wall.

VENUE: Seoul
DATE: May 18
COST: KRW 20,000 (members), KRW 25,000 (non-members)
MORE INFO: Click here.


---

EVERYDAY KOREANS

Walking around in the afternoon near Seoul Selection's office in Bukchon Hanok Village, Seoul. Photo by Robert Koehler.

NOTIFICATIONS

Translators Needed (not only English) – Seoul Selection is looking for part-time translators to translate material from Korean into several languages, including French, German, Dutch, Hindi and Japanese. If you're interested, please send a resume and cover letter to atoz@seoulselection.com.

Seoul Selection Offline Bookshop Sale – One of the greatest repositories of Korea-related English-language books anywhere, Seoul Selection is offering a 10% sale on any and all books published by Seoul Selection purchased from our OFFLINE bookshop next to Gyeongbokgung Palace.

Looking for Translators – Seoul Selection is looking for a few good translators (Korean to English) for general translation work. Those interested should send a resume and cover letter to Kyehyun at trans@seoulselection.com. Experienced translators only.

Seoul Selection eBooks – You can purchase some Seoul Selection titles in ebook format via Amazon.com (for Kindle) and Apple's iBookstore. Titles include Ask a Korean Dude, Moon Tides, Doing Business in Korea, Once Around the Sun, and seven volumes of our Korean Film Directors series: BONG Joon-ho, IM Kwon-taek, KIM Jee-woon, LEE Chang-dong, LEE Man-hee, PARK Chan-wook, and SHIN Sang-ok.

Send Your Event Info – If you would like to advertise any upcoming events you are organizing, please send us the press release material at book@seoulselection.com by the preceding Friday in order for it to appear in the following Tuesday's issue.

Freelance Contributors Wanted – SEOUL Magazine needs writers who are fluent in both Korean and English. Writers should have a strong interest in Korean culture and be able to interview Koreans. Send your resume and writing samples to book@seoulselection.com.

We Buy & Sell Used Books – Seoul Selection buys and sells used books in English. Unlike our regular selection of publications that specialize in Korea-related topics, our Used Book section carries books on all subjects. It's all part of our effort to make life easier for the English-speaking community.

SEOUL (May 2014)


Buy Books at Seoul Selection's ONLINE Bookshop!




---

---

RECOMMENDED


People I Left in Shanghai (ASIA 47)

---

NEW BOOKS


Botanical Art of Korean Rare Plants


My Korean Women: From Tradition to Self-reinvention


Trade Winds of Change: Korea in World Trade


Korean History: A Beginner's Guide


Complexity of Korean Unification Process: Systems Approach


---

NEW DVDs


An Escalator in World Order


The Fake


Talking Architect


City:hall


INGtoogi: The Battle of Internet Trolls
Copyright © , All rights reserved.
Our mailing address is:
https://magazine.seoulselection.com/wp-content/uploads/2014/05/스크린샷-2014-05-14-182109.png
738
620
rjkoehler
https://magazine.seoulselection.com/wp-content/uploads/2018/01/Seoul-logo.png
rjkoehler
2014-05-14 09:20:12
2014-05-14 18:22:43
SEOUL Weekly: 'A Korean Kitchen Companion' eBook Released