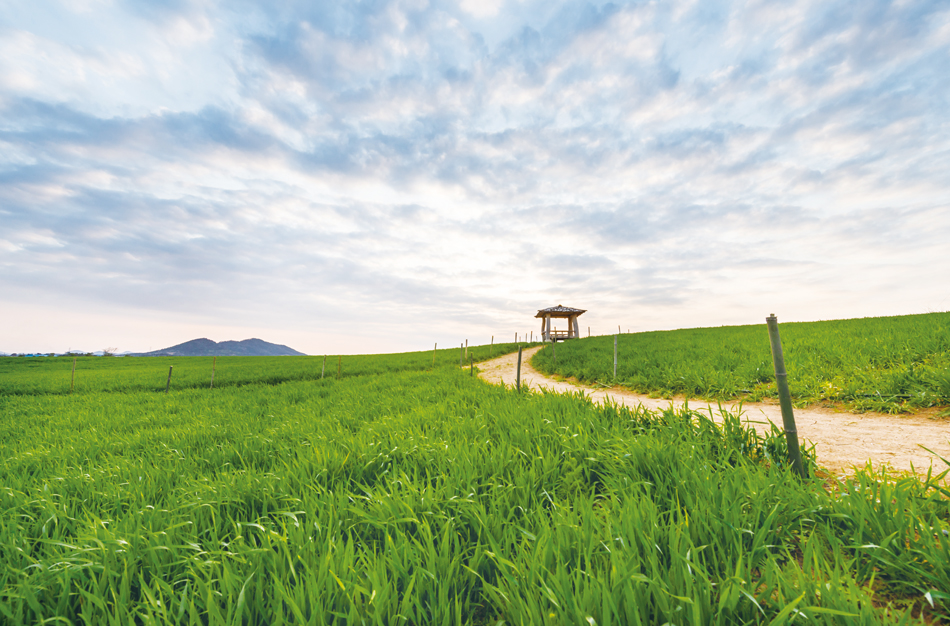 [box_light]
Gochang 고창
Recharge yourself amidst rolling green fields of barley[/box_light]
Written and photographed by John Steele
Surrounded by rolling mountains and hills, the lush, vibrant farmland of Borinara Hagwon Farm in Gochang, Jeollabuk-do, hosts the annual Green Barley Field Festival thru May 11. The event has become well known over the years among photographers and travelers of all ages and attracts hundreds of thousands of visitors annually. One reason for this is the fact that the breathtaking farm setting has been used in several Korean dramas. But many also visit for the farm's natural beauty, with busloads of tourists visiting daily during the weeks leading up to the festival.
 Where natural beauty and charming tradition meet
During the off-season, visitors can peacefully stroll through the seemingly endless fields, take pictures with loved ones, walk through the small but impressive bamboo forest on site and enjoy a fresh, delicious meal at the farm restaurant. A Korean traditional–style guest house is also located on the grounds, an option for those who would like to stay the night and have a unique experience.
Once the festival is under way, a variety of activities are available to visitors. Some of these include making flutes out of barley, a Korean-style Easter egg hunt where participants search for treasures hidden in the barley fields and folk pastimes such as seesawing and rope walking. After frolicking around in the barley field, visitors can relax and satiate their appetites by tasting barley-based rice, rice cakes and other traditional snacks at the venue. Colorful and lively performances such as a traditional farmer's dance can also be enjoyed, as well as academic, informational sessions and an international photo exhibition about agriculture. It is safe to say that with the range of activities offered at the event, there is something for just about everyone to enjoy.
More than just barley
Travelers coming for extended stays can take full advantage of everything that Gochang County has to offer. Not far from the farm is picturesque Seonunsa, the head temple of the Jogye Order of Korean Buddhism. Gochang Castle, a natural stone fortress erected to prevent invasions during the Joseon Dynasty, is located in the downtown area of the county and highlights the stark contrast of old and new. In addition, travelers can visit the Gochang Dolmen site, designated as a World Heritage Site by UNESCO in 2000. The megalithic stones are impressive and invaluable as they signify the graves of the ruling elite. And finally, there is the Pansori Museum where people can learn more about the Korean traditional narrative song.
EAT> Gochang County is full of sprawling farmland, so the region is known for its fresh produce, watermelons and mountain berries in particular, and, of course, its barley. Buckwheat is also a common ingredient in many of the dishes served, such as the farm restaurant's barley sprout bibimbab and buckwheat noodles for reasonable prices. During the festival a variety of barley foods can be made and tasted by all. Make a point of checking out the barley rice cake snacks, an addictive treat that can be found at the convenience store next to the restaurant. For those so inclined, makgeolli and bokbunja are also very famous in this part of the country.
STAY> For travelers who like to stay close to their final destination and experience the Korean traditional lifestyle, there is a guest house, Hwangto Hanok Minbak, located right on the farm. Make reservations early by calling 019-531-0845, as the complex is rather small. For those who prefer to stay a little farther away or prefer a more Western style accommodation, Unsan Tourist Motel (T. 063-561-3377) is also an option.
GO> Buses to Gochang depart daily from Central City Express Bus Terminal every 40 minutes from 7 AM to 7 PM (Travel time: 3 hours and 45 minutes).
https://magazine.seoulselection.com/wp-content/uploads/2014/04/JSP_7500.jpg
626
950
cyn
https://magazine.seoulselection.com/wp-content/uploads/2018/01/Seoul-logo.png
cyn
2014-05-09 15:20:19
2019-11-04 15:20:04
Gochang