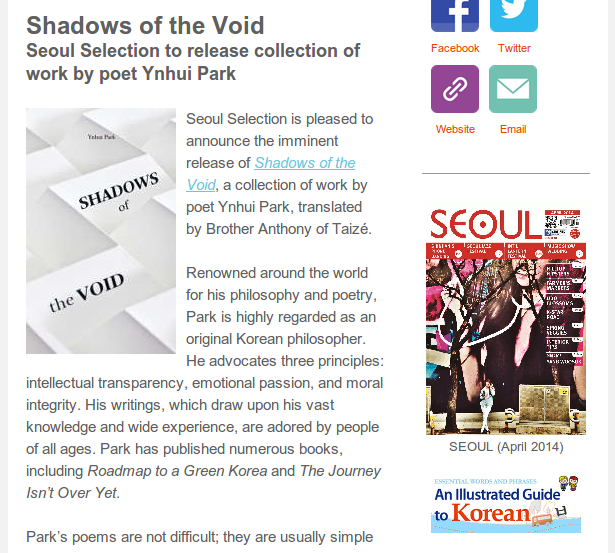 April 16, 2014 / Issue No. 628

Shadows of the Void
Seoul Selection to release collection of work by poet Ynhui Park

Seoul Selection is pleased to announce the imminent release of Shadows of the Void, a collection of work by poet Ynhui Park, translated by Brother Anthony of Taizé.

Renowned around the world for his philosophy and poetry, Park is highly regarded as an original Korean philosopher. He advocates three principles: intellectual transparency, emotional passion, and moral integrity. His writings, which draw upon his vast knowledge and wide experience, are adored by people of all ages. Park has published numerous books, including Roadmap to a Green Korea and The Journey Isn't Over Yet.

Park's poems are not difficult; they are usually simple and suggestive, inviting the reader to share an experience of some moment, some scene, in which the underlying void seems to have yielded to value and meaning. His poems very often re-enact a search for consolation and peace, faced with the meaninglessness and absurdity of human existence.

Many Korean poems are in some sense poems about being Korean, but his poems are fascinating for their open universality. His anguish is that of the modern world's consciousness of the cosmic void; his hope cannot be formulated, and yet it remains a hope for the victory of humanity over blind cruelty. His poetry is neither dark nor despairing; instead it is often humorous, light, and fanciful.

Seoul Selection has been busy recently, producing some great titles like Across the Tumen, a harrowing tale of a young North Korean refugee; A Korean Kitchen Companion, a collection of 28 of your favorite Korean recipes; 100 Thimbles in a Box, an exploration of the world of Korean handicrafts; Korean Antique Furniture & Accessories, a look at one of Korea's brilliant but little-known furniture tradition; and Voices of Heaven, a powerful story of family at the time of the Korean War. So this would be a good time to remind you readers that whenever you come to our bookshop next to Gyeongbokgung Palace, you can purchase books published by Seoul Selection at a 10% discount.


---

EXPAT OBSERVATIONS

Expat Observations-Tailoring Adjustments

Written by Deanne Nguyen

갑작 (sudden) here is more than a word, it's a threat. One of the many banes against adjustment is constant change and in Korea, that can be especially unsettling.

Last week, I was taking my friend to my favorite tailor in 광장시장 (Gwangjang Market), lacquering this man into a legend, when upon arriving at what would've been his shop, we were greeted with construction. Someone had torn off the side of Gwangjang market's old cheek, in partially botched attempt at a facelift. While aware that store turnover and upheavals are commonplace, I was still devastated. Where would my friends and I go if we needed a complicated patchwork or a series of pants refitted?

We all need a comfortable place to put our problems and that begins by building a report with our surroundings: identifying our favorite coffee shops, our favorite brunch spots, our favorite tailor. However, it is unreasonable to expect the environment itself to settle with us as well. Realizing this, my friend and I quickly opted for another tailor, whose work we were pleased with. For KRW 10,000 and a sweater with fresh elbows, the adjustment indeed paid off.


---

AROUND THE WEB

A miscellany of high-quality hyperlinks from the week, courtesy of SEOUL editor-in-chief Robert Koehler.

---

EVENTS

Tonhalle Orchestra Zurich Korean Tour

Join Switzerland's most celebrated orchestra for an evening of Beethoven and Brahms. Since conductor David Zinman took over as chief conductor in 1995, the orchestra has toured 70 cities in 14 countries. Its guest soloists have included Joshua Bell, Rudolf Buchbinder, Alfred Brendel, Julia Fischer, Helene Grimaud, Radu Lupu, Yo-Yo Ma, Victoria Mullova, Maria Joao Pires and Sabine Meyer. Over 40 CD recordings of works by Strauss, Schumann, Beethoven, Mahler, Brahms and Schubert have put the orchestra at the top of the international market. For this performance it will be joined this evening by Latvian violinist Gidon Kremer, who is making his first visit to Korea.

VENUE: Seoul Arts Center
DATE: Apr. 21, 20:00
ADMISSION: KRW 50,000–240,000
MORE INFO: T. 02-580-1300
GETTING THERE: Nambu Bus Terminal Station 남부터미널역 (Line 3), Exit 5. Transfer to shuttle bus, or green bus No. 4429.

Acoustic Korean Music at Namsangol Hanok Village

Namsangol Hanok Village is hosting performances by masters of Korean traditional music on Wednesday, Thursday and Friday of this week and next. This is Korean traditional music the way it was meant to be enjoyed—acoustically, by small groups in beautiful, cozy surroundings. The performance will take place at the Min House, a 100-year-old hanok.
Next month the Min House will host another series of performances by younger Korean traditional musicians.

VENUE: Namsangol Hanok Village
PERIOD: April 16, 17, 18, 23, 24, 25
ADMISSION: KRW 60,000 (60 seats per performance)
MORE INFO: See this link (Korean).
GETTING THERE: Chungmuro Station (Line 3, 4), Exit 3 or 4

Universal Ballet, Nacho Duato – MULTIPLICITY

The Universal Ballet brings you renowned Spanish choreographer Nacho Duato's choreographic tribute to German composer Johan Sebastian Bach. The first act of this two-act ballet is a reflection on Bach's music. It is characterized by a choreographic variety and diversity which matches the linked different musical excerpts by Bach. Continuos changes in costumes and settings highlight visually this musical collage. The second part is more introspective, reflecting on the subject of death, a constant presence in the composer's work. The music is based largely on the Art of Fugue.

VENUE: LG Arts Center
PERIOD: Apr. 25–27
ADMISSION: KRW 24,000–80,000
MORE INFO: T. 02-2005-0114
GETTING THERE: Yeoksam Station 역삼역 (Line 2), Exit 7

Sofia Ballet – Swan Lake

Bulgaria's first private ballet troupe performs Tchaikovsky's classic with a Bulgarian twist. Bringing together top talent from Bulgaria—a ballet superpower—and the rest of Europe, the Sofia Ballet is noted for its fine reinterpretations of classic works that remain true to the essence of the originals thanks to the work of great choreographers like Marius Petipa, Ref Ivanop, Alexander Golski and Bacili Binonen. Its refined artistry delights audiences of all ages and cultures with only the highest quality performances. Bulgaria's ballet culture synthesizesthe Russian classical school and the German free dance expression.

VENUE: Sejong Center for the Performing Arts
PERIOD: Apr. 23–25
ADMISSION: KRW 50,000–160,000
MORE INFO: T. 02-3463-2466
GETTING THERE: Walk 200 meters from Gwanghwamun Station 광화문역 (Line 5), Exit 1 or 8.

Lecture at Dongguk University Seon Center

The Venerable Suvanna of Myanmar will give a lecture entitled "The Dharma Mirror." One who has difficulties in daily life surely wants to be free from them. We're all waiting for help, wanting to ask someone. That is our nature. According to Buddha's teachings, to be free from suffering, or the circle of rebirth, to not be reborn in the hell, you should know how to live. When can one declare "I am a stream-enterer (Sotapanna)" as one wishes? When can one by declare "I am finished with hell" when one wishes? What kinds of animosity will subside when one becomes Sotapanna, the first noble disciple? To become Sotapanna, what qualifications does one need? To know who you are, you need to have the Dhamma Mirror. In this talk you may get the Mirror to check yourself.

VENUE: Dongguk University Seon Center
DATE: May 3, 2PM
MORE INFO: T. 02-2260-3891 ext. 2, ysoo@dgu.edu
GETTING THERE: 3 minute walk from Exit 6, Dongguk Univ. Station, Subway Line 3

YISS Spring Book Fair

Come celebrate the joy of reading at the YISS Spring Book Fair in the school's main lobby from April 23 to 25 from 9 AM to 5 PM.
The Spring Book Fair offers the community a wonderful opportunity to purchase quality reading books at 10-30% off retail and is open to the public. To learn more about the Spring Book Fair and other YISS PTO-organized events, go to www.yisspto.org.

VENUE: Yongsan International School of Seoul
PERIOD: April 23–25
MORE INFO: www.yisseoul.org, T: (02) 797-5104
GETTING THERE: Hangangjin Station, Exit 1

RASKB Excursion: Chollipo Arboretum & Mallipo Beach

Every year the RAS arranges a 1-day excursion to Chollipo Arboretum & Mallipo beach. A long-time Korean resident and a former President of the RASKB, Mr. Ferris Miller (1921 – 2002) began this arboretum project in 1971, and over the years amassed a vast collection of some 6,000 taxa, including over 380 kinds of magnolias. This magnolia collection is the only one of its kind in Korea, and is one of the most extensive in the world. Many of the most spectacular magnolias should be in full bloom for this excursion. Spring blooming magnolias bloom over a long period, from the end of March to the end of May, so late April is the peak period

PLACE: Chungcheongnam-do
DATE: April 19, 8:30am to 8:00pm
COST: KRW 54,000 for members and KRW 64,800 for non-members
MORE INFO and GETTING THERE: See this link.


---

EVERYDAY KOREANS

Myeong-dong streets from above. Photo by Robert Koehler.

NOTIFICATIONS

Translators Needed (not only English) – Seoul Selection is looking for part-time translators to translate material from Korean into several languages, including French, German, Dutch, Hindi and Japanese. If you're interested, please send a resume and cover letter to atoz@seoulselection.com.

Seoul Selection Offline Bookshop Sale – One of the greatest repositories of Korea-related English-language books anywhere, Seoul Selection is offering a 10% sale on any and all books published by Seoul Selection purchased from our OFFLINE bookshop next to Gyeongbokgung Palace.

Looking for Translators – Seoul Selection is looking for a few good translators (Korean to English) for general translation work. Those interested should send a resume and cover letter to Kyehyun at trans@seoulselection.com. Experienced translators only.

Seoul Selection eBooks – You can purchase some Seoul Selection titles in ebook format via Amazon.com (for Kindle) and Apple's iBookstore. Titles include Ask a Korean Dude, Moon Tides, Doing Business in Korea, Once Around the Sun, and seven volumes of our Korean Film Directors series: BONG Joon-ho, IM Kwon-taek, KIM Jee-woon, LEE Chang-dong, LEE Man-hee, PARK Chan-wook, and SHIN Sang-ok.

Send Your Event Info – If you would like to advertise any upcoming events you are organizing, please send us the press release material at book@seoulselection.com by the preceding Friday in order for it to appear in the following Tuesday's issue.

Freelance Contributors Wanted – SEOUL Magazine needs writers who are fluent in both Korean and English. Writers should have a strong interest in Korean culture and be able to interview Koreans. Send your resume and writing samples to book@seoulselection.com.

We Buy & Sell Used Books – Seoul Selection buys and sells used books in English. Unlike our regular selection of publications that specialize in Korea-related topics, our Used Book section carries books on all subjects. It's all part of our effort to make life easier for the English-speaking community.

SEOUL (April 2014)


Buy Books at Seoul Selection's ONLINE Bookshop!




---

---

RECOMMENDED



Korean Royal Palace Gyeongbokgung



Miss Korea


---

NEW BOOKS


Azalea Vol.7


STORYTELLING ASIA: Vladivostok


Guide to Korean Culture – Yonsei


독립운동가 최재형


Sogang Korean Reading 6 (Student's Book 6)


---

NEW DVDs


Hope


The Gwan-sun Yu Story 'A Little Girl's Prayer'


The Heirs


Commitment


The Five
Copyright © , All rights reserved.
Our mailing address is:
https://magazine.seoulselection.com/wp-content/uploads/2014/04/스크린샷-2014-04-17-111919.png
553
615
rjkoehler
https://magazine.seoulselection.com/wp-content/uploads/2018/01/Seoul-logo.png
rjkoehler
2014-04-17 02:31:07
2014-04-17 11:49:44
SEOUL Weekly: Shadows of the Void