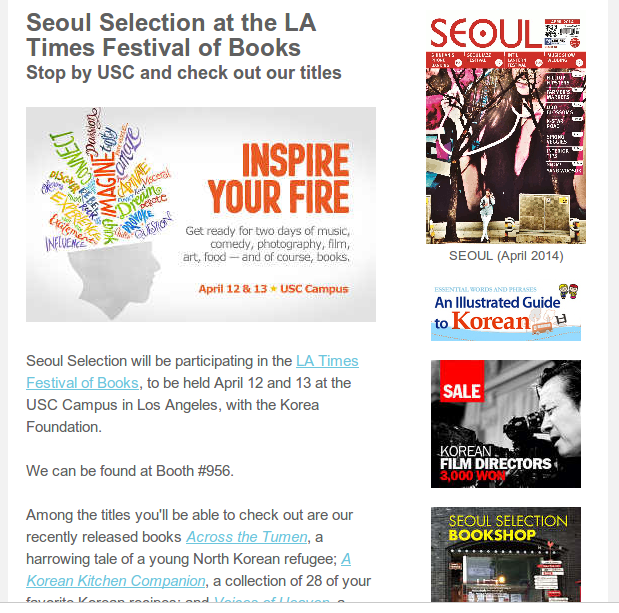 April 9, 2014 / Issue No. 627

Thank You to the Panelists and Applicants

SEOUL Magazine would like to thank everyone who applied to be a panelist in our round-table discussion on cosmetics for our May issue. The discussion was a good one.

Seoul Selection at the LA Times Festival of Books
Stop by USC and check out our titles

Seoul Selection will be participating in the LA Times Festival of Books, to be held April 12 and 13 at the USC Campus in Los Angeles, with the Korea Foundation.

We can be found at Booth #956.

Among the titles you'll be able to check out are our recently released books Across the Tumen, a harrowing tale of a young North Korean refugee; A Korean Kitchen Companion, a collection of 28 of your favorite Korean recipes; and Voices of Heaven, a powerful story of family at the time of the Korean War.

The Korean Foundation, meanwhile, has published several different series of books, including the Korea Essentials series, on a wide range of Korea-related themes.

About the LA Times Festival of Books (from the website)

The Los Angeles Times Festival of Books began in 1996 with a simple goal: to bring together the people who create books with the people who love to read them. The Festival was an immediate success and has evolved to include live bands, poetry readings, chef demos, cultural entertainment and artists creating their work on-site. There's also a photography exhibit, film screenings followed by Q&A's and discussion panels on some of today's hottest topics.


---

EXPAT OBSERVATIONS

Getting your Shoes Repaired

Written by Deanne Nguyen

Korean shoes are a scam: they were purposely made with the intention that they would need repairs. That, or the pedestrian lifestyle really does take its toll on your favorite Ferragamos (I know, I'm fancy). Either way, getting your shoes fixed is not like back at home, with shoes hospitals or mail-ins.

Whether it's on a major street or crowded corner, you will conveniently find yourself a 구두 수선 (gudu suseon, "shoe tailor") shack. These Clint Eastwood types, with their stark veteran attitudes, will exam your shoe and curtly name their price. For a re-soling, it's around KRW 12,000 depending on your size; for heels, upwards of KRW 4,000. They'll even do insole repairs within that range.

Speaking Korean, brace yourselves, is the only way to show these men respect, so internalize this phrase: 밑창/굽을 갈아 주시겠어요? (Mitchang/gup-eul gara jusigesseoyo? Would you mind changing the sole/heel for me?). Of course, you could go with the standard 주세요, but I'm not old enough to take my chances.

*The results vary depending on the state of the shoe. Mild repairs on the sole require a simple cover or change; older heels will be mercilessly removed and replaced.


---

AROUND THE WEB

A miscellany of high-quality hyperlinks from the week, courtesy of SEOUL editor-in-chief Robert Koehler.

---

EVENTS

Music Show Wedding

Music Show Wedding is a unique non-verbal show combining dance, music, and theater. The show is a comical theatrical portrait of a typical wedding situation where the bride's father does not like his future son-in-law and the groom makes hilarious efforts to impress his father-in-law. Its actors and actresses sing, dance, act and play over 20 musical instruments on the backdrop of a dazzling stage, complete with 30,000 pieces of LED lights and other high-tech stage props.

VENUE: Music Show Wedding Theater
PERIOD: Mon–Fri 20:00, Sat 17:00, 20:00, Sun 17:00
ADMISSION: KRW 40,000–60,000
MORE INFO: T. 02-739-8288 www.musicshowwedding.co.kr
GETTING THERE: See this link.

Le Roi Soleil Musical

The life and loves of the young Louis XIV, the "Sun King," come alive in this Korean performance of the hottest French musical since Notre-Dame de Paris. Blending Baroque costumes of the period, a rock soundtrack, contemporary dance and a breathtaking modern interpretation of the Palace of Versailles, the musical features a talented cast that includes Shin Sung-rok of My Love From the Star. Louis XIV of France is perhaps best known as the very definition of an absolute monarch—in describing his role in the government, he said "L'etat c'est moi" ("I am the state"). But he wasn't always so—in his youth, the king was virtually powerless as the real authority rested with his mother and the powerful royal minister Cardinal Mazarin. Over time, however, he would will himself to power, including the power to determine who he might love.

VENUE: Samsung Electronics Hall, BLUE SQUARE
PERIOD: Apr. 10–Jun. 01
ADMISSION: KRW 60,000-130,000
MORE INFO: T. 01-1544-1591
GETTING THERE: Hangangjin Station 한강진역 (Exit 6), Exit 2

The Pillowman

Seoul Player's spring main stage production, The Pillowman by Martin McDonagh and directed by Lindsey Higgins, opens this weekend at Camarata Studio. There are only five showings, so get your tickets now as they are going fast.

VENUE: Camarata Music Company "Studio"
PERIOD: April 12, 13, 19, 20, 26
ADMISSION: KRW 15,000
MORE INFO: ticketing@seoulplayers.com
GETTING THERE: See here.

Cycling Along the Hangang River

Bicycle rentals are available in many places around Seoul so people can enjoy a day of exercise by the Han River without having to own or transport a personal bicycle. SIWA has discovered a bicycle rental station where there is actually no charge for the rental. However, you must bring your passport or Alien Registration Card. If you have your own bicycle, you are welcome to bring it. Please note that bicycles are not allowed in subway stations or subway cars during the week.

After borrowing bicycles and getting the seats adjusted, the group will begin cycling along a bend in the river and continue south for an hour along a tributary. The nature will be quiet and lovely. Around 11:30 participants will stop for a picnic. Please bring your own food and beverages.

Cycling is a great way to escape the busy city life and to see many people enjoying the outdoors.

VENUE: Hangang River, Seoul
DATE: April 14, 9:30–15:00
ADMISSION: KRW: Free for SIWA members; 10,000 for nonmembers
MORE INFO: See this link.
GETTING THERE: Meeting place: Ichon Station 이촌역 (Line 4), Exit 4

International Piano Festival 2014 Seoul

Dulwich College Seoul will be hosting the first Dulwich International Piano Festival from April 9 to 13. The festival will take place in the College throughout the week and end with a Gala Concert in the College Gym on April 12. The week will involve a series of lunchtime recitals at the Steinway Hall in the COSMOS centre which will promote the most gifted pianists in the Dulwich network.

RSVP

If you would like to receive any more information about the festival please do not hesitate to contact the Music Department of Dulwich College Seoul at Russell.Grant@dulwich-seoul.kr and we will answer any questions you have regarding the festival.

VENUE: Dulwich College Seoul
DATE: April 9–13
MORE INFO: Russell.Grant@dulwich-seoul.kr
GETTING THERE: See this link.

RASKB Excursion: Chollipo Arboretum & Mallipo Beach

Every year the RAS arranges a 1-day excursion to Chollipo Arboretum & Mallipo beach. A long-time Korean resident and a former President of the RASKB, Mr. Ferris Miller (1921 – 2002) began this arboretum project in 1971, and over the years amassed a vast collection of some 6,000 taxa, including over 380 kinds of magnolias. This magnolia collection is the only one of its kind in Korea, and is one of the most extensive in the world. Many of the most spectacular magnolias should be in full bloom for this excursion. Spring blooming magnolias bloom over a long period, from the end of March to the end of May, so late April is the peak period

PLACE: Chungcheongnam-do
DATE: April 19, 8:30am to 8:00pm
COST: KRW 54,000 for members and KRW 64,800 for non-members
MORE INFO and GETTING THERE: See this link.


---

EVERYDAY KOREANS

Pohang Sunrise

Korea's first sunrise at Homigot on the outskirts of Pohang. Photo by Arnab Sen.

NOTIFICATIONS

Translators Needed (not only English) – Seoul Selection is looking for part-time translators to translate material from Korean into several languages, including French, German, Dutch, Hindi and Japanese. If you're interested, please send a resume and cover letter to atoz@seoulselection.com.

Seoul Selection Offline Bookshop Sale – One of the greatest repositories of Korea-related English-language books anywhere, Seoul Selection is offering a 10% sale on any and all books published by Seoul Selection purchased from our OFFLINE bookshop next to Gyeongbokgung Palace.

Tell Us About 'Your Korea' – If you're a longtime resident of Korea and would like to share your story in KOCIS's KOREA Magazine, shoot an email with your story idea to book@seoulselection.com.

Looking for Translators – Seoul Selection is looking for a few good translators (Korean to English) for general translation work. Those interested should send a resume and cover letter to Kyehyun at trans@seoulselection.com. Experienced translators only.

Seoul Selection eBooks – You can purchase some Seoul Selection titles in ebook format via Amazon.com (for Kindle) and Apple's iBookstore. Titles include Ask a Korean Dude, Moon Tides, Doing Business in Korea, Once Around the Sun, and seven volumes of our Korean Film Directors series: BONG Joon-ho, IM Kwon-taek, KIM Jee-woon, LEE Chang-dong, LEE Man-hee, PARK Chan-wook, and SHIN Sang-ok.

Send Your Event Info – If you would like to advertise any upcoming events you are organizing, please send us the press release material at book@seoulselection.com by the preceding Friday in order for it to appear in the following Tuesday's issue.

Freelance Contributors Wanted – SEOUL Magazine needs writers who are fluent in both Korean and English. Writers should have a strong interest in Korean culture and be able to interview Koreans. Send your resume and writing samples to book@seoulselection.com.

We Buy & Sell Used Books – Seoul Selection buys and sells used books in English. Unlike our regular selection of publications that specialize in Korea-related topics, our Used Book section carries books on all subjects. It's all part of our effort to make life easier for the English-speaking community.
https://magazine.seoulselection.com/wp-content/uploads/2014/04/스크린샷-2014-04-10-095515.png
613
619
rjkoehler
https://magazine.seoulselection.com/wp-content/uploads/2018/01/Seoul-logo.png
rjkoehler
2014-04-10 09:56:51
2014-04-10 09:56:51
SEOUL Weekly: Seoul Selection at the LA Times Festival of Books